Knocking at Heaven's Doors
by Shantini Naidoo
The Middle East does not have the best name in the world. The suppositions about these supposedly wealthy, conservative, desert nations are not always positive and, sadly often correct.
We can presume movies like Sex and the City 2, despite it being filmed in Morocco, didn't do much for Middle East's tourism either.
Set in Dubai, the movie highlighted fundamentalist Islamic law and a staunch culture, with all scenes of a Muslim woman having to awkwardly lift her veil to eat French fries and Samantha being arrested for snuggling on the beach.
But visiting Doha, in Qatar which claims to have taken over from Dubai as the stop-over destination choice between the northern and southern hemispheres, one discovers the Middle East just needs some seriously good PR – and the oil Sheiks are trying their hardest to achieve just that.
Here are the cons of Doha: you'll have to forgo bacon for the substitute turkey variety, which is still healthier but nothing like the real thing.
And there is zero-to-little booze to be found, except on aircraft and not during the holy month of Ramadan.
But if you stay in Doha, expect the best hotels especially the Swiss Movenpick suites with massive discount rates while they wait for tourism to kick in.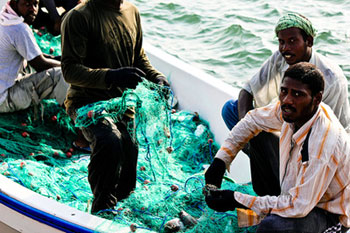 In its pre-oil days, Doha was a small, pearl fishing village. But since the 1930s, Qatar has become the richest country in the world per capita. And it has a side business of natural gas, which kick off soon.
Expect a manageable desert climate and a coastal line that has been partially recovered from the sea. Similar to Dubai's Palm and World island developments, Qatar has created the Pearl cluster of islands with homes that have parking bays for yachts.
While residents on Dubai's Palms were snapped up, business here seems a little slow and, in time; the Pearl could become part of a booming resale market or an expensive white elephant. There are 44 nationalities in Qatar, with only a quarter of the 1.3 million living here being local. Indian, Nepali and Bangladeshi immigrants mix with the British, American and Australian expatriate population.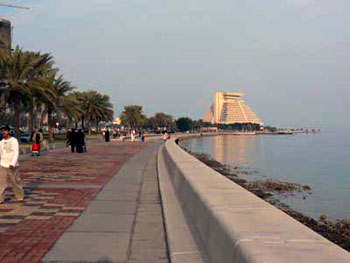 Doha city architecture and skyline is marvelous. Standing on the curve of A1 Corniche, the road that runs around the bay, is a host of fascinating building such as the pyramid-shaped Sheraton hotel, the bullet shaped Doha Office Tower, and the Lagoon Plaza tower, or the Zigzag towers as they are called here.
A visitor could spend two to three days here and be happily occupied. Many visitors come only for the shopping. Doha has all the best brands in the world and the malls are quiet and uncrowded. Unfortunately, many of the are Italian-themed. There is a love of all things all Venetian here – who knows why?
The Museum of Islamic Art is a fascinating collection of finery seemingly among whose former owners are Queen Elizabeth and Shag Jahan of India. Prepare to be dazzled by both bling and rarities alike.
You should also spend half a day at the Souk Waqif. While not original souk, it does have authentic shisha spots and good restaurants, that mingle with pet and fabric fabric stores. It is also the place to find souvenirs such as pashminas and scented oils.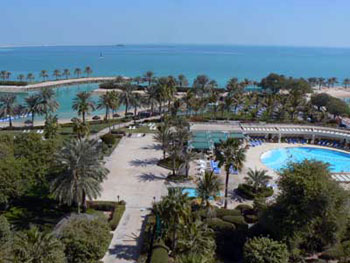 The highlight of my trip was a foray into the desert – a dune safari followed by a dinner in the Bedouin camp. Expect to be tossed around like a fly in jar by 4×4 drivers who are extremely proud of their driving skills – such as negotiate 70 degrees sand dunes. Dinner in the Bedouin camp afterwards was fun and memorable.
After much pleading, our Algerian driver, Basim, agreed to take us clubbing. We ended up at an Irish pub, where we didn't mind paying prices such as $30 for a bottle of Smirnoff Storm. The expats didn't seem to mind either, and everybody danced happily along to the live band.
Qatar has made an effort to attract some of the world's best chefs. There are many excellent restaurants. Among the many memorable things we ate was Lebanese food especially taps dish that included humus and brinjal served with fresh naan, at Tawash, a carpeted restaurant near the Souk.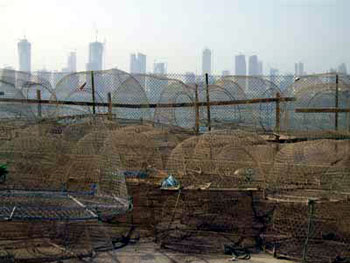 Later, a visit to the old city's Salah al-Din street revealed the Assah Lebanese Traditional Village, where we had fresh langoustines and steak tartare, that awful raw mince dish, in traditional village setting. There were also some odd edible ensembles, such as a garden salad featuring whole peppers, tomatoes and hunk of cabbage on a cake tray. A delight, though, was the saj, small, sweet and puffy Lebanese bread served warm. There are also the usual fast food outlets and noodle bars that one expects to find in any big city.
Sitting back with a shisha pipe at the end of my visit, I thought the Middle East deserves another chance.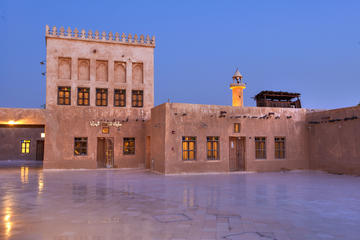 Full-day Private Qatar Desert Safari from Doha
If You Go:
Qatar Airways and Emirates flies to Doha.
Visitors need $40 for visa to enter Doha.
For multiple entries the visa costs $60.
The visa can be purchased at arrival at the airport or in your country at the embassy prior to going.
About the author:
Shantini Naidoo is a travel features correspondent. She has written in the past for Pretoria news, the Rand Daily Mail, Outdoor magazine, Parade magazine, the Sunday Mirror news and Dispatch Magazine. She is single and lives with her daughters between London and Cape Town.
All photos are by Shantini Naidoo.