Inspiring Glimpses of Legendary Ingenuity in Fort Myers
by Connie Pearson 
As you walk the grounds and tour the buildings set on 20 acres facing McGregor Boulevard in Fort Myers, Florida, you will admire the beauty of the surroundings while being educated about the contributions of two great American inventors.
I would like to live about three hundred years. I think I have ideas enough to keep me busy that long.
– Thomas Edison
By the time Thomas Edison reached his 40th birthday, he already had 500 U.S. patents. Two years before, in 1885, Edison bought 13.5 acres in Fort Myers along the Caloosahatchee River and quickly had a 357-foot dock built. That dock became very crucial when it took six ships to deliver all the materials needed for the house he was building for his new wife Mina and the house next door to be inhabited by his friend and business partner, Ezra Gilliland, who is credited for introducing Thomas and Mina.
Edison was attracted to the Fort Myers property for three main reasons: 1) He was tired of the New Jersey winters and loved South Florida's great weather; 2) He loved fishing; 3) The property already had bamboo growing on it, and he was using bamboo filament in his light bulbs at the time.
Gilliland and Edison had an unfortunate parting of the ways, and Gilliland sold his property to Ambrose McGregor, for whom the street in front was eventually named. Four years later, McGregor died, and his wife sold the house back to Edison. The houses are mirror images of each other. Boston Architect Alden Frink designed them. The materials were precut in Maine, shipped south and were move-in ready within four months. Edison gave a lot of input into the homes' designs to take advantage of the river views and the breezes, with French doors, sweeping windows and high ceilings.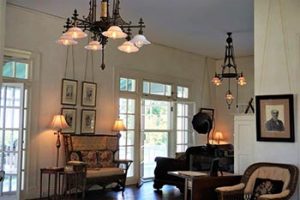 For eleven years, Edison's home was the only property in Fort Myers with electricity. The story is told that the first night his electroliers (how Edison referred to the chandeliers since they used light bulbs instead of candles) were illuminated, the whole town came out to watch. At bedtime, the lights went off, and the whole town walked back home in the dark. Indoor plumbing wasn't added until 1890.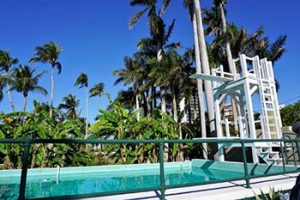 The swimming pool and bath house were built in 1910. Interestingly, the pool is only 5 ½ feet deep, and there is an 11-foot diving board. Supposedly, the diving board was really just an ornamental addition and not one that was used by the Edison children.
Furnishings, including the wicker pieces on the porches, linens and light fixtures that are on display are original to the homes. The only items not original are the light bulbs, which have been replaced by modern ones, and paper goods which have been stored under climate-controlled conditions.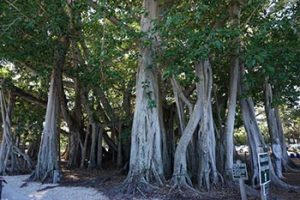 One of the most remarkable sights on the grounds is one of the largest Banyan trees in the world. It was about 4-feet tall when it was planted in 1927 but now covers an entire acre, even after some recent trimming! A giant bougainvillea has survived and thrived since it was planted by Mina Edison in 1947, and the remainder of her rose garden can be seen near the main house.
When the Edisons decided to line the street of their property with Royal Palms, the City of Fort Myers admired the sight so much they lined the remainder of the street with the same trees, a stretch now extending for about 14 miles.
Mina Edison's Moonlight Garden was designed by Ellen Biddle Shipman, known as "the dean of American female landscape architects." Anchoring that garden is Edison's study where he was known to read books, take naps and smoke cigars.
Visitors can enjoy a garden shop selling lots of tropical plants, a gift shop, a museum, and an Edison laboratory set up exactly as it was when he did much of his rubber research. That research explains the many latex-producing ficus trees planted throughout the grounds.
Henry Ford didn't come into the picture until he and Thomas met in 1896 at a conference sponsored by Detroit Edison Illuminating Company where Ford worked as a machinist. The two creative minds bonded immediately. They worked together to develop a better storage battery for the Model T and later joined with Harvey Firestone to form the Edison Botanic Research Corporation (EBRC).
The Ford family finally came to visit the Edisons in Fort Myers in 1914. Many famous names, such as the Colgates, the Kelloggs, Connie Mack (famous professional baseball player, manager and team owner) and Herbert Hoover spent time as guests of the Edisons, but apparently, Henry Ford wanted his own house when he went to South Florida. In 1916, he purchased "The Mangoes" an existing estate bordering Edison's property. Edison spent 4-6 months a year in Fort Myers, but Ford only came for about two weeks every year, always in time to celebrate Edison's birthday on February 11. Henry Ford gave Thomas Edison a Model T in 1916, but Edison was never successful in learning to drive it. He finally hired a chauffeur who drove him and his family for thirty years.
The stories shared by the capable docents on the grounds will instill great pride in the entrepreneurial spirits of these two remarkable men. Henry Ford's primary museum is at Greenfield Village in Michigan, but many important artifacts, cars and personal items are found in Fort Myers.
In 1931, the year Thomas Edison died, he spent six months of that year working on rubber research. It is said that he only slept three to four hours each night because his head was so full of ideas. He ended up with 1,093 U.S. patents at the time of his death. 500-600 more projects were either unsuccessful or abandoned. It's mind-boggling to think of all he might have invented if he'd been granted the 300 years of life he wanted.
Some of his more compelling quotes:
Of all my inventions, I like the phonograph the best.
I owe my success to the fact that I never had a clock in my workroom.
We don't know one millionth of one percent about anything.
If You Go:
The Edison and Ford Winter Estates are open seven days a week from 9:00 a.m. to 5:30 p.m. Historian-led tours are $30 per person, and self-guided audio tours are $25 per person.
Edison and Ford Winter Estates are located about a half hour from the Fort Myers airport. Rental car companies are on site at the airport. Most chain hotels are represented in Fort Myers, but I would urge you to consider a beach house, condo or hotel on nearby Sanibel or Captiva Islands. There is a $6.00 toll bridge accessing those islands. The Ding Darling National Wildlife Refuge and the world-famous shelling beaches are worth exploring.
Notable restaurants include The Bubble Room, historic Old Captiva House at 'Tween Waters Inn, and Doc Ford's Rum Bar and Grille at South Seas Plantation on Captiva and on Sanibel Island.
About the author:
Connie Pearson is a native Alabamian, wife of 47 years, mother of three and grandmother of 13. She is a retired elementary music teacher who is now a travel writer and blogger with more than 120 articles in 20 print and online publications. She is the author of Telling It On the Mountain: 52 Days in the Life of an Improbable Missionary. Visit www.theregoesconnie.com
Edison's original winter home
Edison's original interior furnishings
Edison's swimming pool and diving board
Edison statue with large banyan tree
Henry Ford early vehicle with historian Joseph leading a tour