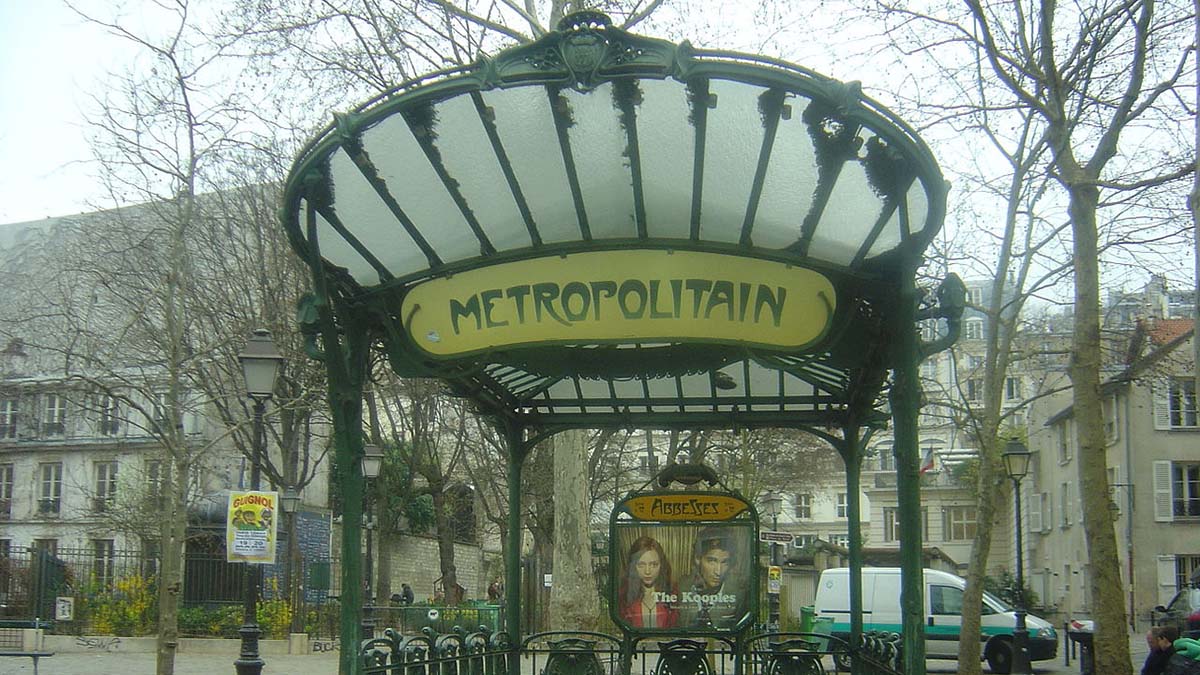 by Julie H. Ferguson
On a June morning, my husband and I munched warm brioches in a Paris brasserie and talked over ideas for my seventh visit, his ninety-third. It was too short a stay for ambitious projects and we were determined to discover new places and events.
"Let's shoot for cheap or free things to do," I said. "And history."
"Food!" James said. "I want to show you the best supermarket in the world for foodies."
"With only a week, I want quintessential Paris, not tourism."
James turned to the hovering waiter, "Encore, deux cafés."
The big cups of creamy coffee arrived and soon James had sketched out a plan. Our week was to be intriguing, filled with authentic Paris that any tourist can fit around the obligatory sightseeing. We paid our bill and headed to the Left Bank for our first mini-adventure.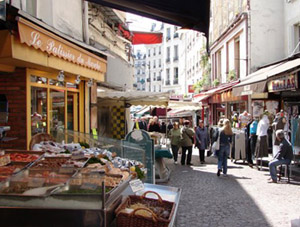 We meandered down the oldest street in Paris, the Roman road to Lyons and Rome. Once the haunt of Balzac and Hemingway, La Rue Mouffetard is an eclectic collection of small specialty shops on a short lane that ends in the Square St. Médard where open-air stalls sell local fruit and vegetables. La Mouffe was bustling with Parisiens shopping for dinner and gossiping. The selection of French delicacies overwhelmed me: displays of food – wild boar sausage and honey from Corsica, sea urchins and silver sardines, soft goat cheese and blue Roquefort – overflow across the sidewalks and into the narrow cobbled street. I wanted them all.
Our mouths watering, we pounced on samples bursting with flavour. As the wares are often unavailable in North America, I wished I had a kitchen. We did load up with olives, unusual cheeses, and a small duck terrine for dîner en chambre at our hotel and later bought a decadent French dessert from a patisserie.
Restaurants featuring food from many nations line the side streets leading off La Mouffe. As we tend to make lunch our main meal of the day when travelling in Europe, we pored over the menus trying to decide where to eat – the smell of Greek moussaka clinched it. A pichet of wine was all that reminded us we were still in France. Savouring my last mouthful in the sunshine, I said, "It's not hard to imagine what La Mouffe was like in the Middle Ages. All you have to do is visualize everyone in medieval clothes and carrying baskets full of live chickens."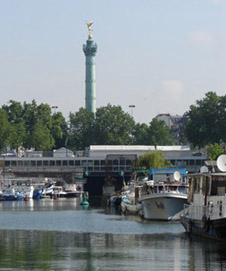 Early next day we walked to the Quai d'Orsay, outside the famous museum on the Seine, to take a cruise that few tourists consider worthwhile. The boat sails up Le Canal St. Martin in the heart of Paris. The Seine delivered misty morning views of the Louvre and the Left Bank, and after passing Notre Dame to port, the boat entered a lock that led into the Paris Yacht Basin. At the far end, I could just see a black hole – the opening to a 2.4 kilometer long tunnel below the Place de la Bastille where the infamous prison once stood.
Napoleon ordered the canal built in 1802 to supply a growing Paris with fresh water and food. His tunnel is an eerie place, musty and cold. With no electricity, it is pitch black too except where light streams through large holes in the roof. I listened for the ghost said to play a clarinet but the echoes were silent; all I could hear was the steady chug of the diesel engine.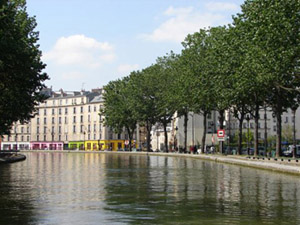 Back in the sunlight again, we entered the residential part of Paris called St. Martin. This old district is now the home of fashionistas and graphic artists. We glided on jade-coloured water under a canopy of trees, listening to an excellent commentary from our guide. Parisiens thronged the banks walking, cycling, or simply hanging out. Bridges for cars, trains, and foot traffic slid overhead or swung up to let us pass. The boat passed through 19 locks, each with its own keeper, before we disembarked at Parc de la Villette.
Returning to the residential part of the canal by cab, we strolled along its banks, and stopped for lunch at La Madonnina.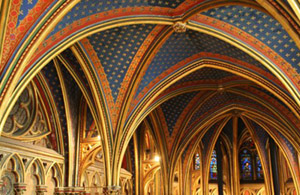 We always try to be in Paris on a Sunday because that is the day musicians from the top orchestras of France gather to play chamber music for an hour before dinner. Not only is the music superb, the location is divine. La Sainte Chapelle, close to Notre Dame, is the Chapel Royal of France. Built in 1248 for the saintly Louis IX to house holy relics, it is a double-decker, Gothic marvel. Peeking into the lower chapel, once used by the court's servants, visitors see the vaulted ceiling decorated with tiny fleur-de-lis on an azure background. Gold leaf and scarlet heighten the opulence. We climbed a spiral staircase to the upper chapel where only the monarch and his family worshipped. It is quite different – the soaring, slender columns and tall stained glass windows are elegant and refined. It is here the concerts take place amid exquisite acoustics.
James and I arrived early for this performance so we could enjoy the chapels again and get seats near the front. In June, the audience was mostly locals with only a handful of tourists. We heard Mozart played on strings and a bassoon, and the notes were still whispering in our ears as we walked slowly along the Seine afterwards.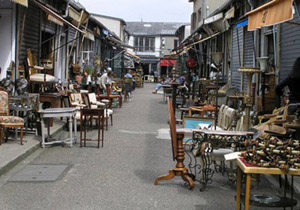 I had long wanted to visit the legendary and largest flea market in the world, Les Puces. We arrived as the vendors were opening up their permanent stalls. The narrow alleyways are crammed with antiques, junk, jewellery, furniture, art, clocks, and anything saleable, old and new. We happily rummaged for hours and even found a marble staircase for those who could afford it. Our efforts turned up a "real" Russian tiara for €10,000, an 11th century suit of armour for €3500, and a complete set of vestments for a bishop. We bought antique silver-plated soup spoons and two pashminas after spirited bartering. By 11:30 a.m., the markets were getting busy and we took a break to people-watch.
"Only in France," I said, as three vendors got ready for lunch. One man found a table, smoothed out a white tablecloth, and laid cutlery and plates. A second produced three wineglasses and opened a bottle of Burgundy. The last man set out cheeses, a baguette, and a pot of soup. Sitting in the sun, they ate and drank, oblivious to the crowd milling around them.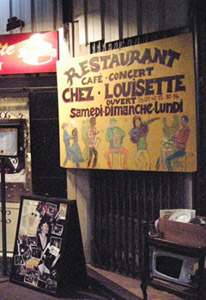 We had lunch at the boisterous Chez Louisette where Edith Piaf got her start. This café is tucked in a corner of Marché Vernaison and took a while to find. Dark, noisy, and covered with Christmas decorations all year, I had the time of my life. Lousiette serves French fast food, so this is not the reason we went. In a corner was a miniscule stage that held one accordionist and a singer. We listened to a young chanteuse belt out French bar songs and two sets of Piaf favourites. The patrons went wild – standing-up, yelling, and throwing pieces of baguette at her, the barman, and anyone else who took their fancy. When, at 2:30 p.m., the wine bottles were empty, the food eaten, and the singer gone, we left to find the markets too crowded to enjoy. Besides, we were exhausted.
Our last outing was to the supermarket for foodies my husband had promised. La Grande Epicerie is the astonishing food floor of the Bonne Marché on Rue de Sèvres. Standing in front of the deli, my jaw dropped. James had asked me to buy a couple of items for our diner en chambre that night, but I couldn't choose – the deli section was bigger than my local supermarket. Counters groan with salmon en croute, quiches, boeuf Wellington, 29 different kinds of olives, and items I couldn't recognize. Customers wait three deep for a turn to buy. About 350 kinds of cheese grace another part, and hundreds of sausages are in the next. My husband, prowling the olive oils from around the Mediterranean, wouldn't help.
"Surprise me!" he said. And grinned.
But it was the patisserie that undid me. I surprised James all right, but with the final bill.
© Julie H. Ferguson 2010.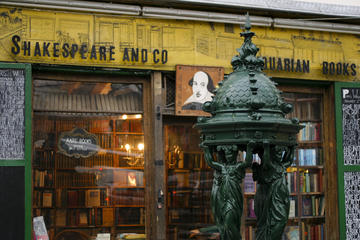 Literary Paris: Private Book Lovers' Tour
If You Go:
La Rue Mouffetard is in the southern part of the Latin quarter, close to the Pantheon.
Metro: Censier Daubenton (Line 7) is the closest, a block from Rue Mouffetard. Place Monge (line 7) and Cardinal Lemoine (line 10) are also options.
The market is closed on Sunday afternoons and all day Monday. Just before it closes on Sunday noon, the streets erupt with singing and dancing. Everyone can join the fun.
Several companies offer 2 ½ hour cruises up Canal St. Martin. We think the best is ParisCanal as they sail along both the Seine and the canal. Boats depart at 9:30am beside the carpark of the Musée d'Orsay (Metro: Solférino – line 12), arriving at Parc de la Villette (Metro – Porte de Pantin). Visitors can make the return trip from the Parc at 2:30pm, but we recommend spending time on foot in St. Martin and having lunch there. Take a cab back, it's a long walk.
Cruises run daily from mid-March to mid-November with English and French commentary.
€16 for adults, €13 for 12-25 year-olds and over-60s, and €9 for 4-11 year olds. Infants and toddlers are free. Reservations are required: phone 01 42 40 96 97 (English spoken) or go to www.pariscanal.com.
Catch the Metro home from République, which is a hub for 5 lines.
Another cruise line at www.canauxrama.com has a shorter itinerary and different departure points.
To reach Sainte-Chapelle, take Métro to Cité (line 4) and walk a block up the Rue de Lutèce to the Palais de Justice. The entrance to Sainte-Chapelle is to the left of the Palais and its gilded iron gates.
For concert schedules and to buy your tickets (€25) online, visit http://www.classictic.com.
If you don't have time for a concert, all the details you need to visit Ste. Chapelle can be found at sainte-chapelle.monuments-nationaux.fr.
Les Puces (the flea markets) of Paris cover 7 hectares and are open every Saturday, Sunday, and Monday all year (9am to 6pm). Some vendors accept credit cards, but take cash too.
Aim to get there early (9:00 a.m.) and leave after lunch when it's too crowded. Wear comfortable shoes, as there are few places to rest, carry water, and beware pickpockets.
Metro – Porte de Clignancourt (line 4) and follow the crowd. Rue des Rosiers is the main street from which you access the separate markets. Some are covered, but most are in the open.
A map of the markets is at www.antikita.com, then click on "Access" on the top menu strip. Chez Louisette is in a corner of Marche Vernaison, which is on right-hand side of the map.
La Grande Epicerie
38 Rue de Sèvres
75007 Paris, France
01 44 39 81 00
www.lagrandeepicerie.fr
Metro: Sèvres-Babylone (line 10) or Vaneau (line 12).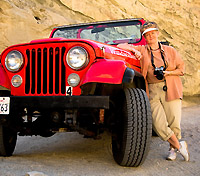 About the author:
A non-fiction writer and avid photographer for 40 years, Julie H. Ferguson is the author of 17 books, including four on Canadian history, and countless articles that have appeared in national and international markets. An addicted traveller, she is intensely interested in the history and culture of foreign lands, as well as food and wine. Julie is a proud member of the BC Association of Travel Writers and Photoclub Vancouver. She can be reached at info@beaconlit.com and invites you to visit her website at www.beaconlit.com.
Photo credits:
Paris Metro station sign: DIMSFIKAS / CC BY-SA
Vaulted ceiling of Ste. Chapelle' by © Jim Barton 2007 (Creative Commons)
All other images © Julie H. and James S. Ferguson 2006