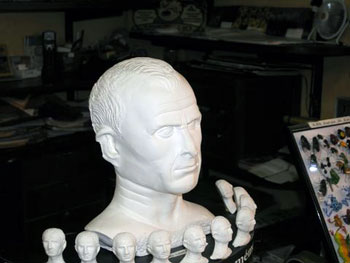 by Glen Cowley
The head emerged from years in its watery grave. If only stone cold eyes could see!
The discovery of a true to life bust of Caesar, in the Fall of 2007 along the shore of the Rhone, was appropriately found in southwestern France for here the great man had some of his greatest victories and the hand of Rome pressed most deeply into the land. It may even be argued this area of France has the greatest physical legacies of the once extensive Roman empire. Theatres, arenas, temples, aqueducts, baths and towers are concentrated in this Mediterranean paradise in such profusion that an easy touring vacation can be facilitated from any number of central locations. There is perhaps no better place in the world to leisurely and pleasurably chase the living remnants of Rome.
Caesar's bust remains in Arles, Provence, resting stoically within the walls of the local museum. And outside those walls are a world he would relate to. Arles benefited greatly by backing Caesar in his contest with rival Pompey and in 1 BC, but three years after his death, there was built the magnificent arena, which yet stands, holding up to 20,000 spectators. People still flock to here for blood sport, thousands chanting "ole ole" in celebration of bull fights during the twice yearly Ferias. Less bloody yet no less enthralling they also fill ancient seats for concerts, operas and theater. From togas to tuxedos the arena has seen it all.
The arena has nearby competition however. Though much diminished, Arles' old purpose-built theatre came to life before the end of the first century under the reign of Caesar's adopted son Augustus. Accomodating 8,000 to 10,000 attendees in its prime its much reduced capacity, courtesy of locals quarrying its fine stone during the intervening years, continues to feature live theatre.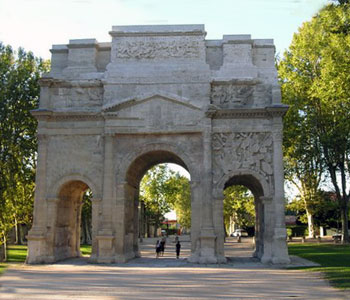 Sun washed Arles comfortably incorporates its dynamic vestiges of Rome into an appeal which draws throngs for a wealth of experiences. To all that is southern France, the food, wine, music, ambience, is also added the unique Van Gogh walking tour which takes toes wandering through town and discovering sites where Van Gogh created many of his greatest paintings.
The theatre's nearest kin is also in Provence, in the city of Orange. Though diminished to some degree it continues to be impressive in stature and form. Yet still does a statue of Caesar gaze down over play and audience and the tier upon tier of seats rising steeply skyward. Despite perils it has survived these many years and is now the renewed venue for concerts, opera and theatre. The self-guided walkabout tour, aided by a wand audio set to provide history and explanations, is not a short task. Throughout the theatre are interspersed exhibits including an amazing animated holograph showing brief performances as they would have been back to Roman days. Also built in the first century AD, when Augustus was on the throne, for almost 400 years it entertained up to 10,000 theatre goers at a time. It has been designated as the finest ancient theatre in the western world and, not surprisingly, became a UNESCO World Heritage site in 1981.
But a short walk away looms a triumphal arch of debatable age, but most likely from 40 AD, celebrating Roman conquests. Though the years have maligned its exterior it remains extremely well preserved standing in solitary magnificence along a wooded boulevard, telling its story in relief, seemingly ignored and ignoring the busy world around it. Standing under its weathered arch it is not difficult to imagine the tramp of Roman Legions.
And smack in between Arles and Orange is perhaps the most impressive of all, Nimes.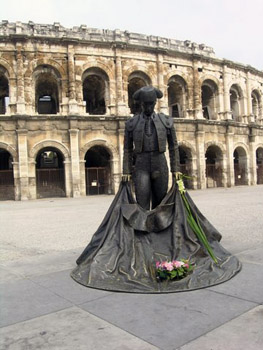 From its earliest days it was a haven for Celts worshiping at its natural springs. It became a Roman colony around 28 BC and bestowed upon it were edifices yet existing and functioning. The hand of Rome lay heavy upon this city.
Here, as it has for over 2000 years, the intact and functioning Maisson Carree (Square House) dominates the old Roman Forum. Originally built as a temple to the emperor worship cult and dedicated to the sons of Caesar Augustus, it remained a functioning building dominating the forum as all around it changed. One of the very best surviving temples of Rome to found anywhere in the world it has recently gone through a cleaning which once again exposes its brilliant whiteness under a Mediterranean Sun. It has experienced incarnations as a church, meeting hall, canon's abode, stables, archives, museum and, most recently, presentation centre.
Like the temple Nimes' nearby arena has been in constant use for over 2000 years. Akin to its smaller cousin in Arles it attracts throngs to bloody bull fights as if reliving those Roman days of gladiators and violent entertainment. Its arcaded columns sport weathered edifices watching the passersby and holding secrets that seem to hang with echo of footsteps. Within these walls too are present day concerts and other forms of entertainment. It is hard to contrast the mellow tones of a reflective Leonard Cohen concert with the raucous brutality of the bull fight.
Once upon a time imposing walls girded this important city; climbing up the great hill overlooking the Nimes. And there the Romans built Tour Magne to gaze 360 degrees over the surrounding land. Though once climbing to over 150 feet its remaining shell still rises 92 feet high atop its hilly crown. Paid admission allows you to wind up the inside stairs to step out upon a stunning view over old Nimes and the lands beyond. A display board helps to identify places and buildings encompassed within the panoramic display.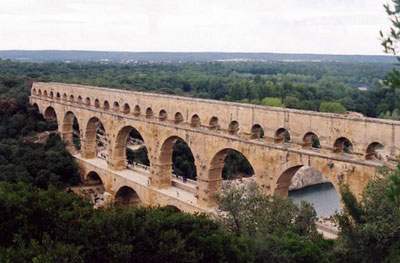 Though you cannot see it from the tower there is a seemingly unimportant ruin within the old city. A ruin that is the terminus of an amazing aqueduct system which once brought life giving waters 51 kilometres away from Uzes. Its most compelling attribute is the UNESCO World Heritage site at Pont du Garde. Here the aqueduct spanned the wide valley of the River Garde and though water no longer courses through its arteries it remains as a stunningly awe inspiring site. Its three arches rise high over the valley where once 200 million litres of water per day passed from Uzes to thirsty Nimes. It is claimed the system may have remained in use into the 9th century. Its continued use as a toll bridge helped the incredible structure survive. Today over 1.3 million visitors annually are drawn to the site and its associated museum.
Perhaps most impressive about these reminders of ancient times is that they have not become silent remnants of a great empire but remain a living part of their communities. They continue to breath as if the empire did not collapse.
And still more of the Roman Empire spills out over the land though perhaps less impressively. City walls, statues, temples, bridges, baths and all the other vestiges of a bygone time are there to provide context and impress upon the visitor just how Roman this region was.
The setting Sun burns the ancient bones of Rome copper yet they will be reborn tomorrow even as those who have witnessed them fall into vague remembrances of history. They endure.
If You Go: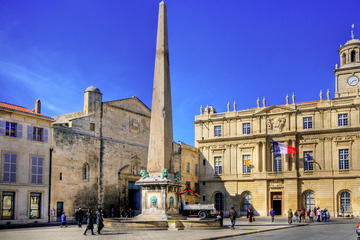 Private Full Day Trip to Arles
Les Baux de Provence and Saint Remy de Provence from Aix en Provence
Besides all it has to offer in the way of Roman legacy Nimes is also an ideal central location from which to explore other sites. The train and bus stations are combined and there is shuttle bus service from the local airport (serviced by Ryan Air). Major airlines service Marseille which connects by train with Nimes. Orange and Arles are serviced by both bus and train while Pont du Gard is connected by bus.
Sites of interest:
• www.bonjourlafrance.com – travel (train, car rental, bus and air) and accommodations
• www.ryanair.com – cheap flights
• www.virtualtourist.com – gives reviews of experiences in Nimes
• www.lonelyplanet.com – provides specific information respecting travel
About the author:
Since 1994 Glen Cowley has parlayed his interest in sports, travel and history into both books and articles. The author of two books on hockey and over forty published articles, including biographies and travel, he continues to explore perspectives in time and place where ever his travels take him. From the varied landscapes of British Columbia to Eastern Canada and the USA, the British Isles, Germany, Switzerland, France and Greece he has found ample fodder for features.
All photographs are by Glen Cowley.