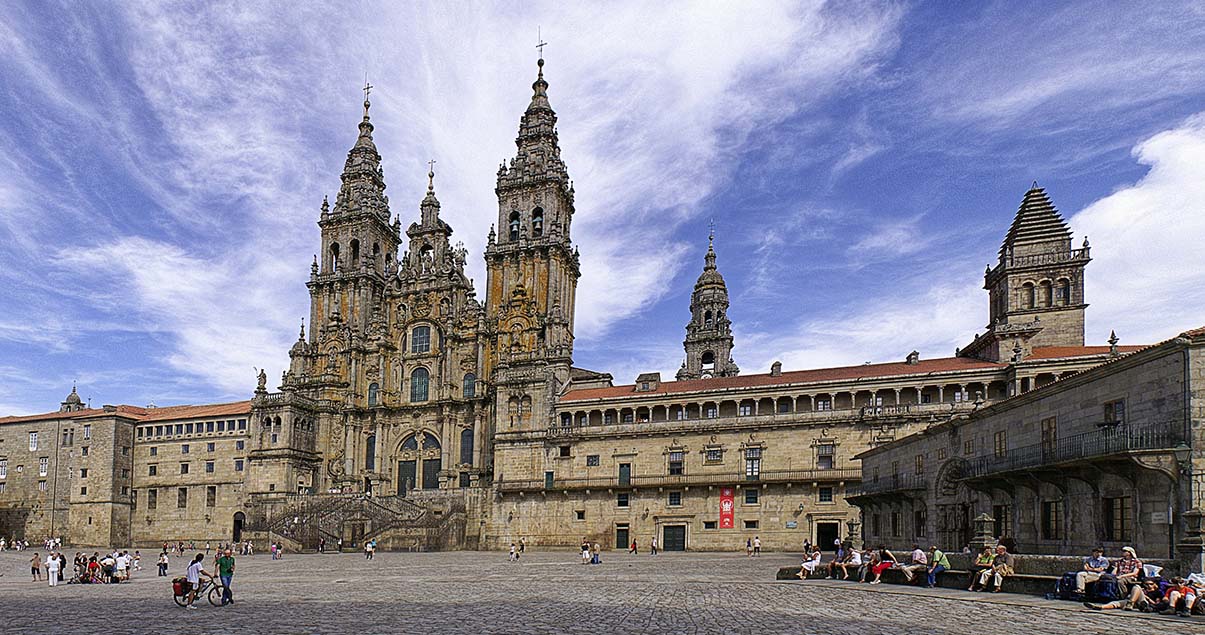 by Catherine Newstead
The soles of my feet were so sensitive, cold air was painful to the touch. All I wanted to do was fall into the comfy bed of our room at the Hotel Pombal. The boutique hotel was inexpensive yet elegant with kind staff on board.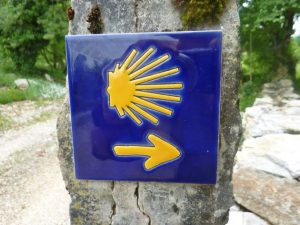 But the pilgrim's cathedral in Santiago de Compostela was drawing me. Twilight had come quickly while my eyes scanned an ancient, narrow walkway. I looked up and the spirals of the cathedral were lit by soft light in the far ground, about a kilometre away.
"Robin, let's go, we can't wait for tomorrow morning."
After trekking the last 20 kilometres of our pilgrimage that day, we were exhausted and giddy. Probably dehydrated too. We gained some energy from somewhere and followed the walkway. The cobblestone path and walls were still warm from the day's sun.
Pilgrims and tourists walked in and about the cathedral. A young Galician bag piper was busking in the square and the music echoed along side footsteps and chatter. It was breathtaking. I felt all the excitement yet I carried serenity without effort.
We found a restaurant patio near by and ate a Galician seafood paella with an ice cold Estrella beer. Perfection.
People from all over the world are drawn to walk the El Camino in Galicia, the north western part of Spain. The French Way is by far the most well known and well travelled. However there are 8 official ways according to the World Heritage Foundation. The walk is a highly personal experience. Some trek for a religious purpose but many trek for cultural, physical, or soulful reasons.
Perhaps the walk is in honour of a friend who has died or a bonding experience between Father and son. Others decide that a solo journey is best.
Based on our shared heritage, my friend Robin and I chose the British route, beginning in Finesterre. This was a 120 kilometer trek that we completed in 6 days.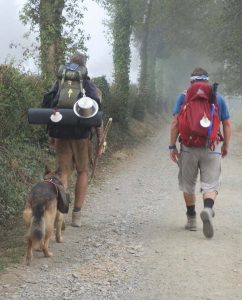 The path was often mountainous and strenuous. But it took us along side beautiful farm lands, corn crops, small hamlets and a eucalyptus forest. Each morning we we filled up at least 2 liters of water each and a lunch made by staff at the inn where we stayed over night. Drinkable water and food were not always available during our 15 to 20 kilometre daily hike.
Some people choose to fly directly into Santiago de Compostela and then bus afar to their starting point. For some, the trek is 100 kilometres, others 500 or 800. In order to gain formal status as a pilgrim, one is required to walk a minimum of 100 kilometres or cycle at least 200 kilometres and have a pilgrim passport that is stamped along the way at various churches, inns and cafes. Once reaching Santiago de Compostela, you can take your pilgrim passport to the official pilgrim office for a certificate of completion. A special certificate is issued to those pilgrims who trek from St. Jean Pied de Port, an 800 kilometre trek over the Pyrenees mountains.
We planned out trip well ahead, using the Dublin based company, "One Foot Abroad." Our suitcases were picked up each morning at 8 am and transported to the next hotel while we each carried a daypack. One Foot Abroad assisted in planning the route, maps, our pilgrim passports, some meals and the over night stays. We paid one price for all so that we could concentrate on just putting one foot in front of the other. Many pilgrims prefer to plan "on the fly" and rest for a day or more. But for those with fixed holiday times, One Foot Abroad is a good choice for cost and organization. Another option is to walk the El Camino with a group and guide.
Guides are knowledgeable and if one is travelling alone, this is another choice.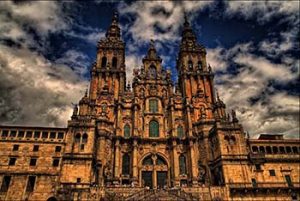 In subsequent years I walked 120 kilometres of the Portuguese Way (beginning in Vigo) and the French Way (beginning in Sarria). The French Way is the most well travelled route. It is better marked, has more frequent cafes and pubs along the path. During the last 100 kilometres the terrain can be hilly but over all less strenuous than the British route or the Portuguese Way. You will meet many more fellow pilgrims on the French Way, people from all parts of the globe. But if you are not a socializer, people are respectful of the need for privacy. The uniqueness of such an adventure is that the playing field is even. Everyone is a pilgrim regardless of race, beliefs or age. There are families with young children who trek the El Camino as well as elderly folks. However, planning for frequent rest stops with food and water is critical. I did not see anyone using a wheelchair along the routes, although perhaps this has been done. Routes include sections that are inaccessible.
Mental stamina often depends of caring for the physical self. Lightweight hiking shoes or boots and absorbent wool socks are important for the various terrains.
Depending on the time of year and route taken, a wool hat, wide brim hat and sunscreen will be important for comfort. If painful blisters appear, blister treatment packs purchased at the local pharmacia will make a huge difference in your walking experience.
There is no shame is halting the pilgrimage due to injury or issues with stamina. The Way will always be there.
Once reaching Santiago de Compostela, the journey really isn't over. The inner journey is just beginning. Exploring the city is the sweet spot between those 2 passages.
 If You Go:
Take advantage of the free, guided tours starting in the cathedral square. Walking tours of the city are conducted in Spanish, English, German and French. You will visit the 2 Marias folk sculpture and learn about their astonishing story of survival during the Facists rule of the 1940's . You will discover the charm of the 'hippy' street market called Mercado de Abastos and much more. While there is no fee, guides will accept tips.
Take a day trip to Finisterre by bus or coach. You will be guided through fishing villages and the 'end of the earth" where the Celtic people once believed that people fell off the flat earth.
Learn some basic Spanish words to support your experience. Download a Spanish to English/English to Spanish app to your smart phone. Less citizens speak English in Galicia compared to other parts of Spain such as Barcelona or Madrid.
If you are contemplating a pilgrimage, do your homework. Social media sites will help plan the journey.
Be prepared to occasionally get lost. Back track, ask for help, look carefully for the famous clam shell signs and arrows. Feeling cranky is usually temporary.
Stay hydrated, eat well, treat your body, feet and fellow pilgrims with respect.
!Buen Camino!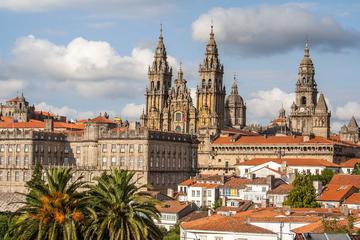 Santiago de Compostela Private Tour
About the author:
Catherine Newstead writes travel and personal memoir and occasional fiction. She is always curious about the way in which people uniquely interact with one another and the world about them. Catherine is well travelled and a grandmother of two. She is planning to walk the Kumano Kodo (el camino) in Japan in 2020!
First photo by Pedro J Pacheco / CC BY-SA 3.0 ES
All other photos by Catherine Newstead and Besttourism.com