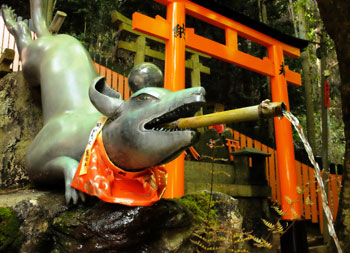 Japan
by Susan Elizabeth Thomas 
I rode a shaky, silent train from Kyoto, Japan to the mountain-side shrine, Fushimi Inari. The rays of the sun, dispersed over the rice fields, were ebbing to dark. I was arriving late, too late to meet my friend who had already trekked down the mountain. She had called me from the train stop.
"Be careful," she warned. " At this hour Fushimi Inari is completely empty and the shrine is full of fox demons."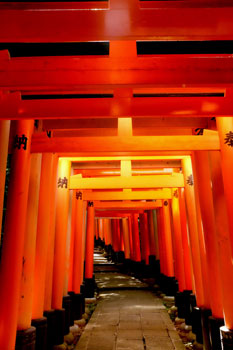 Fushimi Inari is a shine dedicated to Inari, the god of rice and his messenger the kitsune or fox. Fox demons are good omens in Japan, charged with warding off evil. These ethereal foxes can have multiple tails. More tails mean an older fox of greater power. Along with being messengers for Inari, who is often depicted as a large white fox, fox demons are tricksters. According to legend, foxes take humans forms for deceitful purposes. The cruel, proud and greedy were all targets. Often these crafty spirits became beautiful women. They would win the hearts of men and lure them from their families. Foxes were even known to bewitch humans, entering women under their fingernails or through their breasts.
I entered the shrine alone. Would the foxes curse me or bless me? I needed all the blessings I could get.
It was April 2011, the year of the Great Tohoku earthquake in Japan. I had fled from my home in Ibaraki, Japan not knowing when or if I would come back. There were mixed reports about the radiation levels. A nuclear plant one hour from where I lived narrowly escaped being over-flooded. I had whatever clothes I had hurriedly packed, nothing warm enough for the chilly, springtime weather. It had been a stressful, chaotic experience, but my time as a "radiation refugee" was over. Somehow this felt like end of my journey.
The very last rays of the sun created a shadow from the giant torii gate in front of the temple. Torii gates are the doorway from the secular world to the sacred. Traditionally, when you walk through a torii gate, you should stay to the side, leaving room for the god or goddess to pass through the middle. I passed beneath the tall pillars. I was now in the deity's domain.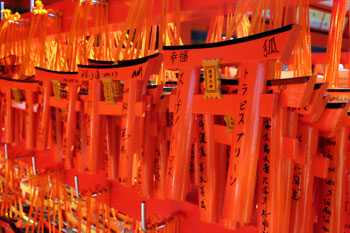 I stepped into the courtyard at the base of the temple. My friend was not wrong. The place was completely empty. Or was it? Like many holy places, the shrine had a feeling of presence, eyes watching. There was nothing malevolent. I felt curious and excited. It was like entering another world, a very orange world. Fushimi Inari has thousands of orange torii gates. The sea of orange gates seemed to glow in the last light. Two fox guardians stood at either side of the entrance. It was hard to believe they were not watching.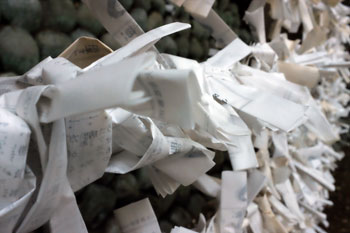 The whole shrine smelt of the evening and incense. I poured cold water from the small water basin onto my hands and into mouth. This is a Japanese ritual of purity, and I hoped that I was doing it correctly. I looked around. Hanging on lines, carefully folded, were the paper fortunes of hundreds of worshippers. Folding and hanging a paper fortune means you want it to come true.
Japanese shrines are full of wishes. Wishes could be rung into existence on large bells or painted on wooden tablets. They were strung on lines. Many buy wishes in the form of an omamori, a fabric charm with a sewn design. Others wish by tossing a coin into a container in front of an altar or statue and pulling a long rope bound to a bell. After, the tradition is to clap twice, bow twice and pray. Follow this with a final clap and bow.
There are two entrances and two exits for the torii-lined trek up the mountain. To me this looked like four possible entrances, like the beginning of a labyrinth. I picked a path on the left. As I made ascent, darkness hit. I climbed for hours. Once in a while, I would stop and make a wish. Clap, clap, bow, bow. Mostly I prayed for strength. It was a quality I sorely needed. The cold wind blew, but I felt warm and energized from the formidable climb. Again, I splashed my hands and mouth the with cold basin water.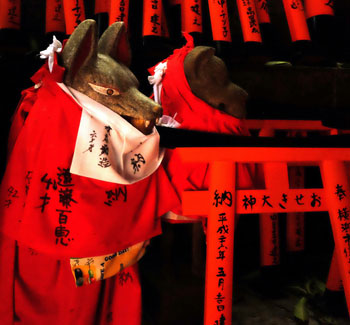 I felt uneasy when I heard the screeches in the dark. Something rustled in the bushes. Could it be foxes? Fox demons? I know now that it must have been monkeys, but things seem different in the dark. Paranoid, I started thinking about Japanese mythology. Crazy thoughts sprang up before my logical brain could dismiss them. What if the fox spirits possess me?
Meeting a shrine worker did not calm my nerves. He seemed even more concerned for my safety than I was. As we parted, he said gravely in Japanese, "Be careful."
I hurried up the mountain. At the top of the mountain, I saw Kyoto's lights twinkling below. With the clinking of coins and the ringing of bells, I made more wishes. All around me, the fox statues regarded me with a calm, regal composure. I felt at peace with the spirits that inhabited my orange refuge. I had prayed for strength, and strength had come. My journey was over – not just my journey up Fushimi Inari. It was time for me to stop fleeing from the dangers of radiation. It was time to go home.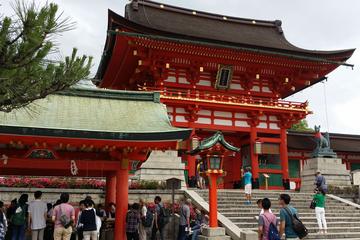 Private Tour: Arashiyama and Fushimi Inari Tour from Osaka
If You Go:
Fushimi Inari is easily accessible from Kyoto station. Take the JR Nara line to the JR Inari station at 140 yen each way. The shrine is open 24 hours a day, all year round, and the entrance is free.
Bring coins to make wishes. Making a wish with a five yen coin is a fitting amount. Making a wish with one yen is insulting, to both the Japanese and the spirits. Avoid going to Fushimi Inari, or Kyoto for that matter, during Golden Week. Golden Week is a series of holidays between April 29th and May 3rd. This is the most popular time of the year for vacationing. Everything will be packed, including trains and hotels. Accommodations may be more expensive. Another holiday season to avoid is Obon. This holiday season usually between August 8th and 16th, however it will vary on the region in Japan.
Getting there:
There are two international airports in Japan: Tokyo and Osaka. The airport in Osaka is physically closer to Kyoto. Limited express trains will take you from Osaka to Kyoto within an hour. Flights to Tokyo may be cheaper. A journey from Tokyo to Kyoto will involve taking a high speed train or bus from Tokyo to Kyoto. Times and costs for the additional transportation will vary.
Accomodations:
Kyoto has a variety of accommodation choices. There are youth hostels, hotels and ryokans, traditional Japanese bed and breakfasts. If you want the traditional Japanese experience, a stay in a ryokan is recommended. Beware, this may involve public bathing rooms.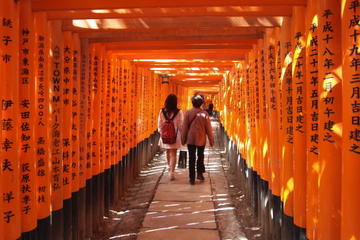 Fushimi Inari and Sake Brewery Tour
About the author:
Susan "Eliza" Thomas is an avid traveler, writer and lover of cultural anthropology. After four years in Japan, she is currently living in France. She hopes to give readers cause to question, discuss and deepen their understanding of this ever changing world. You can follow her writing through her blog travelingmochi.wordpress.com/, Twitter @TravelingMochi or Facebook page.
All photos are by Susan Elizabeth Thomas:
My orange path through Fushimi Inari shrine
Fox fountain pouring the purifying water
If you hang your paper fortune on a line, your wish will come true
Tori-shaped wishes of good fortune
A fox statue watches quietly as I journey up the mountain