The Big Island, Hawaii
by Chris Millikan
Surprising to many, Hawaiians were raising cattle long before their mainlander counterparts. Even today, four of the USA's twenty biggest ranches flourish on the Big Island. So signing on for a cattle country tour, my hubby and I check out Parker Ranch, Hawaii's oldest and largest.
Paralleling miles of fenced pasturelands dotted with stands of gnarled windbreak trees, our route climbs to 2500 feet above sea level. While we munch our macadamia-nut banana bread under big blue skies, cattle chomp abundant grasses along rolling green hills. We soon pull into a trendy Waimea-town mall, certainly not the dusty 19th century cowboy town we'd imagined.
From the Gear up and Go desk our guide Anthony ushers us aboard his suburban 4×4 and along the Mamalahoa Highway sets the scene.
"Our 35,000 cattle graze on these lands where over 10,000 Hawaiians once lived, farming along Waimea's streams and collecting feathers from forest birds," he explains. "But all this changed at Kealakekua Bay when Captain George Vancouver sent five cows ashore on outrigger canoes in 1793. King Kamehameha put a kapu on this gift, so cattle couldn't be touched. At first kept in a large stone paddock in Kona, these longhorns eventually escaped and rampaged over farmlands for years."
Just south of Waimea's center, we first stop at beautifully landscaped grounds.
"Six generations of Parkers lived in these two historic homes," Anthony remarks. Entering Mana Hale cottage he says, "This represents the Cape Cod-style house Parker and his sons built in 1847 to replace their traditional Hawaiian dwelling on the range. The last descendant dismantled its rich-brown koa-wood interior board-by-board, reassembling it inside this replicated exterior."
Walking carefully across these beautiful, smooth floors, we study antique tools, historic furnishings and artwork. While gazing at early portraits, Anthony introduces the captivating family.
"The Parker's saga began in 1809 when young John Palmer Parker, a sailor from Massachusetts landed in Hawaii…this was way before other foreigners ventured to these islands, one year before King Kameheameha I united the islands and 10 years before the Missionaries first came." He goes on to explain how the great Kamehameha permitted this humble, hardworking tea-totaller to stay. Parker worked more than 30 years for the monarchy, first managing the King's fishponds and later commissioned as a royal cattle hunter culling the maverick herds now roaming Mauna Kea's slopes.
Parker married Kamehameha's granddaughter Kipikane in 1816 and made his descendents prominent Hawaiian royalty. This sailor-turned-cowboy and his princess began a 160-year-old cattle dynasty with Kamehameha III's two-acre land grant for $10, Kipikane's 640-acre dowry and his purchase of 1,000 acres more, later expanding to over 175,000 acres.
After three generations, the Parker family work ethic diminished: Grandson Samuel began frivolously spending the fortune; John Parker II and wife Hanai, purchased Pu'uopelu, the elegant Hawaiian-Victorian mansion next door in 1879 and their son John Parker III married Elizabeth, a European debutante. Dying shortly after daughter Thelma was born, his half of the estate went to her. This story continues within Pu'uopelu.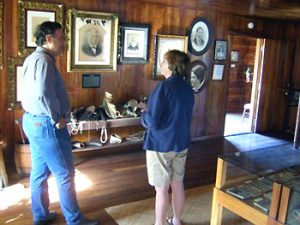 Anthony points out a group of period photographs in Thelma's restored bedroom. "Parker III's widow Elizabeth hired Lawyer Alfred Carter to manage ranch fortunes. Carter modernized the enterprise with expanded cattle breeding and improved grasses for pastures. They bought out Samuel's share for $600,000 and from age 12, groomed young Thelma to operate the ranch."
At eighteen, Thelma married Virginia businessman and horse breeder Henry Smart and had a son, Richard Palmer Smart. Tragically, Thelma and Henry died in1914, leaving baby Richard sole heir to the estate. Grandmother Elizabeth raised him; Carter mentored him.
Richard Smart updated this spacious home creating a spacious French provincial interior with lofty ceilings, furnished it with European heirlooms and hung crystal chandeliers. His exquisite collections of impressionist paintings and rare yellow glazed Chinese porcelain remain on display.
The music room reflects Richard's chosen career. Vintage posters reflect his 30-year career as a popular singer for over 30 years on Broadway and in top cabarets worldwide. Autographed photos of the glamorous guests entertained here cover the main wall. Smart lived in the mansion from 1960 until this last family cattle baron died in 1992, ending the Parker reign over the ranch. He is interred behind his beloved home.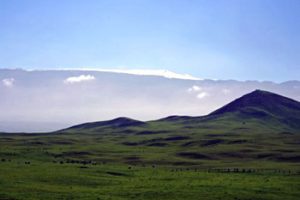 After meeting the Parkers we head into the ranchlands, jolting and jostling down Mana Road, a rutted one-lane dirt-and-gravel country road that had ended in Hilo during ancient times. With majestic snow-covered Mauna Kea standing in front of us, the verdant Kohala Mountains behind, it seems that over hundreds of years, this magnificent landscape has remained unchanged. Grazing Black Angus cattle…and some white Charolais…dot the lush rolling hillsides.
In the heart of the ranchlands we stop at the original homestead site. Anthony mentions that Hawaii's last reigning king, Merrie Monarch David Kalakaua and Samuel, the Royal Rancher had many grand times here together. Though fire destroyed Samuel's magnificent mansion, Mana Hale cottage and the early schoolhouse remain.
Across the fields five generations of Parkers rest high on a knoll shaded by trees. Among the gravesites, Anthony recounts, "Everyone in Waimea lined the road to this cemetery, mourning the passage of their beloved Thelma." As we pause in the gentle breezes, we consider their amazing heritage.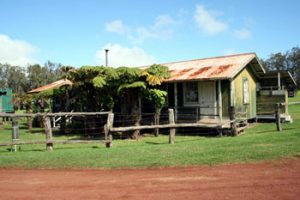 Picnicking at Makahalau, one of several rustic cowboy stations out on the range, Anthony tells us, "This paniolo station was inhabited until the 1960's. Five generations of paniolos lived way out here. Today's cowboys use it only for weekend outings or stop by to repair gear." He grins, "When the King finally lifted the kapu order, Hawaiian's didn't know how to manage the cattle. Kamehameha III convinced California vaquero Joaquin Armas to come to Waimea to teach them how to handle herds from horseback; others came from Latin America and Spain. Hawaiians called them 'paniolo,' morphed from their Spanish language Espanola. Hawaiian paniolos have long won prizes at rodeos, both here and on the mainland."
As I gaze over these magnificent emerald landscapes, I imagine early paniolos roping steers, branding, driving herds and mending the hundred of miles of fences…
Waimea's cattle trade thrived. An influx of whaling ships stopping in the islands for supplies produced a huge need for fresh or salted beef, launching a lasting industry; tallow and hides developed into major exports. The Parkers' fortune and influence increased with the demand for ranch products.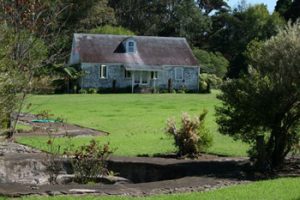 Returning down Mana Road we pass through Waimea, ending up at ranch headquarters, where structures from 1903 are still used. Though community rodeos are now staged here, record-holding thoroughbreds once trained at Pukalani Stables and racetrack until Richard got out of raising racehorses in the 1970's. Nearby, lava rock walls surround an old breaking corral where horse whisperers still work their magic with young horses and today's wannabe cowpokes rent mounts, saddle up and ride upcountry trails.
Owned these days by a trust supporting schools, hospitals and charitable organizations in Waimea, Parker Ranch still raises cattle herds on its 150,000 island acres. Steeped in both Western heritage and Hawaiian history, poking around in Hawaii's cowboy country proves an extraordinary Big Island experience.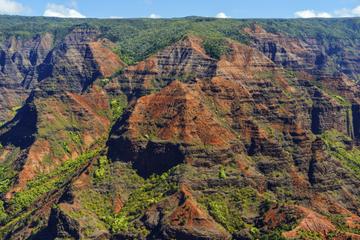 Private Tour: Waimea Canyon, Wailua Falls, Kauai Coffee Company and Spouting Horn
If You Go:
Big Island Visitors Bureau – www.gohawaii.com and .www.bigisland.org
Parker Ranch – www.parkerranch.com.
About the author:
Much-traveled freelance writer/photographer team, Chris and hubby Rick Millikan reside near Vancouver, BC. Former educators, they now present travel as an inviting 'curriculum'. Globe trotting in search of historic, cultural and zany adventures, their accounts appear in many BC Newspapers, local magazines, In-flight magazines and occasionally the Vancouver Sun or Province.
All photos are by Rick and Chris Millikan.