by Lawrence Hamilton
"Depth of friendship does not depend on length of acquaintance."
– Rabindranath Tagore.
Kolkata is a city of teeming masses. The city has an official population of 4.8 million and an unofficial one of well over ten million. Despite these sheer numbers and the density of the population getting lost and transfixed in this crazy city is simply a matter looking for a rhythm in the densely packed cacophony of noise.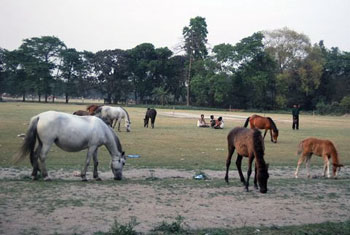 Kolkata is best seen from the footpath. A walk around these streets is a constant zigzag from the denoted path back onto the street to avoid the myriad obstacles of shopkeeper's and vendors who occupy almost every square inch. The footpaths can be landmines filled with unstable bricks and others simply dug up with no discernable pattern, despite all this around every corner is the time honoured tradition of boys playing cricket. Street children, millions of homeless, goats, cows and other assorted stray animals all fill the footpaths in hopes of finding a new life. With so many people jostling for space it is hard to imagine how these people live and survive. However one of Kolkata's reputations is correct, it is a shock to the senses. Fittingly it has long been described by many as a "Gateway to the East." Nothing it seems could be further from our daily routine.
My (soon to be) wife had decided to volunteer at an acupuncture clinic being established in the remote state of Jharkhand ahead of a long tour of the subcontinent. We had decided to use Kolkata as a place to prepare for our extended stay in India.
One of our main objectives was to procure wedding rings. Although we weren't yet wed I knew from previous trips in India that when traveling with a woman in rural and conservative areas having a 'wife' made things a lot easier. The flash of a ring could prevent an endless series of nagging questions, help avoid unwanted harassment and maybe most importantly not upset cultural and religious mores.
After some inquiry we took a metro to the Bow Bazaar which is reputed to be the main jewellery district of Kolkata. Whenever there is a wedding in a family this is the district to come and select some of the finest gold and silver jewellery that India has to offer.
The bazaar is known to be a microcosm of Kolkata itself, a reminder of its long stretched past and a harbinger for what the future holds. Some legends even purport that the founding of the city itself was based on the shade offered here by a large banyan tree.
In previous generations it had seen the rise of a large Chinese population and also the seat of the British Raj. Today it offers the two sides of India's global rise, Kolkata's central metro station and a red light district where many of the millions of impoverished migrant labourers come when moving into the city.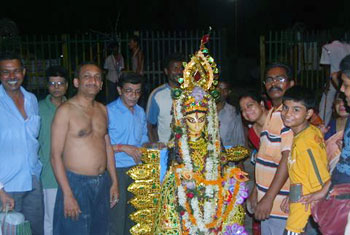 We get off from the beautifully tiled Metro platform and see one of ubiquitous scales that are located at train and metro stations across India. These scales are run by various companies around the country and could remind one of an old style jukebox. The customer steps up onto the scale and for the price of two rupees is treated some snapping neon Christmas-like lights with a bit of music and finally a piece of paper with your weight and a horoscope emerges. Sometimes in place of a horoscope advice is given directly from a Bollywood star! I vowed to use one on our return trip.
Above the platform we were again assaulted by the masses. The majority of residents in Kolkata are Bengalis. Throughout all of India Bengalis are seen as some of the most educated, cultured, warm and friendly people in the nation. Bengali has been described as a language that is a song and given to natural poetry and spontaneity. This seemed to be reflected in the conversations we overheard and the rhapsody that played behind the blare of horns. As we were crossing the street dozens of people shouted "Hello!" while offering us big warm smiles.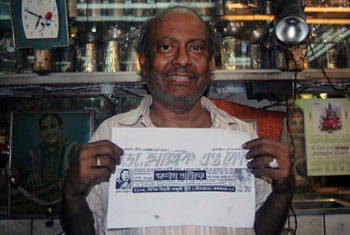 We passed arrays of food vendors, shops selling all types of wooden furniture and famous Bengali sweet shops. Finding a jeweler was proving to be harder than we thought. We wandered some more and turned around and tried to find street signs, which isn't the easiest task anywhere in India. We asked for directions which resulted in us getting more turned around. This is where India can be its most infuriating, its at these moment where the tropical heat and horns blaring and the roundabout footpaths can make you question your sanity. We finally found a street that was studded jewellers and darted into one.
After forays into a few jewellers the task was beginning to seem bleak. The jewelers seemed to be using strange calculations to give us extremely high prices on gold. We tried to explain we wanted plain silver rings that were simple and most importantly cheap. After a few failures and some more travails on the Kolkata footpath we walked into in a small hole in the wall.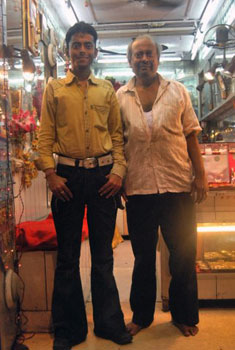 The shop wasn't your typical jeweller but more like a junk/trinket store. The shop was owned by a vivacious Bengali man and his son. It looked like it had been there during the days of the original banyan tree. Instead of pulling out any particular rings the owner pulled up several big red boxes while the son turned around and grabbed a silver tray filled with miscellaneous junk. It took several attempts to make ourselves understood about what exactly we wanted done.
After hand gestures, some broken Hindi and English we were able to make understood what we wanted. He grasped that we wanted two silver wedding bands.
"Kitna," I asked. How much being the second Hindi word most people learn after hello.
He thought patiently. "300 rupees (7 dollars)," he replied. We were thrilled. He shook hands vigorously. He measured our finger sizes and double checked to make sure he had the order correct.
After this he sent his son off with two pieces of silver.
"Sit Sit," he replied with a smile on his face. We sat down on a couple of stools that were behind us. Through our broken languages we learned that this shop was his families' heritage and had been with them for over eighty years and was going to pass it on his son one day.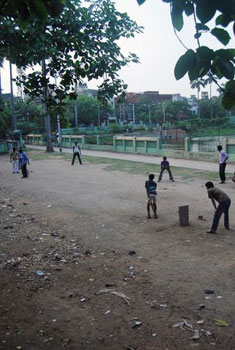 He seemed to warm to us and expressed gratefulness to be able practice his English, which wasn't as bad as we originally thought. Along with being a shop keeper he seemed a very well cultured man and regaled with quotes about his heroes and favourite music.
"Sir Donald Bradman," he said with gravity, "52 Tests, 52,842 runs, simply amazing. But Tendulkhar is our Indian hero," his voice rising as he placed his hands over his heart.
We ordered chai and he was astounded to hear than the USA and Australia we had no servants.
"You mean you clean, you wash!" pointing at us. "Ah give it to the man, ten rupees and washed very clean." He laughed heartily. We laughed even harder, his smile and his charm were infectious
The time went on as we awaited the son. Every few minutes he rapped his knuckles on the counter and sang a few bars from Dangerous by Michael Jackson, who he told us time and again was one of the greatest singers of all time.
"Ah Michael Jackson," he said wistfully as if he was about to tear up. "Michael Jackson, Michael Jackson," he repeated softly.
In a flash is enthusiasm returned. "The greatest, Mohammed Rafi!," he stated. He then showed us a picture of the great man himself. We later learned that Mr. Rafi was one of many famous Indian playback singers, or singers who did scores for the many Bollywood movies that Indians so love. Mr. Rafi is considered to be one of the most talented and literally has thousands of songs to his credit.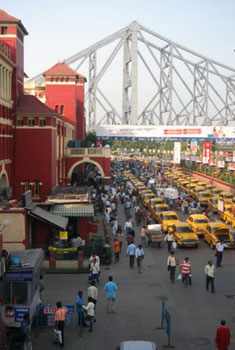 We begged him to sing us a song, a real Bengali song. He refused. We begged more, we asked him how a beautiful man with a beautiful voice could not sing us such a song for our wedding.
Eventually he relented, for the space of minute we were transfixed by this alien and haunting language. By the time he finished his son returned with our rings. We realized that this impromptu meeting had been our own private Indian wedding ceremony.
To confirm this, the father and son even made the effort to find little red boxes to place our rings in. We took photos and thanked them profusely for sharing a part their lives.
At the train station we were once again in with the masses and grateful for the chance we had to connect with two special people among these endless crowds. Before our train arrived I went up to the scale and placed a two rupee coin. The lights twirled and the music blared and out popped my horoscope. I held it up and it stated:
"The Person You Marry Will Provide All The Romantic Outlets Your Passionate Nature Requires." Your Lucky No. 8
We boarded the Metro and disappeared into the crowd.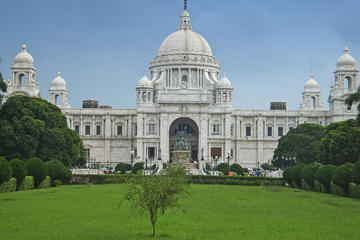 Private Full-Day Kolkata Tour
If You Go:
Some links for further information:
About the author:
Lawrence Hamilton was born in Kentucky and has been an avid traveler all his life. His main reason for traveling is to meet unique people all over the world. He has been fortunate enough to have traveled in thirty countries. He now lives with his wife in their adopted city of Melbourne, Australia. He recently started a blog called at aroundtheworldthinker.blogspot.com
All photos are by Lawrence Hamilton.