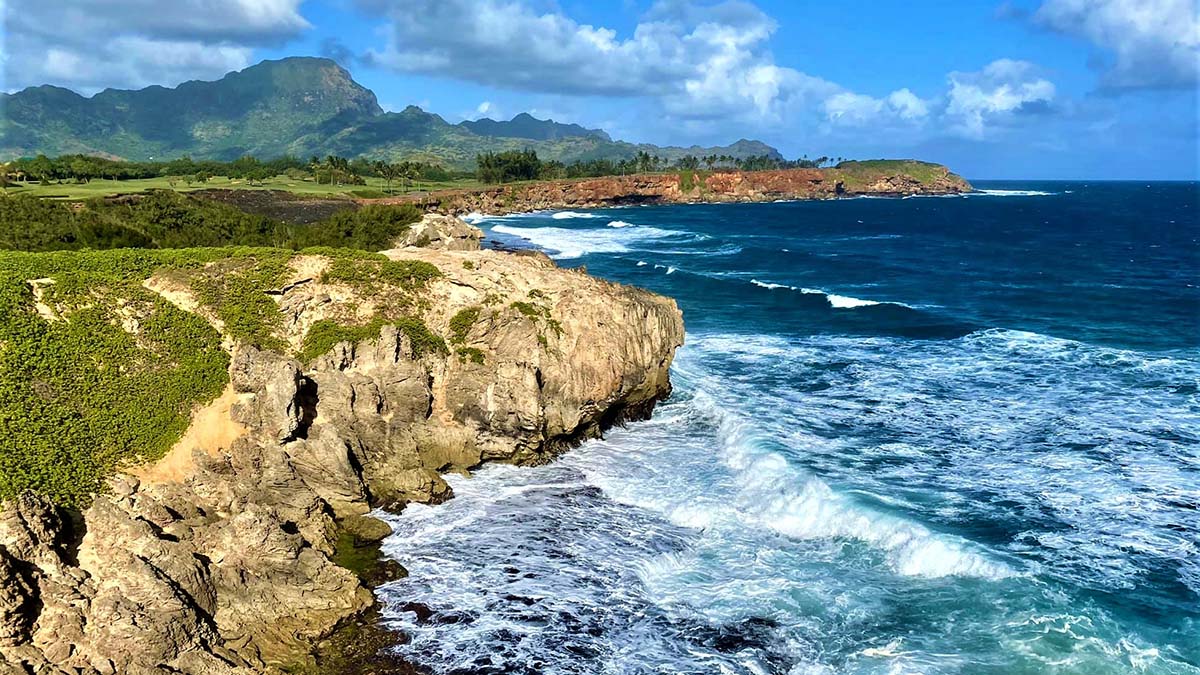 Hiking the Ancient Makawehi Lithified Cliffs
by Noreen Kompanik 
Known for its unique geography and unparalleled natural beauty, Kauai is one of the most breathtaking islands in the world. A hiker's dream. Truth be told even if one is not an avid hiker, the abundance of natural wonders waiting to be explored is endless.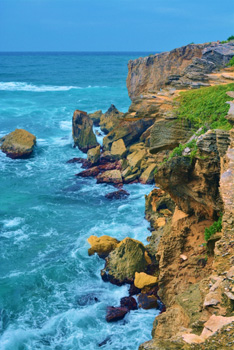 Our hearts were set on introducing our fellow travelers to the spectacular Na Pali Coast, globally renowned for its rugged, breathtaking grandeur, secluded beaches, rainbow waterfalls and, yes, challenging, daunting hikes. Three days of heavy rains and flooding foiled our plans. Steep treacherous cliffs and slick trails make for heart failing excitement, but, not the kind of excitement we were looking for. Even under the best conditions the Na Pali Coast can be dangerous with its washed out trails and narrow, stony paths clinging precariously to the edge of cliffs. With more rain expected in the forecast, we reluctantly took the locals advice and headed south to the sunny shores of Poipu. It is here on the south side of Kauai that we found unexpected treasure.
Kauai's southern coastline features a fascinating path along the ancient, fragile ecosystem of the Maha'ulepu Heritage Trail. The trail begins on crescent-shaped Shipwrecks Beach near the Grand Hyatt in Keoneloa Bay. A fishing vessel was said to have run aground on the bay's sandbar. Though remains of the vessel are now "lost at sea", the beach retains its famous name. Leaving the tropical white sandy beach, we were surprised to find ourselves in groves of fresh, fragrant pine trees. Our path covered with thousands of soft green needles. Colorful flora and fauna of the forest surrounded us. With very few hikers to be seen, we felt as if the trail was ours alone.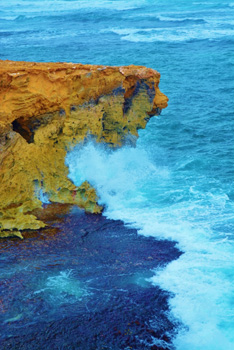 After climbing a gentle upgrade, we emerged into a completely different world. Greeted by azure skies and miles of crystal deep blue sea, the stunningly rugged coastline stood before us. Commanding views of the churning Pacific waters were visible from vantage points overlooking the edge of sun bleached cliffs. Magnificent coves in the distance appeared like a perfect painting. Blowholes shooting occasional sprays of salty ocean water along the path demonstrated the immense power of the ocean at high tide. Binoculars in hand, we ventured closer to the water, our excitement piquing with the unexpected sight of massive humpback whales breaching in the distance.
The Makawehi Lithified Cliffs loomed ahead, appearing like an alien landscape. These cliffs were formed from sand dunes weathered by wind and surf over thousands of years. Crashing wave action carved sharp ridges and deep pockets in the cliff side. Lithification occurred when sediments compacted, then filled pores with ground water containing high levels of minerals. Fascinating scientific explanation that translates to- spectacular views.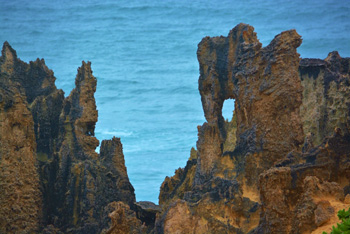 Each bend in the path yielded more surprise- the element of any good journey. Crystal clear tide pools teemed with tiny fish and miniature crabs all scurrying to find safety as each wave brought more water surging into the pool. Treasure troves of fossils and petroglyphs carved into the rocks line the coastal pathways. Skeletal remains of extinct birds that once lived on Kauai before Polynesian voyagers first arrived over 1500 years ago have been discovered by paleontologists.
Each outcropping of rock, each sheltered bay and inlet, each changing vista yielded more awe inspiring views and geological wonderments. Cool, moist caves lured us to their entrances begging to be explored. Whooshing sounds of waves roaring through the wind tunnels cautioned us to beware the mighty power of the Pacific surf.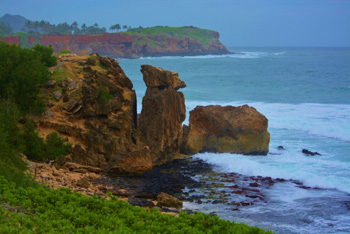 On our return trip, we followed the inside trail away from of the direct sun and into the welcoming shade of the palm and coconut forest. Since the paths split and merged repeatedly, we were able to easily navigate a completely different route back. Much to our surprise, we unexpectedly stumbled across a sacred ancient Hawaiian burial site. The stillness was interrupted by a gentle breeze stirring through the treetops, reminding us that for the ancient gods, their mana still lives here. Eyes closed, we sensed the spirit of the ancient Hawaiians and heard their whispers urging us to respect this sacred ground.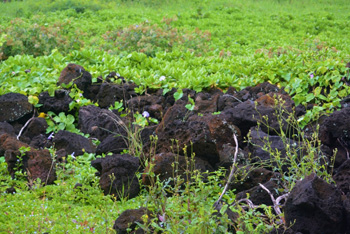 Arriving back to Shipwrecks Beach at the end of our trek, we were certain we could undertake this adventure multiple times and it would never be the same. Though not an exceptionally challenging hike, we instead experienced a relaxing trek with breathtaking views and fascinating discoveries perfect for a casual or family hike. Oh, and about that initial disappointment in forgoing the Na Pali trail, nature's artistry took care of that.
Louis L'Amour once said "The trail is the thing, not the end of the trail. Travel too fast and you miss all you are traveling for." We are thankful to have not missed this unexpected treasure.
If You Go:
Take Highway 50 east from Hanapepe. Turn right on Highway 520 toward Po'ipu. At the end of 520, turn right on Koloa Road and then left on Poipu Road. Park in the lot near the Hyatt Hotel and take the trail between this hotel and the Poipu Bay Resort golf course. OR, go to the east end of Shipwreck Beach to access the cliff trails. The hike is a round trip of approximately 3½ miles. Plan on at least two hours (or more if you love to explore).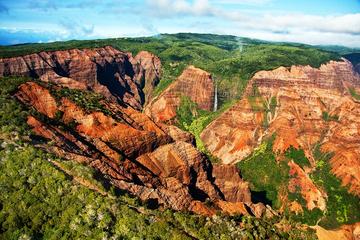 Kauai: Waimea Canyon and Fern Grotto Kauai
About the author:
Noreen Kompanik is a published freelance travel writer and photographer based in San Diego, California. She is a member of the International Travel Writers and Photographer's Alliance and shares many of her adventures, stories and photos on whatsinyoursuitcase.net and the What's In Your Suitcase? Facebook site at www.facebook.com/Whats-In-Your-Suitcase-322531634589666.
All photos by Noreen Kompanik:
1. Beginning the Hike
2. Rocky Kauai Coast
3. High tide on the Cliffs
4. Alien looking Landscape
5. Makawehi Bay & Inlets
6. Sacred Burial Ground