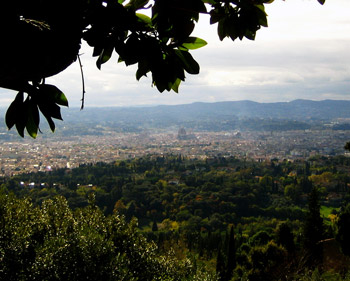 by Peppa Martin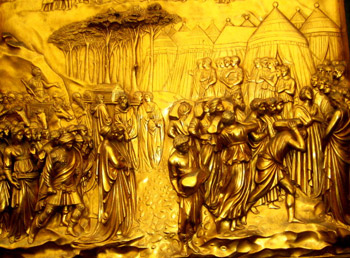 What faithfully happens, as summer turns to autumn in Tuscany, is that people come down with a pernicious fever – let's call it 'acute funghiosis' – which causes a delirious devotion to truffles. Truffles are discussed with the same intensity and fervor usually reserved for Plato. They are hunted, worshipped, prized, prepared and savoured — after which, the experience of hunting, worshipping, prizing, preparing and savoring is again examined with near-religious ecstasy. This epidemic grips the palate of anyone who eats, and can be cured foremost with a generous serving of taglierini alla tartufo.
Like the wild boars dispatched to the woods to sniff out what is arguably the world's ugliest delicacy, this rampant affliction led me across the Arno River to the well-known Osteria Del Cinghiale Bianco, not far from the Pitti Palace in Firenze's Oltrarno district. Buttery pasta slathered in local Tuscan truffle-infused olive oil and topped with shaved fresh truffles appeared to guarantee diners an eternally deep and contented sleep. Creme caramel arrived for dessert (extra caramel for me), validating the over, say, one million newly acquired calories.
Fat and happy is the new black!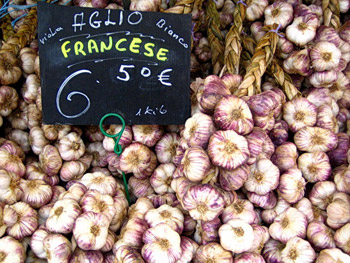 Now, this is also Olive Oil season, with capital 'O' s , and everywhere you go is the promise of 42 extra-virgins in heaven. Hand picked, hand pressed, home bottled, first run, double extra, organic, small batch, cottage industry silken oil flows more vigorously and greener than the Arno. Beautiful handblown bottles with delicately drawn artisanal labels beckon you from shop windows and market stalls with their liquid treasure of early fresh earthen green oil. Sadly, by the time it hits our shores, its colour and flavour have mellowed and that newborn nutty taste is but a memory of the motherland.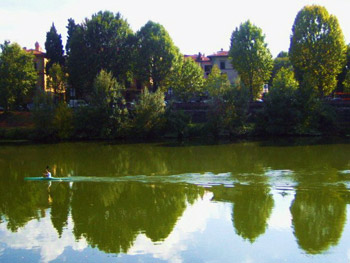 The next day, with late October sun on the city's shoulders, I headed by local bus to the nearby borough of Fiesole, perched high in the emerald hills overlooking Florence. There is a spectacular hotel here, The Villa San Michele, of the Orient-Express group, that delivers luxurious vistas of the Florentine valley while dining al fresco. Skipping an overnight stay, I opted for the 'express' route of lunching like a local.
Could I possibly be hungry after yesterday's dinner ? Yes, indeed.
As travellers know, a Continental-style lunch in Italia is a traditional affair, to be savoured slowly, with appreciation and plenty of wine. Launched with double cheek kisses, it can involve several courses, is typically accompanied by animated conversation, followed readily, in some cases, by a nap.
Seated on the wide veranda, seduced by breathtaking views and splendid food, I felt fully intoxicated by all that seemed an enchanted illusion. It occurred to me then : Could this be a condition for which there is no cure ?
One can only hope.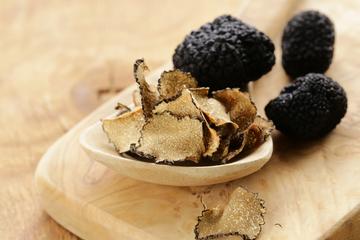 Tuscan Walk and Hunt for Truffles
If You Go:
Expand your art history knowledge by enrolling in one of the fascinating short courses offered by The British Institute of Florence. "The British Institute today is a vibrant bi-cultural institution offering a wide range of educational and cultural programmes for both the resident Tuscan community as well as students and visitors from all over the world." For longer stays , while you live and learn like a local in Florence, try the cozy, fully equipped suites at Serristori Palace. www.serristoripalace.com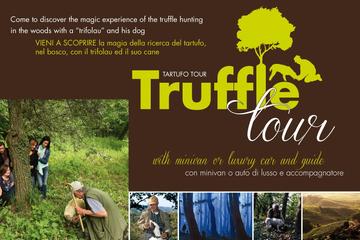 Truffle and Wine Tour Snuffle and Truffle: Truffles, Chianti Wine and Olive Oil
About the author:
Peppa is fulfilling her lifelong passion as a full time professional photographer and gallerist. She runs 'truth and beauty', her commercial studio and boutique gallery of contemporary photography. www.truthandbeauty.ca Peppa is interested in ideas, people, art, places, design, architecture and gardens; loves to cook, read, dance, and be with family and friends. Her (fab) four adult children are strewn around the globe on three continents. Follow Peppa on twitter @4truthandbeauty and at Instagram.com/pepstagrams
All photos by Peppa Martin.