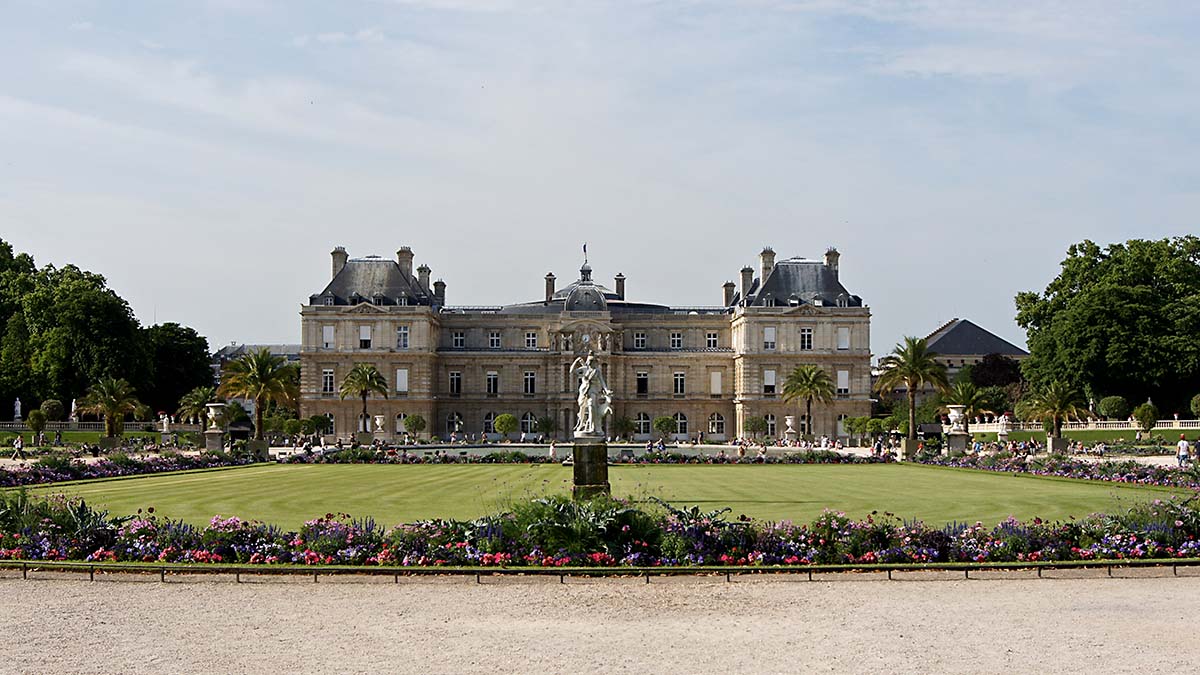 by Elizabeth von Pier 
All my life I have traveled with someone. First it was my husband, then after he died, various friends and family. So this was my first solo trip (at the age of sixty-something!). I was meeting family in Italy afterward so somehow that future connection made me feel more comfortable going alone to Paris. Also, I know the city fairly well. So, I rented an apartment for two weeks in the 6th arrondissement of Paris, the centrally located St. Germaine des Pres quartier, and set out for the adventure of a lifetime.
I found I enjoyed traveling alone because I could do whatever I wanted whenever I wanted. But dining out was a problem for me because I don't like to eat out alone. So, for the most part, my dinners were an assortment of take-out foods I got at various stalls and epiceries and I ate by the window of my apartment, watching the Parisian world go by.
My "home" in Paris was a third floor flat overlooking an upscale boulevard. Across the street were two popular and competing cafes, the Cafe de Flore and Les Deux Magots. One morning I watched them set up their tables and chairs getting ready to open for business as the homeless family who spent the night six feet away folded up their blankets, packed their belongings into a cart, cleaned up the debris, and set off down the street.
I typically started my day power-walking in Luxembourg Gardens [TOP PHOTO]. The flowers were still beautiful, even in October. I admired the statues of kings, queens, gods, goddesses, and cherubs holding urns filled with flowers. People picnic on the grass and lovers kiss. One couple was kissing my first time around the park, and was still at it my second time around. Sundays are the biggest day when everything steps up a notch. There are hundreds of joggers doing their laps, groups of people are practicing tai-chi, ponies are lined up waiting to take little ones for a ride, teens are rehearsing dance steps, families are waiting in line to get into the marionette show, children are at the edge of the pond sailing their toy boats, and bands are playing Israeli and other dance music. The big fountain at the southern end is turned on, with its ferocious-looking fish, turtles, horses and goddesses. I left smiling ear-to-ear.
I would pass the Eglise Saint Sulpice, known as the "Notre Dame of the left bank", on my way to Luxembourg Gardens. Usually there were beggars near the door, holding out weather-worn hands for a few euros. Inside the church are beautiful Delacroix frescoes and outside in the piazza is an elaborate fountain. Little pre-schoolers played at the edge of the fountain laughing and squealing in French. As I walked by, I often heard the bells tolling, calling the faithful to services, a glorious sound to my ears.
On occasion, I got mistaken for a local as I pointed some lost tourists in the right direction. But on one of those days, my ego was quickly deflated when a group of art students doing a project on "integration" asked for a photo of me dancing with one of the male students ("integration" of the old and the young, I presume).
I took some time each day to visit one or two of the many attractions of this city. There are way too many to describe, but there were some that especially interested me. I flaneured (strolled) to the lovely Place des Vosges and the Musee Carnavalet, one of the mansion-museums owned by the City of Paris that are free to the public. I shopped at the bookstalls on the Seine and came upon an outdoor exhibit of avant-garde photography. Now I'm wondering if that photo of me dancing with the young student might someday show up in a public venue like this! And of course I walked the Champs d'Elysees, stopping in several car showrooms to see their prototypes and custom one-of-kind models.
It rained one night while I was reading in bed. It was a heavy downpour so I went to a window overlooking the boulevard and everything seemed to be shimmering. The shop windows displaying high fashion were all lit up and reflected in the wide wet sidewalks. And the raindrops looked like sparkling gold in the yellow street lights.
The Musee l'Orangerie has some beautiful works by Monet, including his water lilies. The canvases are magnificent, each 50 to 60 feet long and are mounted right onto the walls. The four paintings capture Monet's garden in various light. The student quarter is an enjoyable area to wander and get lost in. Rue Mouffetard, one of Paris' famous market streets with dozens of delightful specialty food shops, is in this area. Nearby is the Grand Mosque de Paris, awe-inspiring and tranquil with tiled arcades, a minaret and an interior patio garden modeled after the Alhambra in Spain.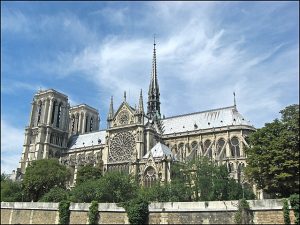 One Saturday evening there was a free organ recital at Notre Dame. Being in that mammoth cathedral at night with its colossal stone pillars, dark side altars and images of the hunchback and the gargoyles up above was haunting. So was the music. I came back to the flat to see the homeless family across the street return to their usual spot. Later, feeling guilty with a full belly and looking down at them from my lovely, warm and comfortable apartment, I got dressed and went out to give the mother some euros. It was even worse than I thought. There were three sweet little cherubs all under four years old sprawled out, mouths open, sound asleep and snuggling next to her warm body.
There is a fabulous view from the open-air roof terrace of the Tour Montparnasse, a 59-story modern skyscraper and one of the most hated buildings in Paris. And you avoid the long lines at the Eiffel Tower. I strolled there leisurely and revisited some places I especially loved in the past–the Palais-Royal, a former palace that now houses lovely shops and cafes, Galerie Vivienne, one of Paris's 19th century covered arcades; and the fabulous Opera House where I sat on the steps and listened to a street performer playing a violin.
I highly recommend going across the river to the Jewish quarter where there is a small take-out joint on rue des Rosiers that makes THE BEST felafel wraps loaded with veggies and sauce. You can't miss it because there's always a long line at the take-out counter on the street. Order your wrap and enjoy every morsel as you sit on the curb or lean against the building like everyone else.
One morning, I decided to check out the City Pharmacy close to my flat. French pharmacies are found on every block and identified by a neon green cross. They are both weird and delightful places where you can fill a prescription, but you can't buy tampons or help yourself to Tylenol; it must be fetched for you by an official Pharmacist in a lab coat. And the walls are covered with shelves and shelves of skincare products, all claiming to re-hydrate, plump and re-rejuvenate. In every narrow aisle, there are at least two "assistants" to point out your flaws and help you spend your euros.
After listening to too much sales talk and feeling even worse than when I first went into the pharmacy, I went to lift my spirits at my favorite and, I think, the most beautiful bridge in Paris, the bronze lamp-lined Pont Alexandre III. Its elaborate decorations include Art Nouveau lamps, cherubs, nymphs, and, at either end, gold winged horses valiantly prancing atop large cement pillars.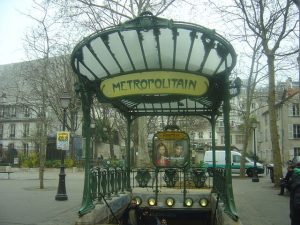 The metro is the best way to get to Montmartre but keep in mind that you have to climb 180 steps to get out from underground. This area attracts bohemians and artists (and tourists) and is very charming with its steep hills and narrow cobbled streets. At the top is Sacred Coeur, a basilica that looks like a big cream puff. On weekends, wine flows, scrumptious foods are available, musicians play, people dance, street artists draw, and the shops do a booming business.
I have found the Parisians to be very polite, friendly and helpful. Whenever I needed help, I said "Bonjour, Madame/Monsieur. Parlez-vous Anglais?" And they always answered "just a leetle beet." Then we proceeded en Anglais.
So my vacation at an end, I wrapped things up, packed my suitcase, and said a fond farewell to the nymphs in Luxembourg Gardens and the gargoyles on Eglise St. Sulpice. I thought about the homeless family who sleeps across the street and said a silent prayer for them as the bells of Eglise St. Germaine tolled.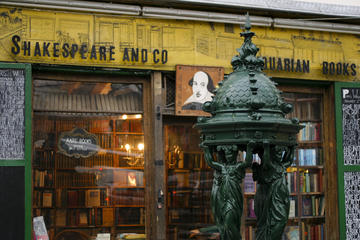 Literary Paris: Private Book Lovers' Tour
If You Go:
contact@apariscommechezsoi.com for apartment rental at 1 rue du Dragon, Paris.
La Coupole, 102 Boulevard du Montparnasse, 75014 Paris, France, tel. 33 1 43 20 14 20.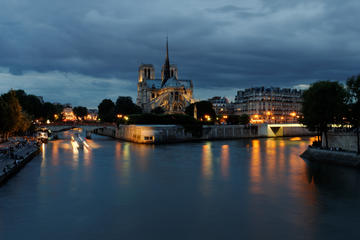 Ghosts of Paris: Private Evening Mystery Tour
About the author:
Elizabeth von Pier is a retired banker who has travelled extensively around the world. She typically travels with other women and brings that perspective to her writings. This, however, was her first solo trip. Ms. von Pier lives in Hingham, Massachusetts and has been published in TravelMag.co.uk and Journey Woman.
Photo credits:
Luxembourg Gardens by Jebulon / Public domain
Eglise Saint Sulpice by Mbzt / CC BY-SA
Notre Dame by Madhurantakam / CC BY-SA
Paris Metro station by DIMSFIKAS / CC BY-SA