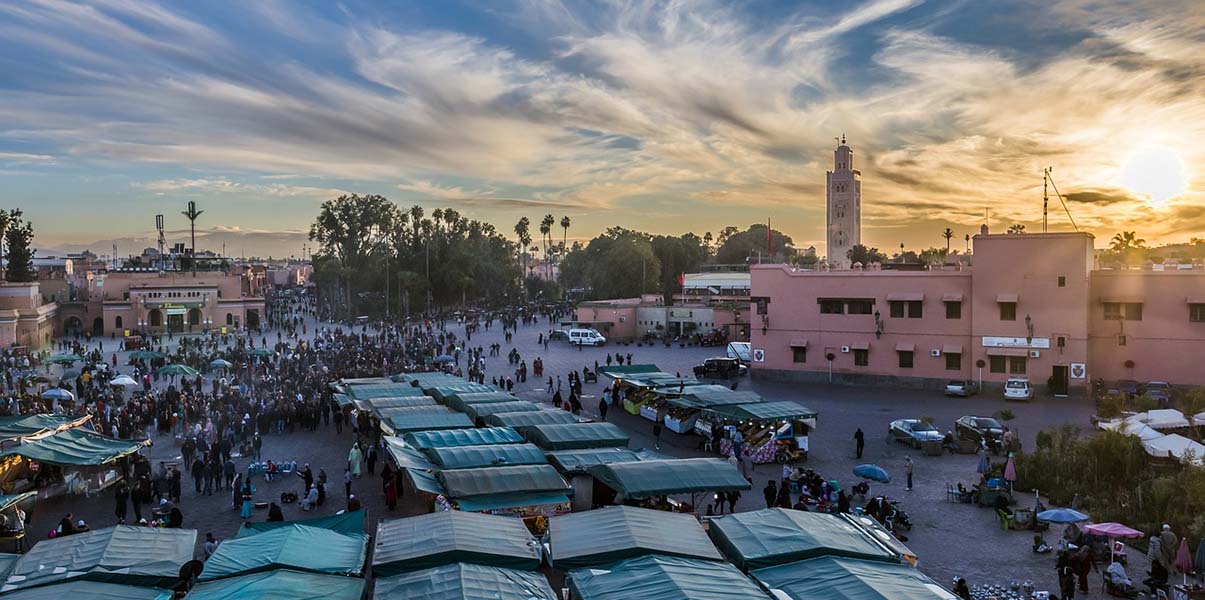 by Lynne Howden 
Three servants climb the stairs, each one carrying a freshly-slaughtered lamb, dripping blood. We later learn that Eid al-Adha, the Festival of Sacrifice, is about to take place. This is one of two main Islamic holidays in Morocco, a three-day event marking the end of the hajj rituals. (1) The festival commemorates the prophet Abraham's willingness to sacrifice his son, when God commanded that he kill a ram instead. (2) Moroccans celebrate with feasting and visiting family and friends, not unlike our Thanksgiving.
Upon arriving in Marrakech from Tangiers, we are met by a local guide who says he can show us to "his" hotel, nearby. We follow him through the streets, weighed down by our backpacks, only to find the hotel is full. Not his hotel, apparently and no tip! We turn down his offer to take us to another hotel. The manager of the hotel takes pity on us, offering to accommodate us in his home nearby in the Quartier Hivernage. It's exciting, and a rare opportunity, to get to see inside a Moroccan home, in a quiet residential neighborhood near the medina. We share the second floor, and a bathroom, with his daughters, one of whom has been moved out of the room where we'll sleep. There is no lock on the bathroom door, so we have to listen to be sure it is empty before entering. Also, on this floor, is an opulent salon, with low tables, divans and cushions for lounging. A carpet, spread with scented leaves, covers the floor, while a sparkling chandelier illuminates the room.
As we approach the Marrakech medina, the old walled Arab quarter, we are accosted by several of the guides who lie in wait outside all the medinas in Morocco. A heavy-set man, dressed in a long, loose white djellaba, is particularly tenacious, insisting we can't enter the medina without hiring the services of a guide, cursing us when we refuse. We had bargained and hired guides in Tangiers, where they promised to take us where we wanted to go each time, only to lead us eventually to a carpet seller. The merchant, though graciously seating us and serving steaming cups of mint tea, had trotted out carpet after carpet, until we were finally able to escape.
 Feeling confident we can fend for ourselves we enter the medina and are swept into the honeycomb of connecting labyrinths leading to the souks, the small stalls of vendors, organized by craft. Shafts of dusty sunlight penetrate the narrow alleyways between the stalls. Suddenly, we feel we have gone back in time to a medieval market where all our senses are stimulated: glittering trinkets and steel plates hang in doorways; the pungent aroma of exotic spices awaken our sense of smell; the sounds of voices calling, bargaining to get our attention; colorful sacks of fruit, decorative ceramic plates and vibrantly woven Berber carpets; the feel of soft leather accessories. "Speak English? Come see my goods. I give you best price!"
Upon entering the Jemaa el-Fna, an enormous terra-cotta square in the heart of the medina we are at first struck by the sounds of the snake-charmers' pungi (a wind instrument) mesmerizing the snakes as they wind themselves around the necks and shoulders of somewhat nervous tourists. Fortune tellers, henna artists and monkey-handlers compete for the tourists' attention and dirhams. Food stalls waft tempting odors: kebabs cooking on braziers, freshly-squeezed orange juice, just-baked breads served with zesty dips.
From the square, we make our way through the Bab Agnaou, Gate, (gate of the hornless ram) the entrance to the royal kasbah in the southern part of the medina. Here you will find the ruined palace of El Badi, and the Saadian Tombs. The ornate gate, made of ochre brick and stone surrounding its horseshoe arch, is decorated with cursive writing and floral designs. El Badi, completed in 1593, then the most opulent palace in the Islamic world, survived less than 100 years.
After the fall of the Saadians, Sultan Ismail Ibn Sharif stripped the walls of its marble, gold and onyx for use in building his new palace at Meknes. The ruins of the palace are echoed in its reflecting pool, inviting you to imagine its former glory. The tombs, walled off to conceal them, were only rediscovered during the 20th century by a French aerial photo, and have been restored to their original splendor.
We retreat to a restaurant overlooking the medina at the end of a stimulating day, to relax and reflect on all we'd experienced. Over a meal of tagine (beef stew) with olives and beef brochettes, accompanied by salad, vegetables and dessert, we look down at the street below. It is 8:00 pm and the thoroughfare is still a hub of activity: pedestrians artfully dodge each other and give way to vehicles in a perfectly-timed rhythm. Calèche drivers carry their charges home as night falls. A sad-looking donkey, head hanging low, pulls an empty cart and dusty driver behind. Motorbikes zip along, beep-beeping to warn the pedestrians, like angry buzzing bees, contributing to the street noise, muted from where we sit. From our vantage point, we also miss out on the pungent odors of Marrakech street life: horse manure, urine, exhaust fumes and food smells all blending together in this North African mélange of medieval and modern.
On our way home, we are stopped by a taxi-guide, trying to line up business for the next day. We explain we've been here a few days and have been through the medina. We tell him how much we are enjoying our time in Marrakech; accepting this, he wishes us well as we part ways. It is not easy to adapt to a different and sometimes difficult culture but is worth doing for a new, stimulating experience. The sights, sounds, smells and tastes of Morocco will remain with us for a long time.
---
If You Go:
Getting There:
Marrakech has an international airport with direct scheduled flights coming in from London, Amsterdam, Berlin and Paris and many Charter flights arriving from all over Europe. If you are flying from the US, Canada, Asia or elsewhere, you'll have to change planes in Casablanca. The airport is only about 4 miles (15 minutes) from the city and buses as well as taxis operate throughout the day. You should set the taxi fare before you get in. The major car rental companies are represented at the airport.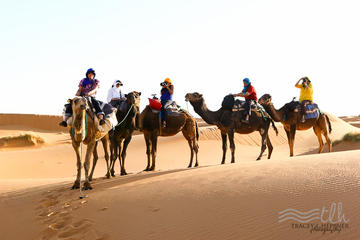 3 Day Marrakech-Marrakech Desert Tour
Accommodation:
One of the most sought-after accommodations in Marrakech is a riad, a traditional Moroccan house situated in the Medina (old town). All riads have a central courtyard that will often have a fountain, restaurant or a pool. Some riads also have rooftop terraces where you can eat breakfast and look out over the city.
Marrakech has lots of luxury hotels available including the famous La Mamounia. There are also several popular chain hotels like the Le Meridien and Sofitel. These hotels are often housed in historic buildings and retain the Moroccan character and style. The most famous luxury hotel in Marrakech is La Mamounia which Winston Churchill described as "the most beautiful place in the world".
Budget hotels are also plentiful, ranging from €45- €100 per night. Since many of the smaller budget hotels won't have web sites or online booking facilities you should get a good guide book, like the Lonely Planet and follow their recommendations. Most budget accommodation is situated south of the Djemaa el Fna.
References:
(1) www.wikihow.com/Perform-Hajj The Hajj (pilgrimage to Mecca) is one of the five pillars of Islam, the obligations that all Muslims must uphold. Every adult Muslim (male or female) who has the physical and financial means is required to travel to Mecca to perform the Hajj once in his or her lifetime. In Mecca, Muslims from all over the world gather in a display of faith, unity, and solidarity by recreating the ritual that the Prophet Muhammad (peace and blessings of Allah be upon him) performed in his last pilgrimage.
(2) www.thespruceeats.com/eid-al-adha-in-morocco-2394819
Photograph:
Image by Piet van de Wiel from Pixabay
About the author:
Lynne Howden is a retired ESL teacher who has been interested in history, writing, travel, photography and learning about other cultures for most of her life. She and her husband live in Vancouver and have travelled to all continents, except Antarctica. You can follow her travel blog, with photos at travellingfools.blogspot.com and her photos on Flickr at www.flickr.com/photos/26058675@N02/albums.