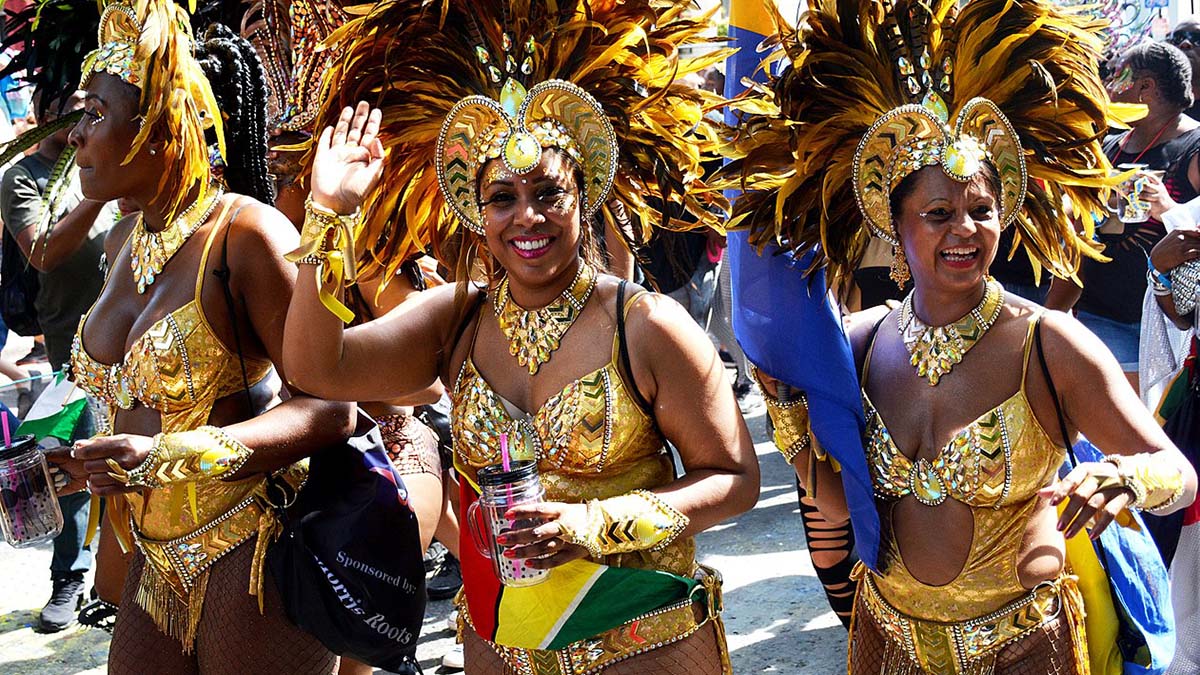 London, England
by Cindy-Lou Dale
When the Trinidadians first arrived in England they longed for their elaborate carnivals back home. Dressed in elaborate costumes, pounding on steel drums they began a small procession through the streets.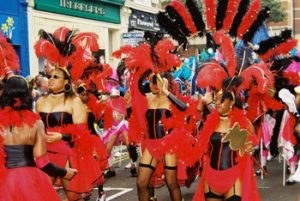 Now, some 42 years later, the Notting Hill Carnival has become a full-blown Caribbean celebration, second only to that held in Rio. It attracts multi-cultural participation and draws millions of spectators from all over the world.
The Notting Hill Carnival began through the energies of West Indian immigrants from the Caribbean, in particular, Trinidad, where the carnival tradition is very strong. Together with other local folk, they conjured up a dream of creating a festival to bring together the Caribbean people of Notting Hill, most of who were facing racism, unemployment and poor living conditions, prevalent in the 50s era of racial tension.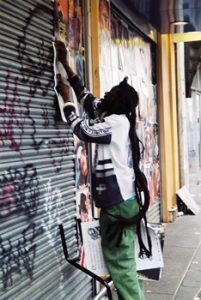 Back then dances were organised in halls in North London, where West Indian and African immigrants could come together freely. At the same time Trinidadian steel band music was being played each Sunday at a local pub in Earls Court. From this evolved the idea of inviting the steel bands to partake in a street festival in Notting Hill, thus encouraging people, especially children, to come onto the streets and express themselves socially as well as artistically. Once the West Indians of Notting Hill heard the first tunes of the steel bands, they immediately took the opportunity to dance and perform in London's streets.
In Trinidad, slaves were historically forbidden to wear costumes or play musical instruments. Tamboo, bamboo and hand drums were outlawed. The West Indians were also banned from going out after dark, unless they were accompanied by their masters. When the laws were repealed and freedom from slavery was announced in 1833, the slaves took to the streets in song and dance. Deprived of traditional rhythmic instruments, they took any object they could find, including garbage can lids, old car parts and empty oil barrels and used their artistic skills to mimic their masters and pour scorn of the system that had enslaved them for so long. The newly freed slaves would dress like their masters, powder their faces to look pale or make masks to resemble their former oppressors, distorting images and features if they regarded them as particularly evil.
These celebrations of freedom provided the only opportunity for the former slaves to express their feelings towards the inhumanity they experiences. They quickly developed the art of costume making, creating fantastic ensembles which satirised their situation as Africans, transported to the Caribbean to become slaves.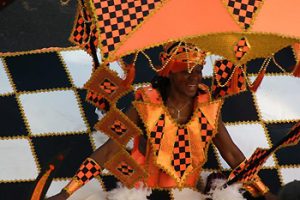 In London today, their tradition continues, as local immigrants from around the world take part and associate themselves with the Notting Hill Carnival. The skills of costume making, steel drumming and the traditional Caribbean calypso folk music has made these celebrations what they are today – an explosion of fun, food, culture, colour, art, music and a Mardi Gras atmosphere which turns the vibrant borough of Notting Hill into Europe's biggest street party.
The carnival is always held on the last bank holiday weekend in August and operates an all inclusive policy encouraging artists to celebrate their cultural traditions through art, dance and music; a celebration of life which Trinidadians everywhere are justifiably proud of.
The carnival warms up on the Saturday with spectacular floats and handsome costumed masqueraders emerging at around 12 noon. They dance and cajole the spectators along the parade route, and may even evoke a smile from one of the many policemen overseeing the festivities, which covers approximately three miles. By Sunday, with the Children's Day Parade, the carnival is in full swing, with the main event happening on Monday. The carnival officially finishes each day at 7 pm, but the parties continue into the small hours in London's clubs and bars.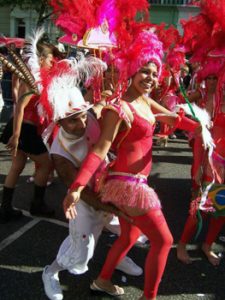 In addition to pan bands, there are scores of massive mobile and static sound systems spread throughout the area pumping out a range of music, including hip-hop, house, basement, acid jazz, jungle, R&B and reggae, at mind-numbing volume. Expect live instruments, Latin vibes, chunky Carnival beats and more than a few surprises such as Ms Dynamite, Sean Paul, Mos Def and Dizzee Rascal. A carnival map shows you where to find the large rigs and tell you what type of music they specialise in.
There are hundreds of licensed stalls lining the streets. The wafts of thyme, coconut, ginger, nutmeg and cinnamon will guide you to the exotic foods being served from around the world, including traditional Caribbean dishes such as curried goat, fried dumplings, ackee and salt fish, plantain, jerk chicken, steamed cabbage, and rice and peas.
Through the West Indian community's historic efforts in bringing together the locals, the Notting Hill Carnival has grown to include members of the Afghan community, Kurdistan, Bangladesh, the Philippines, Bulgaria, Russia, Brazil – compelling them to draw on all aspects of their own cultural heritage.
Notting Hill Carnival is the biggest festival in Europe and in carnival terms is second only to Rio. It's fantastic, it's vibrant, energetic, it's for everyone – and it's free. At the Notting Hill Carnival every spectator is a participant.
If You Go:
When: Last 'long weekend' in August – starting at around 12 noon until 7pm.
Where: London, England: Notting Hill, Holland Park and neighbouring areas.
Getting there: Some Tube stations are closed and roads blocked off. Check the Transport for London website for details.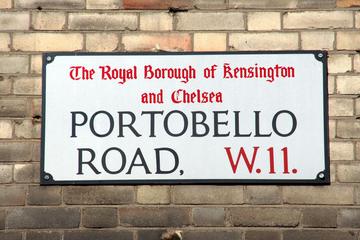 Notting Hill Tour
About the author:
Cindy is an award winning writer and photojournalist whose been featured in numerous publications across the globe. She heralds from a small farming community in Southern Africa and has since lived in 18 countries. Currently her roots are in a village on the Kent coast in England.
Photo Credits:
First Notting Hill Carnival women photo by David Sedlecký / CC BY-SA
All other photos are by Cindy Lou Dale.