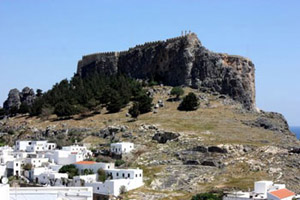 Rhodes Island, Greece
by Paul Joseph
Despite its size, Rhodes is an Island of understated charms. Ask sometone to name a famous Acropolis and the answer will doubtless be Athens. Enquire of a Greek party island and they are likely to respond with Mykonos.
Yet unbeknown to many, Rhodes has its own ancient ruins to rival the mainland capital, as well as its own dusk-till-dawn party town. Indeed, the heritage site of Lindos and (albeit faded) hedonistic resort of Faliraki represent the versatility of this enjoyable chunk of Greek Isle.
My travelling partner and I were to be based on the south of Rhodes, in the town of Kiotari, making a hire car a necessity if we were to see much beyond our hotel resort. As we were to discover, there was plenty to see.
Fighting back our instincts for off-the-beaten track adventure, we first hit the Rhodes hot-spots. Situated 15km north of our resort was the enchanting site of Lindos. Looming large over the town is an imposing Acropolis, used to defend the island against the Ottomans in the 14th Century. Down below, nestled in a crater of winding streets is the modern village, dotted with souvenir shops, rooftop cafes, bars and restaurants.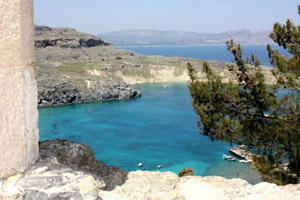 After a tiring up-hill walk into the main showgrounds of the Acropolis – refreshingly free of tat-peddlers and offering superb views of the Aegean Sea – we made our way back down to street level to savour a well-earned fruit juice in one of Lindos' excellent rooftop watering holes.
The next day we headed north to Rhodes Town, a World Heritage site in its own right, and boasting one of the most charming and picturesque Old Towns either of us had ever encountered. The cobblestone streets and delicately crumbling architecture is a photographer's dream, and my travelling partner was soon snapping away with an almost religious fervour.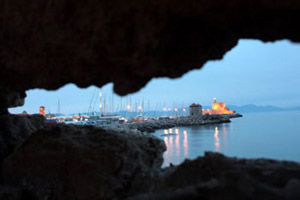 And then it was time for us to don our intrepid travellers' hats. Map on dashboard, we headed to the very south of the island, stopping along the way at secluded beaches, tiny fishing ports, and anywhere that looked remotely…well, remote. Our stand-out finds were Prasonisi beach, located at the very southern tip of the island, and the town of Plimiri, where we stopped to view the dockers at work and sample some local seafood in a rusty old harbour restaurant.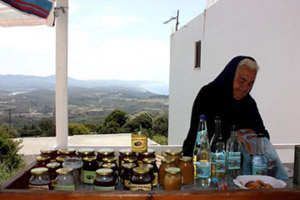 With our appetites whetted, the following day we embarked on an ambitious road trip to the west of the island, requiring a scenic inland drive across Rhodes' central mountain range. Two hours later we found ourselves in the village of Siana, famous for producing honey. After picking up a couple of jars of the good stuff, we headed north, in principle towards a butterfly sanctuary. However, we were soon distracted by a sign for 'Paradise Beach'.
Well, it wasn't quite a beach by any definition, but who needed golden sand when you had a sea boasting every spectrum of blue? We certainly didn't, and swiftly launched ourselves into the sun-kissed waters. Paradise indeed.
It was a rewarding end to our trip, which took in many miles, and much discovery.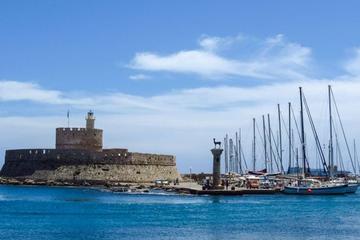 Rhodes Private Full-Day Tour
If You Go:
Several low-cost airlines fly to Rhodes International Airport, including EasyJet, Ryan Air and Thomson. Be sure to get yourself the best deal by using a flight comparison website such as CheapoAir.
Public buses run frequently from the airport to Rhodes Town until late. However, buses to the south of the island stop after around 9pm, so if you are arriving late you may want to consider pre-booking a hotel transfer to avoid a costly taxi fare (€75 to Lindos in the South)
Alternatively, hiring a car is highly recommended for anyone visiting Rhodes. There are 5-6 car rental desks located in arrivals at the airport, ranging from Budget to more renowned firms such as Hertz and Avis. We opted for Budget, and took a Nissan Micra for the whole week, costing us a reasonable €150.
Where to eat and drink:
The atmospheric Koykos café in Rhodes New Town was superb on a number of levels, not least the food. Street- facing window-ledge seats are a people-watcher's dream, while inside you discover a cavernous maze leading to a pretty courtyard and terrace. Our waiter, despite being extremely busy, was incredibly attentive and helpful in talking us through the menu.
Secondly, Shimbas Cocktail Bar, 60km south of Rhodes Town, is situated slap bang on Kiotari Beach. Only opened since last year, this is already Rhodes' most chic venue, and is destined to be a big hit on the island for years to come. Its straw-hut roof and chill-out music combine to create a stylish but relaxed ambience. Great cocktails too!
About the author:
Paul Joseph, a freelance writer, has travelled in South and North America, and Europe. He travel writing has been published in national newspapers and magazines. He currently works for hotel comparison www.sletoH.com.
All photographs are by Anna Chapman.
Anna has travelled extensively in South and Central America, Europe and Canada, always with camera-in-hand.