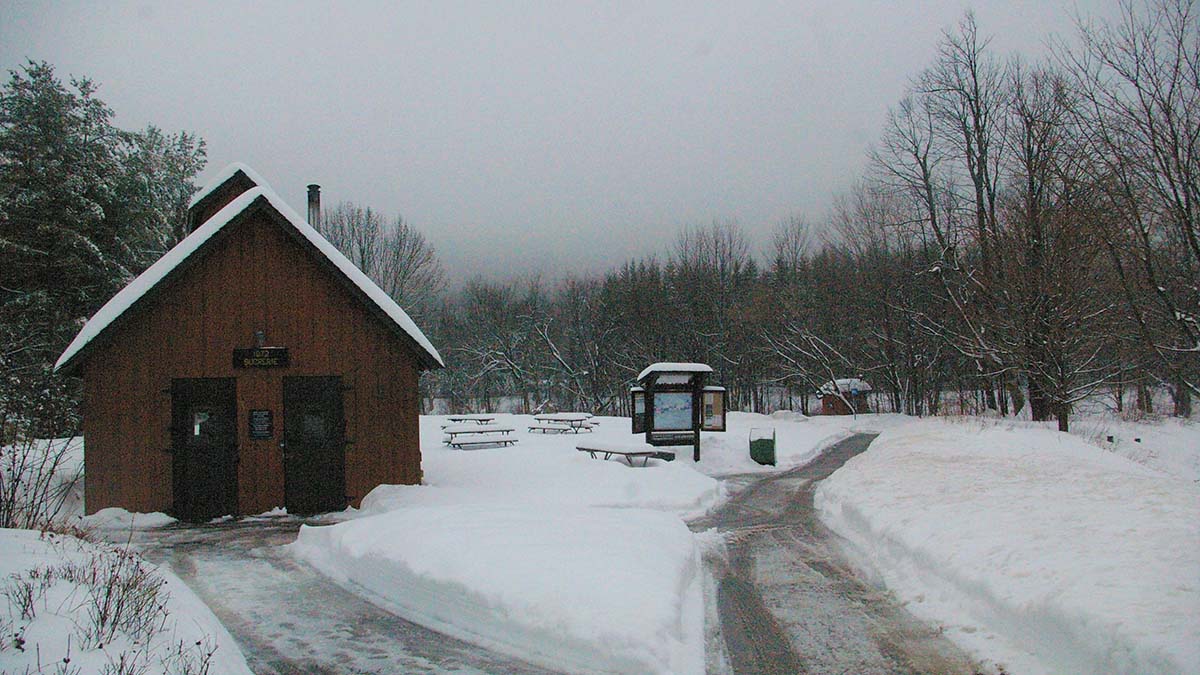 by John Geary
I could hear a familiar "Rat-a-tat-tat!" echo through the winter woods. Once I heard it, I stood stock still and listened, hoping to get a glimpse of the bird making the sound on a tree nearby.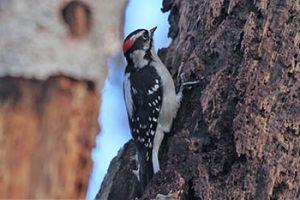 It was dead-still, no wind, and the landscape muffled by a deep carpet of snow. I slowly turned my head around like it was on a swivel, trying to pinpoint where the sound was coming from. There! I spied it: a male downy woodpecker, tapping along a tree not far off the trail we'd been trudging along. I stood there watching it for several minutes, enjoying the bird's sounds mixing with the gurgling of nearby Chelsea Creek that was not completely frozen over and the steady crunch-crunch-crunch of snowshoes biting into the snow along the trail as others of our group caught up or continued down the rail. I took a few minutes to snap some photos, then had to move on to keep up with the rest of the group.
We were spending a winter afternoon snowshoeing through woods of Gatineau Park, one of eastern Canada's natural gems. Located not far from our country's capital, Ottawa, just over the border in the province of Quebec, it's a snowshoe aficionado's dream, with roughly 60 km of trails set aside just for snowshoeing during the winter months, ranging from easy to difficult.
Often thought of as a sanctuary of nature and natural history – it is home to deer, beaver, black bear and nearly 230 bird species – the 36,000-hectare park lies in an area where the Canadian Shield meets the St. Lawrence Lowlands and where the Ottawa River meets the Gatineau River. In addition to its wonderful natural history, it also boasts a wonderful cultural history going back several centuries.
Author Katherine Fletcher writes of this rich history in her book, Historical Walks : The Gatineau Park Story
, a wonderful resource to use to get the most enjoyment out of the park, whether you're there in the winter, spring, summer, or fall.

We were there in winter, to spend an afternoon snowshoeing around the park's trails, led by a park naturalist on a guided excursion. You can also do self-guided tours, but the first time you'll often learn more if you use one of the park guides. They are well-versed in both the natural and cultural history of the park.
Just by choosing to travel the park by snowshoe is a choice to travel through history; snowshoes were used by the indigenous people of the area – the Anishinabe – whose history dates back some 8,000 years. It's their footsteps we were walking in, breathing the air they'd breathed, hearing the same waterways they'd heard.
As several of our group had never been on snowshoes before, we were a bit limited in how far afield we could go during our tour. After getting outfitted with snowshoes in the visitor centre, we began our trip in the old "Sugar Shack," with our guide telling about some of the history of the park.
Twenty minutes later, we were out on the trail, headed across Chelsea Creek over an old wooden bridge and onto the "Sugar Bush Loop." The weather had been very good to us – just a few days before, it had been raining, but a cold spell quickly ended the rain and brought more snow to top what was already on the ground and almost-perfect weather for making like modern-day coureurs-de-bois ("runners of the woods"). Pierre Radisson and Médard des Groseilliers, step aside!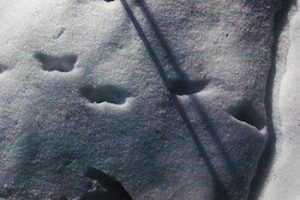 We were only on the trail about 15 minutes before our woodpecker friend showed up. Within another 10 minutes we saw signs of another of the park's inhabitants: rabbit tracks. No sign of the bunny that made them, though.
We continued to tramp through the snowy woods for the next few hours, stopping from time to time as our guide pointed out or talked about interesting natural and cultural history aspects of the park.
Like many European settlers to North America, the first wave of immigrants from across the pond wanted to live by farming in the Gatineau area. However, the area's rocky soil was not well-suited to agriculture, forcing them to turn to resource-based activities like hunting, fishing, forestry, and mining to earn a living from the land. Traces of homesteads and mines can still be seen in the park, today.
Although the fur trade was in full-swing during the early colonization of the area by the French and later the English in the late 17th, 18th, and early 19th centuries, the Gatineau area did not play a huge role as the trade developed into a large industry, for a variety of reasons: early on, the area was frequented by Iroquois and Algonquin tribes, so fighting often ensued between the traditional enemies.
Later on, location and size of the area rivers and other waterways – many which were too small for the bigger freighter canoes used by traders out of Montreal – saw them bypassed in favor of larger waterways, like the Ottawa River. (Interesting trivia point: a Gatineau family was involved in the fur trade – but they were based in Trois Rivieres a.k.a, Three Rivers.)
During the early 1800s, the area became very important for its timber resources, as the wood cut there went to build ships for the British navy. That continued for much of the century until changing technology reduced greatly the need for timber as wood gave way to metal in ship-building.
In the late 19th century, affluent residents in the Ottawa area began seeking outdoor recreation in the woods of the Gatineau Hills. Some – like William Lyon Mackenzie King – built cottages in the area. Some remains survive to this day, including remnants of the King estate, which grew from a simple summer cottage into an estate befitting a Canadian prime minister.
Of course, this was not a "park" officially until 1938, when the government began to acquire parcels of land and eventually turned it into the multi-use facility it is today, with historical, cultural, and natural attractions for visitors.
While we learned much of this from our guide during our tour stops, time prevented us from seeing many of the historic gems described, which were further afield in the park.
But that just provides an excuse to go back again, and spend time exploring the park and its history.
SUGGESTED SITES TO VISIT:
While I didn't get a chance to investigate most of these in person, a few highlights you'll want to try to see include…
The 231-hectare Mackenzie King country estate that belonged to Canada's 10th and longest-serving prime minister.
The "Carbide" Willson ruins. Located at Meech Lake, the ruins of a generating station can be seen here.
The Sugar Shack; formerly located along the Sugar Bush Trail, now near the visitors' centre, this is where we finished and started our hike. Built in 1972, it used to operate until cutbacks forced its closure. But it's still a great place to warm up after an outing!
If You Go:
Getting to Ottawa from any major city in North America is not a problem; several international airlines service the international airport in Canada's capital.
Gatineau Park's main visitor centre and access to some of the trails is an easy 15 to 20-minute drive from Ottawa's Parliament Hill.
Get on Autoroute 5 N in Hull, Gatineau from Wellington St/Ottawa 34, Portage Bridge and Boulevard Maisonneuve N. Follow Autoroute 5 N to Chemin Scott in Chelsea. Take exit 13 from Autoroute 5 N. Follow Chemin Scott to the park.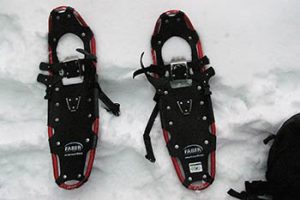 If snowshoeing, you can bring your own, or rent from the visitor centre. If you plan to rent – or if you plan to participate in a guided tour – contact the centre first to make you'll be able to get shoes and a guide the day and time you want.
You may want to pick up a copy of the Fletcher book; it contains maps of the trails as well as a difficulty rating for each trail along with its comprehensive history of the park.
You'll certainly want to check out the website ncc-ccn.gc.ca/places-to-visit/gatineau-park. Any contact info you need regarding use of the park can be found on that site.
You can also contact Tourism Ottawa.
The Friends of Gatineau can also be very helpful in planning your trip there – and they also offer some guided tours.
Other attractions you may want to visit while in Ottawa:
the Canadian Museum of History, located in the Hull area of Gatineau, again, very close to Ottawa.
the Canadian War Museum
the Canadian Museum of Nature
About the author:
John Geary is a full time freelance writer/photographer and social media manager with more than 30 years of experience working in broadcast, print, and digital media. He has traveled the world as a freelance travel journalist. He often focuses on birds and wildlife and paddling adventures in his travel writing.
Photographs by John Geary:
The Sugar Shack – where we began and ended our outing
Downy woodpecker doing its thing
Rabbit tracks! No sign of the bunny, though
Snowshoes are a great way to see the park in winter