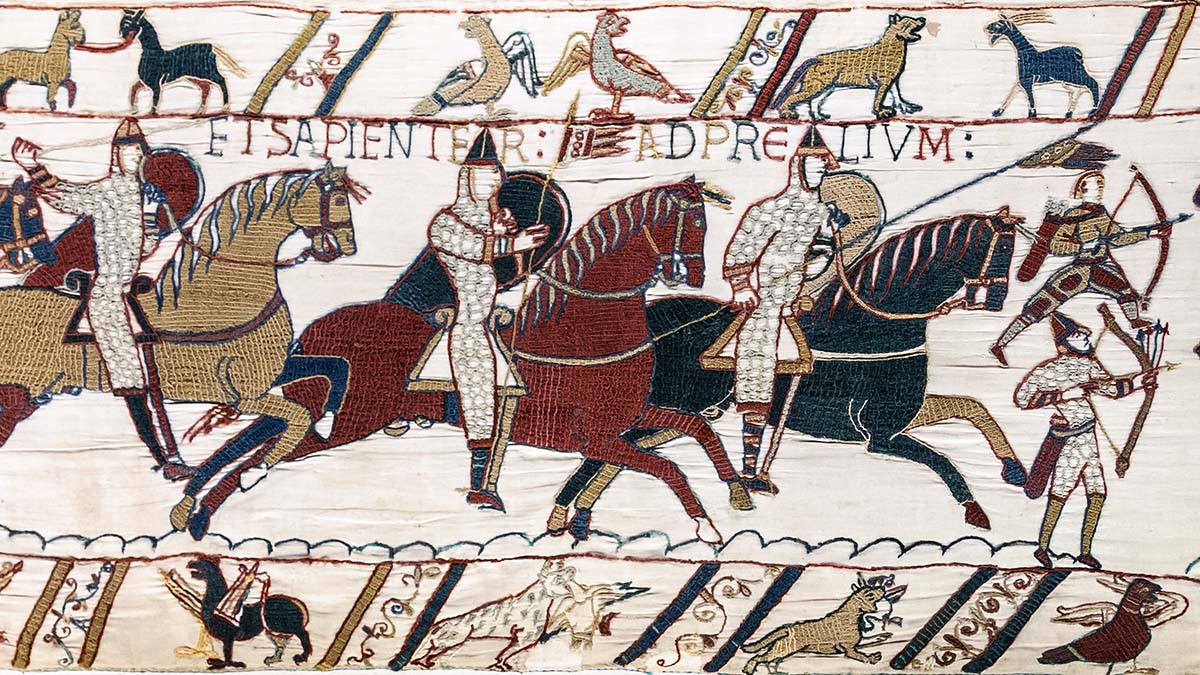 France: Memories of D-Day
by Joan Boxall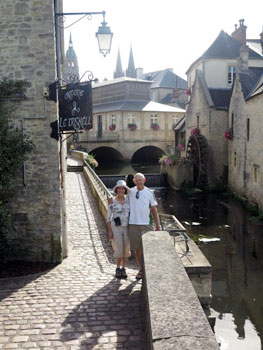 It's Remembrance Day, 2014 and I'm interlocking the sleeves of my parents' Air Force jackets. They are arm in arm once more, laid out on the bed. Mum, a coding and deciphering officer with the RAF, and Dad, an air observer/navigator with the 10th Squadron, Bomber Command, met at a dance in Gander, Newfoundland in December, 1944. They'd both already served five long years. I salute them. Then I hug their blue-gray wool serge, touch their caps, and straighten their belts.
What does it mean to be a descendant of war veterans? Do I carry their torch, as poet-soldier Dr. John McCrae, suggested in 'Flanders Fields'? Do I carry it high and not break faith? The summer of 2012, my husband and I went to Bayeux, Normandy. Yet it was this summer, 2014, in Portsmouth, England, where we stumbled upon a broader truth.
Bayeux
Bayeux's hub provides a restful base. The town, the Bayeux Tapestry and Notre-Dame Cathedral, all escaped WW2 bombardment unlike neighbouring Caen, Le Havre, Lisieux and Rouen: rebuilt after the war. The river Aure peels Bayeux's sweet onion to uncover its Gaulish, Roman, Breton, Saxon and Viking layers.
We are picked up at the train station by the owner of our pension. The Aure is just beyond the locked gate. From our chaises longues, mewling gulls, meditating pigeons and cathedral chimes convoy clouds across cobalt-blue skies.
It's a five-minute walk to the weekly farmer's market for fresh fish and produce, to the bakery for morning croissant and to the Tourism Office for leaflets. Back at our accommodations, we peruse the pamphlets and consider bubbles in flutes of chilled apple cider, and relish local seafood cooked Normandy style in cream-butter-cheese sauce.
The Tapestry
Our first visit was to see the Bayeaux Tapestry that commemorates the day-long Battle of Hastings, September 12, 1066. It's a 70-meter-long, 50-centimeter-high quintet of blue, green, terracotta, yellow and gray. Embroidered wool on linen cloth portrays William the Bastard, Duke of Normandy, claiming sovereignty from Harold II, the last Anglo-Saxon king.
William was born 200 years after the Viking invasions swept Western Europe. Normandy united with the French Crown in 1204, 100 years after William's death. The Viking Normans eventually turned their expertise in weaponry and sea travel (William's specialty) to decorative arts, architecture, music, literature, Impressionist painting and exploration of the New World. William, as founding forefather, waged an invasion to become William the Conqueror, King of England.
In William's reign, Odon, his half-brother, (both pictured in the tapestry) held the bishops' seat in Bayeux when Notre-Dame Cathedral was consecrated in 1077. Odon's legacy was as patron of the arts, and it was likely he who commissioned the Bayeux Tapestry.
Liberation
Bayeux was the first European town liberated on June 7, 1944, one day after D-Day or J-Jour. It is ten kilometers from where the five-point allied invasion occurred. Utah and Omaha Beaches were the American points of entry to the west, and Gold, Juno and Sword Beaches were the two British and central-Canadian-beach accesses along Seine Bay. Between the ports of Le Havre and Cherbourg, earth-shattering events transpired on the dunes and limestone escarpments of Low Normandy, between the hedgerows and orchards.
Oh land of France, oh blissful, pleasant land,
Today laid desolate by such cruel waste!"
– Stanza CXL 'Chanson de Roland', 11th century epic poem
Omaha Beach
From Bayeux to Omaha Beach a trip for 75 Euros apiece provides a historical backdrop our first day including a three-hour van tour from Hotel Churchill's courtyard.
The German occupiers took two of the four years occupying France to build the 'Atlantic Wall' with thousands of batteries to keep an invader out. If not for Hitler's strategic error in diverting 3.3 million troops to Russia, and the conscription of young and old soldiers from as far away as White Russia, Korea, Croatia and Romania, the 'wall' may not have cracked. Jonathon points out the dome-shaped craters from ships' bombardments and the aircrafts' pockmarks.
Row upon row: nine thousand white crosses and Stars of David impact us at the American Military Cemetery at Colleville-sur-Mer. Sur-Mer tags 'on the sea' where we look out in silent attention. The Allies died in shock waves that killed 90% in the first wave and 40% in both the second and third waves. The beach dyed blood red: D-day's heavy toll: June 6, 1944.
Notre-Dame Cathedral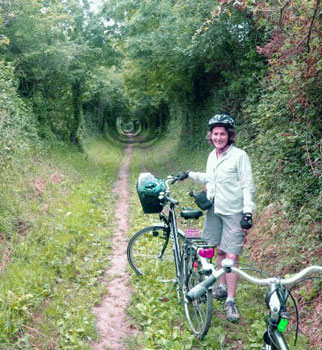 A visit to Notre-Dame Cathedral's Romanesque and Norman-Gothic edifice which pre-dates Mont-Saint-Michel was a must-see. It was consecrated in the fourth-century and flourished in King William's reign. Its façade, chapter-house labyrinth, choir, as well as its fifteenth-century frescoes of angel musicians in the crypt, all captivate.
We go up… to the top. 'Can you climb, m'sieur, m'dame? Are you claustrophobic?' We coil our way up the dim shaft. Carroted wood timbers (this is a French verb for removing wooden wedges for dating purposes) determine how and in what order the green, uncured oak beams were positioned. Some of it is petrified, 1000-year-old timber.
Cecile, the oldest bell, rang last after its nine subordinate bells, in compliment to the liturgy. This two-ton bell exerts a five-ton force against the wood interface, lest its force smash through the stonework. Today the nine bells peal automatically on electronic timing.
An organ recital features the works of Vivaldi, Taglietti, Handel, Rameau and Bach. The organ has always had flexibility and grandeur to interpret Baroque music before orchestral music became popular. Arpeggios reverberate from the pipes, up the ribbed vault and down our own. Mozart called the pipe organ the king of instruments.
Port Winston at Gold Beach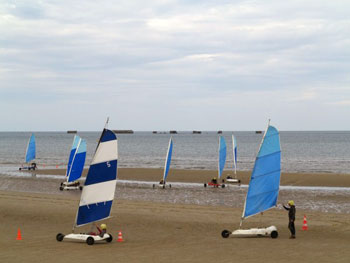 A yearning to be in the open air brings us to Velos Location: We rent bikes for eight hours at 16 Euros apiece and are transported to countryside where we hear the farmer's tractor mowing hay. Or are those really tanks approaching? The trees that line the roads look mature, but aren't they uniformly pushing the seventy years since peace was brokered? In 1944, trees provided fuel or defensive barriers on low-tide beaches, and their removal meant less shelter for an enemy. Today, those same trees flicker from shadow to light like newsreels, transmitting ticker tape noises to our spokes, and crank us forward.
Port Winston was the British floating harbour or Mulberry 'B' at Gold Beach. The terrible storms that delayed General Eisenhower's decision to invade by one day, returned on June 19, 1944 to sink and sweep Mulberry 'A', the 'American' installation at Omaha Beach, out to sea.
A Mulberry consisted of four protective breakwaters with concrete-filled caissons (twenty of these are still visible). Three pier heads or floating pontoons rose and fell with the tide, and two piers braced the tonnage of equipment and weaponry necessary to support the one million troops that landed by month's end.
The D-day Museum near Arromanches-les-Bains is abuzz with tourists moving from demo table to panoramic window to compare models under glass with remnants visible outside. After a café au lait on the strand, we view Arromanches 360, a circular cinema, and its archived footage on nine screens.
In surreal stillness, picnics in hand, we spy children testing their training wheels in small sailboats that carve turns on a wide swath of low-tide sand.
Juno Beach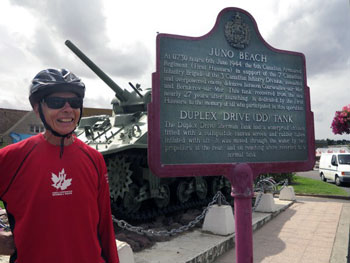 We chance upon the British Cemetery of War Graves of Bazenville-Ryes en route to Juno. Among its nearly 1000 souls, it shares the high ground with British, American, Canadian and German soldiers. The only borders here are lovely weed-free plantings of roses, oregano and lavender.
From up on the plateau, we parallel the north coast with only a fifteen-minute descent to the coastal towns.
Our Juno Beach guide, takes us on a 45-minute outdoor tour including the insides of a bunker before we load into a simulated LCT (Landing Craft Transport Carrier) which time-travels back to the 1930s and 1940s in film projections along its walls.
We're in the circular space of a seven-room permanent exhibit which leads us from pre-war Canada to present day demography and socio-economic politic. The museum message relays the Canadian-British bond—comrades-in-arms through sea, sky and land battles. Their goal: to fight and survive. Ours: to remember and appreciate.
Longues-sur-Mer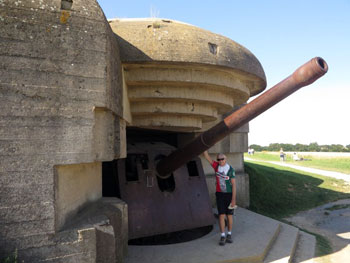 Longues-sur-Mer, the German Battery, still houses a 150-millimeter gun and four bunkers. Martine conducts the tour of the only battery to retain its original naval gun. These powerful long-range guns could have devastated had they functioned properly. The four guns were up, ready and firing over the 20-kilometer range, but a sand dune blocked the telescopic view for the shiny new range-finder still in its box. Without a range-finder, the guns fired blindly like big barking dogs, until direct hits silenced two of them just before the surrender.
Our own range-finder breaks down in a patch of stinging nettles. Instructions read, 'Accidental path; be careful' at the foot of Mount Cavalier. A prickly one-kilometer stretch, but then we pass wheat fields sculpted into wheat-a-bix bales. Small villages, chateaux and churches appear. Voila! The laiterie or dairy offers up its flavours in creamy strawberry, raspberry, butter caramel, violet and passion-fruit scoops.
Back at the hub, the cathedral's Mum-and-Dad towers point as if to say, 'Asseyez-vous. Mangez… Sit. Eat.' We comply with a double dessert of flan and tart, café au lait, and feel as if we've been filled to bitter-sweetness from Bayeux's hub to the beaches on the rim.
We've spoken, gone to where the poppies blow. We've seen the war-like course of history: eleventh-century tapestry re-enactment of the defining battle of the 1st millennium, and the twentieth-century landing sights.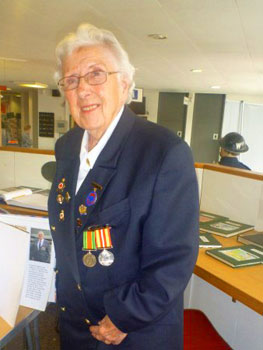 This summer, 2014, we visited Portsmouth's D-Day Museum to view the recently-completed Overlord Tapestry that commemorates D-Day. I met Mary Turner Verrier, a 91-year-old Red Cross Nurse and veteran of Dieppe, Dunkirk and D-Day. Mary treated casualties of war, both civilians and servicemen, primarily for flash burns.
'Everyone moved like a family…one fellow I kissed on the forehead, a German boy, died, and that cut yours truly down to size…What value is war, and what purpose served?' said Mary.
Mary, twelve years younger than my mother, joined up at the age of seventeen. She saw the allied troops leave for the French coast on D-Day, directly across the English Channel or La Manche, 'the sleeve' as the French say, to await the wounded in the floating hospital, Queen Alexandra.
Speaking to Mary was like touching the past; touching my parents' uniforms and treasuring, through her words and memories, the true meaning of sacrifice and courage.
'The torch; be yours to hold it high,' says the World War I poem.
In a dancing dialogue, one with the other, we hope it is enough.
We hope. It is enough.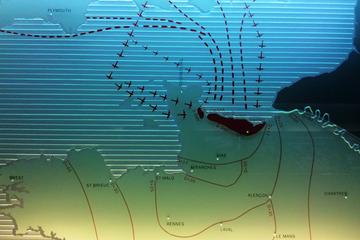 Full Day Private Tour of Historical Normandy Sites from Bayeux
If You Go:
From London's St. Pancras Eurostar/King's Cross Underground Station via the Chunnel (Channel Tunnel) to Paris Nord (one-hour time difference). Cross the Paris underground to St. Lazarre to board the train to Caen. Transfer to a local train to Bayeux via Coutances.
Check websites www.eurostar.com and www.voyages-sncf.com for telephone access numbers, reservation and prepayment info as well as service in English. In order to crisscross London and Paris undergrounds, pre-purchase Metro tickets to save time. French ones can be obtained on the Eurostar, once aboard at the train's cafeteria. English ones should be bought ahead-of-time and stashed for the return trip.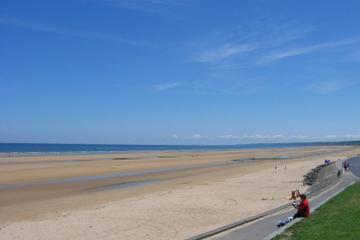 Private Tour: Normandy Landing Beaches, Battlefields, Museums and Cemeteries from Bayeux
About the author:
Joan Boxall is a poet and non-fiction writer with features in 'Senior Living' and 'Coast & Kayak' magazines. She's published six you-tubes, including several on the topic of conservation. Her website is www.joanboxall.com. Twitter handle: @corkyjoan. E-mail: joanbxll@gmail.com." Joan is working on her first book, combining her poems with her late brother's artwork. She is a member of BCATW, Pandora's Vox Vocal Ensemble and an Executive member with North Shore Writers' Association.
Image credits:
Bayeux Tapestry by Myrabella / Public domain
All photos by Joan Boxall.