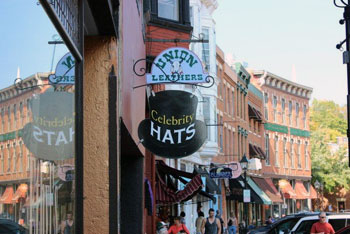 by Wynne Crombie 
Two hundred years ago Galena, Illinois was mainly for traders, miners and Indians. Fifty years later the population topped 14,000 and Galena was the largest port on the Mississippi between St. Louis and St. Paul. It was even larger than Chicago. Much of Galena's early growth was due to lead mining. During this boom time period, Abraham Lincoln and Ulysses S. Grant walked the streets. Alas, Galena began a long decline in the 1860s as railroads succeeded rivers as the main transportation method and the lead industry collapsed.
Today, cars move slowly through streets originally built for horse and buggies. Shop windows…some two hundred galleries, boutiques and antique stores…catch the visitors' eye along with eateries with names like, Durty Gurts, the Generals' Restaurant, and Miss Kitty's Grape Escape. Go inside and squeak the original plank floors.
Galena is a National Historic Center with 3,500 residents. Its downtown brick-fronted buildings look much the same as they did 150 years ago…undeniably, part of the charm. The Historic District encompasses 85 percent of the city of Galena and includes more than 800 properties.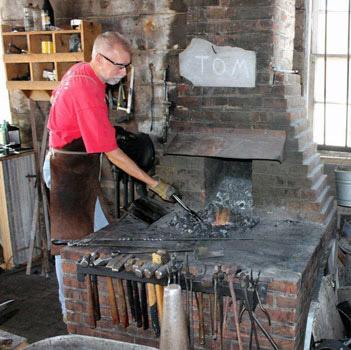 Parking was almost impossible on Main Street, so my husband Kent and I circled around to one of the back streets. We found ourselves behind the Old Blacksmith Shop dating back to 1897. We began to explore.
Inside, the two coal forges were being manned by Tom, a retired volunteer. He delighted in relating the history and craft of blacksmithing. "What you see," he explained, "are the original tools and equipment. Besides, horseshoes, the blacksmiths made tools like nails and wrought iron ornaments. This," he said, regretfully, "is the last surviving blacksmith shop. At one time there were thirty-five."
Just outside, on Commerce Street, an upright player piano was perched upon a very large tricycle. A glass urn stood ready for donations. In the next block, a guitarist was playing period tunes. Across the street, stood the 1846 Old Market House. We could almost hear the calls of the vendors and shoppers. It seemed to be frozen in time.
A two-block stroll brought us to the Dowling House. Built in 1826, it's Galena's oldest residence. The downstairs had served as a trading post and general store. Take in the bourbon barrels, the original beams, and the piles of rock salt which were used to preserve meat up to a year. The upstairs living quarters had the original fireplace and period furnishings. One bedspread went back to 1836. One side displayed a winter motif; the other, summer. Mattresses were stuffed with straw.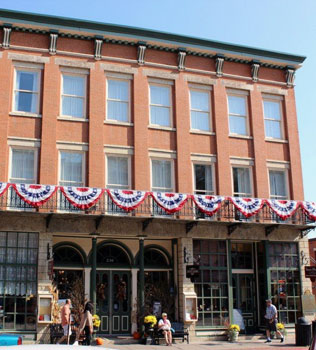 Even older than the Dowling House is the 1820's The Old Stockade at 208 Perry Street. Originally a log building, The Old Stockade was a result of preparing for an attack during the Blackhawk War of 1832.
Building styles range from simple commercial-style buildings to Greek Revival, Italianate, Gothic Revival and later, Victorian styles.
One of Galena's highlights is certainly the DeSoto House Hotel. Upon its bunting-draped second-floor balcony, Lincoln had given a speech in July of 1856. Two years later, Stephen A. Douglass spoke from the same balcony. Ulysses Grant had used the hotel as his campaign headquarters. The action had taken place in rooms 209 and 211.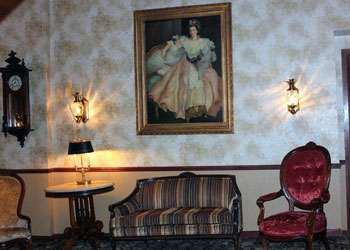 On September 13, 1860, a crowd of over 15,000 rallied in front of the DeSoto in response to a "Grand Republican Mass Meeting" in support of Lincoln's presidential bid.
In 1855, the DeSoto boasted 225 guest rooms, a gentleman's reading room, ladies' parlors and a 300 seat dining hall. Today, it offers fifteen rooms with private baths, three dining areas, a ballroom, conference and banquet rooms, specialty shops, and a private parking garage.
We traveled back in time again for dinner at the Generals' Restaurant, named in honor of Galena's nine Civil War Generals. The ambience was delightful: candles and portraits, soft music, and the original brick walls and beamed ceilings.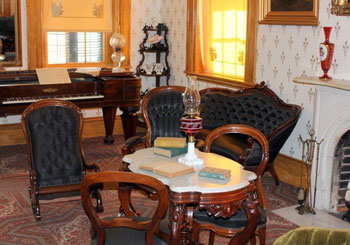 A walk over the Galena River (it joins the Mississippi further downstream) brought us to General Grant's House. A group of tourists were standing on the main porch awaiting the next tour. A Grant House guide in period costume came out to greet us. She conducted a narrative tour of the main floor with some interesting asides: Julia, Grant's wife, was the FIRST "First Lady", both of Grant's parents were alive when he was president and, the silverware on the dining room table had also been used in the White House. The upstairs bedrooms are self-guided. Tours begin on the half-hour. What a living history experience of mid-19th century America!
If You Go:
Before heading into Galena, we recommend picking up a street map at the Visitor Center by the Railroad Station at 101 Bouthillier Street. Galena's compactness easily lends itself to self- guided walking tours along Main or Bench streets. Note: Most of the historic sites are free, although they do ask for a donation.
If you would rather have someone take you on a tour here are three to consider:
Galena Trolley Car Tours
314 S. Main St. Galena, IL 61036
815-777-1248
All About A Ghost Tour
230 S. Main St. Galena, IL 61036
815-777-9252
Main Street Walking Tour with General Grant. (May through October)
DeSoto Hotel lobby (starting point)
230 South Main St. Galena, IL 61036
815-777-9129 ($10/person)
Galena is an all-year attraction: fall for the color, winter for skiing and of course, the summer season. During the Christmas season more than 200 downtown shops in the Victorian historic district dress up for the holidays.
Driving Directions: Take the route 20 exit off the Northwest Tollway from Chicago and drive through the hills above the Mississippi River to Galena. You can easily make it a day trip from Chicago, or stay overnight in one of the 19th century B and B's.
Dining: Prices range from the elegant Generals Restaurant in the Desoto House to the moderately-priced Fried Green Tomatoes.
Additional Information:
Old Market House State Historic Site
123 N. Commerce St. Galena, IL 61036
866-487-4965
The Old Blacksmith Shop
245 Commerce St. Galena IL 61036
815-777-1893
Ulysses S. Grant Home State Historic Site
500 Bouthillier St. Galena, IL 61036
815-777-3310
The Dowling House
220 Diagonal St. Galena, IL 61036
815-777-1250
About the author:
Wynne Crombie has a master's degree in adult education. Her work has appeared in, Travel and Leisure, Dallas Morning News, Yours (UK) Italy Magazine (UK), Senior Living. Irish-American Post and Travelthruhistory.com.
All photos are by Wynne Crombie:
Galena's Main Street
Tom, the blacksmith
Desoto Hotel balcony (where Abe Lincoln spoke)
Desoto Hotel interior
Grant's living room