Oysterville, Washington
by Perry P. Perkins
Chinook Indians gathered for centuries along the Long Beach Peninsula to harvest oysters and other seafood. They called it "tsako-te~hahsh-eetl" or "place of the red-topped grasses."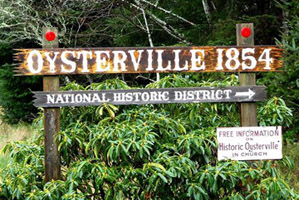 In 1854, while thousands of prospectors were streaming into California in hope of finding gold, a young sailor named R.H. Espy was searching for his own treasure far up the northern coast. He became lost while navigating Washington's then uncharted Shoalwater Bay and, in a heavy fog, Espy and his men feared they would paddle out to sea and never be seen again. Fortunately, the local Indian Chief spotted them and led them safely to shore.
On that shore, Espy found his treasure in the form of vast clusters of native oysters growing along the unclaimed mudflats of the bay. In San Francisco, hungry treasure-hunters paid fifty-dollars a plate for oysters, and soon Espy staked his claim and hit his mother-lode. The oystermen were paid in gold, and soon Oysterville became the second richest city on the West Coast.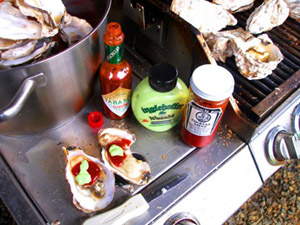 Today, tiny Oysterville is a National Historic District, and fresh oysters can still be found in Shoalwater (now Willapa) Bay. A number of small, family owned farms spurn the use of dredging a pesticides used by the larger corporations, and harvest fresh, deliciously organic oysters daily.
My family and I visit Oysterville often, and we love everything about this tiny town that time forgot. So much so, in fact, that two of my novels are based there. We get our oysters, hand-harvested, directly from the bay.
Oyster Recipe:
Here's one of my favorite recipes for those who truly love oysters.
The combination of spicy sauces and the icy brine of a fresh bi-valve is simply amazing.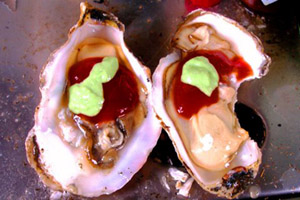 FIRE & ICE OYSTERS
MAKES 2 servings
PREP 15 minutes COOK 6 minutes
12 Pacific or Kumamoto oysters, raw. Whole or on the half shell.
1 cup ketchup
2 tablespoons prepared horseradish
1/2 teaspoon Worcestershire sauce
Juice of 1/2 lemon
Dash of hot sauce
Freshly ground black pepper
3 teaspoons wasabi mustard
1. Mix all ingredients except oysters and wasabi mustard together; refrigerate for several hours to let flavors blend.
2. Buy Pacific or Kumamoto oysters raw on the half shell, or shuck live oysters yourself.
3. Prepare a dish with something to hold oyster shells in place, such as coarse salt, or crushed ice.
4. Top each oyster with a teaspoon of cocktail sauce, then 1/4 teaspoon of wasabi mustard. Serve immediately.
Buy Fresh, Wild, Blue Point Oysters Online
HOW TO SHUCK AN OYSTER
Rinse oysters in cold running water before opening. Hold oyster cup side down and hinge pointed toward you.
1. Insert oyster knife at hinge slowly but firmly and push the knife between the shells. Use a slight side to side rocking movement with your knife as you push in.
2. Work tip of knife into the oyster (about 1/2″), and twist the handle to pop oyster open.
4. Slice muscle from top shell.
5. Open top shell, and cut muscle from bottom cup. Leave the oyster in the bottom cup, being careful not to spill the liquor.
Turn the meat over for most professional appearance.
If You Go:
Here are a few "can't miss" spots in and around Oysterville:
Leadbetter State Park
Three miles north of Oysterville (off Sandridge Road) is Leadbetter State Park, a wildlife refuge at Long Beach Peninsula's northernmost tip and a great spot for bird-watching, hiking, and collecting sand-dollars along its isolated beaches.
www.funbeach.com/attractions/leadbetter.html
Moby Dick Hotel & Oyster Farm
For an amazing meal, in a historic setting, call ahead and make dinner reservations at The Moby Dick Hotel. Of course, you'll want to order the oysters, which are organically grown on the Moby's private beds.
360-665-4543 – mobydickhotel.com
Wiegardt Studio Gallery
If art is your thing, you've come to the right place! Stop by Wiegardt Studio Gallery to take a look at one of the very best Oysterville's art community has to offer.
888-848-2053 – www.ericwiegardt.com
Oysterville Sea Farms
No trip to Oysterville would be complete without a stop at Oysterville Sea Farms. Located bayside, they offer clams and oysters that are harvested that same day. It's doesn't get any fresher than this. Oh, and say "hi" to Dan the Oysterman for me!
360-665-6585 – www.willabay.com
For more about food, fun, and adventure in Oysterville, visit: www.funbeach.com
About the author:

Novelist, blogger, and award winning travel writer, Perry P. Perkins is a stay-at-home dad who lives with his wife Victoria and their year-old daughter Grace, in the Pacific Northwest. A student of Jerry B. Jenkins Christian Writer's Guild, his novels include Just Past Oysterville, Shoalwater Voices, and The Light at the End of the Tunnel. Perry has written for dozens of magazines and anthologies, and his inspirational stories have been included in 11 Chicken Soup anthologies as well. Examples of his published work can be found online at www.perryperkinsbooks.com, and on his SAHD blog: www.ricecereal.wordpress.com. Email: perry@perryperkinsbooks.com
Photographs:
First oysters photo by GoodEats YQR on Unsplash
All other photos are by Perry P. Perkins.