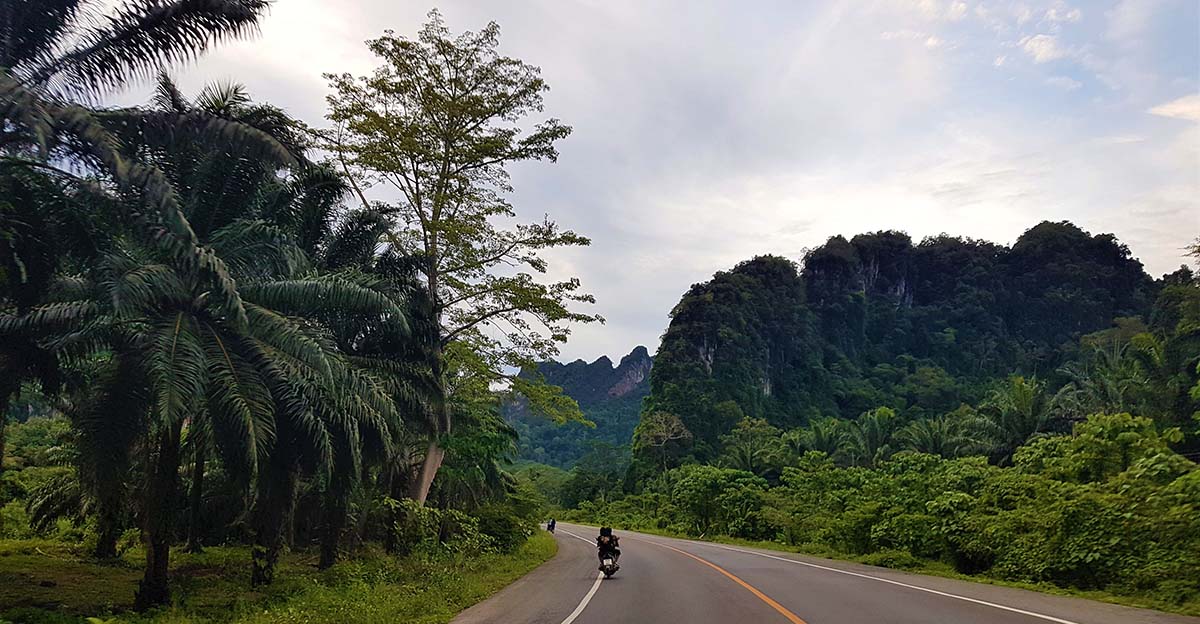 by Philipp Meier
'Look at this view,' an enthusiastic traveler from Latvia said to me, showing me a photo of Krabi's mind-blowing limestone region.
This Baltic girl and I were sitting on the veranda of a bamboo hut in Koh Phangan. She was harking back to that moment with her arms spread atop Krabi's Dragon Crest Mountain, 565 meters above sea level. And I, well, the word Krabi alone brought back memories of feeling the wind in my hair on the back of my bike.
The 'South Turn', as Thais call the 133-km-long highway between Surat Thani and Krabi, has always appealed to me. Scarcely used by tourists, this well-maintained route 44 that seems to stretch forever has provided me with hours of solitude and the freedom of the open road.
So why not plan a trip to Dragon Crest Mountain and enjoy Highway 44 again on the way to Krabi? I figured. I was bored with Koh Phangan, an overcrowded island in the southern Gulf of Thailand; this mountain came right on cue.
The Motorway Between Surat Thani and Krabi
While the South Turn is 133 kms long, the distance of the entire ride from Don Sak Pier in Surat Thani to Krabi's 'Checkpoint Mu Ko Phi Phi National Park' – where Dragon Crest is located – is 218 kms. Obviously, this hasn't always been doable in three hours.
Building Motorway 44 was a huge project that cost 109.67 million USD. Before it had been completed in 2003, getting from Thailand's east to west coast on earth roads must've taken locals days. Much as I like adventures, I was glad I didn't have to race across rough ground.
The Ride from Surat Thani's Don Sak Pier to Krabi's Dragon Crest Mountain
Tourists spilled out of the ferry, lugging large suitcases that wobbled back and forth. They were rushing to buses that were billowing black clouds of diesel exhaust, and the sun beat down mercilessly in the midday heat. Tour guides were shouting, trying to collect their clientele.
It took a load off to leave that all behind. I was desperate to do something exciting off the well-trodden tourist trail, and set off for a thrilling solo two-wheeled journey.
In Surat Thani's sub-district of Phlai Wat, I turned left after the green sign that read 'Krabi' below some squiggly Thai hieroglyphics, with the number 44. Ahead of me was the road that cuts through the scenic countryside as straight as an arrow.
Hot humid air blew in my face as I traveled along the familiar road, taking in the palm tree surroundings. And a moment later I was wondering how cool the atmosphere had become in an instant. Temperatures changed like the sea's undercurrents, and draughts varied like the ocean's vagaries.
Passing jungles and rubber trees, I caught the pleasant scents of fresh, oxygen-rich woods. I was marveling at perfectly aligned rubber trees stretching away over millions of acres of exotic deep green woodland – flourishing forests that looked like cemeteries of inverted chicken legs, aside from the verdant color.
 Less appealing were the stores along route 44: garden shops selling soil and various decorations. Human-sized plastic roosters, dwarfs clay figures and pinwheels weren't quite what I was looking for. My Garden of Eden was the road and the myriad of limestone rocks that make Krabi's region so spectacular.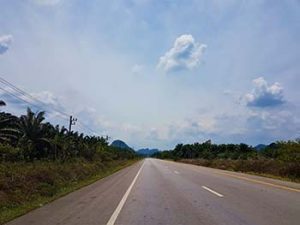 Besides, I was hungry. A street vendor sold tangerines, fish crisps and rice snacks for 30 to 50 baht ($0.97-1.58), but that was about it.
As if he could sense my disappointment, a Thai who'd just bought some tangerines approached me. This gentleman wearing glasses and a black, long-sleeved shirt said to me, 'There are a few small grocery shops along the way, but hardly any restaurants. There's Nong Deng Deng and MungKornYim, though they're fairly close to Surat Thani. You've passed them already.'
'What about resorts? I'm starving.'
'I know Phetmanee Resort, which is about a third of the way. Anyway, you'll find some shops at the petrol station. There's one more.'
'Thanks. You speak good English. Can you tell me something about this highway? I know that you call it South Turn.'
'That's right. Some villagers also call it 'Landbridge Road' or 'Economic Bridge Road'. This was a big project that was supported by JICA, the Japanese Assistance Program.'
Further down the road, I didn't mind the reek of farm slurry. I was relishing the peace and quiet on Highway 44. Rivers had become stagnant ponds, and beheaded palm trees were as brown as the skinny buffalos grazing calmly on great plains. Barely visited by tourists, the landscape sights and stalls had all remained typically Thai here.
As though the heavens also wanted some attention, clouds were rising to the sky like smoke emitting from a forest fire. If I hadn't ridden my motorcycle down Highway 44 many times, the billowing clouds would've fooled me into thinking these were just fair-weather clouds, but I knew that foul weather was in store.
Innocent white clouds turned into a dim wall, glumly darkening the landscape. Even the red soil appeared dark. The sky's murky shadow dominated under the patchy blanket of thick, grey-black clouds, and small black birds flying low and flapping their wings hectically were reminiscent of a Hitchcock film.
The temperature had dropped considerably on the wet road. I could smell the fresh rain and was hoping the downpour that had just hit had finished.
Then, fat drops started battering down, teaching me the hard way that the cheap raincoat I'd thought would last more than 10 minutes didn't compare favorably with proper biking gear. I may just as well have used a useless umbrella. The tropical downpour soon tore my water-repellent coat to pieces as it was pouring cats, dogs and nails.
Pelting rain whipped my skin, stabbing my arms, legs and chin. I cursed myself for not investing in a proper raincoat and a full-face helmet. But the streets that occasionally ran uphill and downhill comforted me, reminding me that – like life in itself – there are always highs and lows.
After 15 abominable and cold minutes in the driving rain and wailing wind, I saw the light at the end of the tunnel.
 Towering limestone rocks appeared on the horizon as I got closer to Krabi.
I was in exuberant spirits and couldn't help taking pictures of everything and everyone: headscarf-wearing women riding self-made tuk-tuks, mystical trees with branches that reminded me of a tousle-head, and magnificent limestone cliffs that I simply gaped at.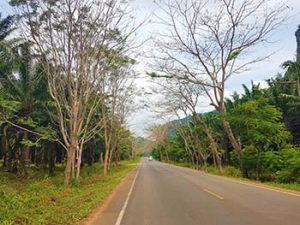 Eager not to miss out on the splendid views that the mountaintop offers, I now sped through the fairy-tale scenery, approaching Tab Kak Hang Nak Hill Nature Trail with lightning speed.
This trail that's open daily from 8am – 3pm is the one that leads to Dragon Crest. I was nearly there.
The Summit – Khao Ngawn Nak aka Dragon Crest
The emotions you're going through when you hike on Tab Kak Hang Nak Hill Nature Trail are as various as visitors' fitness levels: ecstatic when you start; mesmerized when you hear the screeching cicadas; startled when you're stepping on crackling leaves; wary when you climb over fallen trees and roots that look like poisonous snakes, and intrigued in the Auburn Zone where the trees are otherworldly red.
You'll be desperate when the alleged 3.7kms to the summit feel like miles; hopeful when you see the sign that indicates 1km to go; weary when you passed that sign ages ago; invigorated when you breathe the fresh cool mountain air; peaceful when you listen to the quiet jungle near the top; and eventually, ebullient when you spot the blue finish bubble.
And then, the magic happens.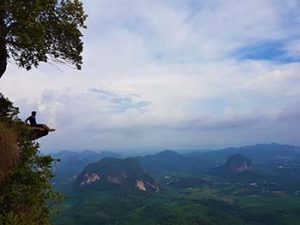 It's impossible not to be lulled into an entranced state up here at the top of Dragon Crest. The mountaintop is on a frequency of its own, set apart from the frenzied world of mass tourism.
It was eerily quiet, as if nature was meditating. I didn't even hear an Asian Koel pipe up from a tree – Thailand's noisiest bird that I can usually catch from a kilometer away.
Limestone rocks were marching through the gorgeous scenery like trampling mammoths. They made me aware of how infinitesimally small we are. And the very ledge I was sitting on, it seemed, was the dragon's tongue, sticking out at Krabi vacationers with selfie-sticks.
Look at this view, I thought to myself as the silent wind was disheveling my hair, freedom is just a ride away.
If You Go:
Carry at least two litres of water per person, and remember that the trail to the top of Dragon Crest is tremendously steep. You'll need a good fitness level to hike two hours up and 1.5 hours down.
Know the best time to start trekking: if you set off at 2.30 pm, chances are you will have the view on the mountaintop all to yourself.
Start Searching for Hotel Deals in Thailand! Click Here!
 About the author:
Phillip Meier is a Travel Writer, Content Writer, Copywriter, Translator. with a passion for Thai culture and travelling off the well-trodden tourist trail in the Land of Smiles. His work has been published at BootsnAll, Motorcycle Sport and Leisure Magazine. Bookaway, YourLifesATrip, BeaFreelanceBlogger,and others. writerphilippmeier.com. Email: pm@writerphilippmeier.com.
Photos by Philipp Meier