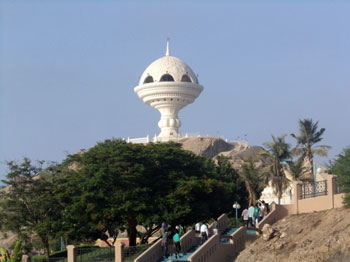 by Inka Piegsa-quischotte
When preparing for my recent five day trip to Oman, I was surprised to read on several informative websites that 'there is not much to see and do in Muscat itself'. This being the capital of Oman and knowing something about the country's colorful history, I seriously doubted the validity of this statement and, sure enough, I am able prove it wrong. In fact, there is so much to see that I would have loved to have more than one day for Muscat alone.
History does not always mean 'ancient history'. Technically, yesterday is already history and, from that point of view, just over 40 years certainly qualifies as history. You see, most of the sprawling city which unfolded before my eyes on the way from the airport to my hotel on the beach was built after 1970. The panorama documents the history of oil wealth in the Middle East. Mind you, Oman is not a rags to riches story. Located on one of the most important trade routes and with one of the world's biggest natural harbors, Oman has always been a wealthy country, particularly in the 17th century under the rule of the Ya'ruba dynasty.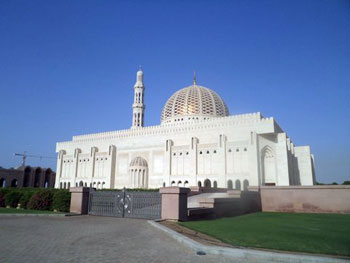 The discovery of oil however has given the country an unprecedented economical boost and it is my very personal opinion that the wealthy past has determined that the billions of petro dollars have been put to brilliant use. There is absolutely nothing 'nouveau riche' about modern Muscat. The difference to nearby Dubai is striking. Muscat has only one high rise, the Hilton Hotel and that has only 14 stories. Otherwise the buildings have all been designed in traditional Omani style with round towers, huge walls, carved wooden doors and small windows to keep out the heat. The only colors in evidence are white and sand, no garish paint, no gold, no colorful tiles, no adornment other than stone arabesques carved into the mantels. The overall impression is of cool elegance and understated wealth. Very, very soothing on the eye and beautifully in harmony with the country.
Even Sultan Qaboos' famous Grand Mosque, a massive structure which can accommodate 20.000 worshippers and was inaugurated in 2001, is made from Indian sandstone. The dome is gilded, but discreetly covered with white lattice, so that only the occasional ray of gold glitters through. The interior is another matter altogether, featuring the world's second largest hand woven carpet made in Iran and an enormous chandelier made in Germany. Because I visited during Ramadan, I couldn't see the interior of the mosque, that will be reserved for another visit.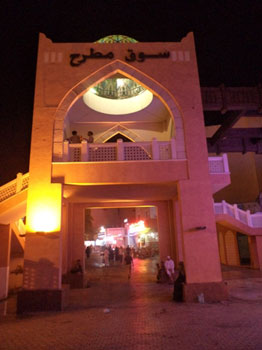 Already in love with the serene beauty of modern Muscat, my friend and I decided to visit the Muttrah souk, one of the oldest souks in all of the Middle East. During Ramadan, the souk is only open at night and, as Eid was approaching, people were out in doves to shop for clothes, jewelry and gifts in preparation for the festivities marking the end of the holy month. Two things held our attention: the ever present scent of frankincense which burns in every doorway and is one of the most important items on offer and the beautifully carved roof, reflecting the age old art of Omani wood carvings. In fact, so important is frankincense to Oman that a huge burner, high up on a hill is one of the most famous landmarks of Muscat.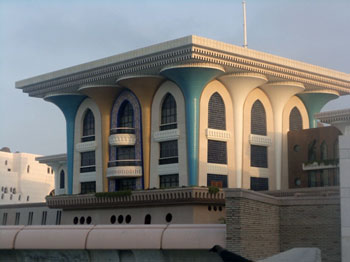 The next day we wanted to explore Muscat some more and also visit the part known as Old Muscat. To our disappointment, there is next to no public transport. We love to travel on local buses. But, at a price of 50cents for a liter of gas it doesn't come as a surprise that everybody has at least one car. So, we took a taxi, passing by the modern, exquisite shopping complex in Ruwi on our way to the Sultan's palace. It's the only colorful building in blue and gold with nearly identical front and back which can be seen from the landside as well as from the water.
Flanked by two massive castles, Al Mirani and Al Jalali, the palace is surprisingly unguarded and you can approach right up to the gate. The two forts date back to the 15th century, when the Portuguese ruled over Oman and mark the entrance to Muscat bay. The best view is, again from the sea, as we found out when we embarked on not one but three boat trips.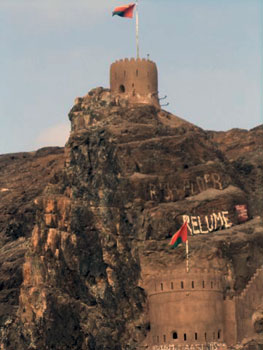 The first took us out to sea to watch dolphins at play, the second along the breath taking coastline with alternating rock formations in white marble and black granite with tiny sand beaches in between. Boat trip #3 was dedicated to experiencing the coastline bathed in the rays of the sinking sun on board a traditional Oman dhow.
Although we missed the much praised fish market (again, due to Ramadan) we were luck to discover Bait Al Zubair, a museum dedicated to the history of Omani art, crafts and folklore. Sadly, no photography is allowed inside, but admiring the fabulous silver jewelry and daggers, colorful clothes from all regions of the country as well as an explanation of the lineage of the current sultan caught our attention so much, that we forgot all about picture taking. Muscat has a few more museums, like the National Museum, the Armed Forces Museum and the Wall Museum.
There are parks to wander in, narrow streets in Old Muscat to stroll through, some serious shopping to do in the souk as well as in the Ruwi shopping mall, more boat trips to enjoy, swimming in the Golf of Oman to be done, food to be sampled in the restaurants (again, all closed during Ramadan) that I really fail to see how anyone can say that there isn't much to do and see in Muscat.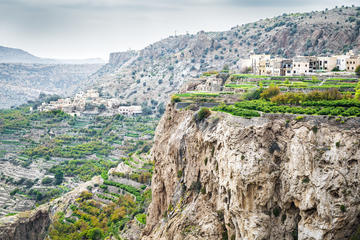 Full-Day Guided Jebel Akhdar Tour From Muscat
If You Go:
If you can stand the heat and humidity it's a good idea to go in August, because prices are much lower than in full season and visitors are few. If not, the best months to visit are from November to May.
Women do not need to cover their heads (except when visiting a mosque) but they have to cover their shoulders and upper arms and wear at least calf lengths pants or skirts. Bikinis are allowed on private beaches, on public beaches wear a one piece or thin T-shirt on top, even in the water.
Best souvenirs to buy are frankincense, perfume and silver.
If, like me, you visit during Ramadan, be aware that no eating, drinking or smoking is allowed in public until iftar. That applies to everybody, Muslim or not.
Most nationalities can obtain a visa at the airport which ranged from 10 days (5 Rial) to 1 month. Immigration and customs was a matter of minutes, very smooth and problem free. For all our trips we used www.muscatcaravan.com, very reliable and comfortable. You can rent a car through them too.
About the author:
Inka Piegsa-quischotte is an ex-attorney turned travel writer and novelist. She writes for online travel magazines and has two novels and a travel guide to Galicia/Spain published. She lives between Turkey and Miami.
All photos are by Inka Piegsa-quischotte.