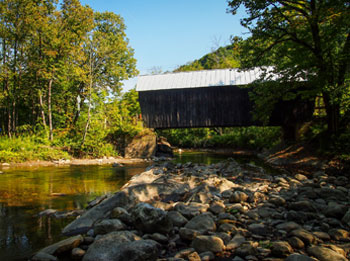 by Bram Reusen
In fall the landscapes in Vermont and New Hampshire are starting to burst with color. As the days get longer and colder, the leaves of maples, oaks and birches start losing their chlorophyll, uncovering the warm yellow, orange and red colors that lie beneath. The sky is either bright blue and dotted with cotton ball clouds, or depressingly grey. The weather changes regularly and this is the time to put on pants, warm socks and jackets. The fall season is an exceptional time of year in New England, a short season that draws in thousands of so-called leaf-peepers during the last weeks of September and the first weeks of October.
Visitors can enjoy the magnificence of soaring mountains or the quietness of a countryside dotted with picturesque farmsteads, barns, covered bridges and sugarhouses. After a breakfast of hot coffee and blueberry and maple syrup pancakes, the great outdoors await. There is nothing like the smell of a New England forest on a crisp fall morning.
New Hampshire's Soaring Mountains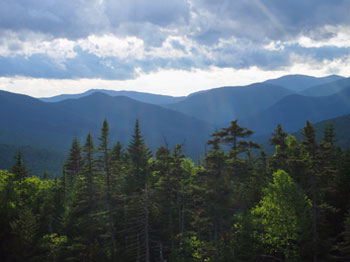 The place to go in New Hampshire is the magnificent White Mountains, located in the central and northern parts of the state. Like many destinations in North America, this region is also best explored by car. There is no public transport and cars are simply the only way to reach certain places. And there are several places you will want to reach in the White Mountain National Forest.
Numerous trailheads lie off the main and back roads, offering excellent opportunities to experience the wilderness from close by. Not to mention that higher vantage points in the mountains offer spectacular views. There are many lookout points that can be accessed by car, too, though. Especially the Kancamagus Highway, a designated scenic route, is worth driving. This 34-mile highway runs through the heart of the forest and is regarded as one of the very best fall foliage roads in New England. There are several scenic lookouts on the way.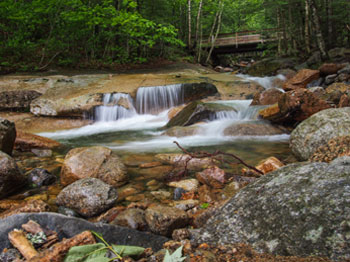 Another major highlight is Franconia Notch State Park, a mountain pass with Echo Lake at its northern end. The viewpoint of Artist's Bluff – what's in a name – is breathtaking. There are no less than 48 mountain peaks above 4,000 feet in the White Mountains, the highest of which make up the Presidential Range. The tallest peak of them all is the appropriately named Mount Washington, located in the east of the mountains. It is possible to hike up the mountain – but be prepared, the weather can be dangerous –, but also to take the Cog Railway to the summit, or drive up. Either way, the views are spectacular (if it's a clear day).
Rural Landscapes in Vermont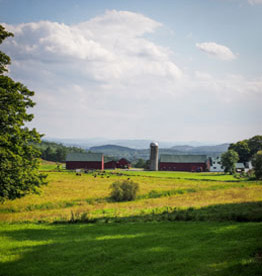 While New Hampshire offers towering mountain peaks and lakes, its western neighbor, Vermont, has a different scenery. A typical Vermont landscape consists of rolling hills – green in summer, orange in fall and white in winter -, picturesque villages, wide valleys and farms. Compared to New Hampshire, it is less rugged and spectacular, but more gentle and friendlier.
Almost every corner of rural Vermont has something pretty about it. Whether it is an old general store, a typical white New England church or a slow-flowing river crossed by a covered bridge, there is a simple beauty to be found anywhere. Vermont has no major tourist highlights or popular destinations. Rather, the entire state is a highlight. That is also probably one of the reasons the state feels so remote and underpopulated. Even the tourists are spread out. The unique calmness of Vermont makes it an ideal fall destination and a great place to get away from it all, relax and get back to nature, to throw in a bunch of clichés. It is a place where even the smallest village store sells local cheddar cheese and – always – bottles of maple syrup.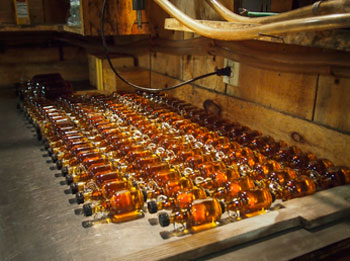 Just like New Hampshire, the best way to experience Vermont is by driving. Don't even think about entering the interstate though. The small back roads are where you want to be. And don't be afraid to get lost; that is exactly when you will stumble upon unexpected rural beauty. After living in Vermont for five months, I do know that that is the truth. Most small roads aren't on the bigger maps and I have gotten lost several times. However, getting lost in Vermont is never frustrating. Although there is no 'most popular destination', there is in fact a suggested thing to do. State Route 100 crosses Vermont from north to south and essentially runs through the heart of the Green Mountains. If you happen to be driving across Vermont in the fall, let it be there. Make sure to allow time for a few detours.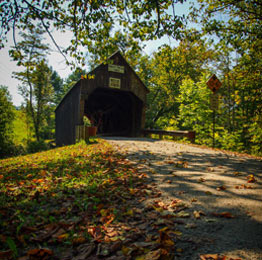 Imagine the following scenario. After driving on an unpaved road through the woods for a couple of miles, you suddenly find yourself in a narrow valley, crossed by a fast-flowing river and flanked by hills on both sides. The hillsides look as if they are on fire; it is early October and the landscape is made up of all possible yellows, oranges and reds. In the valley, dozens of brown cows graze peacefully in still green pastures. A bright red covered bridge crosses the river, allowing tractors and other farm vehicles to reach the surrounding fields. The road follows the river and leads to a small village. On the way you occasionally pass signs saying 'fresh berries' or 'maple syrup sold here'. The village consists of several wooden houses, most of them painted white, but there are some light yellow and green ones as well. The center of the village is the typical village green, a large lawn fringed with tall maple trees. Two gazebos stand on each end.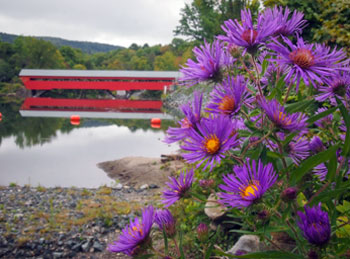 In the fall sunshine a man is raking leaves in his front yard and raises his hand as you drive by. It is a Saturday morning and people are looking for kitsch or antiques at this year's last flea market. A little further on another guy is chopping firewood. You think about what it must be like in winter in a village like this. You imagine several feet of snow and you can hear the sound of wood knispering in the fireplace. But now, it is still fall and you want to continue your drive through the Vermont countryside. The road leaves the village and climbs up the hillside. Before you turn around a bend, you pull over on the roadside. You grab your camera, get out of the car and snap one last picture of the valley and village below.
This is a landscape that you will never forget.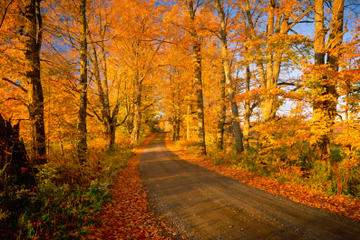 Fall Foliage Sightseeing Tour from Boston
If You Go:
♦ New Hampshire and Vermont are easily reached by car from Boston, which is where New England's major airport is located. Alternatively, it is approximately a five-hour drive north of New York City. Both states also have their own small airports.
♦ For additional information on where to stay, what to see and what to do I strongly suggest visiting the website of Visit New England.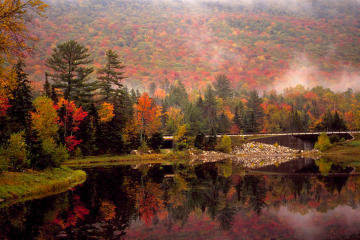 10-Day New England Fall Foliage Tour including Cape Cod
About the author:
Bram Reusen is a Belgian amateur photographer, freelance travel writer and the founder of Travel. Experience. Live. He has been wandering the globe since 2010, with the occasional jobs in between, and is now living in Vermont, USA. From backpacking and adventuring to slow travel and city breaks, Bram likes to try different travel styles and he shares his experiences through stories and photography. You can follow him on his blog www.travel-experience-live.com.
All photographs in this article are by Bram Reusen:
Covered bridge in Chelsea, Vermont.
View of the White Mountains along the Kancamagus Highway, New Hampshire
Waterfall in Franconia Notch, New Hampshire
Picturesque farmstead in Vermont
Bottles of maple syrup in a sugarhouse, Vermont
Fallen leaves and a covered bridge, Vermont
Covered bridge in Taftsville, Vermont