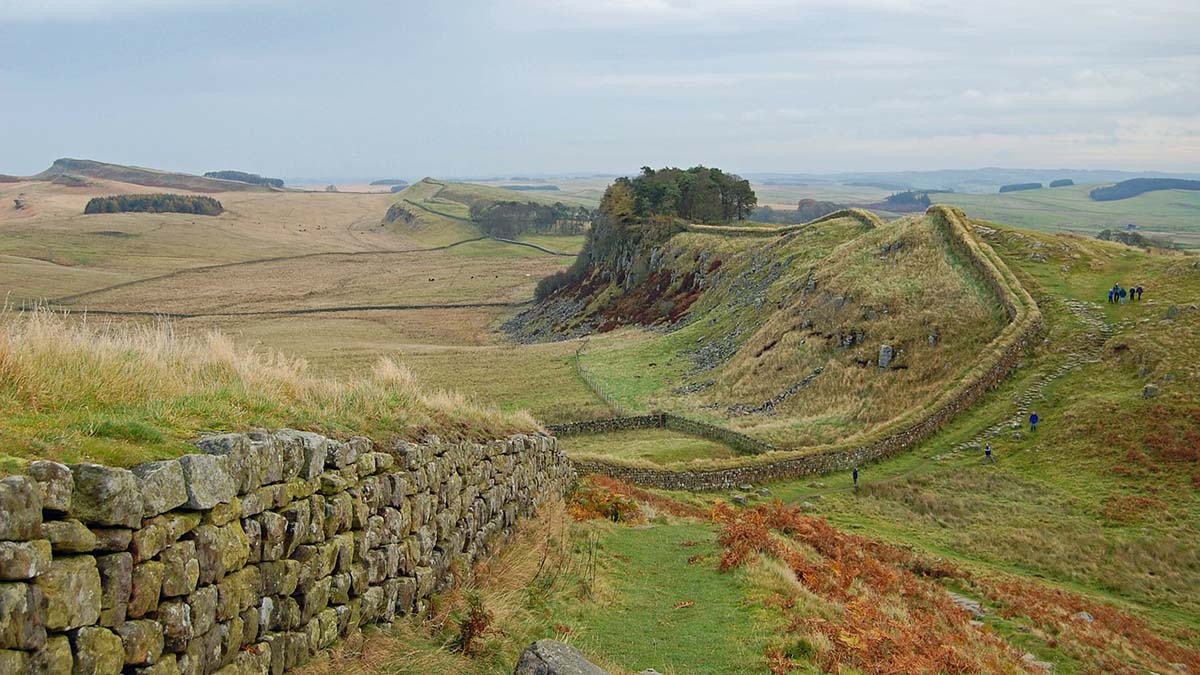 Northumberland and Cumbria, England
by Jean Pidgley 
I rarely if ever meditate but, when walking in special places, I will contemplate on my past, my present and what's to come, and then I always feel grateful for my sight enabling me to see the glory of magnificent views and for my hearing, which allows me to absorb the sound of rushing streams and the songs of birds.
Some thirty years ago I repeated a walk when on holiday with family in Yorkshire, which I had done often in my teens. Yorkshire, a lovely county and a favourite of mine, allows easy access to lovely dales and outstanding moorland and to the wilds of Northumberland and Cumbria.
Cumbria, mountainous and outstandingly beautiful, was only created in 1974 when several county names were changed. Formerly Cumberland, it was formed to include a part of Lancashire and all of lovely Westmoreland, home to the England's Lake District. Unlike my beloved Cotswolds which ranks highly in the order of English landscape beauty, Cumbria is subjected to harsh weather, but has the beauty of its dales partly due to the splendour of the surrounding countryside, the contrast between green fields,woods and valleys, and the naked breezy moors which are never far away.
Cumbria's mountains are part of the Pennine chain and the grassy slopes of the hills have to feed the sheep and deer in severe Winter storms and heavy Spring rains. Scattered farm houses are the only signs of human habitation and as one drives or walks higher, the links with civilisation disappear, and there is nothing but moorland and sky, and breathtaking views without apparent limit.
From the loveliness of the Yorkshire Dales a foray into Cumbria combines the beauty of the scenery with austere rocky canyons and all England's mountains over 3,000 feet are within its boundaries. In many parts nature is allowed to go completely untamed and we can see its glory without the addition of human intrusion. But Cumbria, wild, hilly, sparsely populated, site of many sieges and visibly displaying gutted castles, shares with Northumberland Europe's largest surviving Roman monument – Hadrian's Wall.
Stretching eighty miles from the natural beauty of Solway Firth on the west coast to Newcastle in the east, it was built around 124 AD on the orders of Emperor Hadrian. He decided his Empire needed securing and he gave the order to build a wall across the northern frontier. The Wall took six years to complete and it's thought to have begun as a rampart of earthwork and turf and then later replaced by local stone.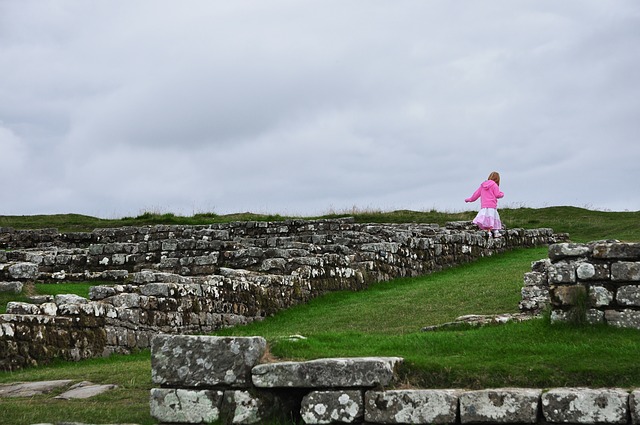 A splendid view of the Wall is seen at Housesteads in Northumberland at a section between Walltown Crags where it undulates for several miles over Whin Still ridge. I loved to ramble on top of the Wall itself where it is eight to ten feet wide and over ten feet high. I would stand alone on one of the Wall's highest vantage points and look down on some of the most spectacular scenery in England, and immerse myself with thoughts of Roman legions patrolling where my own feet were firmly planted. I could envision them toiling to pull earth, cut turf, and lay stones, hewed, hacked and sawed and placed one by one to strengthen and form this massive barrier their Emperor had ordered.
I haven't seen a sunrise or experienced a sun setting over the Wall's contours but I can imagine the sun, rising or setting, could well highlight its character and definition – enhancing its sloping banks and clumps of craggy rocks with elongated shadows. When I was there last no large official car parks, tearooms, or hordes of hikers had taken over the wall and it was allowed to stand firm, and relatively untouched except for the National Trust which oversees archaeological digs, rebuilding and repairs. Casual walkers, like me, digested its history, walked to protect the wall knowing that too many feet, far outnumbering the legions of centuries ago, could shift the turf, damage the stones, and ultimately commercialize a true jewel in England's plethora of historical gems.
When I walked I could envision the Roman soldiers marching to protect this well fortified defence. Forts were built every five miles and small settlements for housing sprang up, well equipped to provide shelter and storage. In this wild outpost of the Roman Empire, amidst the clamour of every tongue and the practice of every cult, the legions gathered together for training, sometimes to meet British tribes on the other side in friendly chatter or more often in deadly strife.
So much of the Wall disappeared in the 1700s and much of the stone went to build local churches, homes and farm walls. No need to shape, cut, form but simply pillage and build. England can thank John Clayton, born during the time of Lord Nelson, who was shocked at the way the local landowners showed little or no regard for the Wall and its history but continually took stone for their own use. Mr Clayton proceeded to buy up farms and other properties whenever they came up for sale, and his own farm labourers then cleared and rebuilt sections of the damaged wall.
I have since heard much has been done to preserve this now World Heritage Site, but when I was last there restoration and digs and finds were apparent but I saw few, and just took in the views and felt the ever-present wind on my face.
I liked to end my walk at the Vindolanda Fort. Hadrian's Wall at Vindolanda was always my dessert after I had absorbed, like a glutton, the magnificence of a small slice of Cumbria and its sections of wall en route east to the sites in Northumberland. I would remain alone with my thoughts amidst the grandeur of Northumberland's heathered rolling hills and ancient meadowed countryside and a host of Roman ruins and forts as I worked my way some six miles from Housesteads to Vindolanda.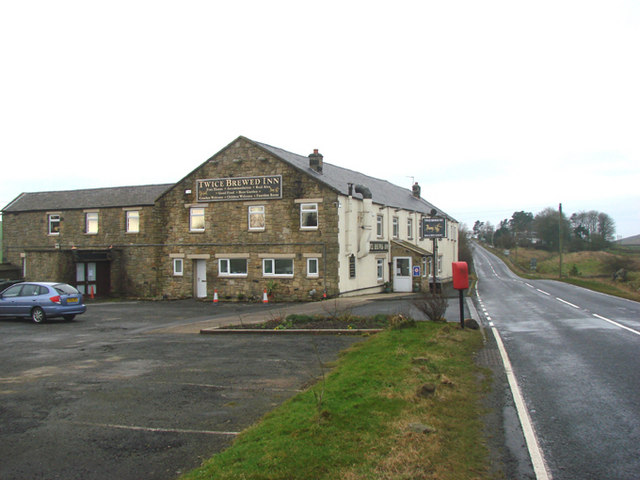 Few facilities existed then and I continued my trudge over undulating hills, past a tiny wood and down a small valley, dotted with grass chewing sheep with the occasional osprey swooping down to grab an unsuspecting field mouse, to the hamlet of Once Brewed where The Twice Brewed Inn served good hearty northern fare. Feet sore, body aching, a hot home cooked meal washed down with a local light ale, and I was in my heaven on earth and I have never found anywhere better. Forgotten was children's writer Beatrix Potter's Cumbrian house, Hill Top, where she created her characters Peter Rabbit and Jemima Puddle Duck. It would be seen another day. William Wordsworth, inspired by the same lakes and mountains, could also be remembered another time, and Dove Cottage on Lake Grasmere, where he lived for over fifty years, could be re-visited. But, during my allotted time with Hadrian and his Wall, I had deliberately stayed remote with my thoughts midst Nature's grandeur and Rome's remnants from empire building, aware that, just around a corner in a lane in Once Brewed, I had left a car which would transport me down the road back into Yorkshire and family happenings, where tranquility, dreams and contemplation would be put on hold.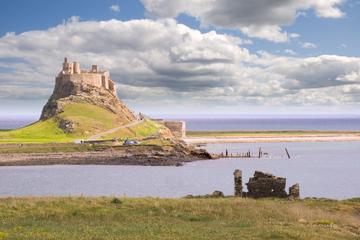 Holy Island, Alnwick Castle and Northumberland Tour from Edinburgh
If You Go:
♦ Hadrian's Wall Path
♦ Once Brewed
♦ Visit Northumberland
♦ Accomodations
♦ Twice Brewed Inn
About the author:
Jean Pidgley was born in the New Forest, England, and emigrated to Canada in 1961. She spent many years in Marketing Communications with the telecommunications industry, and retired when Business Advertising Manager with one of Canada's leading telecommunications companies. Her passion is golf and interests include travel and writing for pleasure.
Photo credits:
Hadrian's Wall 1 by David Mark from Pixabay
Housesteads Roman Fort by Eleonora Pavlovska from Pixabay
Twice Brewed Inn by Bill Henderson / The Twice Brewed Inn