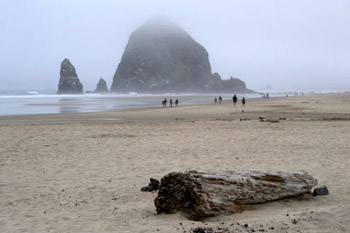 by Chris Hiebert
There's a chill in the air. A river of rain washes down the living room window. Curled up in front of the fire a hot cup of Earl Grey tea in hand, Sandra asks "Where would you like to go this summer?"
I'm too slow to respond as that feels like a distant point in time to me.
Sandra continues. "What if we return to the Oregon Coast?"
I recall our long walks on endless beaches. A day spent exploring the coast culminating in a pleasant exhaustion, being lulled to sleep by the rhythm of waves as they storm the beach.
"Remember the beautiful sunsets and that first glimpse of the ocean through the trees?" she adds. "And of course the people we met."
I had to agree those are the joys of travel. Just as a Siren drew sailors to the rocks our memories are calling Sandra and I back to the Oregon Coast. So we begin our road trip planning.
Our trip would be in August so we packed for both warm sunny weather and cool wet weather as we know from past experience on the coast we are likely to see both, all on the same day.
The Journey
At times Washington State's I-5 freeway can feel like a six lane deranged Blackberry balancing, latte sipping ballet. A half day of that commute in the past and death grips imprint the driver's wheel of our CRV. There had to be a better way, so on an earlier trip unwilling to put ourselves through that madness again and enticed with promises of ocean view rooms, the best B&B in town and local fresh seafood we chose to return home from Oregon north along Hwy. 101 exploring the Washington coast. Perhaps you've seen those glossy travel brochures and heard the saying, don't believe everything you read. Well you can believe it, the saying that is. Long story short that trip ended up being an odyssey of brochure fed blarney and misadventure. But we were determined that this trip would be different.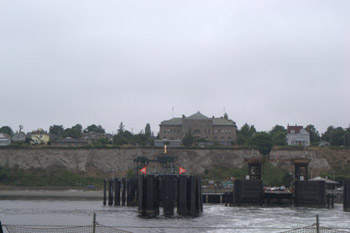 Our AAA paper map in hand, the GPS stored away safely in the glove box we set out starting with a short stretch of the I5 from Bellingham to Burlington. There we exited taking Hwy. 20, followed by a thirty minute ferry ride to Historic Port Townsend and continued south on the inland highway, yes there are two Highways numbered 101. At this point we make sure to take the road to Leland and along the Hood Canal.The route was clearly shown on the map which is important as between the towns of Shelton and Arctic Wash. the highway number changes no fewer then four times. A more enjoyable journey the road snakes through Washington State from Burlington to the Oregon border passing through small communities rather then blasting past blurred exit signs to distant places. While the inland 101 is for the most part two lanes with lots of curves and a long stretch of logged off forest that also took the brunt of the November 2007 wind storm, it is still a much more relaxing drive then the I5. Our drive home will be the same restful route.
The Destination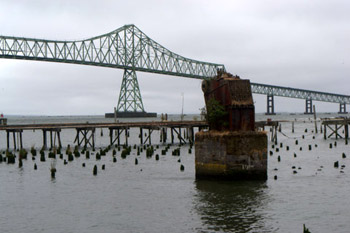 It's late August the afternoon of day one of our road trip. We've made good time as we pass Dismal Nitch and cross the Megler Bridge over the Columbia River on the border of Washington and Oregon. Through the fog and far below we can see a large sandbar and deteriorating pilings, remnants of canneries and a once vigorous fishing industry. Astoria is our first stop in part because it is the perfect days drive from the Canada/U.S. border and we can sleep under the bridge. Don't worry we do have a hotel room.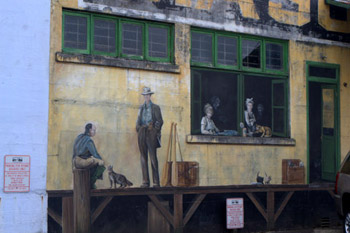 The first permanent U.S. Pacific Coast settlement, Astoria was incorporated in 1876 by settlers attracted to the fur trade, fishing and canneries. The town's future became shaky when those employers packed up and left town so Astoria reinvented itself as a tourist destination. Key to the town's undertaking is the River Walk a five mile ribbon extending along the river and serving both as a pedestrian walk, a cycle path as well as a trolley route that runs adjacent to quaint cafes, small shops and working wharves.
It's time for dinner. Earlier and a few kilometers up the road I had suggested to Sandra that we return to a rustic riverside restaurant that we had discovered a few years earlier. Salivating over the thought of fresh halibut and scallops we are devastated to find that the Cannery Café is gone. It has burnt to the ground. All that remains is a charred dock where it once stood and our memories. Our cravings unsatisfied we continue along River Walk to the Baked Alaska Restaurant our river front patio table overlooking ocean going freighters maneuvering past the much smaller boats as we imagine their catch being dispatched directly to our plates. Dinner is followed with a short walk to the historic town centre. Twice devastated by fire this part of Astoria has been under going a bit of a renaissance with renovated hotels and eclectic eateries popping up on every corner. Be sure to stop by Marie Antoinette's Cupcakes, in the old Astoria Bank building. Let them eat cake.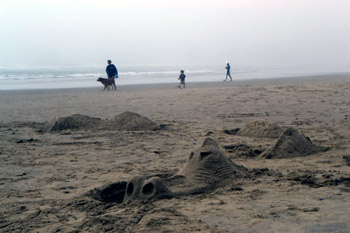 Day two of our Oregon trip, it's foggy and cool. Cannon Beach is a short drive south of Astoria on the 101 and is so named for a cannon that washed ashore from the U.S. Navy Schooner Shark in 1846. A touristy community, Cannon Beach is also more family oriented complete with beach bikes,horse back riding, sand castle contests, kids in I heart Cannon Beach hoodies, ice cream and gift shops. There's motels, hotels, B&Bs and family style restaurants all within walking distance of the beach. We include it in our journey for the miles of sandy beach, the open ocean and Haystack Rock. Stopping just long enough to stretch our legs and let Islay have a run on the beach,we continue in our search for the sun. It's on to Lincoln City.
Forty miles south of Cannon Beach on route 101 you could be forgiven for thinking that you have crossed some invisible dividing line to all things Tillamook. Tillamook County, Tillamook Bay and of course the Tillamook County Creamery Association better known as the wildly successful Tillamook Cheese Factory.If you like cheese and ice cream and who doesn't and you're willing to negotiate the throngs it's worth the stop.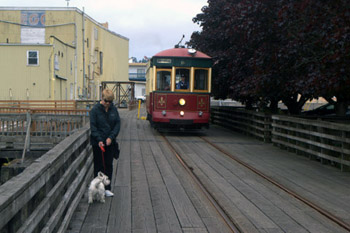 South of Tillamook the 101 heads inland through farm country passing towns with names such as Beaver, Hebo, Oretown and Neskowin before it veers west again offering a peek-a-boo view of the Pacific Ocean. Smiles appear on our faces, the dog wakes from her nap with a shake seemingly aware that she is minutes away from chasing gulls on the beach while barking at the wind. After a day and a half on the road we are nearing our road trip's southern destination, Lincoln City Oregon.
When in Lincoln City we stay at The Odysius where the D River flows into the Pacific Ocean. The boutique style hotel is in full view and ear shot of those thundering waves that lull us to sleep. Dog friendly they have always made the three of us feel at home so it's at this pointthat we feel the need to tell Islay our Westie that Cody the Schnauzer has retired from his position at the hotel's front desk. The thirty room hotel recently changed hands but any renovations have been minor. New paint, king size beds and a new name, The Shearwater Inn to our delight it is still the cozy inn we remembered so fondly.
Lincoln City is an incorporation of several small communities, it's name courtesy of a children's naming contest. It's economy dependent on tourism, retired folks and a casino. While it may not have the history or the character of some other coastal towns Lincoln City does have its own characters. Ken Morris is a trained chef, his persona and Humble Pie reminiscent of a sixties low budget movie and the home of possibly the best pizza on the Oregon Coast. Don't get me started on his freshly baked chocolate éclairs.
Our mornings in Lincoln City are easily filled. Islay chases the incoming waves, Sandra and I enjoying our beach walks the summer fog so dense you can taste the sea salt. Our afternoons pass as we explore the town before we join fellow guests, two and four legged at the Shearwater Inn for a glass of Willamette Valley Chardonnay.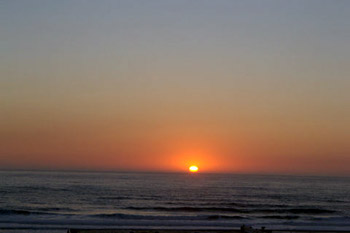 To soon our week has ended but unwilling to rush home we stop again south of Cannon Beach. This is a much quieter area,the beaches more vast while the restaurants and shops are minutes away. Always open to new epicurean treats, on a recommendation from the lodge staff we try the Sweet Basil Café. The café is small, the décor is Louisiana rustic, the Chef's leanings are Cajun.The food is local and delicious, it's a gem in the state known for Red Bull Slushies, pancake dispensing machines and where size matters when it comes to meal portions.
We're happy we chose to take our Oregon Road Trip even if the search for that elusive sunshine went unfulfilled.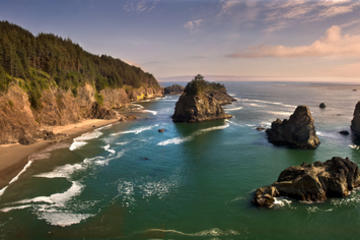 Oregon Coast Day Trip: Cannon Beach and Haystack Rock
If You Go:
By car your first stop should be a BCAA travel office to pickup a Washington/Oregon road map that shows the interior highways, specifically highway # 101. Don't hesitate to take some side roads and be sure to wander the side streets and lanes in the towns you visit and be sure to ask the locals where they like to eat. Depending on the time of year you visit the weather can vary drastically on the Oregon Coast so be sure to pack for all four seasons no matter when you go. The seasons also effect the availability and cost of lodging so check ahead.
You'll find what you need at www.cannonbeach.org and www.oregoncoast.org. We like The Shearwater Inn in Lincoln City www.theshearwaterinn.com and The Ocean Lodge at Cannon Beach www.theoceanlodge.com and because of its location the Holiday Inn Express in Astoria www.hiexpress.com
About the author:
Chris Herbert lives in Vancouver. Chris is a part time travel writer and his articles have appeared in Senior Living Magazine, Celtic Connection, Tac Talk, The British Canadian, White Cockade, www.realtravel.com and of course Travel Thru History. Plans are underway for a trip to Scotland in 2013.
All photos by Chris Herbert (Stilltravelswell@hotmail.ca).