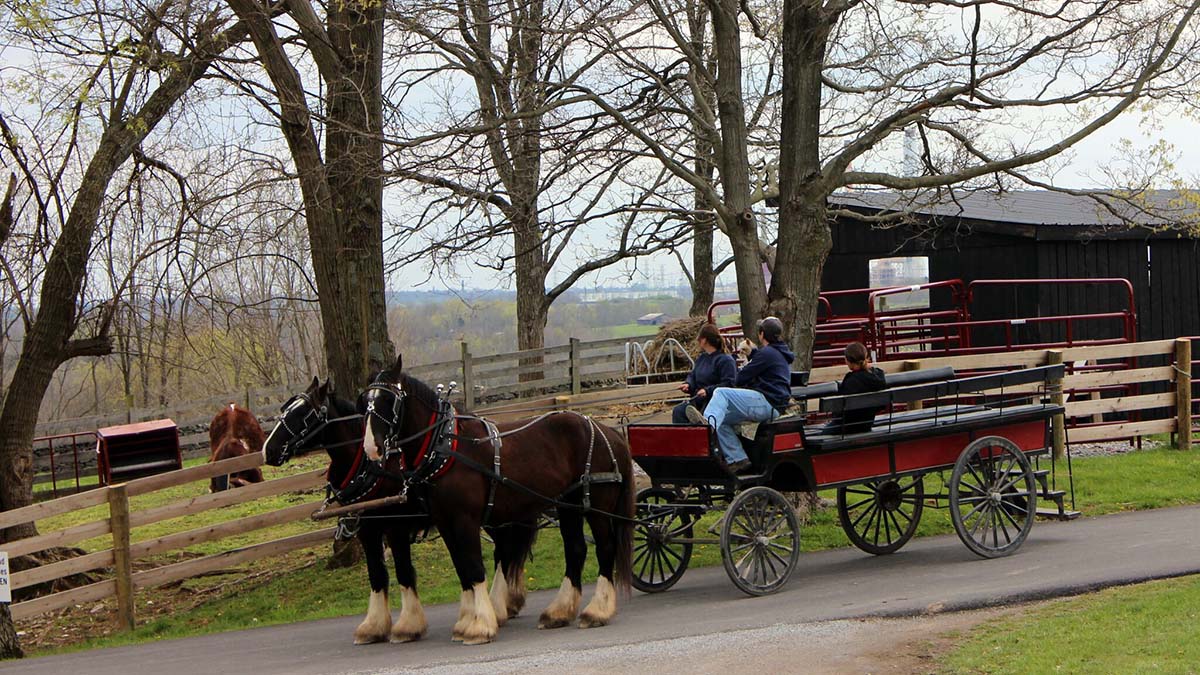 by Wynne Crombie 
The trees lining the landscape were just beginning to bloom when my husband Kent and I arrived at Pleasant Hill. It was bustling…visitors were strolling along the dirt paths, a guided tour was visible in the distance and a horse and wagon ride had just crept up behind us.
We were ready to begin our discovery tour of a way of life that was simplicity itself.
Shakers starting arriving at Pleasant Hill somewhere around 1805. As early as 1816 they were producing enough surpluses of brooms, preserves, packaged seeds and other products to begin regular trading trips to New Orleans.
By the Mid-1850s Shakerville (as it was called) was home to approximately 600 Shakers occupying 250 buildings and almost 2800 acres of land. The Civil War and Industrial Revolution took a heavy toll and the community dissolved in 1910. In 1961 it was reestablished as a non-profit educational entity.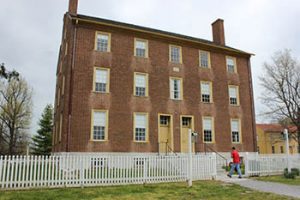 A rousing beat was coming from the 1820 Meeting House. The door was open and a demonstration of Shaker religious singing was in progress. It was a boisterous rendition of Loch Lomond. We stepped in to get a closer look.
The Meeting House interior was free of any central obstructions to provide the Believers plenty of room to conduct their services. It was built to withstand a considerable amount of vibration due to the expressive nature of Shaker worship. Music was a central element of their worship. For much of their history, the Shakers worshiped without instruments.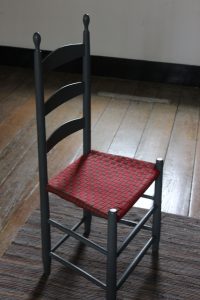 Kent and I had some thirty-four surviving buildings to explore. These are structures without fanfare, simple lines without curves. The Shakers were self sufficient. They took what they had and made do. Crops were grown, and the seeds saved for the next year's harvest. They made their own furniture and wove their own cloth. Houses were painted either pale yellow or white. Stone chimneys graced both sides of the houses.
One of the original bath houses still exists. They were constructed for each gender. Near-by was the Post office where both Shakers and local residents received mail.
We took time out to dine at the restaurant, The Trustees' Table. Their motto is: Dine with straight from the garden ingredients. Bowls of seasoned relish, a selection of hot vegetables and homemade bread come with each entrée. Kent and I chose, Fried Green Tomatoes, as an appetizer. Smothered Pork Loins over cornbread dressing were our entrees. ($20). Another enticing entrée was Mrs. Kremer's Fried Chicken. ($21.95)
In addition to dining, you can spend the night at The Inn. Visitors can choose from guest rooms, suites and private cottages. Rooms are furnished with Shaker reproduction furniture, original hardwood floors and great views of the surrounding countryside.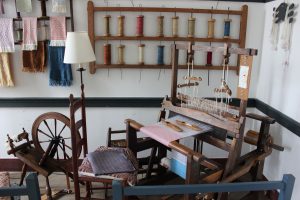 We came away with admiration on how self-sufficient and unpretentious the Shakers were. For example: looms and spinning wheels. It was amazing how these structures could produce such beautiful cloth. Hemp, one of Kentucky's main crops before 1870, was used to make rope. One item to survive to this day is the Shaker chair. These were no nonsense chairs with rigid backs.
Beds¸ single, double, and low trundle, were manufactured on site. The Shakers used raw local materials. A necessary function was the production of cloth and garments from wool and vegetable fibers produced on the farm. Examples… Linen, worsted, and linsey-woolsey were on display. The latter was in popular demand for the making of slave clothing. An interesting sight was an array of five Shaker brooms hanging on pegs. When the light is just right, they cast interesting shadows on the wall.
Water was pumped by horse power from a spring to the 19,000 gallon reservoir in the Water House. The water was then fed, via gravity, to the kitchens and wash houses in the Village.
Society was divided into families from 50 to 100 members. Each family had its own dwelling house.
There is one remaining privy or, as the Shakers called it, a Necessary. Instead of a trench, the privy had a clean-out vent on the back wall.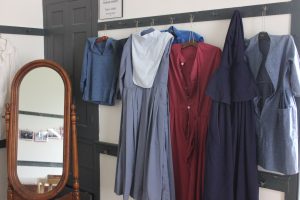 As we moved from building to building we discovered more looms, spinning wheels. homemade furniture and kitchen utensils. The finished products were all made by hand. A display of clothes showed shapeless gowns in grayish-blues and maroon. Clothes in muted blues and maroons were hanging on pegs. The white bonnets were shapeless; the long skirts formless and drab. There was little difference between the shoes and stockings worn by men and women.
You had to use your imagination here as to just what took place, but one of my favorites was a display of an 1805 cradle next to a sign that read: "1805 cradle used by Shakers to rock adults to shake out their sins."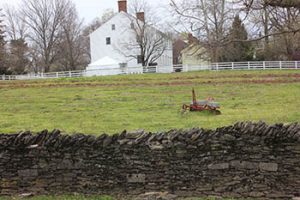 Also intriguing were the ubiquitous stone fences. Our guide, Bertha explained that about four layers of stones are piled one upon another. The top layer is composed of stones laid on their sides. This is called, "coping". The purpose was twofold: to weigh down the fence and to keep the cattle in. In addition to the stone fences, property was also marked with white wooden fences with horizontal slats.
Today, Shaker Village is very much a village at work. Farmers, historians, naturalists and many others work from growing the organic garden, to managing prairie habitat, caring for important artifacts, restoring historic buildings and building an apiary, real work happens here!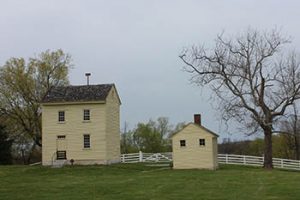 After exploring the village you can head over to The Farm to meet the animals and out into The Preserve to explore 3,000 acres of farmland.
Admission grants you access to a full day of discovery filled with self-guided and staff-led tours, talks, music, demonstrations, exhibitions, hands-on activities and more
Jump on board the horse-drawn wagon or take a hay ride around The Historic Centre every weekend, from April through October
The site is home to the country's largest private collection of original 19th century buildings.
It is open daily from 10:00 am to 5:00 pm Admission $10. (Ages 13 and up)
If You Go:
Shakertown at Pleasant Hill is a National Historic Landmark
3501 Lexington Road, Harrodsburg, Kentucky
Tel. 800-734-5611
About the author:
Wynne has a master's degree in adult education. Her work has appeared in: Travel and Leisure, Grit, Dallas Morning News, Cat Fancy, Quilt Magazine, Italy Magazine, Irish-American Post, Catholic Digest, Get Lost (Au) Yours (UK) Air Force Times, Stars and Stripes, and GoNomad.com.
All photos by Wynne Crombie