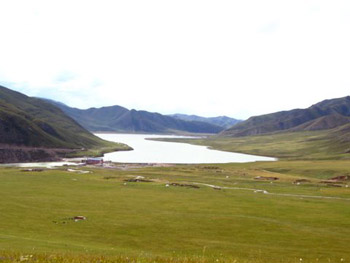 by Chris Pady
The romantic notion of galloping across the Tibetan grasslands on horseback has me lost in a reverie. Our destination, the Ponru orphanage/school/monastery, is roughly 10 kilometers from our departure point at the Kele Family residence, our affable hosts, situated in Serchul County in eastern Kham. According to the locals, Serchul County has the five "mosts" in the Ganzi prefecture. It is the highest (4000 metres above sea level), the farthest, the biggest, the coldest, and the poorest. It's subtle charm then is its rawness, its simplicity and its vastness.
As the most inexperienced rider of the bunch, I am given the oldest horse in the lot. "This horse is so old, it wouldn't even notice if you even fell off", jokes Sonam, a Tibetan monk who English accent suggests time spent in India. "And even if it did try to run, it wouldn't be able to!", he continues, pointing to the two large duffel bags full of supplies over hanging on each side of its black haunches. After a rather awkward mount, my excitement for the ride is somewhat dampened by the prospect of tremendous discomfort later on – but I convince myself it will be worth it.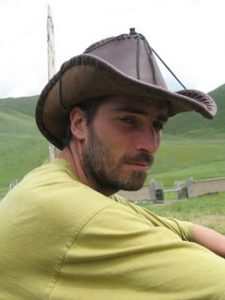 Completing the foursome with my partner, Michele, and I are Mr. Kele and Chok Jap. Mr Kele, father of twelve – most of which are monks or nuns- is a short man in sixties with a roundish body, and a fantastic mustache to accompany his wonderful smile. The stern, baby-faced Chok Jap, a monk and friend of the family's, sports a handsome brown cowboy hat. As far as I can remember, it is the first time in my life that I have ever admired a cowboy hat; I wonder if this place is rubbing off on me.
We cross the highway, the only paved road for miles, and slowly make our way towards the bridge near the hydroelectric dam. Glancing down at the slow flow of the river, it is difficult to conceive that this is the mighty Yangtze River in its infancy, its course destined for the Pacific Ocean thousands of kilometers away.
Though I am very much enjoying the leisurely pace, Chop Jak finally loses his patience and, without warning, eases over and grabs hold of my reins to personally lead me on at a faster pace. The horse's pace quickens to a trot, causing a tortuous rub of my crotch against the saddle which has got me cringing every time the hooves touch ground.
During periods of slower trotting, the lessened responsibility of concentrating on the riding rewards me with more opportunity to admire the surroundings. I spot a wild cat disappear behind a slope; marmots poke their heads out of their holes and duck back in just as quickly; local Tibetan women, washing clothes in the river, greet us with bright, white smiles while naked children run around in their yard; yaks in abundance graze, stare off into the distance with expressionless faces, or stand ankle deep in the water to cool off in the midday sun.
In this modern world obsessed with technology, riding horseback in this forgotten land on the roof of the world feels like I have gone back in time to a period where things were much simpler. The whirlpool of sensory overload and constant distractions that dominate most of the planet are noticeably absent. Here, one is swallowed up by space and emptiness and all that matters is the present.
We continue along the mucky road leading deeper into the valley. After an hour or so, we arrive at the gates of the orphanage. There is nothing else around except for the river, rolling green hills and a few hawks circling in the distance in the hope of spotting a field mouse or a hare. Sonam's eldest sister, who lives on the premises acting as the school cook and general nurturer, comes out to greet us.
Gingerly, I dismount from my horse. As soon as my feet touch the ground, my legs give out and I nearly collapse on the spot. My inner thighs and knees feel like alien parts of my body, almost unattached and without feeling. Like a toddler just learning to walk, I attempt a cautious step forward, moving like a penguin or an exaggerated bow-legged cowboy. Sonam's sister says something which I can only imagine would translate to . "That poor foreigner, what kind of strange disease or condition does he have?"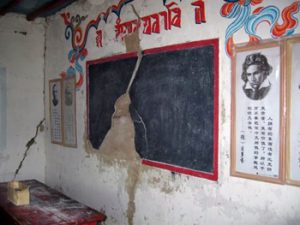 We enter through the gates into the barren school yard, nothing but a rectangle of space. The children who attend the school are all from nomadic families and have never even heard of a playground. On the outskirts of the rectangle, there are rows of rooms that make up the sleeping quarters, the toilet ( to call it a bathroom would imply an actual room and not just the hole in the ground that it really is), the classroom and the quaint little guest room into which we are now lead. Adorning the walls are pictures of famous Rinpoches and, standing out among the sacred, rather oddly, is also a picture of a classic, western breakfast scene: bacon, eggs and sausage, presented on much too clinically clean plate. It dawns on me that exotic is a very relative term.
Sonam's sister brings us bowls filled with ginseng beans, with a healthy serving of melted butter and sugar added for flavour. Though I don't dislike the ginseng beans on their own, the generous serving of butter is much too rich for my taste and I hastily reach for my green tea to wash it down after my first mouthful. I watch as Chokjap expertly pinches a few beans, squishing them between his chubby fingers and then mixes it in with the butter and sugar before scooping into his mouth. After discretely dumping out some of the butter, I mimic Chokjap's technique with minor success.
After a tour of the monastery, we end up back at the main gates. The emerald valley is now dotted with red as the children, sporting the unflattering government issued school tracksuits, take their lunch break. After lunch, we visit the classroom. The most noticeable aspect of the classroom is a giant crack in which runs straight through the centre of the chalkboard. Class is interrupted so that we are able to distribute the gifts my poor horse lugged all the way there: a bar of soap, a toothbrush and toothpaste, a pen, a pair of gloves and a pair of socks. Items considered basics in the western world are luxury items in this poor, lost land.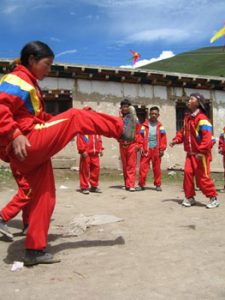 Aside from the practical gifts, we also made sure to bring a little fun as well in the form of feather shuttlecocks, used for a game resembling hackey sack and known in China as jianzi. The object of the game is simple: all the players stand in a circle and try to keep the feather, weighted by a coin, in the air using their feet. Seeing as these are special circumstances, the teacher suggests that we all go out and try the new game right away. Some of the students are tentative, while others are not shy to give it a go. However, the most enthusiastic and gung ho for the game are Sonam and Chokjap, the two monks! After the children are summoned back to the classroom, we continue playing for a while.
Spent from our session, we laze around in the grass afterwards and watch as the students come out for recess eager to try their luck at the new game. Amazing to think that something that costs less than a quarter could bring so much joy to these kids. whose only toys are only as good as their imagination. Laying tantalizingly on the grass is Chokjap's cowboy hat. I pick it up and try it on for size. Somehow, it feels right to wear it. Something about spending time in the land of the Khampas has made me want to become a cowboy!
Finally, it's time to leave. There are several reasons for not wanting to leave this beautiful spot, not the least of which is the guaranteed pain of getting back on that horse. No matter how carefully I slide back into the tiny saddle, the rub against my already-seasoned rash is excruciating. Every step the horse takes is a painful reminder of friction. It's going to be a long ride home. My day finishes with me lying on my stomach in intense pain, with a mile wide grin on my face, pants and underwear around my ankles, reminiscing over the day's adventures while Michele – who must really love me incidentally – applies some cream to my tender butt crack. There really is no polite way to say it. Maybe I wasn't cut out to be a cowboy after all.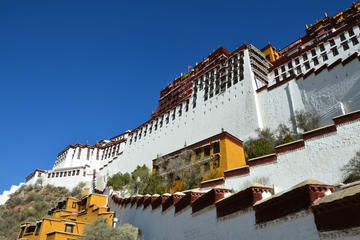 Private 3-Night Lhasa Highlights Tour Explore China Tibet
If You Go:
The town of Sixu (Mandarin) / Zhajika (Tibetan) is a three day drive from Cheng Du, capital city of Sichuan Province. There are buses that can get you there if you have plenty of time, but for speed and comfort's sake, it would be advisable to check the following links to arrange transport: www.intowestchina.com and www.khamaid.org. There is one hotel for tourists in the town of Sixu.
About the author:
Chris Pady first fell in love with Tibet as a teenager, vowing to visit the remote land while in his thirties. Then, while living and working in Taiwan, during the very year he turned thirty, he was given the opportunity to go to Tibet for two months and thus fulfill his dream. He loved it so much he returned the following summer. He hopes to eventually publish his memoirs of his experiences in Kham if he can ever find the time.
Photo Credits:
All photos are by Michele Black.