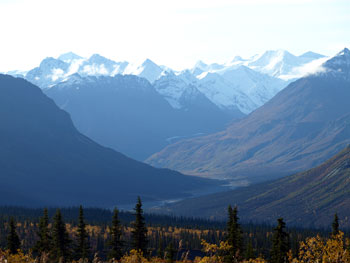 Alaska
by Stephen Sexton
WOOF – it's not the sound of a dog barking, but the acronym for a hot new option for working holidays that more long-term travelers are turning to in these dire economic times.
World Wide Opportunities on Organic Farms is a website that matches farmers with willing workers. The farmers receive free help around their property, while the "woofers" get a free bed and meals (usually healthy organic food), a unique experience, and if they're lucky, a primer in small-scale organic farming practices.
Woofing has been around since the mid '90s and but is only now taking off in a big way. That has much to do with the state of the global economy – more people are looking for a cheap way to travel, and the worldwide recession and the belt-tightening that has gone along with it has prompted many young people to look at different ways of living and consuming. In other words, not to rely on anybody for the basics in life, like food and energy. After all, if the global economy eventually collapses, as some more pessimistic woofers predict, then self-sufficient living will be the future for us all. Even if you don't share that gloomy view, you may still love the woofing experience for other reasons. The chance to get back to nature and breathe some fresh air is a big draw from many work-weary city dwellers.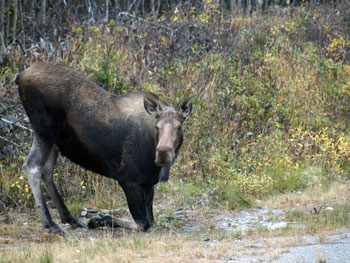 I recently returned from a summer of woofing around Alaska and can vouch for the spiritual aspects of farming. Feeding chickens and pigs can be a messy and tiring business, when you see those animals eye's light up at the sight of you "it makes you feel good for some reason" one fellow woofer recounted to me.
"Getting all dirty is actually pretty fun… it makes you feel like you've earned a good night's rest. You just don't get that same feeling of satisfaction at the end of a day from office work," said another.
The chance to see the world and spend very little money while you're doing it is probably the main reason people choose to woof. As well, you meet the locals and learn about the local area far better than you can by staying in hotels and doing package tours.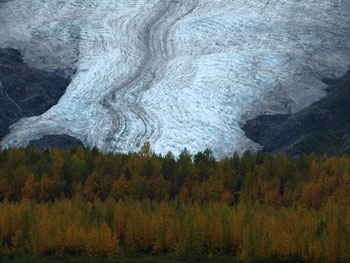 I stayed on three different farms over the course of my summer, and each revealed some of the advantages and pitfalls of the business.
The first was a totally "off grid" farm, several hours out of Anchorage which is the largest city in Alaska. Electricity was provided by solar panels and a generator, while water had to be hauled from a nearby natural spring. It was an ideal place for learning true organic farming practices, and the couple who owned the place were only too happy to answer all my questions. They had about 25 goats (many of which were milked twice a day), four sheep, one pig, about 90 chickens, five turkeys, three old Alaskan Husky sled dogs and an organic vegetable garden. I found working with goats surprisingly enjoyable, as they have their own individual personalities and are somewhat dog-like in that they answer to their name and even enjoy being petted.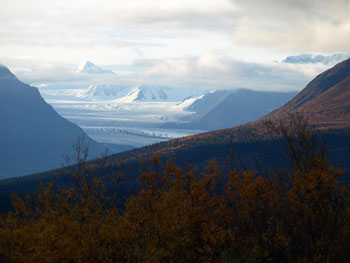 While the rustic setting was attractive, the ultra-basic facilities were the things that made me leave in the end. I was housed in an authentic Alaskan log cabin about a mile away from the owners' cabin, and had no washing facilities after a long day of shoveling goat poop and the like. There is only so much bathing in a freezing creek one can do before it gets old, so after three weeks I moved on, though not before they took me on a ride in their bush plane across the Chugach mountain range and over the sparkling blue Prince William Sound.
The next location was a heli-ski lodge in Valdez. It sounds glamorous on paper, but the reality was a little different. I was given jobs like entering credit card transactions into accounting software and cleaning out the garage. The owner was a single girl taking advantage of an opportunity for some free male help around the house, rather than providing a true organic farming experience. In fact the place did not produce a single edible plant nor own any livestock. That taught me how important it is to learn as much as possible about the situation you're walking into before you arrive at the doorstep. Suffice to say I did not last long in this job.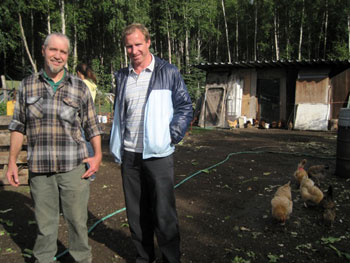 The third and last woofing destination was with a couple who owned both a small 2.5 acre farm in the city of Anchorage itself, as well as a 20 acre farm in Homer, a beautiful town on the sea about four hours away. Bill and Judy were unbelievably good to me, and really helped me enjoy my time in Alaska. They were very interesting people, being ex-hippies while Bill was a Vietnam war veteran and an outspoken anti-war and Green Party spokesman.
The usual woofing guideline is that a woofer will work for about 25 hours a week in return for food and accommodation. However Bill and Judy certainly didn't make me work that long, and they also provided amazing Alaskan meals every night, including locally caught King Salmon that would be worth at least $50 a plate at a restaurant in my native New York.
Woofing is not just in America – it is a truly worldwide organization. Go to the main woofing website: www.wwoof.org and click on the geographical area you want to travel in. A modest joining fee gives you access to the directory of farms for a particular country, and then the would-be woofer must contact each farm themselves to arrange a stay. It's important to keep in mind that the arrangement you make with a farm is privately negotiated and could take many different forms. The general rule of thumb of 25 hours of work each week is negotiable and only a guideline. And facilities vary widely – some farms will offer only a tent, while others will have much more comfortable accommodation.
With a bit of good luck in finding the right farm, woofing can be a great experience, even for the most hardened of city slickers.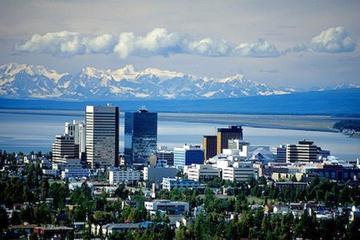 Private Tour: Anchorage 3-Hour Tour
If You Go:
Keep in mind that the best of Alaska is often away from the well worn highways between Seward, the port where the cruise ships berth, and Denali National Park to the north. Between these two points is where the majority of fellow tourists can be found but the best of Alaska is far off the beaten track, including the counter culture capital of Alaska, Homer, situated on the water at the far end of the Kenai Peninsula.
Also, you can find the highest concentration of big mountains in North America in the remote yet stunningly beautiful Wrangell St Elias National Park, located about eight hours east of Anchorage near the border with Canada. The town to go to here is called McCarthy (population 30), located in the middle of the national park and connected to the outside world by a very rough dirt road (no rental cars allowed).
Other highlights are the 26 Glaciers boat cruise around the spectacular Prince William Sound (www.26glaciers.com), which leaves from the port town of Whittier, and the Denali Highway, another dusty gravel road that goes through some very remote but beautifully scenic country east of Denali National Park.
As mentioned in the article, if you wish to WWOOF, then you will need to go to the www.wwoof.org website to find out more.
About the author:
Steve Sexton is a freelance travel writer currently based in New York City. He is originally from Australia but has spent the past six years exploring his new country after winning the "green card lottery," an immigration program run by the US government that grants permanent residency through a random draw (much to the amazement of many Americans).
Photo credits:
All photographs are by Steve Sexton.