THE ROMAN AND CARTHAGINIANS FESTIVAL
Spain
by Darlene Foster
---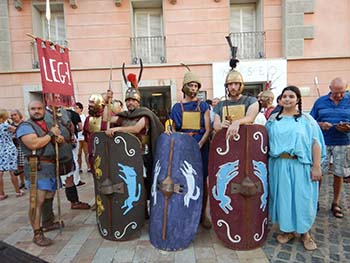 The ground shakes with the ominous beat of drums. Passing by us are legions of solemn Roman soldiers, animal-skin clad barbarians with painted faces and colourful shields, ferocious gladiators wearing appropriate sandals, dancing maidens, priests, soothsayers and toga covered senators. We find ourselves in the midst of a Romans and Carthaginians Festival. This spectacle is held every year to celebrate the vibrant history of the strategic port city of Cartagena, Spain.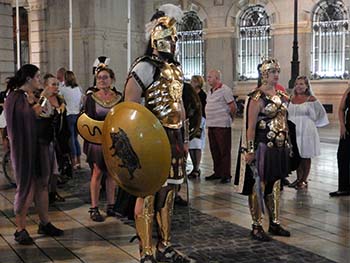 Cartagena has more than 2000 years of history. The Romans and Carthaginians Festival is a remembrance of the second Punic War, beginning with the foundation of Qart Hadast, the name given to Cartagena by the Phoenicians in 228 BC, and ending with its capture by the Romans in 209 BC. The Romans named the city Carthago Nova (the New Carthage)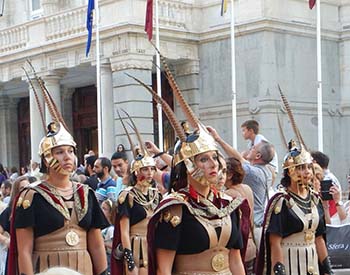 Throughout the last ten days of September, battles are re-enacted, ancient ceremonies held and troops in full battle dress march through the streets of Cartagena. The Carthaginian and Roman armies arrive by sea in a dramatic display and then march through town to an encampment set up on the football field. We are fortunate to witness part of this event during an enchanting evening I will never forget.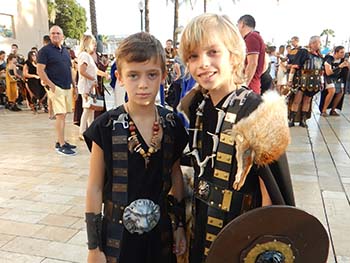 The costumes and attention to historic detail are amazing. It is as if all the citizens of Cartagena are in costume for the event. And like everything in Spain, the entire family is involved. Men, woman and children take on roles as Roman soldiers and barbarian hordes. The tradesfolk who followed the armies serving their needs are also represented. Bakers, butchers, blacksmiths, potters and entertainers are interspersed between armies following standard bearers. Elaborate floats depicting Roman villas and amphitheatres and even an elephant from Hannibal's army pass by while we are entertained by a snake handler, a joker, a conjurer and a soothsayer.   My excitement grows when monks appear leading massive bulls through the narrow streets lined with onlookers. An ancient high priest rewards me with a huge smile after I take his picture.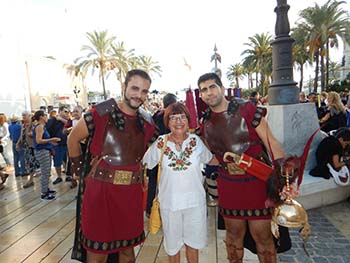 There are many photo ops at these events. Arriving early affords you an opportunity to wander among the participants as they prepare for the parade. They are only too are happy to pose for you, or with you, as they proudly show off their costumes. It is easy to get caught up in the excitement. I stare in awe at the ultimate gladiator sandals gracing the tanned feet of a well-toned gladiator. Now, where can I get a pair like that?
The ambience makes me feel part of history as it is brought to life.


---
If You Go:
Cartagena is located on the Mediterranean coast in south-eastern Spain.
Alicante International Airport is 116km from Cartagena.
The closest airport is Murcia's San Javier airport, 30km from Cartagena.
There are no direct buses to Cartagena from the San Javier airport; many hire a car at the airport and drive the 20 minutes into town. A taxi costs around €40.
Once there, inexpensive tour buses are available to take you to see the many historic sites of the city. There are also boat tours of the harbour. It is also a great city to explore by foot.
Check the website for the dates and schedule of the Romans and Carthaginians Festival held at the end of September every year. www.cartaginesesyromanos.es.
---
Photographs:
Photos by Darlene Foster

---
Contributor's Bio:
Darlene Foster is a dedicated writer and traveller. She is the author of a series of books featuring Amanda, a spunky young girl who loves to travel to interesting places such as the United Arab Emirates, Spain, England, Alberta and Eastern Europe, where she always has an exciting adventure. Darlene divides her time between the west coast of Canada and the Costa Blanca of Spain when she isn´t exploring the world. Visit darlenefoster.ca.