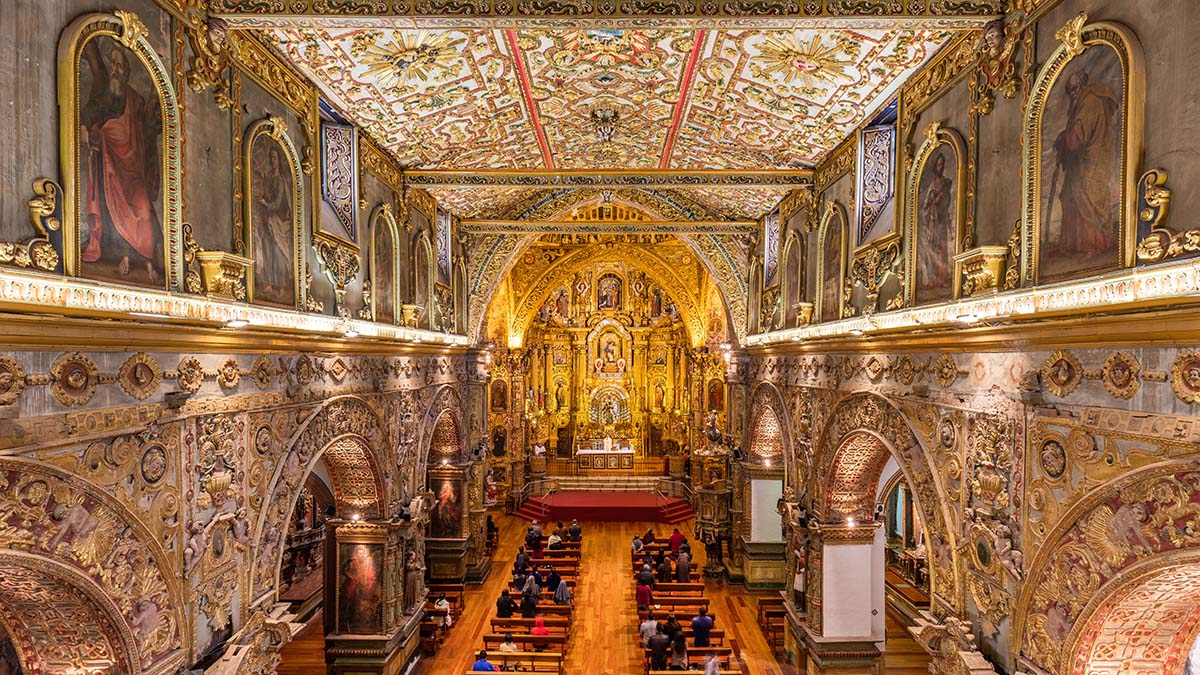 If These Walls Could Talk
by Amy E. Robertson
The Iglesia de San Francisco, or Church of Saint Francis, in the historic center of Quito, Ecuador, is one of the oldest churches in South America.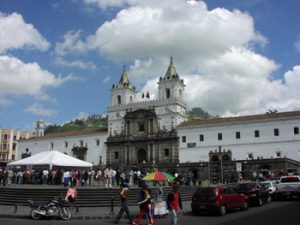 Founded in 1535, this massive stone and whitewash construction has witnessed nearly 500 years of history. What might it tell us of all that it has seen? Perhaps we would hear of the Inca marketplace on whose land the first stones of the church were laid. Indigenous peoples from far and wide traded goods from the mountain highlands, cloud forest, jungle and beaches of Ecuador.
Flemish Franciscan, Jodoko Ricke, forced the market out, envisioning a church to convert the New World. Covering eight and a half acres, in its heyday the complex included a church, two chapels, a convent, six wells, two orchards, a school, a cemetery, and four cloisters with their cells, infirmary, bakery and kitchen. San Francisco virtually was the city.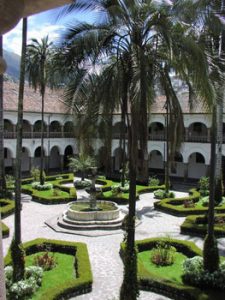 Would San Francisco tell us the stories of those buried in its cemetery? Destitute Quiteños could not afford interment within the walls of the church. Or would the walls reveal the truth behind the legend of Cantuña? The indigenous architect was threatened with prison if the church was not completed on time. It is said that he promised his soul to the devil in exchange for help. A missing stone, leaving the church as yet unfinished, saved Cantuña from eternal damnation.
Perhaps we would hear stories of the women who drew water from the fountain in its sweeping stone plaza, or the men trained by the Franciscans in painting, blacksmith, and stone and wood working. Or maybe San Francisco would tell instead of the merchants and market-goers that lined adjacent streets for centuries, eliminated only recently by city regulations.
The Iglesia de San Francisco's relevance has not diminished with time, and the worn wooden floorboard creaks with the shifting of hundreds of feet during Sunday mass. The simplicity of the floor is in stark contrast with the baroque gold-leafed walls – the mudejar coffer ceiling of interlocking geometrical pieces, the elaborately carved pulpit sustained on the back of a saint, the statues of saints in silver-threaded vestments lining the walls.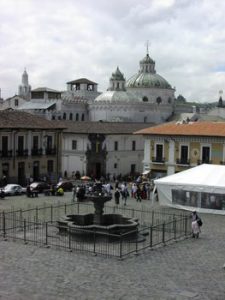 Would San Francisco be satisfied by the devotion of Quiteños? Year in and year out fervent Catholicism is on display at jubilant Palm Sunday celebrations where thousands brandish palm crosses, and at solemn Good Friday processions, hundreds of robed and hooded penitents trudge barefoot through the Old City while tens of thousands bear witness. But Quiteños don't limit their spirituality to special occasions; pious worshipers fill an impressive number of pews every Sunday.
San Francisco lends its plaza to frequent civic and political gatherings as well. It was here that tens of thousands peacefully gathered and instigated the fall of two presidents in recent years (1997 and 2000). On quieter days the plaza hosts shoeshine boys and tourists, tents offering everything ranging from blood pressure tests to free water, flocks of pigeons that swoop through the sky and return to the ground.
When you walk through the Iglesia de San Francisco, be sure to listen to the whispering of the walls.
If You Go:
Iglesia de San Francisco is located at the intersection of Benalcazar, Bolivar, Sucre and Cuenca streets. The adjacent museum, Museo Fray Pedro Gocial, displays religious art primarily from the 16th to 18th centuries and offers a view into the cloisters. It is through the museum that the coffer ceiling in the choir loft can be accessed. The museum is open Monday through Saturday 9:00 a.m. to 1:00 p.m., 2:00 p.m. to 6:00 p.m., and Sunday from 9:00 a.m. to 1:00 p.m. Admission is $2.00. Guided tours are available in English as well as Spanish.
Private Sightseeing Tour Historic Centre Quito and 2 traditional markets
Cultural Historical Culinary and Food Market Tour in Quito
Where To Stay:
Hotel Patio Andaluz
The first boutique hotel in the historic center, this 16th century home was recently renovated and now offers 31 slightly austere but tastefully appointed rooms. Doubles: $200.00, suites, $250.00, plus 22% taxes (breakfast not included).
Garcia Moreno N6-52
La Posada Colonial
An alternative for a smaller budget is a few doors away. It is also in a renovated colonial building. Rooms are comfortable and doubles go for $30.00, tax and breakfast included.
Garcia Moreno 1160 Tel: 593-2-228-0282; email: posadacolonial@yahoo.com.
Where To Eat:
El Cucurucho de Santa Clara
A block south of San Francisco at Benalcazar and Rocafuerte. This elegant restaurant opened last year in what was a city market in the 1800s. It offers cuisine from throughout Ecuador, the house specialty is ceviche Cucurucho, served with popcorn and corn nuts, as per local tradition. Open Tuesday through Saturday, 12:00 p.m. to 11:30 p.m., Sunday 12:00 p.m. to 4:00 p.m.
Hasta La Vuelta Señor
Built in 1625, the Archbishop's Palace (Palacio Arzobispal) on the Plaza de Independencia houses several restaurants, including this simple café offering traditional Quiteño cuisine. The seco de chivo, lamb stew and empanada de viento, an airy plate-sized turnover filled with cheese, are especially good, as are the fresh juices. Open Monday through Saturday, 12:00 p.m. to 11:00 p.m., Sunday, 12:00 p.m. to 4:00 p.m.
About the author:
Amy E. Robertson is a multitasker who writes about travel, food and news, as well as writes fundraising copy and grant proposals. Her work has appeared in Travel + Leisure, the Christian Science Monitor and Ms. Magazine, among others. An avid explorer, Amy has lived in five countries (including three years in Ecuador ) and globetrotted in 60. Amy currently resides in Tegucigalpa , Honduras, with her husband and two children.
www.mediabistro.com/AmyERobertson
Photo credits:
Iglesia de San Francisco interior by Diego Delso / CC BY-SA
All other photographs are by Amy E. Robertson.