by Loretta Berry
When I travel I love to learn about the history of a place and about its people. What made ordinary people seek new lands? What daring adventures did they have and what struggles did they experience to get there? What was life like in this place hundreds of years ago?
As a girl I read a lot of historical novels including those set in Charleston. I dreamed I was there – Women wearing beautiful lace, hoop-skirt dresses and dashing men in coattails and top hats strolling arm in arm down cobblestone avenues or sipping tea in the parlor of a grand mansion by the waterfront. It was all so romantic.
Charleston is full of history. The oldest city in South Carolina, founded in 1670, it is the epitome of southern charm and hospitality. History and romance ooze on every street in the historic district, like something out of one of the novels I used to read.
Charleston is also one of the most remarkably well-preserved cities in America. The restoration efforts by local groups to preserve this great American city is noticeable and is what keeps Charleston's grand old buildings and homes, and their rich history, intact, restored, and preserved for many more generations to enjoy.
Here is my list of how to enjoy the history and find romance in Charleston:
Take a Walking Tour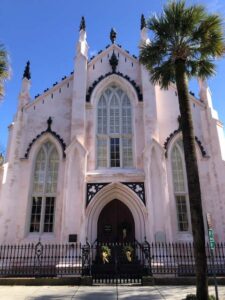 We found that the best way to see Charleston is by walking around. We grabbed our tour book and headed out. You can stop by the Visitor's Center for a free map or pick one up in your hotel lobby. If you prefer a guided tour, there are many Walking Tours available.
Must see points of interest: St. Phillip's Episcopal Church and Graveyard, the Dock Street Theatre built in 1736, and the Gothic Revival style French Huguenot Church all on Church Street.
Nearby is Chalmer's Street – Walk on the original cobblestone street paved in 1760. There you will find the famous Pink House, the Old Slave Mart (now a museum), and the German Fire Steam Engine Co. (a fire house used from 1851-'88).
At the end of Broad Street, on East Bay Street, stands the Old Exchange and Provost Dungeon (now a museum). East Bay street is also where you'll find the iconic Rainbow Row houses.
Be sure to visit the Pineapple Fountain in Waterfront Park and White Point Park at the end of Battery Street to see its 160-year-old oak trees, civil war cannons, and monuments.
Enjoy a Horse-drawn Carriage Ride or Tour
What could be more romantic than riding in a carriage down centuries old cobblestone streets? Whether its just the two of you or you're enjoying a family vacation, one of the best ways to experience Charleston is relaxing in an open carriage ride – feel the sunshine on your skin, smell the sweet fragrances of the many gardens throughout the city, hear the clippity-clop of the horses hooves all while listening to the driver's tales of a by-gone era as he points out various historical landmarks.
There are several companies that offer horse-drawn carriage tours including Charleston Carriage Works, Classic Carriage Works, Old South Carriage Co, and Palmetto Carriage Tours.
Admire Historical Antebellum Mansions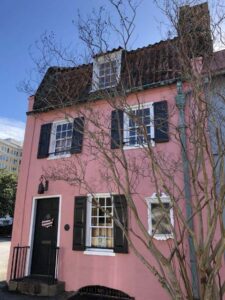 Nothing speaks romance louder in Charleston than its historic, grandiose, antebellum mansions. You can't miss them as you walk or drive around.
Get a glimpse into the lives of past Charleston elite and most prominent residents. Take a tour of these mansions and their magnificent English gardens. If only the walls could talk.
A few notable homes that offer tours are the Heyward-Washington House, built in 1772 by Thomas Heyward, one of the signers of the Declaration of Independence, and where President George Washington once stayed. The three-story Federal-style Edmondston-Alston House built by a notable shipping merchant in 1825.
Williams Mansion, a fine, Gilded Age, 24,000 square foot home of business tycoon George W. Williams. One of my favorites, with its three-story "flying" staircase, is the Nathaniel Russell House. And there's the iconic Aiken-Rhett House and Museum.
Mansion tour times, information and tickets are available online. Prices vary for each house with discounts available for multiple tours.
Visit Historic Magnolia Plantation and Gardens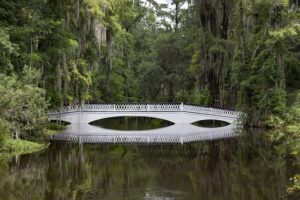 All the fun and romance doesn't just happen in the historic district of Charleston. Just 12 miles away on SC-61 you'll find the Magnolia Plantation and Gardens. This impressive 500-acre estate was acquired by the Drayton family in 1676. Listed on the National Register of Historic Places, it is one of the oldest plantations in the South. Once a rice plantation, Magnolia is now known for it's 60-acres of romantic gardens. Visit anytime of year and you will find hundreds of fragrant, colorful blooms.
The estate also includes a reconstructed and restored pre-Revolutionary mansion, horticultural maze, nature trails, petting zoo, biblical herb garden, nature boat, nature train, and a swamp garden.
Hours of operation vary throughout the year. Allow 2 hours for a tour, although you might want to stay all day. Prices vary depending on tour. For information and to buy tickets, click here.
Take a Harbor Tour and Visit Fort Sumter
Cruise out to Charleston's most popular attraction, Fort Sumter. Spend an hour exploring the small island and fortress, now a National Historic Park, where the first shots of the Civil War rang out. While cruising you'll see the city wall, Battery Park, the skyline with its many church steeples, and the stately Rainbow Row and Battery homes along the waterfront.
Boat Tours depart from two locations: Liberty Square and Patriots Point. Tour times vary throughout the year. Ticket prices also vary with discounts for kids, seniors, and active military.
Other Harbor Tours include a 90-minute, narrated Charleston Harbor Cruise with a certified tour guide and for even a bit more romance, enjoy a multi-course dinner and drinks aboard a SpiritLine Dinner Cruise.
Be Awed by Historic Churches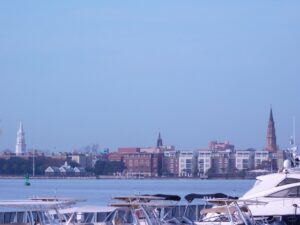 Nicknamed "Holy City" for its many churches, no visit would be complete without checking out these historic places of worship. Admiring the architecture alone is worth the stop. Many still hold services. Some provide tours.
Stop and listen to the bells ringing from the bell tower of St. Phillip's Episcopal Church (c.1836) at noon.
Admire the Cathedral of St. John the Baptist Roman Catholic Church (c.1907 the original 1854 church was lost in a fire).
Visit St. Michael's Church (c.1761). Sit in the very same pew as President George Washington and Gen. Robert E. Lee when they worshiped here.
Shop 'Til You Drop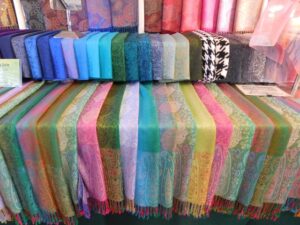 Believe it or not, not everyone who visits Charleston is a history buff or romantic. The good news is that there is so much more to see and do here – something for everyone. For instance, Charleston is a shoppers paradise.
The Shops of Historic Charleston on Meeting Street is where you'll find bookstores, boutiques, reproduction furnishings, jewelry, and artwork.
Upper-crust retailers like Gucci and Louis Vuitton alongside mid-range shops can be found at The Shops at Belmond Charleston Place, also on Meeting Street.
As you stroll through the French Quarter, look for the many eclectic shops and galleries in Cabbage Row/Catfish Row (89-91 Church Street).
Upper King Street is home to the "designer district" with a bohemian atmosphere. Innovative furniture shops, home décor, and designer jewelry along with trendy restaurants and lively nightspots. While Lower King is home to Antique Row, "hip" boutiques, and art galleries.
Over 200 years old, the City Market is a "must-see" and the best place to find souvenirs. The four-block long open-air market hosts dozens of vendors with everything from spices, South Carolina treats, and hand-crafted trinkets, hats, and artwork. A must-have souvenir is a traditional African sweetgrass basket hand made by local Galluh women.
Museums And Other Interests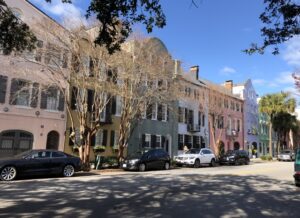 Charleston has its fair share of history museums, but there are others. The Gibbes Museum of Art, Children's Museum of the Lowcountry, Postal Museum, Karpeles Manuscript Library Museum, and the Mace Brown Museum of Natural History.
South Carolina Aquarium is home to more than 5000 animals, from the ocean and coastal region to the forest and mountains.
For military buffs is Patriots Point Naval and Maritime Museum Just north of the historic district across the Cooper River. Home to the USS Yorktown, destroyer USS Laffey, submarine USS Clamagore, and 28 historic aircraft.
Nearby historic Fort Moultrie was prominent in the Revolutionary War. A palmetto-log fort, it was first attacked by nine British ships in 1776.
There is so much to see and do in Charleston. One thing is for sure, one trip is not enough – You will want to go back time and again.
How To Get There
Getting there is easy. To drive is less than five hours from Atlanta and three from Charlotte. Most major airlines fly into Charleston International Airport (CHS), 12 miles west on I-526.
Where To Eat
After a day of sightseeing or shopping you'll want to grab some lowcountry cuisine at the many dozens of restaurants in Charleston's historic district. Most of them serve fresh seafood as well as lowcountry favorites – shrimp and grits, lowcountry boil (sausage, shrimp, potatoes, and corn-on-the-cob), she-crab soup, crab cakes and oysters.
Some favorites are SNOBS – Slightly North of Broad Street, housed in a renovated 18th century warehouse. You'll find upscale and refined southern cooking at Magnolias. One of my favorites, housed in an old church (of course), 5th Church Charleston. And Amen Street Fish and Raw Bar. Best she-crab soup ever. The staff is great and even the manager came out to tell us the fantastic history of the building.
Restaurants in the historic district tend to be somewhat expensive, although many have moderately priced items on their menus as well as dishes to share.

Sip n' Shop Charleston; Sip Wine and Shop at the Finest Boutiques in Charleston
Where to Stay
There are several amazing hotels in the historic district, although somewhat pricey. More moderately priced and budget friendly hotels can be found north of the historic district as well as just across the Ashley River to the south and the Cooper River to the north.
The moderately priced Charleston Harbor and Marina Hotel to the north, next to Patriot's Point, is what I'd consider a grand hotel. It has spacious room with balconies, a swimming pool, jacuzzi, gift shop, and Fish House Restaurant all on site. The Marina here is where you take the cruise to Ft Sumter or a fishing charter. This hotel also has a convenient, 365 days a year, hourly shuttle bus to and from the heart of the historic downtown district.

Undiscovered Charleston: 1/2 Day Food, Wine & History Tour with Cooking Class
About the author:
Loretta Berry is a freelance travel writer and photographer. She loves discovering new places and experiencing the local history, food, and drink. She has traveled extensively throughout the United States. She loves traveling with her kids and grandkids, sharing with them her passion for fun and adventure. She is a member of ITWPA and TraveMedia. You can find her on both Facebook and Instagram to follow her travels.
Photo credits:
First horse and carriage photo by Palmetto Carriage Works
All other photos are by Loretta Berry