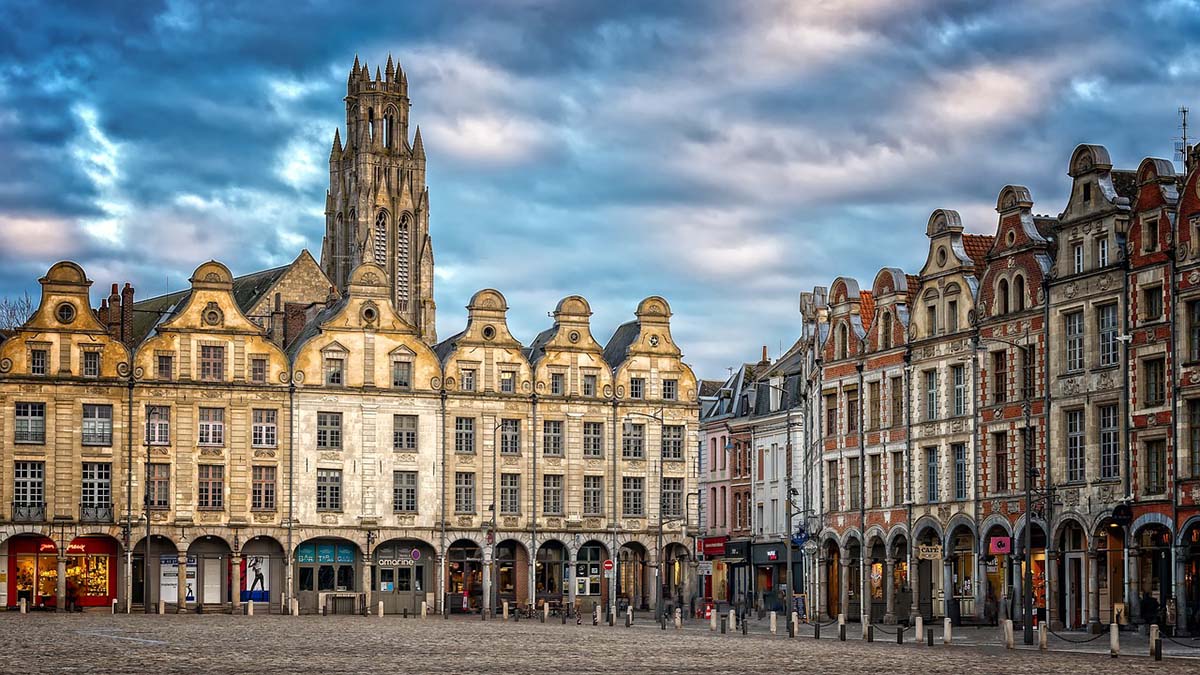 Arras, France
by Anne Harrison
On the 8th September 1916, my great-uncle died from wounds suffered during the Battle of the Somme. Second Lieutenant Henry Byron, 1st/5th Battalion, South Lancashire Regiment, was twenty-two. His brother – my grandfather – enlisted at the age of fourteen, had a kidney shot out in Ypres, contracted TB while convalescing, and was shipped home with six months to live. Deciding escape was the only way to survive the miasmas of war-time Liverpool, he worked his way to Australia, jumped shipped in Perth, and died at the age of ninety two. He could never bring himself to return to France and visit his beloved brother's grave.
In contrast to the American Army, which built large cemeteries for their war dead, the Commonwealth Forces tried to bury their soldiers near where they fell. Consequently, this area of France is dotted with cemeteries. Uncle Harry rests in Dartmoor Cemetery, Becordel-Becourt, not far from Arras.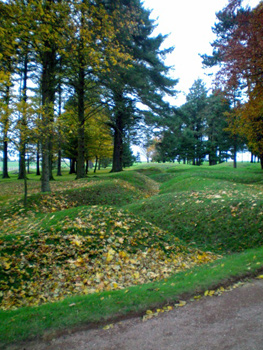 The landscape here is flat, and has been farmed – and fought over – for centuries. Tilled land spreads in all directions, dotted by the occasional stone farmhouse, a church spire, a copse of trees. Shrapnel from the war still surfaces each season as the fields are farmed. The heavy soil stuck to my shoes, and all too easily turns to mud. A confusion of back roads loop and intersect through small villages, where horse-drawn carts are still in use.
Arras is a medieval town of cobbled streets and limestone tunnels. From the end of 1914 until early 1918, the Western Front (which stretched from Belgium to the Mediterranean) was never more than three kilometres away, and the town itself was occupied and nearly destroyed. Much of the town was rebuilt in traditional style, and Arras is now World Heritage Listed by UNESCO.
Since medieval times, the main square – Le Place des Héros – has been home to a market, and now every Saturday stalls of meats, poultry, cheeses, fruits de mer and all manner of fresh produce spill over the cobbled stones and into the surrounding streets. Le Place des Héros is dominated by the gothic Hôtel de Ville. For anyone brave enough to climb the Belfry and face the bleak winds, the entire countryside is on display, and on a clear day Paris is visible. Not surprisingly, this was used by both civilians and the military for viewing the progress of the war.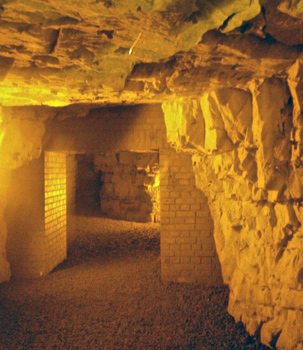 Beneath the Hôtel de Ville is an entrance to the Boves, or medieval tunnels. The origin of the name is uncertain; however, from the 10th century limestone was quarried here, until the practice was moved outside the city amidst fears the town would collapse. The tunnels run along five different levels, at times up to twenty meters deep. Most of the buildings on Le Place des Héros have their own entrance, now used mainly as cellars or for storage (and an exquisite restaurant, La Faisanderie, perfect after a day touring the battlefields).
Despite the cold and damp – the tunnels remain at a constant 11º C, with 80% humidity and no sunlight – people lived here in medieval times. In WWI, New Zealand Royal Engineers (complete with canaries in cages) extended the tunnels so troops could move in secrecy to emerge near the German front line. Up to 24,000 men could be concealed, and the remnants of electrical lighting, makeshift kitchens and even latrines are still visible. Tunnels were divided into those for foot traffic, hand-drawn trolleys and a light rail system. Casualties were moved with relative safety, and a field hospital (complete with operating theatre) was established underground.
After a few hours spent touring the battlefields, the number of lives lost becomes mind numbing. (An organized tour helps give some structure to the mayhem of the First World War.) The Battle of the Somme commenced on the 1st July 1916. On the first day, some 20,000 men died; this figure does not include those, like Uncle Harry, who were to later succumb to their wounds. By this stage of the war, some generals on both sides had come to accept a loss of 1:1 as a good result. Reflecting this, the Franco-British Thiepval Monument is simply huge, largely to accommodate the names of the 73,367 British soldiers with no known grave. The country of Newfoundland never recovered from the loss of men, leading to its absorption by Canada in the 1920s.
In an attempt to break the ongoing stalemate of the war, in March 1918 the Germans launched another offensive to capture Amiens (which, being near the sea, was vital for supplies). As a consequence, the small town of Villers-Bretonneux was captured in the world's first battle between two tanks forces: British Mark IVs against the German A7Vs. After a house-to-house battle, Australian soldiers liberated the village on 24th April 1918, at a loss of some 1200 Australians. Amiens was never captured, and the German front line began to recede, leading to the Armistice of 1918. Many historians see the liberation of Villers-Bretonneux as a turning point of WWI.
Although nearly a century has passed, pictures of kangaroos and slouched hats fill the town, and there is even a Restaurant le Kangarou. The main road is Rue de Melbourne, and the Australian flag flies atop the Australian National Memorial, which lists the 10,982 Australian soldiers with no known grave. ANZAC Day is celebrated here every year. The first floor of the school (a gift in the 1920's from the school children of Victoria to the children of the town) houses the Franco-Australia Museum. Above every blackboard are the words N'oublions jamais l'Australie – Never forget Australia.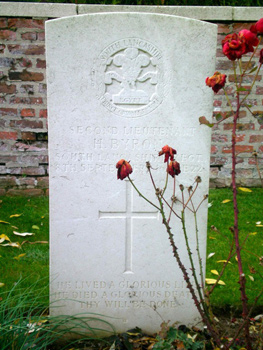 The Canadian National Vimy Memorial encompasses a 250 acre battlefield park, which includes the area of the Battle of Vimy Ridge (9th April, 1917). Both Allied and German trenches have been preserved, and it is still possible to walk along them. The trenches never ran in a straight line, and had alcoves at regular intervals for shelter from bombs and snipers. Some barbed-wire stakes remain; earlier ones with only one hole, and a later design which could hold three stands of barbed wire. These also had the advantage of having a screw on the base, allowing them to be silently screwed into the heavy soil, and not hammered.
Uncle Harry's grave is in a corner of the small Dartmoor Cemetery, which began as Becordel-Becourt Military Cemetery in 1915. It has only 768 (762 identified) WWI Commonwealth burials. In September 1916, the XV Corps Main Dressing Station was established nearby, and it is here Uncle Harry died. Surrounded by fields, Dartmoor Cemetery is now a peaceful spot, overlooked by most tourists, for there are so many cemeteries, and so many memorials to the War To End All Wars.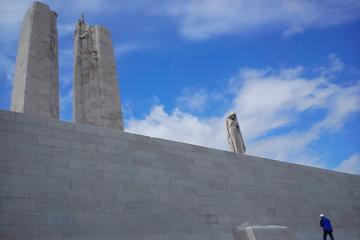 Full-Day Canadian WW1 Somme Battlefield Tour from Arras
If You Go:
♦ www.ot-arras.fr – Official Arras Tourism website (in French)
♦ www.arras.fr – Another website with an English option, but not as detailed
♦ www.westernfronttours.com.au – A web search brings up many companies which run WWI / WWII battle tours. Most are British. Based in Arras, Western Front Tours is run by an Australian who has an extensive knowledge of WWI, and happily modified our tour (of only four persons) to include a visit to Uncle Harry's gravesite.
♦ www.awm.gov.au – Official site of The Australian War Memorial, with a database for searching for overseas graves
♦ www.restaurant-la-faisanderie.com – If in Arras, try this restaurant. Simply superb.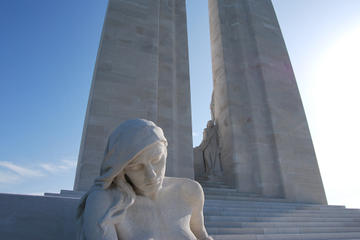 Small-Group Day Trip to Arras and Vimy Ridge WW1 Battlefields from Paris
About the author:
Anne Harrison lives with her husband, two children and numerous pets on the Central Coast, NSW. Her jobs include wife, mother, doctor, farmer and local witch doctor – covering anything from delivering alpacas to treating kids who have fallen head first into the washing machine. Her fiction has been published in Australian literary magazines, and has been placed in regional literary competitions. Her non-fiction has been published in medical and travel journals. Her ambition is to be 80 and happy. Her writings are available at anneharrison.com.au and anneharrison.hubpages.com
Photos credits:
Arras street by Peter H from Pixabay
All other photos by Anne Harrison:
Many WWI trenches remain today
Tunnels in the Boves
Uncle Harry's grave