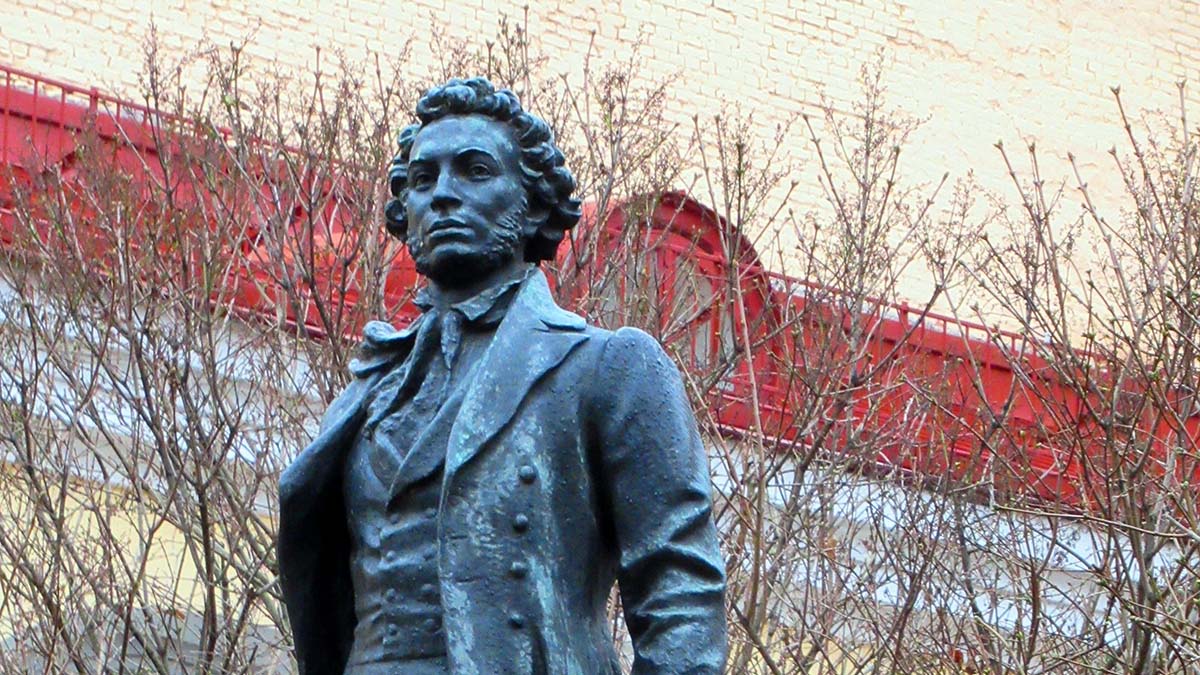 by Tatiana Claudy
"Pushkin was our everything," declared Apollon Grigoryev (Russian poet). "Pushkin represented everything that is spiritual and warm about us." 1 Alexander Sergeevich Pushkin was the great Russian poet of the 19th century whose poems marked Golden Age of Russian poetry. Even today his verses are so well-known that many Russians easily quote them by heart. Some lines they remember from their childhood, such as:
On seashore far a green oak towers,
And to it with a gold chain bound,
A learned cat whiles away the hours
By walking slowly round and round. 2
Or they may recite one of famous Pushkin's romantic poems, like this one:
I loved you: and, it may be, from my soul
The former love has never gone away,
But let it not recall to you my dole;
I wish not sadden you in any way. 3
Alexander Pushkin was born in 1799 in Moscow but most of his life spent in Saint Petersburg (the Russian Empire's capital). Pushkin is considered a literary symbol of this city where he has been commemorated in various ways: there are several Pushkin's monuments Pushkin Street, and Pushkinskaya subway station.
Pushkin belonged to one of the most distinguished Russian noble families: his maternal great-grandfather, Abraham Hannibal, nobleman of African origin, was a godson of Emperor Peter the Great. No wonder that Pushkin has been chosen to attend the Lyceum, the school for young aristocrats in Tsarskoye Selo (Saint Petersburg's suburb). He started his literary career by writing poetry for the students' magazine and, at the age of 15, published his first poetic piece in a literary journal. His famed poem of that period was "Recollections in Tsarskoye Selo" which Pushkin read at the public exam:
Let's heroes be exalted by the Poet's lyre
Whose proud strings set warrior's hearts on fire; 4
Among guests of honor was elderly Gavriil Derzhavin, called by his contemporaries the greatest living Russian poet. Derzhavin recognized the young poet's outstanding talent and declared that one day Pushkin will replace him. Later Pushkin described this event:
And with a smile the world caressed us:
What wings our first successes gave!
Aged Derzhavin saw and blessed us
As he descended to the grave. 5
After his graduation from the Lyceum, Pushkin moved to Saint Petersburg and became one of the first Russian poets to praise this city, founded by Peter the Great. Pushkin' poetry touched hearts of many of this city' dwellers – past and present – by expressing in verses profound sentiments for Saint Petersburg.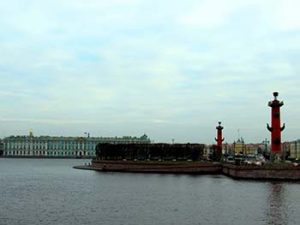 As I stood at the embankment of the Neva River, looking across the water at Basil Island (with two magnificent Rostral Columns) and the Winter Palace (Russian Royalties' residence), Pushkin's famous lines came to my mind:
I love you, Peter's great creation,
I love your view of stern and grace,
The Neva wave's regal procession,
The grayish granite – her bank's dress . . .
City of Peter, just you shine
And stand unshakable as Russia!
May make a peace with beauty, thine,
The conquered nature's casual rushes; 6
Since my literary journey was dedicated to Pushkin, my next destination was the Summer Garden, the city's most charming park modeled after the Versailles in France.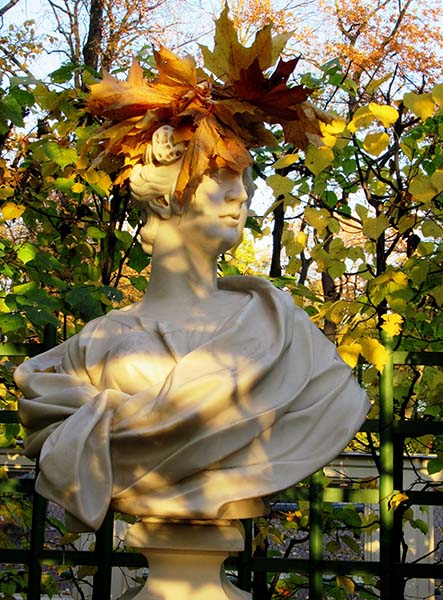 While I strolled on this lovely October day in the alleys among fountains and marble sculptures, admiring the nature's farewell beauty, I imagined how Pushkin, dressed in his black cape and top hat, took his walks here. The poet always enjoyed the late autumn, his favorite season, which he described in such an idyllic way:
A melancholy time! So charming to the eye!
Your beauty in its parting pleases me –
I love the lavish withering of nature,
The gold and scarlet raiment of the woods . . . 7
The Summer Garden was one of Pushkin's favorite parks where he promenaded and met his literary friends. This place was also popular among the city's aristocrats. Not surprisingly, the poet mentioned the Summer Garden in his masterpiece, the novel in verses Eugene Onegin, which was called an "encyclopedia of Russian life." A young aristocrat Onegin, the protagonist, in his early years was educated by a French tutor who took him for daily walks:
Monsieur l'Abbe, the Frenchman poor –
Not to exhaust the little child –
Made his tuition droll and mild . . . He softly groaned at child's jests –
The Summer Garden was their place. 8
As much as I would be delighted to spend more time in this fascinating park, I had to move to the main destination of my literary journey – Pushkin's memorial apartment at the Moyka River embankment, 12. I walked under the arch and in the inner square courtyard found the entrance to the last apartment where Pushkin lived with his family: his wife Natalia and their four children.
Since the Pushkins did not have their own house, they usually rented furnished apartments. Thus, in Pushkin's memorial apartment there are few exhibits that belonged to the poet or his family members. Rooms are mostly filled with the 19th century furniture and home décor items that could be found in a typical apartment of a noble family.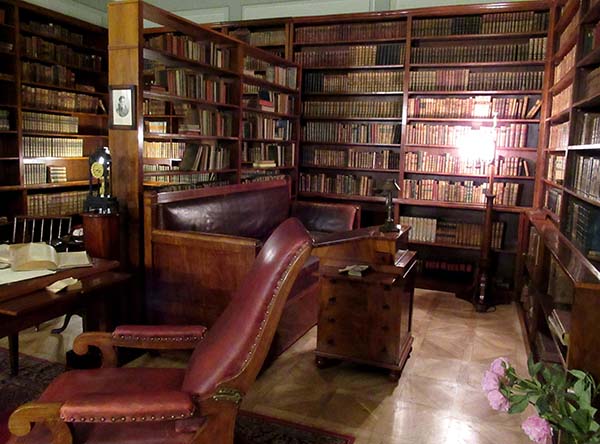 Fortunately, Pushkin's study is the exception: all items here belonged to the poet – the furniture, books, lamps, pictures . . . Sitting in this leather chair at this desk, Pushkin worked on his historic manuscript "The History of Peter the Great" and finished his historic hovel The Captain's Daughter. I stood there in reverence, overwhelmed by this room's atmosphere. On Pushkin's table I saw manuscripts that he was writing, his ink pot and feather quills, and the book he was reading. The study looked like the poet could return any moment and continue to write . . . Sadly, his life ended tragically when he was only 37 years of age.
Pushkin's scholars still debate events leading to his untimely death, and some believe his wife Natalia was partially at fault. Described by Pushkin as "the purest example of the purest delight," she was one of the most beautiful women of Saint Petersburg. 9 Natalia, according to her contemporaries, was coquettish with her numerous admirers, including Emperor Nicolas I. Emperor granted Pushkin an intermediate court rank, therefore, the poet and his wife were obligated to perform the court's duties and could not leave the city. Natalia's stunning beauty captivated Dantes, a young French emigrant in Russian service, who openly pursued her – even after his marriage to Natalia's sister. Pushkin's family peculiar situation became the focus of gossip and jokes in the beau monde of Saint Petersburg. After receiving anonymous letters about the love affair of Natalia and Dantes, Pushkin had to defend his honor, in compliance with the custom among aristocrats, at the duel.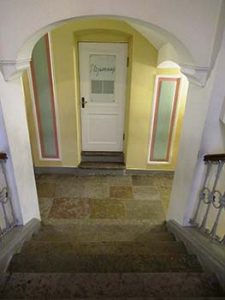 I walked down the stairs that Pushkin descended on January 27, 1837, going to the place of his last duel. He never climbed these stairs again – being wounded at the duel, he was carried by his friends to his study and placed on the sofa. After learning about his fatal wound, Pushkin wrote to Emperor Nicolas I, asking to forgive him for violating Emperor's order prohibiting duels. Emperor responded by promising to take care of Pushkin's family.
Outside of Pushkin's apartment, multitudes of people were standing for hours, despite the cold weather, waiting for news about Pushkin's health, praying, and hoping for his recovery. The best medical doctors tried to save his life, but their efforts were in vain: on January 29, 1837, Pushkin died. "The sun of Russian poetry went down! Pushkin died, died in his prime, in the middle of his great vocation!" – it was the only public announcement about the death of the great Russian poet. 10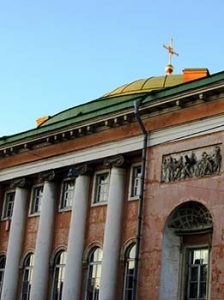 The government, fearing that Pushkin's death could provoke a political disturbance, chose for his funeral service the Church of the Savior Not Made by Human Hand, a small parish church in the neighborhood of his apartment. I visited this church and admired two white bas-reliefs on its bright-pink façade. Although it is not the most beautiful church in Saint Petersburg, this place is worth visiting due to its historical significance. Pushkin's body was sent there secretly, at midnight, and only selected people attended the funeral service. The poet was buried in his family's shrine at the Svyatogorsky Monastery (near Pskov, an ancient Russian town).
Yet Pushkin's legacy is alive: on June 6 (Pushkin's birthday), people gather in the courtyard of Pushkin's memorial apartment to remember the poet by reciting his poetry. Pushkin's poems inspired great composers to create operas: for instance, Mikhail Glinka (the founder of Russian opera) used Ruslan and Lyudmila (epic fairy tale), and Pyotr Tchaikovsky – Eugene Onegin.
As though foreseeing his destiny, Pushkin proclaimed:
No, I shall not all die. My soul in hallowed berth
Of art shall brave decay and from my dust take wing,
And I shall be renowned whilst on this mortal earth
Even one poet lives to sing. 11
My literary journey came to its conclusion. I hope you enjoyed it, expanded your horizons with respect to Russian poetry, and became encouraged to follow the steps of Alexander Pushkin in Saint Petersburg on your own!
[1]Alexander Pushkin on Bridge, Muzeon, Moscow
[2]Pushkin, A. S. Ruslan and Lyudmila. Russian Crafts.
[3]Pushkin A. S. "I Loved You" (translation by Yevgeny Bonver)
[4]Recollections in Tsarskoye Selo (Russian text – translation by Tatiana Claudy)
[5]Pushkin A. S. Eugene Onegin. Chapter 8 (translation by Ch. Johnston)
[6]Pushkin A. S. The Bronze Horseman. Poetry Lovers Page
[7]Pushkin A. S. Autumn
[8]Pushkin A. S. Eugene Onegin. Chapter 1 (translation by Yevgeny Bonver)
[9]Pushkin A. S. Madonna (Translation by Tatiana Claudy)
[10]Translation by Tatiana Claudy
[11]Alexander Pushkin, "The Monument" ("Exegi Monumentum")
If You Go:
Visas for Russia (Most foreigners need visas to visit Russia.)
The Summer Garden (Free admission, closed on Tuesdays)
Alexander Pushkin's Museum and Memorial Apartment (The Moyka River embankment, 12; closed on Wednesdays; adult ticket is $4, photo or video permission – $4; Audio-guide is available in English, French, German, and Italian).
Church of the Savior Not Made by Human Hand
Recommended Reading:
Collection of Poems by Alexander Pushkin
Natalia Goncharova wife of Pushkin
Recommended Theaters Performing Operas Based on Pushkin's Poetry:
About the author:
Tatiana Claudy, originally from St. Petersburg, Russia, lives with her family in the USA. Her passions include literature, art, music, languages, traveling, and photography. During her travels she loves to explore historical sites and take literary journeys. She is a freelance travel writer and aspiring mystery writer.
All photos by Tatiana Claudy
Pushkin Monument in the courtyard of Pushkin's Memorial Apartment
The Neva River embankment
The Summer Garden
Pushkin's Study in Pushkin's Memorial Apartment
The Staircase in Pushkin's Memorial Apartment
The Church of the Savior Not Made by Human Hand