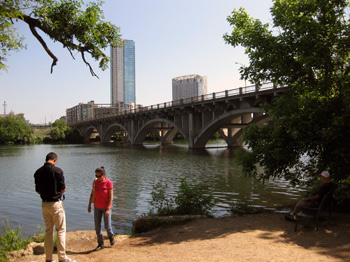 by Paul Norton
Remember when then Vice President Dick Cheney shot his hunting buddy in Texas? That took place a couple of days before I first visited Austin, in early 2006. I thought to myself 'I'd better watch what I say. This is the land of George W. Bush, and the socialist views of this Canuck might be mis-interpreted.'
I was delighted at how alternative Austin was – not just the music, but the food, the businesses and the general attitude of the residents in general. And I heard more jokes about Bush and Cheney that week than I ever had, before or since!
It wasn't my choice to go there that first time. I was attending the annual Folk Alliance International conference. It wasn't until 2012 when I returned. I wanted to see more of what made Austin so different, and to show it to my partner Sue Malcolm.
The Live Music Capital of the World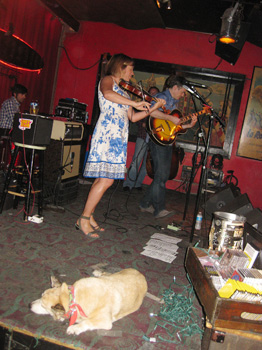 The 1970s brought about the Austin music scene as it is now. Recording artist Willie Nelson was prominent among the artists that helped bring it to life. PBS's Austin City Limits show is the longest running live performance TV show in US history, and it produces a massive music festival there each September.
We took full advantage of the lively and unique music scene, and hit the clubs just about every night during our visit in April 2012. We experienced the great roots rocker Dale Watson along with the "you-gotta-see-it-to-believe it" 'Chicken Shit Bingo' held on Sunday afternoons at Ginny's Little Longhorn. Just a few other venues worthy of mention are the Austin Music Hall, Stubb's Bar-B-Q, La Zona Rosa, Antone's, The Broken Spoke and Threadgill's. Of special note is the Cactus Café at the University of Texas. You get the idea – Austin is a VERY musical city! Pick yourself up a copy of the thoroughly awesome Austin Chronicle and let it be your guide.
Our hands-down favourite? That's easy. The Continental Club on South Congress Avenue. Great country and roots music artists like Junior Brown, The Hot Club of Cowtown, Redd Volkaert and Toni Price appear there each and every week in the 6:30 to 9:00pm slot. Later in the evening artists like Alejandro Escovedo, James McMurtry, The Red Elvises and Southern Culture on the Skids appear. And that was just in the week we were there!
South Congress Avenue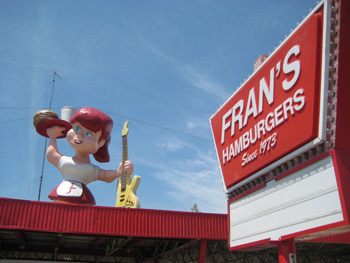 Just a short walk from downtown over the Colorado River, the South Congress area is one of the most interesting in Austin. And with all the city has to offer, that's saying something! We found ourselves returning there over and over to browse. Block after block is full of great vintage clothing stores, restaurants, and shops crammed full of folk art curios.
Some of our favourite places were Allen's Boots, Tesoros Trading Company, Amy's Ice Cream, Mi Casa and the Lucy in Disguise with Diamonds costume shop. There are lots of food trailers everywhere serving a wide variety of great grub. While you're there, don't miss the legendary and decidedly retro Austin Motel, still pretty much the same as it was when it was built in 1938.
North of the Colorado River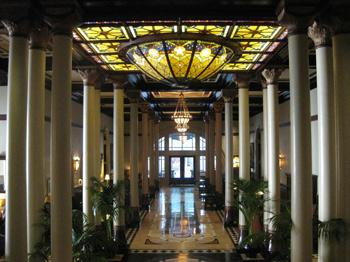 There's a plethora of great stuff to see in the downtown core. Here are just five of our faves.
Above all else, make sure that you check out the exquisite Driskill Hotel on Brazos Street. Excellently preserved and maintained, the polished panelling, wrought iron, massive pillars, stained glass and tile floors will take your breath away. Their rates are probably beyond many people's price range, but you could stop in for lunch or even just a drink in the bar.
As you are leaving the Driskill, walk across East 6th Street and check out Wild About Music. This store describes itself as dealing in "Art, Gifts and Apparel for your Music Lifestyle". Whether you've always yearned for a set of coasters fashioned as little Beatles album covers, a pair of DayGlo cowboy boots, or a toilet seat that's the spittin' image of a Fender Telecaster guitar, this is the place for you.
Not too far down 6th at North Lamar is Waterloo Records. Their slogan once again pretty much sums it all up – "Where Music Matters". Aside from seemingly every CD ever made, they have serious sections devoted to vinyl, DVDs and used items. They average two free in-store performances a week, too.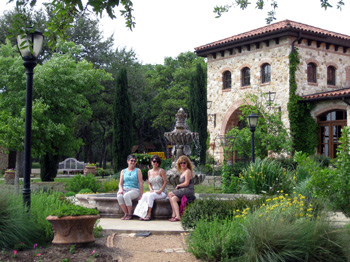 In 1960, the Colorado River, which runs through the centre of Austin, was dammed to create a huge reservoir originally called Town Lake, recently renamed Lady Bird Lake in honour of celebrated Austin patron Lady Bird Johnson. There is a well-appointed trail (approx. 16 km, or 10 miles long) all around the lake, complete with pedestrian-only bridges at either end. A walk around it is a great remedy for the excesses of the night before in the local watering holes. Try and get an early start to avoid the mid-day heat.
Last but not least is the Black Star Co-op Brew Pub. A bit of a hike from town centre, it is "the world's first co-operatively owned and worker self-managed brewpub". The staff is paid a decent wage and tipping isn't allowed. You don't have to be a member to attend, but it's cheaper if you are. There are typically 16 beers on the menu, from basic to exotic, and they often brew up a special small batch of something unique. Members can vote on which of those get produced. The food's great too.
Wine and Guitar Making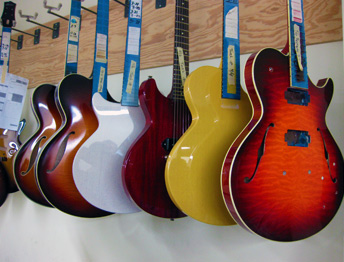 Just a forty minute drive west of downtown Austin is the world-famous Collings Guitar Factory. We were expecting something a bit short and superficial, but were pleasantly surprised to discover it was an extremely comprehensive look at every phase of instrument building. The 90 minute journey took us from a climate-controlled warehouse full of blocks of exotic wood to the final room where the guitars, mandolins and so on were shipped out. There is only one tour a week, so it's best to book ahead by phone or email.
If you are like us, probably the first image that pops into your head when you think of Texas isn't wine. But in fact the hill country just west of Austin has many vineyards producing world-class vino. We spent a very enjoyable afternoon with friends visiting five wineries. They all had tasting rooms where you could buy a sampler of several small glasses of wine. The buildings were beautiful, and you could usually buy a whole bottle and go for a picnic on the grounds if you wished. Some of the establishments, like Saltlick Cellars, had restaurants as part of the operation. There are bus tours available out of Austin.
Austin is a State Of Mind
More than one resident proclaimed to us "I'm not from Texas … I'm from Austin". It gradually dawned on me that this is more than a cute turn of phrase. The reason why we love Austin so much is because it's so different from the rest of Texas. It's like a little Democrat island in the middle of a great big Republican sea. There's a very vibrant "Buy Local" movement in the city that seems to be embraced by merchants and customers alike. The city has an unofficial slogan … "Keep Austin Weird". You see it all over. There's a sense that its residents feel that they are part of something special – something that they are striving to keep. They are fighting the good fight against big chain stores and high-rise developments that most of us view as inevitable. They are regrettably losing some ground here and there. There was noticeable gentrification since my last visit six years ago. But that spirit of independence that some call weirdness still prevails. And hopefully it will remain so. Long live Austin!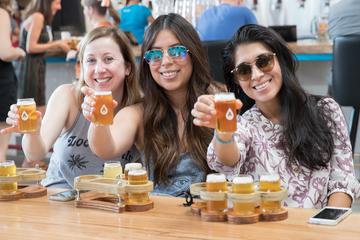 Austin Live Music & Brewery Tour
If You Go:
♦ Austin Chronicle – www.austinchronicle.com
♦ Austin Motel – www.austinmotel.com
♦ Black Star Co-op Brew Pub – www.blackstar.coop
♦ Cactus Café – www.cactuscafe.org
♦ Collings Guitar Factory – www.collingsguitars.com
♦ Continental Club – www.continentalclub.com/Austin.html
♦ Driskill Hotel – www.driskillhotel.com
♦ Saltlick Cellars Winery – www.saltlickcellars.com
♦ Waterloo Records – www.waterloorecords.com
♦ Wild About Music – www.wildaboutmusic.com
About the author:
Paul Norton does many things – Radio show host/producer, graphic artist and web designer to name just a few. He'd love to be able to travel more. Visit www.paulnorton.ca.
All photographs are by Paul Norton or Sue Malcolm:
Congress Avenue Bridge and Lady Bird Lake
Hot Club of Cowtown at the Continental Club
Fran's Burgers Drive-in on South Congress
The lobby of the Driskill Hotel
The Duchman Family Winery
Guitars nearing completion at Collings Guitars