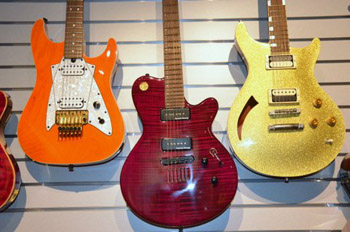 by Karin Leperi
I'll be the first to admit that I have absolutely no musical talent when it comes to playing an instrument or singing a tune. In fact, back when I was in junior high school and an eager member of the church choir, I was given a hard dose of reality when the choir director asked if I might just mouth the hymnal words rather than voice them. I guess my voice just didn't blend with all the angelic pipes around me. Not a problem as I was well aware that musical genes were lacking in all members of my immediate family. Nothing personal.
But don't make the mistake that the lack of acoustic talent means you can't appreciate good music as that is simply not the case. So, even though I don't read music, nor have perfect pitch or an ear for subtle octave differences; nevertheless, I appreciate music of all genres. From country to classical, from the harp to the bass guitar, well…I love them all.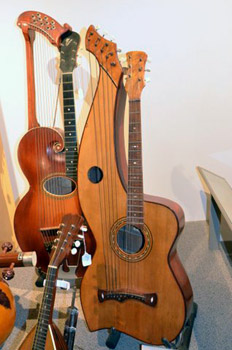 So, when I found out that the Museum of Making Music was about a stone's throw from Legoland California Resort & Sea Life Aquarium in Carlsbad, I decided to make some time and check out the story on making music. A hidden jewel, it's a treasure trove of a century of musical instruments and innovations that shaped American popular music.
It's located in what looks like a modern business park, and I was not sure where the actual museum was hidden, so I just trusted my GPS. It actually worked this time. What was also nice was that parking is free. The museum is open Tuesday through Sunday, from 10 AM until 5 PM, except for major holidays. As you walk inside, a gift shop will be on your right and the reception desk straight ahead. Head for the reception desk and make sure to ask for a group tour of about an hour: it is well worth the expertise. Admission for adults is $8 and includes the docent tour with discounts available for military, students, and seniors.
My guide explains that the museum consists of five galleries that span a century of American musical genres, innovations, and musical instruments and devices. He adds that the focus is on connections between people, instruments, and making music, with each gallery featuring a "breakthrough" instrument – an instrument that changed the course of future music. Oftentimes, the artifact and the current version are displayed alongside a modern version you can play. The interactive areas were great and let you try your musical genius on a variety of instruments, including drums. I found out, and not surprisingly so, that I still have no musical genes or talent, but it didn't dampen my joy seeing, hearing, and playing through the notes, or perhaps I should say my musical cacophony.
The galleries include:
1890-1909 – America's Music Industry Comes of Age
1910-1929 – A Long Boom Before the Bust
1930-1949 – The We'll Try Anything Years
1950-1969 – The Baby Boom Sparks Dynamic Growth
1970 – 1989 – Conglomerates Retire / Technology Inspires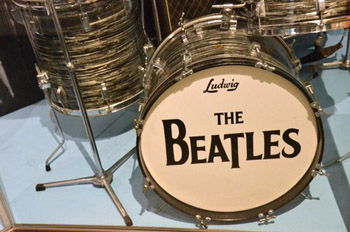 Along the way, I learned about someone I had never heard of as revolutionizing studio drumming. In the 1960's, Hal Blaine developed a signature drum beat that made him quite popular with producers and songwriters. To keep up with the demand, he used a cartage company to transport his customized drums and hardware to meet the demands of live and studio performances. Songs like Elvis Presley's "Return to Sender" and Frank Sinatra's "Strangers in the Night" were recorded on the Hal Blaine Custom Drum Kit.
My favorite exhibit was near the end and focused on international music. With an interactive global map, you can discover what special musical instruments influenced different countries around the world, from Africa and Australia to Russia, Brazil, and Poland. At this point, I only had five minutes left, so I was rushed. However, I would definitely come back for this exhibit alone.
As a non-musician, I whipped through the museum in under an hour and definitely wanted more time. My recommendation is to allow at least 1-2 hours. More if you want to explore the gift shop at the end of your tour.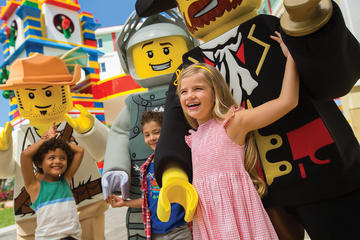 LEGOLAND® California
If You Go:
The Museum of Making Music
5790 Armada Drive
Carlsbad, CA 92008
About the author:
Karin Leperi is an award winning writer and photographer with bylines in over 75 publications that include print, broadcast, and internet media. A gypsy at heart who particularly enjoys bucket-list experiences, she has traveled to 80 countries and is still counting. Specialties include travel, culture, cuisine, nature, adventure and lifestyle. Her photo website is: www.travelprism.com
All photos are by Karin Leperi.