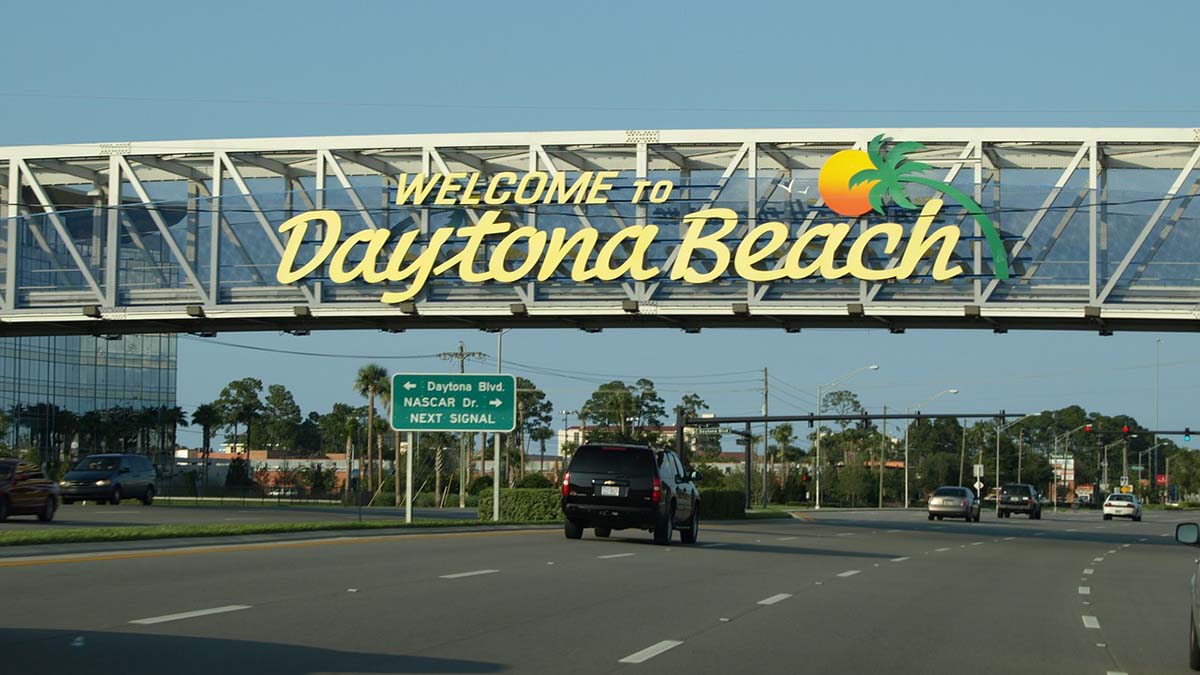 Homes of Splendor, Speed and Spirit
by Roy A. Barnes
Daytona Beach, Florida, is known nationally as hosting the famed Daytona 500 and has been a hot spot for young hedonistic Spring Breakers to kick up their heels at "The World's Most Famous Beach", called that because from 1903-36, all land and speed records were set here. Yet this place is more than somewhere to get a nice tan or to escape from the wintry climates. This Florida coastal city offers more than just spring break opportunities!
The Casements: A Floridian Haunt of Big Oil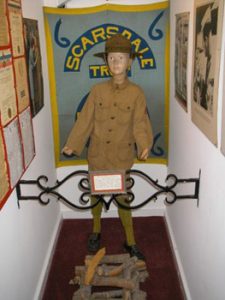 Back in 1918, John D. Rockefeller became upset when he found out that the Ormond Hotel was overcharging him because he was super-rich. He graced the Daytona Beach area during winters for his health, so this revelation that he was being "taken" didn't set well with him. Rockefeller's solution: he bought the grand home across the street from the hotel, which had been owned by a well-off preacher. This three-story domicile (originally built in 1912, but expanded to 14 rooms and 14 bathrooms by Rockefeller) features casement-style windows, which is where The Casements designation comes from. The home contains many of the Rockefeller family furnishings, pictures, and other artifacts, including an actual ledger used by the billionaire. The Casements is on a 70 acre site and is listed on the National Register of Historic Places. It serves as an area cultural center for artists and arts lovers.
The Casements isn't just a shrine to Rockefeller. On the third floor are two museums. One honors the Boy Scouts of America, featuring numerous patches, flags, and period uniforms from this renowned organization, with a heavy focus on Floridian troops. The other museum showcases Hungarian folk art and costumes.
Is the former home of Rockefeller haunted? According to one tour guide, back in 2003 or so, a sound of a crashing mirror or glass object rang through the house from the third floor, but it was discovered that no one was upstairs, and the object that made the apparent noise was never found. Rockefeller died onsite May 23, 1937 at the age of 97.
Eat Where A Former US President Crafted Walking Canes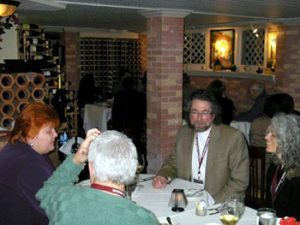 The Cellar is the former wintertime stay of the controversial President Warren G. Harding. It was built as a Victorian home in 1907 by his father-in-law, who opposed his daughter marrying Harding. This Italian restaurant gets its name from the fact that it's located downstairs. President Harding used to make walking canes here. The rest of the rooms in the house serve as private residencies.
Start out with a wide selection of antipasti dishes, as many of them come with vinaigrette dressings. I went with the Brescola con Insalata di Palma, which features lightly smoked flavored beef slices, and a light salad made up of heart of palm, fennel (root), and greens.
For your main course, The Cellar offers a generous selection of homemade pasta entrees (like ribbon pasta with roasted rabbit sauce called Fettuccine con Ragi di Coniglio), chicken, and meat dishes. I tried the Pollo Alla Lombardia, which was a tasty and tender stuffed chicken breast full of ricotta cheese and spinach that was roasted in a mushroom sauce. It came with vegetables that were agreeable to my palate.
As for dessert, The Cellar offers many homemade delights including several varieties of imported Italian gelato. I will advise that the chocolate desserts are not sweet. They are more European in tradition, in that they are more focused on the bitter chocolate taste rather than the sweetness aspect. Such included the Cioccolatissimo, which is a baby chocolate cake with a molten chocolate center, a chocolate sauce, and crème Anglaise served with gelato. I tasted more of the flour aspect of the cake than the sugar!
The cellar has a nice selection of red and white wines, as well as beer, including a couple choices of non-alcoholic, like Beck's. The service is very friendly, and you won't be rushed through dinner. Just like in the old country, the mealtime experience is done at a leisurely pace. When The Cellar is busy, you will hear quite the festive atmosphere because of the low ceilings.
Get Some Direction at the Ponce de Leon Inlet Lighthouse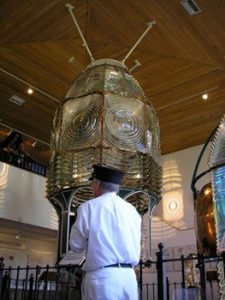 Lighthouses have helped many ships navigate safely. This certainly applies to the Ponce de Leon Inlet Lighthouse, which is just 12 miles south of Daytona Beach. It was put to use in November 1887, to serve as a guiding light for those ships navigating between St. Augustine and Cape Canaveral. The Ponce Inlet Lighthouse reigns as Florida's tallest lighthouse, rising 175 feet into the air, and is only one of ten current National Historic Landmark Lighthouses in the USA. Once called the Mosquito Inlet Lighthouse, the name of the inlet was changed to honor the first European to explore Florida back in the 16th century, due mainly to attract more tourism.
John Mann, a retired school administrator from New Jersey, was my tour guide. His wife (a retired teacher) helped to get him hooked on lighthouses when she "dragged" him on some lighthouse tours around New Jersey for school field trips. Since the late 1980's, Mr. Mann has visited hundreds of lighthouses in the USA and Canada! Mann wears a circa 1930's all-year white uniform as he gives tours of the grounds, which includes the three restored homes of lighthouse keepers as well as six other lighthouse complex buildings. The Principal Lighthouse Keeper's house serves as a comprehensive museum about sailing along the Florida coast, with numerous displays, artifacts, and even interactive exhibits where you can hear various sounds of the sea like tugboat horns and crashing waves. A special exhibit on the history and workings of lighthouse beacons and Fresnel lighthouse lenses is housed in another building on the grounds.
The Ponce Inlet Lighthouse is one of the best restored and maintained lighthouse complexes in this nation. The actual walkways are made up of the 15 million bricks that were shipped from Maryland and New York to construct the buildings. Mann easily walked the 203 steps to the top of the lighthouse viewing area. Now, only during special events can people climb another ten steps to get a look-see of the lighthouse's 1933 Fresnel Lens, which shines out some 18 miles into the Atlantic.
Lighthouse keeping was a lonely, but rather good living for those who took part. Back in 1896, a keeper made as much as 760 dollars per year and got free housing. Outside the complex, visitors can partake in a coastal woodland nature walk and view a cat cemetery that honors the lighthouse kitties who gave companionship to the keepers!
Daytona is Home to NASCAR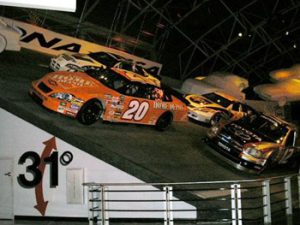 No visit to Daytona Beach would be complete without a stop at Daytona USA. It's on the same grounds as the 480 acre Daytona International Speedway, and features an interactive museum full of race car-themed history exhibits and simulated racing attractions. One such attraction is a roller coaster like ride called "Daytona Dream Laps", where you can experience what it's like to race in the Daytona 500. The admission price includes a tour of this great American race track. If you happen to visit during practice runs or time trials, I will warn you that the sounds of the speeding race cars is quite piercing, especially outside of the stands, which can hold close to 168,000 fans, not including the infield crowds, which bring roughly another 80,000 fans in during The 500!
To go with your visit to Daytona World, stop near the former home of Daytona's great racing track on the beach for some excellent racing atmosphere and great food. It's called Racing's North Turn Beach Bar & Grille. It's just north of the old Daytona racing course's North Turn, where many car and motorcycle races took place before the International Speedway began hosting the Daytona 500 in 1959. There is something really special about coming into a place that's full of Daytona racing memorabilia, made up of a lot of autographed pictures of past and present racing stars in both motorcycle and auto racing. Did you know that fans of such icons like Dale Earnhardt, Jr., Jeff Gordon, and Dale Jarrett, can come in and sit at booths that honor these stars of NASCAR? The racers themselves have eaten in these same booths!
As for the food itself, you'll get big portions! Start out with one of their appetizers, which are under the "Ignite Your Appetite" section, and include such treats as the chili-topped Ultimate Nachos and the Home Style Chili which came with some really tasty garlic bread topped with mozzarella cheese. Racing's North Turn offers a great selection of fresh seafood, including their Lobster Ravioli and a wide choice of Back Stretch Sandwiches that contain a number of Basa and Mahi fish selections. Desserts come under "The Finish Line", and include tarts and cheesecake.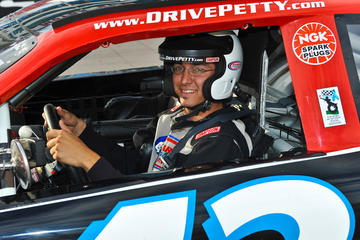 Richard Petty Driving Experience at Daytona International Speedway
If You Go:
The Casements: 25 Riverside Dr., Ormond Beach, FL 32176 (next to Daytona Beach). 386-676-3216. Free Admission.
The Cellar: 220 Magnolia Ave., Daytona Beach, FL 32114. 386-258-0011. www.thecellarrestaurant.com
Ponce de Leon Inlet Lighthouse: 12 miles south of Daytona Beach at 4931 S. Peninsula Dr., Ponce Inlet, FL 32127. 386-761-1821. www.ponceinlet.org Admission charge.
Daytona USA: At the Daytona International Speedway: 1801 W. International Speedway Blvd., Daytona Beach, FL 32114. 386-947-6800. www.daytonausa.com Admission charge.
Racing's North Turn: 4511 South Atlantic Avenue, Ponce Inlet, FL 32127. 386-322-3258. www.racingsnorthturn.com
About the author:
Roy A. Barnes is a past contributor to Travel Thru History and writes from southeastern Wyoming. Disclosure: Roy A. Barnes attended a Daytona Beach press trip, but he wasn't told what or how to write about what he experienced by the sponsor.
Photo credits:
Daytona Beach welcome sign photo by tsreptilien from Pixabay
All other photographs are by Roy A. Barnes.