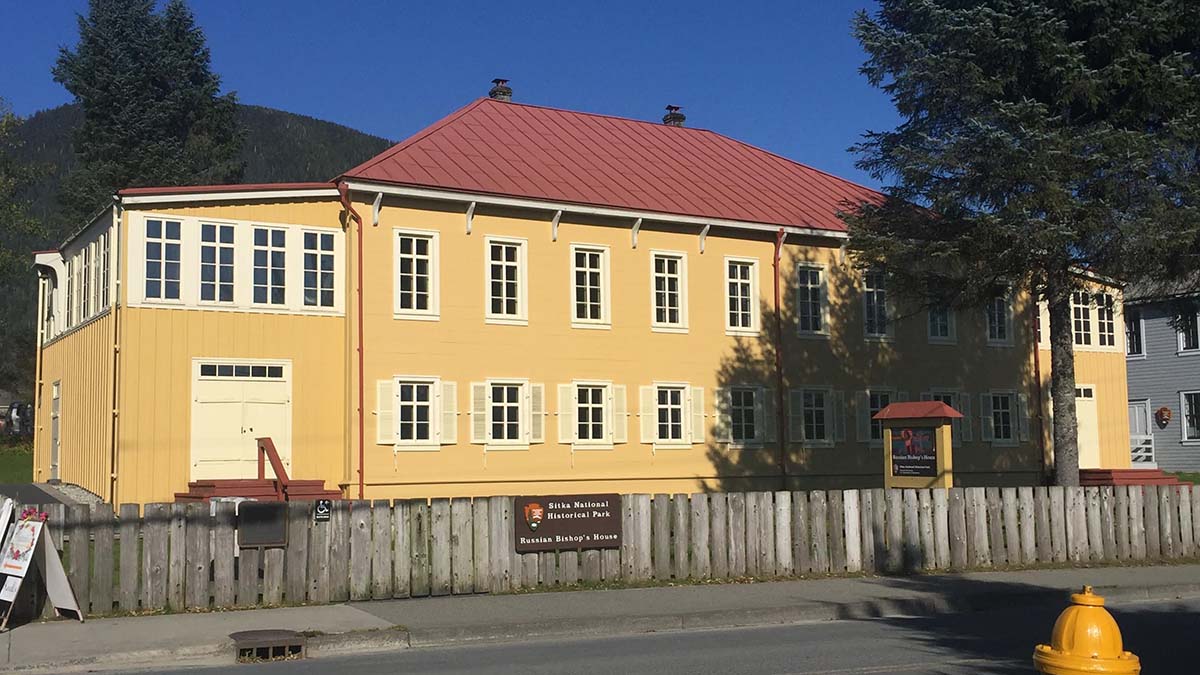 by Cynthia J. Notti  
Sarah Palin's infamous quote about seeing Russia from her doorstep has some truth to it. If you visit the remote island of Little Diomede you can see Russia's island Big Diomede. At a mere 2.3 miles apart, the international dateline runs between the two islands separating Russia from the United States by a whole day. So, in theory, you can travel two minutes to Russia and be 23 hours into the future. I don't recommend you time travel this way, as it is illegal to cross the Bering Strait.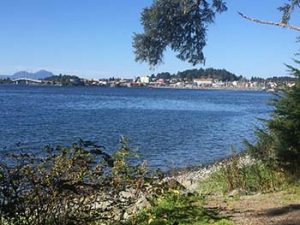 If you lived in Sitka, Alaska in the mid 1800's not only could you see Russia from your doorstep, you'd be living in its capital. 250 years later you can take a walk through Russia America. Sitka has a rich Russian history from where Russia first flew its flag, to where the sale of Russia to America took place. I was teleported back to a time once forgotten all interspersed with locally crafted beer, the best Alaskan scallops I've ever tasted and arts and crafts by local Alaska Native artists.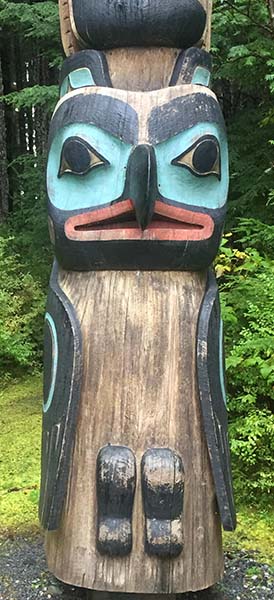 I started my day at Alaska's oldest and smallest National Park, or as the locals call it, Totem Park, In the center of the park is a commemorative plaque to mark the battle of 1804 between Russia's Alexander Baranov and the Kiksadi Indians. This decisive battle marked the last major Native resistance in Sitka to European domination of Alaska. A storyboard depicts this historic event. Take special note of the Russian blacksmith hammer shown, the Kiksadi first acquired the hammer as a war prize in their attack on the Russian fort at Old Sitka. The hammer is on display in the Visitor's Center.
I explore the rest of the Park's trails and two hours and two miles later I head back towards town. A five-minute walk up Lincoln Street and you'll arrive at the Russian Bishop House. Built in 1843, this restored simple structure is one of the few surviving examples of Russian colonial architecture. This two story mustard yellow building was once the headquarters for the Russian Orthodox Church, than later the Russian Mission Orphanage, now it's a historic house museum. Stepping inside are photographs and artifacts that will make you feel and understand what it was like to live in Sitka during the Russian-American period, read up on Saint Innocent of Alaska, as you'll see more of him on this tour.
After that my stomach is demanding lunch. The next building over, at 407 Lincoln Street is Bayview Restaurant. Located on the second floor of the Bayview Trading Co. This local pub serves burgers and beer. Best place to savor local and regional beers of Alaska and the view of the harbor isn't bad either.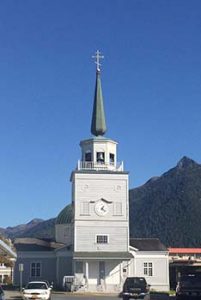 Continuing West on Lincoln Street, you go barely a block and St. Michael's Russian Orthodox Church is sitting right in the middle of the street, literally. Built in 1844 century, it was the earliest Orthodox cathedral in the New World and the oldest church in Alaska. The Russian American Company funded the project, the bells were forged in Alaska and the clock fixed in the bell tower was made by Saint Innocent of Alaska himself. Stepping past the royal doors you'll find a treasure trove of Russian ornate Old World icons from the 1700 and 1800s. Most notable icons are Our Lady of Sitka (better known as the Sitka Madonna) and Christ Pantocrator (Christ the Judge or Christ Omnipotent), both are by Borovikovsky.
Once you leave St. Michael's keep heading west, towards the water, go just a few steps and turn right on Barracks Street. The road will take a slight left however continue straight. From the street you won't be able to see it, as the location is inconspicuous. Located in a grassy vacant lot is a weather worn picket fence bearing remnants of white paint that encloses the gravesite of Princess Aglaida Ivanovina Maksoutoff, the wife of the last Russian Governor, Dimitri Maksoutoff, she passed on December 18, 1862.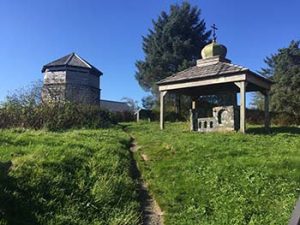 Originally three blockades were built to protect the Russian settlement; if you look closely at the remaining one, you'll notice chainsaw marks, which indicates the blockhouse is a replica and was reconstructed on the site of the original. Located directly across the street from the Princess grave, perched on top of the knoll, these blockhouses were incorporated into a stockade wall that guarded Old Sitka. Peek inside to find an old cannon. The site is marked with storyboard about a church, the lands and a divided town. Also located here are the gravesites of original Russian settlers and their corresponding stories.
Head back the way you came, down Barracks Street, turn right at Lincoln Street and in a couple of buildings, on the left side of the street is 202 Lincoln or better known as The Russian American Building 29. Built in 1835, it is one of the few Russian buildings surviving today and the only Russian colonial commercial structure standing in Sitka.

Continue west on Lincoln Street and in a few yards you'll come to a large sign that marks Castle Hill, also known as Baranof Castle. Tlingits, Russians and Americans have all claimed and occupied this site. First as a lookout point to defend the Tlingit Indian's home, then Baranof's Castle was the focal point of the Russian American company and housed the Russian Government and lastly the site where the transfer of Alaska to the United States took place in 1867. This by far is my favorite Russian American site not only because of the historic significance but also of the commanding 360-degree view over the town and water.
Now teleport yourself back to present day and head down Katlian Street to the Pioneer Bar, a fisherman's and local hangout where the dress code is Xtra Tuff boots and Carhartt jackets. They're all to friendly to give you their favorite spot to fish, enjoy the sunset, whale watch or tell you stories about bears that make their way into town. We end our perfect day by going next door to 256 Katlian Street to Ludvig's Bistro, this unassuming little restaurant is the place to eat fresh local seafood from Sitka's fisheries. I ordered the Tuscan Scallops, which are Alaskan scallops in prosciutto and truffle oil, with a nice and expensive bottle of Italian wine. We ate and recapped our amazing day while watching the sky change colors as the sunset in this most historic little Alaskan town.
If You Go
How to get there
Alaska Airlines,  800-252-7522
Alaska Marine Highway,  800-642-0066
Where to stay
Best View – Fly In Fish Inn Lodge,  907-747-7910
Budget – Super 8,  907-747-8804
Downtown – Sitka Hotel,  907-747-3288
Where to eat
Mediterranean – Ludvig's Bistro, 256 Katilan Street 907-966-3663
Sushi – Little Tokyo In Sitka, 315 Lincoln Street 907-747-5699
Pizza – Pizza Express, 1321 Sawmill Creek Rd. 907-966-2428
Ice Cream – Harry Race Pharmacy, yes a pharmacy but they have an old fashioned ice cream parlor here. 106 Lincoln Street 907-966-2130
Local Crafted Beer – Bayview Pub, 407 Lincoln Street 907-747-5300
More Information
Sitka Historical National Park –  907-747-0110 Visitor Center Summer Hours: May – September, Daily 8 a.m. to 5 p.m.
Visitor Center Winter Hours: October – April, Tuesday – Saturday 9 a.m. – 3 p.m. For Sunday & Monday hours call for hours.
Sitka Convention & Visitors Bureau – download a free vacation planner.  907-747-8604

About the author:
Cynthia Notti is a travel writer who can be found in Anchorage, Alaska when she is not riding a donkey through the mountains above Petra or exploring some similar locale. She has a degree in Business Administration and has worked for many years in the business world before focusing her attention on travel. She is currently working on her web site, www.discoverytravel.club and social media presence.
All photos by Cynthia J. Notti:
Bishop House – The historic Bishop House is now a museum.
View of Town – View of Sitka from the walking trail of Totem Park.
Sitka Totem Park – This totem will greet you as you enter Sitka National Historical Park or as the locals call it Totem Park.
Russian Church – Russian Orthodox Church is located in the center of Lincoln Street.
Princess Gravesite – Gravesite of Princess Maksoutoff, the wife of Alaska's last Russian American Governor, Dimitri Maksoutoff.
Castle Hill – A panoramic view of Sitka from Castle Hill.