by Bill Arnott
Oregon is a favorite destination. My first visit was to Cannon Beach, seaside accommodation with a view of Haystack Rock—a rounded plinth of basalt that's a bird sanctuary, towering from the tideline like a massive headstone. Crossing the Canada-U.S. border at the chunky white Peace Arch, my wife Deb and I drove south from BC on Chuckanut Drive, with arbutus and evergreen views of Bellingham.
In the footsteps of George Vancouver, we passed the plummeting chute of Deception Pass. A bald eagle soared beneath the bridge as water rushed through the narrows in eddies of deep jade green. We continued south over Whidbey Island's undulating farmland. Scenery breezed by: grassy fields, berry farms and forest, frequent churches, infrequent homes, more eagles, a falcon at rest and a solitary deer. The temperature rose under sunny sky and we caught a ferry from Clinton to Mukilteo on dazzling water, the snowy blue pyramid of Mount Baker watching as we crossed.
We stopped in Redmond, Washington—an historical town rebuilt by Microsoft, a tidy planned city of trees, water and wide, curving streets. I explored the downtown on a meandering trail through pristine apartments and around a heron rookery—an oasis nestled amongst colourful newbuilds.
Early next morning I ran along the Sammamish River, slow-moving, greenish-brown water you'd expect Tom and Huck to pole along on a raft. Swallows skimmed the surface. A salmon jumped through lily-pads with a splash. A rabbit darted from undergrowth, nearly through my legs. Sun warmed the blacktop. Blackberry bushes in bloom bordered the trail and tall poplars made a private green corridor. Mallards flew by in a lopsided V, a hummingbird whizzed past and sparrows hopped through dewy grass. I saw the occasional cyclist and walker. Everyone smiled, nodded, or said, "Good morning." And I felt as though I'd woken in Stepford. But despite the sterility of a manufactured community, people were warm and genuine.
We explored much of this inviting, rugged state—Crater Lake, Hood River, Mount Hood and Central Oregon, along the coast and up the Willamette River into Portland—a unique, left coast town, independent and eccentric, the mindset of Seattle but less refined, a green city with edge. As well as a well-established coffee scene the state boasts more craft brews and brewpubs than anywhere else in America.
Visiting Weird Portland
In addition to beer, Portland has more bookstores than any other American city, creating a delicious slice of hoppy, literary Nirvana. Powell's Books, the world's largest independent new and used bookstore sits in the heart of the city, a trophy centring a mantel. On our first visit we'd wandered through downtown in search of it, crossing the tracks and finding ourselves in a distinctly transitional neighborhood. The store itself was a large urban block, a small town in a single building. Store maps were available when you entered, imperative to avoid getting lost.
I spent four sunny mornings running through Portland, past densely packed food trucks and loosely scattered homeless—weirdly distinct yet blended communities. A local poet's work is carved in red granite by the river, "Mighty Willamette, beautiful friend." And I trotted along a paved walkway, feeling that friendship.
It was the first of July (Canada Day) and a flock of Canada Geese had taken over the river, paddling in a broad, border-like line, somehow symbolic. Skidmore Fountain splashed nearby, the city's oldest commissioned art. The towering Wells Fargo building commanded the downtown skyline, Orwellian in stature, an imposing white landmark. Gulls wheeled, pigeons fluttered overhead and I merged into a sweaty, jagged line of joggers, cyclists and pedestrians hugging the edge of the river, washed in morning sun. The Portland sat tethered in the water, a retired steam-powered, paddlewheel tug-boat, now the maritime museum. Hawthorne, Morrison, and Burnside bridges served as measuring landmarks, marking progress for joggers and the city alike. I crossed the river on the Steel Bridge, sharing the span with a whistle-blowing locomotive rattling and vibrating its way over the water.
We spent a hot afternoon under cloudless sky following trails through Washington Park before resting in shade by the Rose Garden Amphitheatre, where robins, crows, squirrels and fantails busied themselves around cedar, birch, hemlock and fern while a harp echoed across the grounds, plucked notes angelic and dreamy. By early evening it was oddly quiet. Sun slid behind tall buildings. Food trucks closed for the night and we found ourselves on a gritty downtown street. A man shaved at a drinking fountain with an overused razor and tiny round mirror—something from a dental instrument—which he held between thumb and forefinger. He was meticulous, his weathered face shiny smooth, the softest scraping sound as we passed.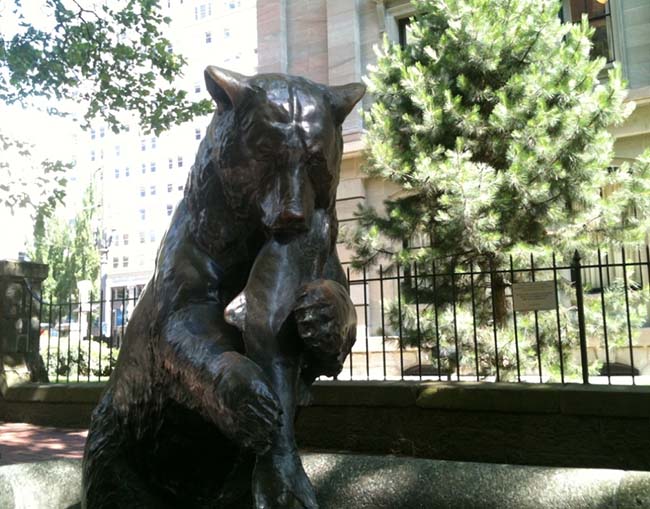 I took a self-guided walking tour of Portland's water features, a dozen fountains around downtown and Portland State University, wending my way through Pioneer Courthouse Square, Animals in Pools, Lovejoy, Dreamer, the grand Ira Keller Fountain and more. The river draws the ocean into the city but fountains in concrete, brick and bronze bring the splash of water to every hidden corner.
We explored Portland's Pearl District, around Nob Hill and the high-end retail of Northwest 23rd Avenue, known locally as Trendy-Third. We passed Slabtown, home to Scandinavian and Chinese immigrants one-hundred-fifty years ago. Slabtown referred to slabs—mill cuttings, log edges unusable for building. Slabs were split and sold cheaply for fuel. Wealthy families had fuel storage buildings while lower income households piled slabs outside their homes, giving the neighbourhood its moniker. Indigenous Chinook were regular traders in town, travelling along the Willamette. Chinook Jargon—a Chinook-English dictionary—was a regional bestseller, as common in Portland homes in the late nineteenth century as The Best of Bridge would be a century later.
In the town of Bend, new and old houses, extravagant and modest, cling to the banks of the Deschutes River. We made the central community our home for a week. Half-hour drives north, south, east and west took us to scenic hikes: snow-capped volcanic mountains, waterfalls and towering cliffs of purples, reds, oranges and gold, the space shared by walkers, rock climbers and horseback riders. Our hikes ranged from moderate to intense as we climbed Pilot Butte, Tumalo Mountain, around Tumalo Falls and over Smith Rock State Park's Misery Peak with expansive vistas of rivers, lakes, colossal stone and the pristine peaks of the Cascade Range.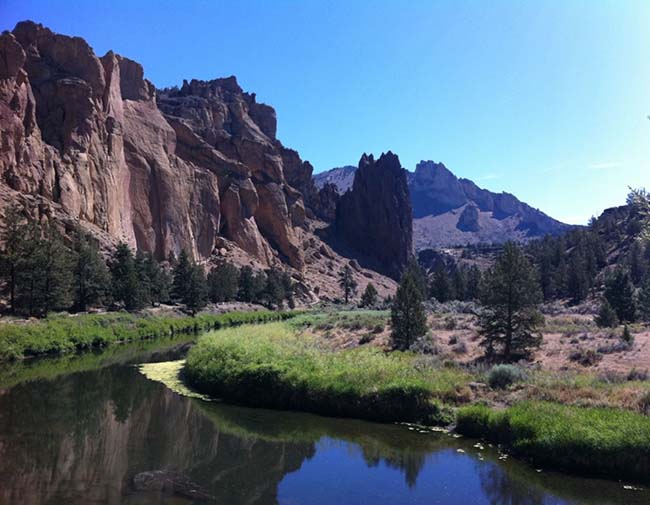 The town of Bend is an historical hub surrounded by a gentle sprawl of squat rural homes. It's a pleasing blend of small (about 100,000) with the amenities of a larger city, servicing a huge area in the state's centre with a constant flow of sightseers and year-round adventure seekers.
I strolled through town on the first Friday of the month, and retailers had turned the streets into an open-air, evening market and social gathering. Complimentary food and drink flowed, live acoustic music filled every space and locals and tourists browsed and visited, one of the most inviting parties I'd ever attended. Farmers' markets were scattered throughout town, nearly one a day through the growing season. Local fruit abounds, along with dairy and the usual array of baked goods, herbs, soaps, flowers and crafts.
Back on the coast we stayed at a cottage in Manzanita. I rode a chestnut mare on the beach near Gearhart, splashing along in zigzags as the horse tiptoed around frothy surf. Had my hair been longer, thicker, and my pecs better defined, I believe it could've made a fine cover for a romance novel (he said, huskily).
That evening we grilled salmon on a wood fire and made crab melts with herbed Boursin on a garlic baguette—one of the finest things we'd eaten. As our trip wound down, we decided we simply hadn't had enough and went to a downtown Portland hotel built atop a Macy's store. Tired of recycled clothes and in-sink laundry, we went downstairs to the department store, bought new socks, tees and underwear, and stayed for two more days.
---
This is an excerpt from Bill Arnott's upcoming travelogue Gone Viking II: Beyond Boundaries (RMBooks, Fall 2021), sequel to his award-winning bestseller, Gone Viking: A Travel Saga.
About the author:
Bill Arnott is the bestselling author of WIBA and ABF International Book Awards Finalist, Gone Viking: A Travel Saga, the suspense-thriller ebook series The Gamble Novellas, the poetry collection Forever Cast in Endless Time, and the forthcoming Gone Viking II: Beyond Boundaries (Autumn 2021). He's been awarded for prose, poetry, songwriting, is the producer of Bill's Artist Showcase, and for his Gone Viking expeditions has been granted a Fellowship at London's Royal Geographical Society. When not trekking the globe with a small pack, journal and laughably outdated camera phone, or showing off cooking skills as a culinary school dropout, Bill can be found on Canada's west coast, making friends and misbehaving. @billarnott_aps
If You Go:
Follow governmental travel and quarantine guidelines. Travel alerts are available at traveloregon.com
Most North American airlines have direct flights to Portland PDX, with many flying to Redmond/Bend RDM.
If you're driving, I-5 is the quickest way to cover north-south distances, while Route 101 follows scenic coast.
Check weather forecasts and elevation at your destinations and pack accordingly. Oregon enjoys four distinct seasons and high summits can have snow year round.