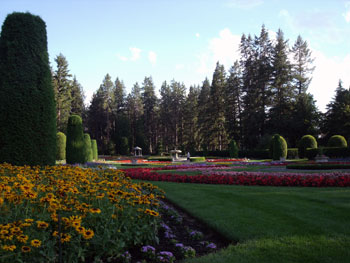 by Roy A. Barnes
There's more to a city than its centrally-located tourist attractions. To really get intimate with a city means exploring some of the neighborhoods that have helped shaped its history through walking its streets, visiting its notable homes, and taking in an atmosphere that allows one to imagine being in another century.
South Hill: Spokane's haven of tranquility
Just south of downtown, a cluster of neighborhoods known as South Hill beckons. It's like going into another world from hustle and bustle of the city, where tall evergreens dominate the skyline rather than brick and mortar edifices. Our drive offered me a view of the stately-looking homes, including Craftsman-style bungalows and beautifully-put-together brick domiciles. This was especially evident as we got closer to South Hill's "jewel in the crown," in the Manito neighborhood, for it contains a 90-acre green space called Manito Park.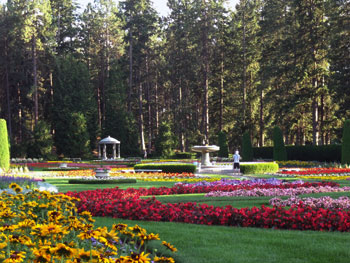 The park, designed by the famous Olmstead brothers of New York City's Central Park fame, combines both the best of man's landscaping ideas with Mother Nature's unspoiled beauty. The area is prefaced by basalt rock formations jutting out everywhere. In the midst of the unspoiled habitat, my eyes were captivated by a stone bridge built in the 1930s. Even on a warm, sunny afternoon with the public out hiking, biking, or admiring one of the six gardens (including for lilacs and roses), I felt a real sense of calmness and peace in a place that once was a zoo, until the hard times of the Great Depression caused its closure. At the north central end of the park, one can still see remnants of the bear's habitat, as just behind the Park Bench Café resides a basalt rock formation that has iron bars sticking out of it.
Of the six gardens, a must-see is the Duncan Garden, which was created in the spirit of European formal gardens in France and Italy centuries ago for royalty. Each year, some 70,000 annuals are planted there to make for a colorful scene of begonias, geraniums, marigolds, etc., that serve up those special backdrops for senior pictures and weddings.
Getting up close and personal with Browne's Addition properties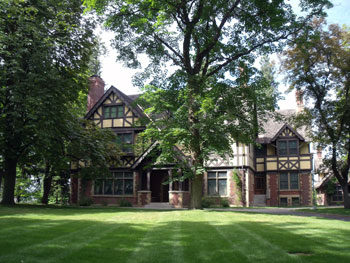 Tree-lined avenues to walk on are especially welcome during a balmy morning, which the Browne's Addition provided for me. About a five-minute drive west of downtown, it was established in 1883, making it one of Washington State's oldest neighborhoods whose homes include a mix of small and large dwellings and an array of 1970s and 1980s apartment complexes.
A number of the city's early leading citizens have lived here, like mining baron Amasa B. Campbell, whose Georgian Tudor Style Revival home is now part of the Northwest Museum of Arts & Culture, both on W. 1st Ave.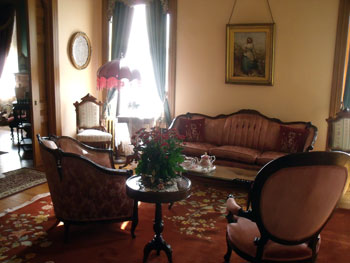 The spacious Campbell House, one of the inspired designs of architect Kirtland Cutter, offers tours. On the first and second floor, I got to view the family's living quarters and Campbell's personal office space. Guests get to see what life was life for the servants, who worked primarily in the basement. Here, 19th century lighting has been recreated (using old Thomas Edison reproduction light bulbs) to show how little light Campbell's staff had while doing the laundry and other chores, which explains why there are windows in the basement for extra lighting. The property's carriage house has plenty of exhibits that go over the history of the family and the late 19th and early 20th century times in Spokane. As big and dated as the house is, there's been no reported haunting, even though it's a bit creepy to explore. I took lots of pictures, and found no traces of orbs or ghosts.
Just a couple of blocks south on 2nd Ave., is Coeur d'Alene Park, where a unique dating ritual took place in the early 20th century. Single women would make box lunches to be bid on by the eligible bachelors in the area. It still contains an old-fashioned bandstand that made me feel like I'd gone back over a hundred years in time.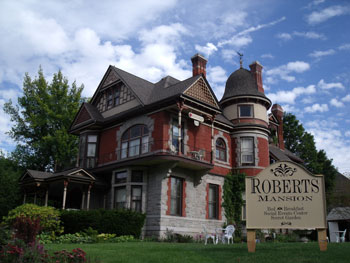 I took another tour of another famous Browne's Addition house, The Roberts Mansion, also located on 1st Ave. It's an 1889 Queen Anne Victorian home that serves as a bed and breakfast. The interior has been restored to reflect earlier times, but does offer guests the creature comforts of internet access and plasma TVs. I found the most notable aspect of the property in its backyard. It contains a "Secret Garden," which is easily missed by guests because large shrubs obscure it, but once inside, it offered me a peaceful setting to rest in while surrounded by trees and other plant life. No wonder this place is used to host intimate gatherings.
The Northwest Museum has produced a walking tour of Browne's Addition downloadable on a computer or mobile device. See its website (listed below) for details.
Seeking windmills and a good deal in the South Perry District
Dating back to the late 1800s, the South Perry District offered me a more rugged and vibrant city experience than the historic tranquility of the above two neighborhoods. It has blue collar roots, for its first businesses included a couple of lumberyards and a butcher shop. The most conspicuous landmark is located on the main drag of South Perry Street. It's a Dutch windmill that originally housed a bakery, but has since had many businesses in it. Currently, there's a health food and herbal store there, where I got some real black licorice made out of licorice root extract.
A block south, I sought out a good deal at the Windfall Thrift Store, trying to find a t-shirt with the words "Spokane" on it, and lo and behold, I found one for just a quarter. For a light lunch, we shared a tasty Shrimp Po'boy sandwich at Casper Fry, which specializes in pub-style grub. It offers patio dining under an umbrella, which we took advantage of, given the perfect summer afternoon. Lunch and dinner are served, and only closes when customers quit showing up.
As we explored the residential areas off the main drag of South Perry St., we came across a mix of old Craftsman and bungalow homes full of lush greenery, from maple, pine, and willow trees to green grapes growing just off the sidewalks of several homes.
Dining recommendation
My craving for a "healthier" option of pizza was more than satisfied even though I had to venture north of downtown to The Flying Goat. The place uses a 2500-pound Woodstone oven to make pizzas in a few minutes. There are around 15 different pizzas on the menu, but you can ask for a special order like I did. My pizza contained just a "fire-kissed" crust, sauce, olive oil, and some vegetables but was very tasty, especially cold. The place serves up some unique appetizers, salads, sandwiches, and brews. I must I admit I couldn't eat just one…two…three…twenty-five of its homemade "A" Street Chips straight from the fryer.
If You Go:
♦ Manito Park
♦ Northwest Museum of Arts & Culture
♦ The Roberts Mansion
♦ Windfall Thrift Store
♦ Casper Fry
♦ The Flying Goat
♦ Spokane tourist information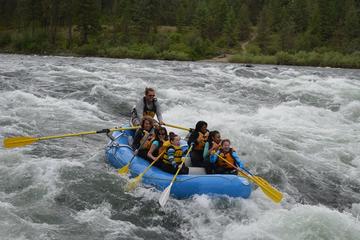 Scenic Rafting on the Spokane River
About the author:
Roy is a frequent contributor to Travel Thru History, and writes from southeastern Wyoming. Disclosure: The author attended a press trip sponsored by Visit Spokane, but what he wrote are his own observations, without any vetting by the sponsor.
All photos by Roy A. Barnes, and may not be used without permission.