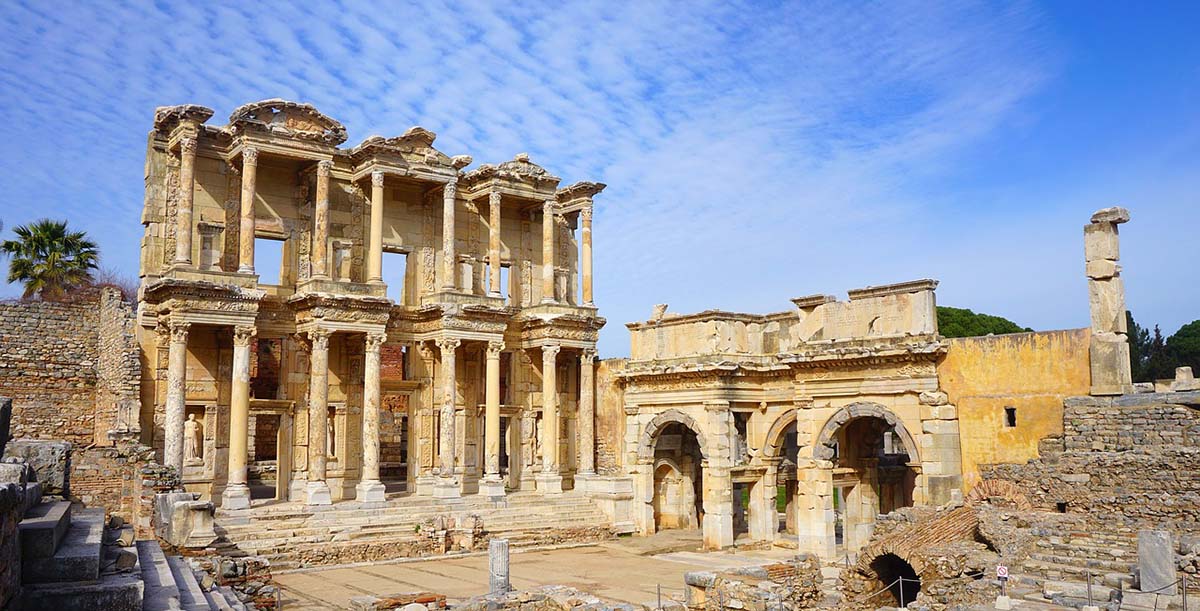 An Afternoon With The Romans
by Chris Millikan
Joining other excited history buffs, my husband, daughter and I leave Kusadasi's docks and head into Turkey's arid northwestern hills. As archeology-student guide Tino sets the scene, we roll along a pretty coastline in our comfortable coach, then onward through pastoral countryside dotted with fig and apricot trees, Mediterranean pines and olive groves…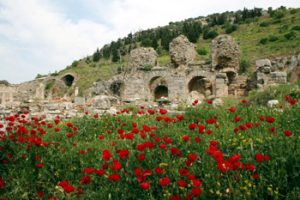 "A major trading center during the mighty Roman Empire, Ephesus prospered between 600 BC and 500 AD," he begins. "Where the Cayster River emptied into the sea at Harbour Gate, fleets of wooden sailing ships unloaded exotic foreign cargoes and hordes of travelers from afar. Over centuries though, the sea has receded nearly ten kilometers away from that once-flourishing seaport."
Afternoon sunlight gilds landscapes yellow and gold as we enter Asia Minor's most sophisticated ancient capital through Magnesia Gate, a key entrance in this city's heyday. As we explore timeless neighborhoods, Roman life emerges along entire streets reconstructed from rubble; majestic colonnades line marble-paved roadways. Plazas filled with magnificent monuments characterize this once influential city, the majority of which remains buried…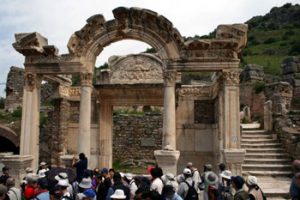 Still marked by an undamaged marble post, the ancient medical center had performed history's earliest surgeries. And opposite, a Nike marker with the now familiar 'swoosh' denotes former temples, replaced nowadays by masses of scarlet poppies dancing in summer breezes.
On down Curetes Street Tino explains, "When over 250,000 people inhabited this magnificent cosmopolitan metropolis, streetlamps shone all along here; countless shops prospered up and down this street."
Just through the Gates of Hercules, exquisite relics survive time's ravages: the two-storied Fountain of Trajan's cascading waters had surrounded polished columns and life-sized statues of Dionysus and Aphrodite; the roofed Odeon hosted small concerts in its theater seating 1500 patrons; an intact stone staircase at the Baths of Scolastika leads to a second floor where networks of hot water pipes had steam-heated communal thermal baths and pools for 1000. One of the city's best-preserved monuments…and the first made of marble…Hadrian's elegant Corinthian-style Temple crowns this hill where the wealthiest rulers lived.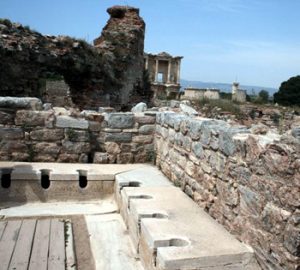 Opposite Hadrian's Temple, terrace houses hint at Roman family life. Known as "houses of the rich," the oldest dates to the first century BC. Mostly two-stories, gracious living and dining rooms had opened to airy hallways on the ground floor; bedchambers and guest rooms were upstairs. Although they seem plain from outside, intricate mosaics and fascinating frescoes decorated them inside; central interior courtyards were filled with exquisite statuary. Remarkable original mosaics still pave the sidewalks out front…
Even in the worlds of Augustus and Alexander the Great, these privileged citizens enjoyed heating systems. Similar to the steam baths, terracotta pipes under floors and behind walls warmed them; elaborate marble bathrooms featured both hot and cold running water…
The upper Agora had been adorned with ornate fountains and elaborate temples. At one time, the Egyptian Temple of Isis had dominated the center of this roofed gathering place. Surrounded by law courts, official buildings and stock exchange during ancient times, this immense public space would have been alive with shops and eateries of every description. We imagine eminent toga-robed citizens in leather sandals discussing politics, sharing the news of the day or philosophizing endlessly…or even playing backgammon in the shade next to the well-preserved town hall.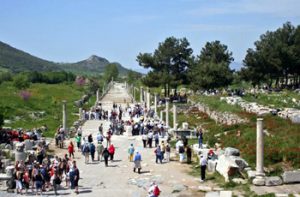 The nearby communal baths and toilets demonstrate surprisingly sophisticated sewer systems running beneath the pavements. Pausing 'to visit' these public latrines, we discover an unexpectedly large privy! A smooth polished marble ledge provides twenty-five perfectly round holes; sitting there side-by-side, I wonder whether aristocrats of old ever had to line up to get a seat here…
Following Marble Street to the breathtaking Library of Celsus, this two-story structure proves most glorious of all. Exquisitely carved columns soar into sapphire skies, enduring monuments to 2000 year-old artistry. Behind the exquisitely carved front columns, four alcoves held replica statues representing Wisdom, Excellence, Goodwill and Knowledge. At one point, the library held an estimated 12,000 volumes, all hand-written papyrus and parchment scrolls stored in niches around the walls to protect them from humidity. Borrowed manuscripts had to be read in a central on-site reading room flooded with light from upper balconies.
Amusing us with stories of secret underground passages connecting this resplendent library to a luxurious brothel just across the street, Tino winks, "I guess in those days, when guys said they were off to read a few good scrolls in the library…it might mean something else!" Reclining awhile on the timeworn library steps, we let our imaginations run wild, speculating about grand schemes and mysterious intrigues of those days…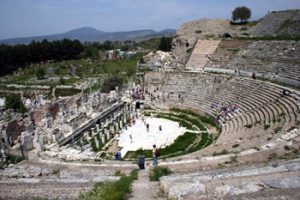 From Library Square, the partially excavated lower commercial Agora beckons. Towering marble columns had defined the immense square; along the sides, porticos had sheltered long rows of busy shops, trading markets and cafes; at the center stood a sundial and water clock. Approaching the open-air amphitheatre nearby, I could almost hear chariot-wheels cutting ruts into marble pavements as they ground around the corner…
Those carved grooves remain in the marble roadway near the spectacular amphitheatre. Tino observes, "Built by Greeks, this Great Theatre was the largest of its time, especially important during the annual Festival of Artemis. As well, it became an important religious center for early Christians. Saint Paul regularly preached here before capacity crowds of over 25,000. Arrested for denouncing fertility goddess Diana, some say Paul fought wild animals in the amphitheatre before he was cast out from the city…"
Dwarfed among row-upon-row of smooth stone seats curving upward forever, we cautiously climb steep aisle-steps to what had been a grand columned gallery at the top, over 30 meters from the orchestra. As if auditioning for a chorus or drama, we take turns doing experimental sound checks from the stage below…and are amazed to hear every word spoken or note warbled, even from the loftiest of heights.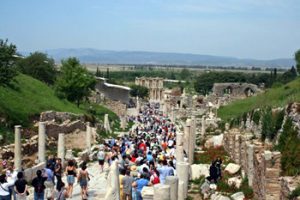 Moments later, our daughter reveals a newsy tidbit, "Remember Sting… you know, British rock-musician? Well, this is where he performed in a sold-out concert years ago…I can see why: perfect acoustics…no echoes!"
Parading ourselves back to the bus down the Arcadian Way, we feel a bit like the celebrated Mark Anthony and Cleopatra. During their legendary glory days, they'd ridden here in grand processions, their elegant golden chariots pulled by plumed horses prancing past crowds of passionately cheering Ephesians…
Down the hill outside Ephesus, Tino points out the bus window, "At one time, multitudes of pilgrims flocked to that Temple of Diana, revered Seventh Wonder of the Ancient World. Now derelict, only one column and scanty fragments remain there."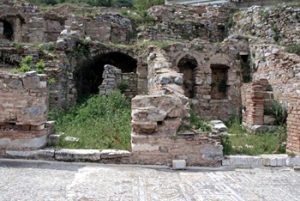 Not far away, we stop at a humble chapel standing on the site of a little house where the Virgin Mary lived her last days. She is thought to have come to Ephesus with Paul around 37 AD. Tino tells us, "In the 1960's, Paul VI was the first pope to visit this place. And in the 1980's, Pope John-Paul II sanctioned this Shrine of Virgin Mary as a Christian pilgrimage place. On August 15th every year, a ceremony commemorates Mary's assumption." I learn that Muslims also recognize Mary as mother of one of their prophets and visit this holy shrine…
Returning to the bus, we fill our bottles at the fountain; the water of Mary is said to have curative powers. "And atop that distant hill," Tino points out, "In the 6th-century, Emperor Justinian built a domed Basilica over Saint Paul's grave, recognizing his years of preaching at Ephesus…
Though abandoned in the 6th century, Ephesus still attracts pilgrims from far and wide, just as she did over two thousand years ago. Like us, countless travelers trek to the Eastern Mediterranean's best-preserved classical city where Roman grandeur outlasts time.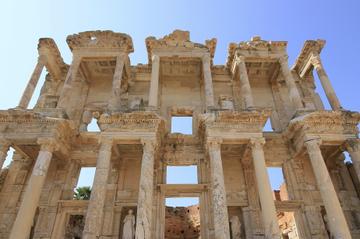 Private Tour: Ephesus and St. Mary's House
If You Go:
• Check out Hello Turkey
• Most tourists visit Ephesus by taking a ferry tour from the Greek islands or mainland Greece, arriving in Kusadasi in the morning and leaving before dinnertime.
• Buses depart Kusadasi for Ephesus every half-hour.
• Some visitors tour Ephesus as part of eastern Mediterranean Cruise ship itineraries.
About the author:
A retired Elementary School Principal living in Delta, BC, Chris Millikan enjoys traveling the province and the world with husband Rick and sharing her tales with others in local newspapers and magazines. Experiencing zany, off the beaten track, historical and cultural adventures for many years, she looks forward to introducing Willamina, her first grandchild, to the wonders of travel.
Photo credits:
First photo of Celus by Salih Altuntaş from Pixabay
All other photos are by Rick & Chris Millikan.