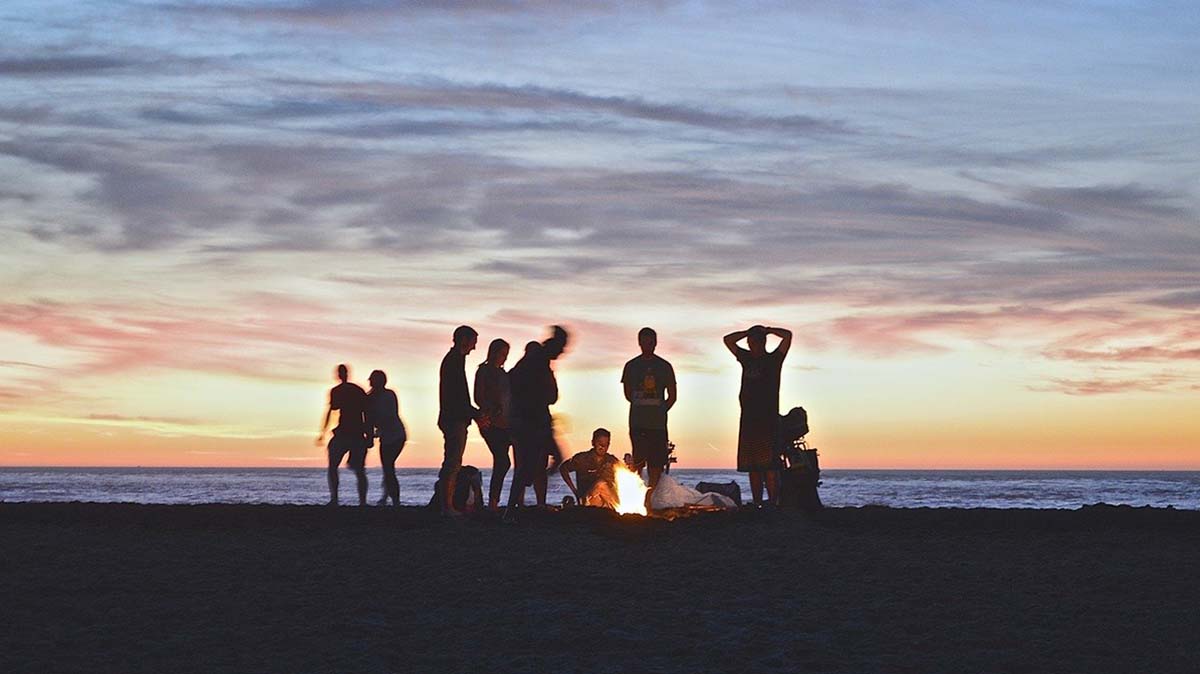 Montevideo, Uruguay
by Paola Fornari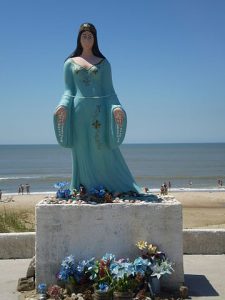 Today, February 2nd, is the day of the feast of the Virgen de la Yemanja: the patron of fishermen. This evening, after dusk, people will flock to the Rio de la Plata, dressed in white, bringing gifts for her: sweets, clothes, and jewellery – gold chains, necklaces and watches. The gifts will be sent out to sea on paper and cardboard boats, to sink to the bottom, or be washed up on the shore.
The hurgadores in Uruguay are people whose livelihood depends on rubbish. They go about with a horse and cart, fishing through bins, particularly in "nice" areas, for bottles, old clothes, cardboard, anything that they might be able to sell.
Tonight the hurgadores will sleep at the beaches, waiting to see what the Rio brings in tomorrow. A feast day for the Virgen, and a feast day for the hurgadores.
At six-thirty I put the lead on the dog.
"So, Perdida, let's go down and see what this Virgen de la Yemanja business is all about."
Perdida wags her tail and whimpers with excitement, and we start our fifteen minute walk to the Rio. It's a cool, sunny evening.
I'm not sure what to expect. Certainly I'm surprised that there are so few people. And even more surprised when we catch our first glimpse of the Rio. On the shore is a beautifully constructed cardboard boat, decorated with tinsel and flowers … and another a bit further along.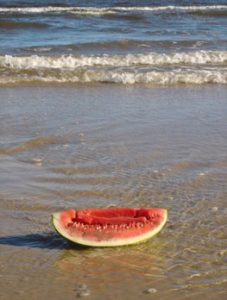 Watermelons are strewn on the beach. We move closer. One boat appears empty. The other holds some carnations. A couple stroll up.
"Could you tell me more about this?" I ask.
"Well, they're celebrating the Feast of La Virgen de la Yemanja", the woman says.
"Who are?"
"Those people over there." I look to where she's pointing. About half a dozen people, dressed in long white robes, are coming down the steps onto the beach, carrying a big cardboard boat.
"Is it a sect?"
"Well, a religion, really. The Ubanda. Mostly fishermen. They're thanking the Virgen for their blessings over the last year". These white-gowned hippie-gypsy types hardly look like fishermen.
We wander westwards. In front of the Casino Hotel, a few people are building a sandcastle. As I get closer, I see that it's a large altar.
A girl with blue hair is preparing a path from the altar to the water, neatly edging each side with alternating candles and flowers.
We move closer. "Señora," I say, "could you explain? I'm a foreigner."
"The altar is for the Virgen de la Yemanja. She should be here, but she hasn't arrived ".
"The Virgen? She's coming?"
"Yes, she was due at seven, but the bus must be delayed . Here, take this card."
The Virgen's business card? "La May Adelcia", I read, under a 60s faded black and white photo of a dark buxom young woman. I turn it over. "Consultations: Mondays, Wednesdays, Fridays 10 a.m. – 6 p.m."
It's seven-fifteen. I approach another couple, and show them the card. "Ah, the May", they say. "That's not the Virgen. It's a woman priest. A man priest is called a Bay. They are the Virgen's representatives on earth."
People are wandering down to the beach. Each group has at least one maté, the calabash which Uruguayans carry around, containing a strong type of tea, which they sip through a silver straw. The Rambla is filling up too. People on bikes, skates, walking, jogging.
We look back at the sand altar. There is definitely some activity now – it's almost eight – so we move closer. A group has formed, and in the centre is an elderly woman wearing a long pink satin dress and a rich brocade beige shawl. I recognize her as an aged May Adelcia from the photo on the card. Her white-clad acolytes look like doctors, apart from one young woman who, over her whites, has a bright red sarong tied over one shoulder like a Maasai. On the altar stands a statue of the Virgen, wearing a blue satin dress and a cape. She is decked with bead necklaces. Aha! So that's the Virgen they were waiting for!
In front of the altar is a large plastic inflated dinghy. People are queuing up to lay gifts inside. I can't work out whether the people crowding around are part of the ceremony or just onlookers.
The May gives a signal, and she and her assistants walk down the path to the river shore, chanting softly. Together, they raise their arms to the sky. Suddenly there is a loud hacking noise. I think that the May is having a fit but then I realize she's laughing – a strange, guttural croak.
They walk back to the altar, except for one young man who prostrates himself in the water.
The crowd is thick now. Perdida and I scramble onto the Rambla to get a better view. My camera battery is flat. Perdida is shivering. So am I. It's eerie. A fat couple beside me pass their warm maté to and fro.
The May and her followers are chanting and shuffling. The May is holding a bottle of Fanta Orange.
"Is the Virgen drinking?" asks the fat woman.
"Yes, says her husband, "Can't you see?"
All I see is the May dancing around the Virgen pouring Fanta Orange onto her expensive-looking clothes.
"How long does this go on?" I ask.
"Oh, till morning," says the fat lady.
"They will dance when the Virgen has gone out to sea".
Perdida and I are really cold now. I decide to go home, recharge my camera battery, and come back to see the end of the action. But home is warm and cosy, so I settle down to a cup of herbal tea.
But next 2 February I shall wrap up warmly, and dance all night on the beach until at dawn, the treasure-filled cardboard boats carrying the Virgen and her treasures are sent out to their fate on the Rio de la Plata.
– First published in 'The Oldie' (UK) March 2007.
Notes:
Yemanja is a goddess originally of the Yoruba religion, who has become prominent in many African-American religions. Africans from what is now called Yorubaland brought Yemaya and a host of other deities/energy forces in nature with them when they were brought to the shores of the Americas as slaves. She is the ocean, the essence of motherhood, and a protector of children.
In Uruguay, her feast is of relatively minor importance, whereas in Brazil it takes on huge proportions. Every February 2 in Salvador, Bahia, there is a celebration which involves thousands of people lining up at dawn to leave their offerings at her shrine in Rio Vermelho. Presents for Yemanya usually include flowers, perfume, and objects of female vanity (jewellery, combs, mirrors). These are gathered in large baskets and taken out to the sea by local fishermen. Afterwards a massive street party ensues. In Rio de Janeiro, Yemanyá is celebrated on New Year's Eve, when millions of people dressed in white gather on Copacabana beach to greet the New Year, watch fireworks, and throw flowers and other offerings into the sea for the goddess in the hopes that she will grant them their requests for the coming year. Paintings of Yemanja are for sale in Rio shops, next to painting of Jesus Christ. They portray her as a woman rising out of the sea. Small offerings of flowers and floating candles are left in the sea on many nights at Copacabana. In the Umbanda religion, Yemoja is a goddess of the ocean and patron deity of the survivors of shipwrecks.
Photo Credits:
Beach group image by Free-Photos from Pixabay
Iemanja statue by FrancoBras / CC BY-SA
Watermelon on beach by Paola Fornari.
About the author:
Paola Fornari was born on an island in Lake Victoria, and was brought up in Tanzania. She has lived in almost a dozen countries over three continents, speaks five and a half languages, and describes herself as an "expatriate sin patria". Her articles have featured in publications as diverse as "The Buenos Aires Herald", "The Oldie", and "Practical Fishkeeping." Wherever she goes, she makes it her business to get involved in local activities, explore, and learn the language, thus making each new destination a real home. She has recently moved from Uruguay to Belgium. Read Paola's blog on www.writelink.co.uk