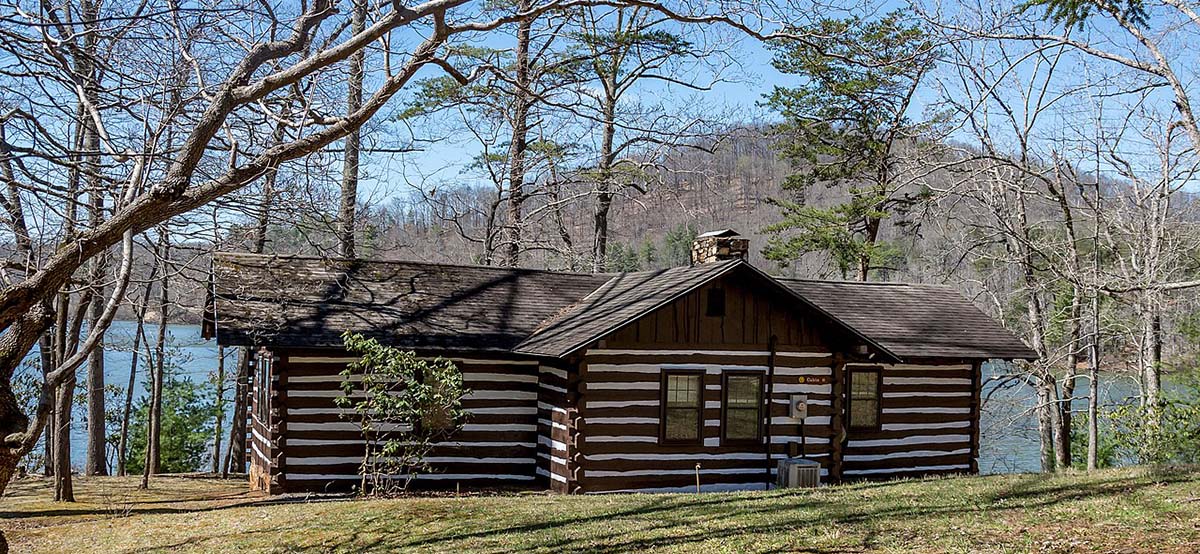 by Patricia Apelt
The idea of a city under water often sounds like folklore, bringing images of the Lost City of Atlantis or something from a movie. Few people realize that Virginia has its own tale of an underwater city — one that has been replaced by a beautiful lake. Here's more behind the story of, Virginia, one of the most intriguing small town histories in the books. Most people, even some visitors to the park, have no idea this underwater city ever existed.
Deep below Fairy Stone Lake lays the remains of the forgotten town of Fayerdale. Once an estate belonging to the Hairston family, the town started as a coal mining operation around 1905.
George Hairston (September 20, 1750 to March 5, 1825) was a noted planter and politician in Virginia. He was a Colonel in the American Revolutionary War and a Brigadier General in the War of 1812. In 1776, George Hairston built Beaver Creek Plantation, which remained his home until his death.
In 1827, George Hairston Senior died. His 20,000-acre tract in Patrick and Henry Counties, known as "The Iron Works," passed to his eldest son John who resided on the property and operated his father's various business interests in the area. After their father's death, John and his brother George II united in partnership with Peter Hairston, their first cousin. They wanted to continue and expand the small scale iron industry from a rich vein of magnetite in and about Stuart's Knob, a craggy hill rising five hundred feet on John's property. On 10 November 1836, the partnership was formally recorded under the name "Union Iron Works Company."
Peter died in late 1840. Shortly thereafter, John transferred his interest in the partnership to his brother George, making George the sole owner of the Union Iron Works Company. About 1850, George obtained a fifty-acre parcel known as the "Forge Tract" from Jacob Prillaman.
Early in the 1850's, George's son, Samuel took over management of the Union Iron Works Company. Samuel expanded and consolidated the various parcels in Patrick County associated with the Union Iron Works into a single holding of 4,840 acres. On 15 January 1862, George transferred the Forge Tract and the 4,840-acre Iron Works Tract to Samuel "for affection and one dollar". The following year, Samuel sold the Iron Works and Forge Tracts for $150,000 each to John P. Barksdale, Jonathan B. Stovall and Elisha Barksdale.
No records can be found indicating what activities occupied the settlement around the Union Iron Works from then until 16 June 1903 when the Barksdale heirs sold the same 4,840 acres, then known as the "Iron Works at Union Furnace," to Frank Ayer Hill, Herbert Dale Lafferty, and their wives, Alice and Mary respectively, for $40,000. The area was given the new name "Fayerdale," concocted by Alice Hill from her husband's first initial, his middle name, and Herbert Laffertys middle name. During its prime the town boasted a general store, post office, train depot, hotel, school, and a physician, as well as many homes.
Fayerdale blossomed into a booming mining and logging town with a population of close to 2,000 people. The mining operations in Stuart's Knob were mechanized. Other construction included a company office building, freight station, blacksmith and carpenter shops, an ore tipple, a warehouse to handle whiskies and brandies for the DeHart Distillery in nearby Woolwine, and numerous dwelling houses, stables and other ancillary buildings. The light weight logging track followed the cutting sites as they migrated through the rapidly disappearing forest. About that same time the Illegal whisky business began to emerge among the residents. The next drawings illustrate how Fayerdale was probably configured about 1910, the heyday of its brief existence.
During 1921, there was still lumber and farm produce to haul for profit even though the iron ore trade had ceased and Prohibition had dried up the liquor traffic. But things were not well in Fayerdale. Sporadic reports from that neighborhood published in the early twenties told of more families moving out, more feuding and shootings among the moonshining neighbors. Fayerdale was dying while a few of its residents were amassing fortunes in the illicit liquor business.
On 25 August 1925, T.W. Fugate purchased, for $50,000, all of Fayerdale's railroad and mining equipment. Thereafter, virtually all of Fayerdale's railroad and mining equipment vanished, and the land was as before the Hills and Laffertys arrived in Goblintown hollow except for the ravished forests, abandoned rail beds, many abandoned buildings, and a few scattered relics of iron.
About the time of the Fugate transaction, Roanoke newspaper publisher Junius B. Fishburn bought out his partners in the mining operation. In 1933 the Civilian Conservation Corps (CCC) was formed and went to work building Virginia's original six state parks. Mr. Fishburn donated the 4,639-acre site for Fairy Stone State Park, making it the largest of the six original parks and one of the largest to this day. The last residents of Fayerdale were evacuated and the area was flooded to make way for the park's 168-acre lake.
By their departure in the Spring of 1941, the CCC crews had provided paved roads, a sandy beach, picnic areas, camp sites, bridle paths and walking trails. They built a bath house, restaurant, and cabins for visitors as well as a water and sanitation system.
Fayerdale vanished into the mountain mists. Unlike Brigadoon, it will never return. In its place, however, is a delightfully pure and rustic mountain retreat where one may hike the paths of miners and moonshiners, peer into an abandoned iron mine, and swim, boat and fish in a beautiful woodland lake where once there was a town and two railroads.
Today, Fairy Stone Park still remains the largest and one of the most beautiful state parks in Virginia. One of the original CCC buildings now serves as the Fayerdale Hall Conference Center. Formerly the park's restaurant, this facility was named for the town under the lake. The building has been upgraded with modern conveniences including Wi-Fi, a flat screen TV, and catering kitchen, making it a popular venue for weddings and meetings. The Fayerdale Hall Conference Centers stands as homage to this historic underwater town.
Fairy Stone State Park is a restful destination for bikers, hikers, campers, fishermen, horseback riders, water sport fans, and 'just passing through' tourist on day trips. A rather unique spot on the North American continent, Fairy Stone State Park is also the place where the so-called "Fairy Stones" are found, which is reason enough to visit.
The name of the park is explained by a legend from very early settlers of the area. It tells of a time long ago when large groups of fairies roamed freely in the area. When elfin messengers from far away came to them and told of the death of Christ, the fairies all began crying and their tears became the Fairy Stones found in the park today.
A bit of factual information is that these 'stones' are actually crystals formed of staurolite, which is composed of iron, aluminum, and silicate. Theses crystals are hexagonal, and singles often intersect at forty-five degree angles to form Roman, Maltese, or St. Andrews shapes. The crystals were formed from pressure and heat during the time when the Appalachian Mountains were being pushed up from the earth's crust (some say about 400 million years ago). There is one small area just outside the gates but still owned by the park where you can go and perhaps find a few Fairy Stones for yourself. You are asked to only carry away a small cupful, leaving some for others.
If You Go:
Whether on a day trip or camping, please take the time to enjoy all the activities Fairy Stone has to offer. Be sure to talk to the Park Rangers, and visit the museum in the Visitor's Center.
My thanks to other sources of information used in this article Jack Williamson from his book A History of Fayerdale, Virginia.
Tours to Roanoke, Virginia:
Roanoke Craft Beer Tour
Roanoke Downtown Food and Cultural Tour
Roanoke Sunday Brunch Food Tour
About the author:
Patricia Apelt has been an avid reader since she was first able to hold a book in her hands. She is now writing them herself, with two fictional novels already published and a third is 'a work in progress'. She is also exploring the world of Travel Writer and enjoying it very much. When she is not traveling or writing, she enjoys quilting, sewing, and spending time with her 12 grandchildren. She lives with her husband and three dogs in Poquoson, Virginia.  Visit Patricia's website and her Facebook page.
Photo credit: Virginia State Parks / CC BY