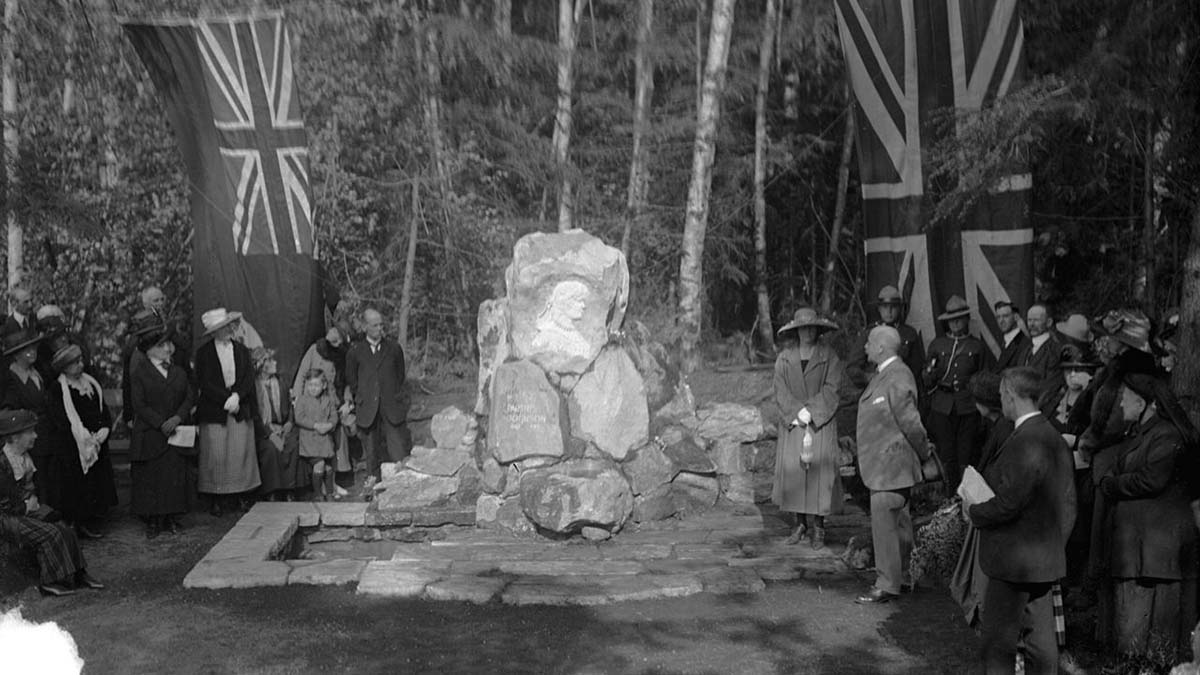 by W. Ruth Kozak
If you visit my city, Vancouver, British Columbia, Canada, you are sure to spend some time in one of Vancouver's unique tourist attractions, Stanley Park. The park covers 404.9 hectares (1,000 acres) of rainforest and is the largest city park in North America. It was named for Lord Stanley, 16th Earl of Derby who became Governor General of Canada. Stanley Park was first opened as a public recreation area in 1887. The park, which is located at the western entrance to Vancouver's harbour, was originally settled by the Coast Salish people. It was their hunting and gathering ground and became the favorite haunt of an Indian princess/poet, Pauline Johnson, the first Native Indian to be published in Canada. Her book "The White Wampum" gained her high literary standing.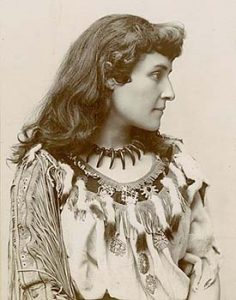 Born March 10, 1861 on her father's estate "Chiefswood" on the Six Nations Indian Reserve near Brantford, Ontario, Pauline was the youngest child of G.H.M. Johnson, head Chief of the Six Nations and his English wife Emily S. Howells. Her Indian name was Tekahionwake. She was considered a "princess" because her father was the scion of 50 noble families which composed the historical confederation founded by Hiawatha, a noble chief made famous in a poem by Alfred, Lord Tennyson. It was known as the Brotherhood of the Five Nations.
Pauline's education was meagre — a nursery governess for two years, attendance at a Native Canadian day school, and two finishing years at the Brantford Central School — but she was well educated in the School of Nature. With her voracious reading, retentive memory, and keen mind, Pauline acquired a wide knowledge of literature, especially poetry. Before she was twelve, she had read all the classics. Her fiest poems were published in New York and Toronto. By the time she was in her 20's she became known for her public appearances and poetry readings, traveling from the Atlantic to the Pacific coasts of Canada. She also made several trips to England to perform and was presented to the Queen. She performed in dance halls across the country often clad in a buckskin outfit and a bear claw necklace to represent her Mohawk heritage and then later in the performance she'd change into a silk evening gown honoring her British ancestry.
Much of Johnson's poetry focused on her cultural back-ground. In A Cry From an Indian Wife she wrote:
Go forth, nor bend to greed of white man's hands.
By right, by birth, we Indians own these lands,
Though starved, crushed, plundered,
Lies our nation low;
Perhaps the white man's God has willed it so.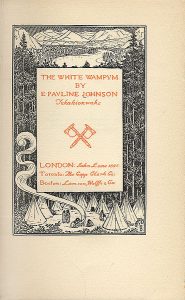 Pauline Johnson made many trips to the west coast, eventually settling in Vancouver. She spent much of her time in Stanley Park. She was an ardent canoeist and a great lover of nature and wrote many poems about the park.
As I enter the Park, I cross under the causeway and take the path to Lost Lagoon. Originally part of Coal Harbour, it was a tidal basin where Indians dug clams. In the early days, visitors to the park had to pick their way over a large log anchored in the mud flats until eventually wooden bridge was built. The causeway, constructed of earth, ashes and street-sweepings, was built in 1888. Pauline Johnson loved to paddle her canoe here. She named this tidal pool "Lost Lagoon" because of the way it emptied when the tide ebbed, and she wrote:
O! lure of the lost Lagoon/ I dream tonight my paddle blurs/ The purple shade when the seaweed stirs/ I hear the call of the singing firs/ In the hush of the golden moon.
The native name for Lost Lagoon is "Chul-Wah-Ulch" which means "a bog which is dry when the tide is out" Once there were Indian dwellings on the north side of the lagoon. Now, trumpeter swans, mute swans, duck families and grey herons make their home on the lagoon.
As I walk along the lagoon, I can feel Pauline's presence and recall her poem about the Lagoon:
It is dusk on the Lost Lagoon,
And we two dreaming the dusk away,
Beneath the drift of a twilight grey-
Beneath the drowse of an ending day
And the curve of a golden moon.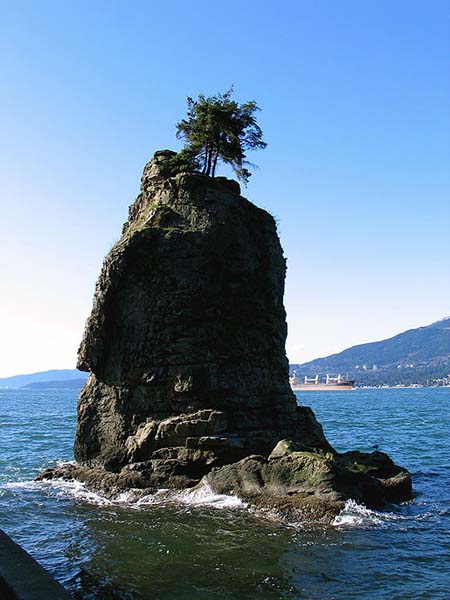 I follow the path to the end of the Lagoon to the seawall at Second Beach. As I walk along the seawall I come to another place that Pauline Johnson liked to visit in the park —Siwash Rock "where the twining roadway branches in two." This monument of nature stands as a reminder to the Squamish people of one man who lived a good life. The tall pinnacle of rock that rises just off the shore represents Skalsh, a warrior who was turned into stone by Q'Uas the Transformer as a reward for his unselfishness. It is one of the best known legends about a young Indian who was about to become a father and decided to swim in the waters of English Bay to purify himself so his new-born son could start life free of his father's sins. The gods made Sklash immortal by turning him into a pinnacle of rock. Two smaller rocks representing his wife and son stand in the woods overlooking Siwash Rock.
Pauline Johnson died in Vancouver at the age of 53, on March 7, 1913. The hardships of travel in those days had taken a toll on her health and in the latter years of her life this remarkable woman, known to her friends as 'a beloved vagabond' became an invalid. The last thing she wrote was her will, nine days before her death at 53, in which she requested no public mourning, no tombstone or monument. But a huge funeral was held with hundreds of people in the streets to honor her. Her will and ashes were lost for 43 years before they were found in the vault of a Vancouver law firm. Her ashes and two of her books Legends of Vancouver and Flint and Feather were eventually buried near Siwash Rock. In 1922 the Women's Canadian Club of Vancouver erected a monument in her honour.
I visit the cairn in a cedar grove at Prospect Point near the Stanley Park Tearoom. It's a simple relief carved out of a large piece of natural rock, where water flows from the rocks into a small hollow pool at its base. This day, someone has left a bouquet of flowers in her memory. I pause, engulfed in the silence of the tall cedars that surround the shrine, and pay homage to this remarkable woman whose beautiful poetry has given such a special meaning to Stanley Park.
If You Go:
If you visit Vancouver BC be sure to go to Stanley Park and you'll see Lost Lagoon. Or take the road around the Park to 3rd Beach and up the steps by the roadside you'll find the memorial stone to Pauline.
More Information:
PAULINE JOHNSON'S BIO
E. Pauline Johnson at Digital Library
BOOKS
Paddling Her Own Canoe: The Times and Texts of E. Pauline Johnson (Tekahionwake) (Studies in Gender and History)

Buckskin and Broadcloth: A Celebration of E. Pauline Johnson — Tekahionwake, 1861-1913
Flint & Feather: The Life and Times of E. Pauline Johnson, Tekahionwake
About the author:
W. Ruth Kozak is a historical fiction writer, travel journalist, poet and playwright who lives in Vancouver B.C. Canada. She is the former editor and publisher of TRAVEL THRU HISTORY. When she was young, Ruth lived in Brantford, Ontario and became interested in First Nations history and the story of Pauline Johnson. One of her favorite places in Vancouver is Stanley Park. www.ruthkozak.com and www.inalexandersfootsteps.com
Photo credits:
Ceremony at Pauline Johnson's grave by Thomson, Stuart / Public domain
Tekahionwake ca 1895 by  Cochran / Public domain
Cover of 1895 edition of White Wampum by Pauline Johnson – Public domain
Siwash Rock, Vancouver by Andrew Raun under the Creative Commons Attribution-Share Alike 2.0 Generic license.