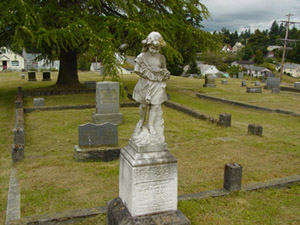 Bremerton, Washington
by Mike Howard
I've traveled extensively over the last few decades, but have treated my own back yard a bit cavalierly – commuting to work in the early hours and not getting home until dark. Now that I've retired, I am constantly astounded by local treasures hidden in plain sight.
Ten years back, while researching material for a centennial history of Bremerton Masons, I was particularly struck by a funeral oration delivered on December 26, 1909 by Lodge luminary, William Seymore. "We have met here this afternoon to pay the last tribute of respect for Brother Gudmund Gudmundsen, and render the last service that the living can offer the dead," said Seymore. "As there are no relatives in the community, it is peculiarly fitting that the Fraternity of which he was a respected member, should perform that service, and to me has fallen the duty of expressing—as well as I am able—the sentiments of the Lodge regarding our Brother, who has passed away."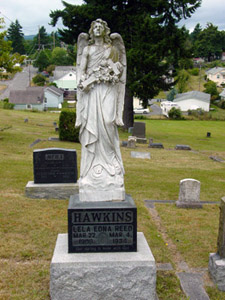 Seymore went on to report Brother Gudmundsen's birth in Stevanger, Norway on December 11, 1851; that he came to San Francisco in an English ship at the age of seventeen, and followed the sea – as mate of sailing vessels plying between San Francisco and Honolulu. He came to Bremerton in the year 1901 – a skilled workman in the Shipyard – petitioning for and taking the degrees of Freemasonry in the Bremerton Lodge. "We know that he enjoyed the privileges of Lodge membership and that Masonry had meaning for him. Honest his life, faithful his work, peaceful his death," eulogized Seymore. "And now, my friends, as he lies here so still and silent, these cold lips are teaching us a lesson, if we could but realize it; and that is: to put our house in order, for no man knows when the reaper cometh. With our house in order, we can meet death, not as a grim tyrant, but as a kind friend who has come to give us rest."
Lodge minutes record that the funeral procession was then formed and the body escorted to the Bremerton cemetery, the lodge altar was draped in mourning for thirty days and an acacia was planted at the head of Brother Gudmundsen's grave.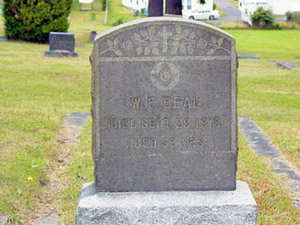 Bremerton Cemetery? I remember puzzling over just what had happened to that old pioneer's cemetery – not enough to do any serious research to find where it had been – but still, more than just idle curiosity – and mystery. Then, this last summer – while aggravating over a traffic revision that forced a detour off of Eleventh Avenue to Naval Avenue – Eureka. There it was: Ivy Green Cemetery, over fifteen picturesque acres of peace, tranquility, history and memories.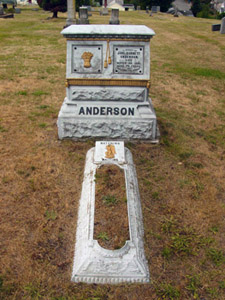 I strolled among stone lambs, angels and books, crosses, broken columns and scrolls. I found the imposing stone obelisk of Thomas Wren Gorman, born April 12, 1841 at Tulicrimin Kerry County Ireland, died August 31, 1929; and the simple stone of Dr. Carrie E. Logan, PH.D. NYU, "born Mt. Shaster, Calif., 1873-1914 – Daughter of a Union Soldier and a Descendent of a soldier, War of 1812 and the Am. Revolution." I found Bremerton's own Tomb of the Unknown Soldier; and the plot dedicated to the Grand Army of the Republic and the final resting place of John H. Nibb, Civil War hero and one the first recipients of the Congressional Medal of Honor. A plot dedicated to U.S. War Veterans of the Spanish American War commemorates veterans of "Cuban, Porto Rico and the Philippine Island campaigns."
I found Worshipful Brother William Seymore's polished and impressive stone – engraved with the Square and Compass of the fraternity he'd dedicated his life to. But Brother Gudmundsen?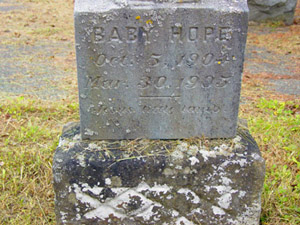 The fifteen acres were surprisingly easy to cover – and I pretty much visited every grave site, without success. Well – without that particular success. I found the last resting places of many Masons who have gone before. I found sites commemorating Matildas, Cornelias and Getrudes – names once as common as Heather, Kimberly and Keisha may be today. I found Woodmen of the World, and I found Leda Nelson, born September 20, 1838, died September 20, 1902, "A little time on earth she spent, Til God for her his angels sent," and little Baby Hope, October 5, 1904—March 30, 1905, "Jesus' Little Lamb."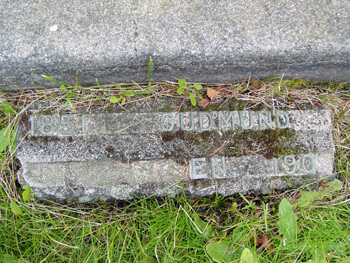 But still no Brother Gudmundsen—until I ran into City of Bremerton Parks Department Specialist Chris Smith. After a brief consultation with the Register, Chris led me to RI 962, Lot 08, North Side and there, just below the Pederson Column and an inch from the stone border of another family plot, was a modest stone marker, maybe 18 inches by six inches – much eroded and defaced by time: 1851___Gudmund ____en ____19___. Brother Gudmundsen died just days after his 56th birthday, and was respectfully interred through the disinterested friendship of his brother Masons over one hundred years ago. The acacia tree was long gone, but the grave marker remains, weathered—but readable.
As I returned to my car, an epitaph caught my eye, "Love's memory lasts forever." I couldn't help thinking that forever is an awfully long time – but that as long as they can take refuge in stone in sanctuaries such as Ivy Green, thoughts and sentiments survive.
If You Go:
The park is open to the public every day from 8:00 a.m. until dusk, 1401 Naval Avenue, and the Bremerton Parks & Recreation Department stands ready to assist visitors interested in learning more about Ivy Green Cemetery. Office hours are 8:00 a.m. to 5:00 p.m. (360) 473-5305.
All photos are by Mike Howard.
About the author:
A native of Seattle, Mike Howard has traveled extensively in Europe, Africa, the Caribbean, the South Pacific, China, and Southeast Asia. Recently retired after 35 years in government public affairs and communications, he has doubled down on his passion for travel—sharing his discoveries with fellow travelers. In between more extensive jaunts, he enjoys exploring historical sites up and down the Kitsap Peninsula and ocean coasts. michaelsigrid@cablespeed.com