Athens, Greece
by Sierra Goldberg 
It was freezing, midnight, and getting through passport control had been unnecessarily nerve-wracking. The bus flew along the motorway and bounced down more residential roads. White concrete buildings lined the streets, their windows were dark but the neon signs were still glowing. I shivered in the empty, rattling cold. Then the bus pulled round a corner and the Acropolis of Athens appeared above the city. Wrought in dramatic lights, the cream stone columns rose warm against a velvet navy sky, shot with pinpricks of stars. I gasped.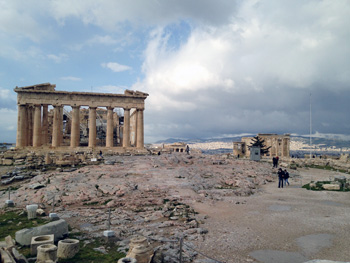 At this point, I wasn't worried about the other passengers' thoughts. Dignity, respect, pretending not to be a tourist – all out the window having tried very unsuccessfully to validate my 5 Euro ticket for a solid ten minutes of the bus ride. I could stare and gawp all I wanted; and so I did, drinking in that immense sight. I had read the myths since I was a kid, studied the history in school, and poured over the art for project after project in undergrad. Thrill raced through me faster than the cold had, as I discovered for the first time something I thought I already knew. Here it all was in 3D.
The bus dropped us off at midnight in Syntagma Square. Everything was quiet and empty, but the lights looked out inquisitively from their lamppost housings in case something did transpire. My breath froze in little clouds as I looked for a taxi.
"16 Sarri Street?" I asked the taxi driver, trying not to get distracted by the stunning Parliament Building, lit up in white and blue.
"… Sarri Street?" He looked confused.
"It's in… Psirri?" I botched the pronunciation abysmally, forced a grin, and shrugged. Then, I pulled out a photo of a map on my phone.
"Oh! Sarri St! Yes, yes. Come on, I cannot drive you there."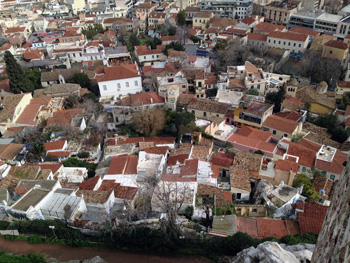 Thankfully, what he actually meant was that he couldn't get me to the front door along the one-way pedestrian street. But he could get me close and, after a nice little chat about whether it was more expensive to live in the UK, he did. In hindsight, it was quite beneficial to have a little tour of the city. But on a pitch black evening in February, hindsight wasn't on my mind. What I was actually thinking about was snow – snow in the Mediterranean. For the first time in five years, it was forecast to snow in Athens and as we drove, big white flakes melted on the windscreen. Not enough to stick in town, but there was plenty to pile up in the higher altitudes. From the Acropolis and the top of Lycabettus Hill, I spun circles the next day, looking round at the mountains that ringed the basin where the city lived. The big, slow flakes from last night had left them white-capped under cracks of blue sky between stacked layers of grey and white cloud. The sun, when it did decide to join the day, was cold and sharp and my ears froze. I had forgotten to pack a hat.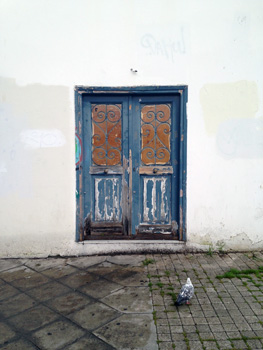 I found the lower gardens on the hill around the Acropolis full of temples and remains of buildings, statues, column capitals, and broken bits of foundations. The museums and Acropolis grounds felt more like walking into the pictures from the books I had read, studied, photocopied, and researched for the past six years. With an almost reverence, my eyes traced the draping folds of the stone garments that were so much softer and more alive than the drawings and photographs had shown me. Poseidon and Athena had to come to life and watched me carefully as I revelled in the neatly arranged Corinthian column caps I had modelled my own exhibition project on.
I returned to Syntagma Square and browsed the national gardens and old Olympics centre next to the stately Parliament building. The gardens rolled gently down the hill to Zeus' temple, winding gravel walks lined with palm trees and tropical shrubs. As I walked, it snowed. I snuck quietly through the pillared entrance to the Zappeion Megaron Hall and stood just under the edge of the corridor as the atrium opened to the sky. The ceiling boasted a gorgeous floral, circular design in reds, greens, pale blues, and golds. Snow swirled in the atrium against a backdrop of deep red walls and white marble columns. It was so quiet that I could hear the snow brush against the marble and settle onto the floor. I revelled in my solitude, eating up this sight that no one but me could see.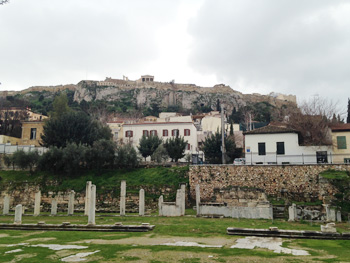 After that, I walked and walked and walked the streets, looking for more awe-inspiring moments whatever the weather. Psirri turned out to be a fascinating district. I had booked myself into a lovely little hostel called City Circus for the week, where thankfully everything was warm and cozy with bountiful breakfast and friendly staff. Around the corner was a little spiders' web of streets and five-point star intersections filled with shops and food. There were bars and music and fried filo dough and cheese concoctions in any shape I fancied. Lamp light and candle light poured through colored glass in the windows to join the colorful plaster walls. The music burst from inside the restaurants and the stones smacked hard under my new shoes. I didn't want to stay long. I just wanted to see all of it, drink in this new, vivacious, loud place that breathed under my feet.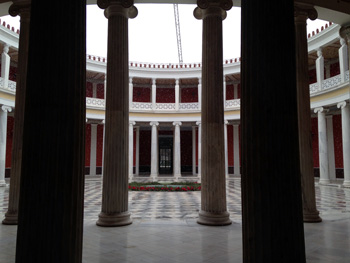 Athens' graffiti was most unexpected. It was everywhere, unabashedly adorning abandoned houses, old government buildings, and ramshackle metal fences. My walk into town was a burst of color, screaming ideas at me that I could not understand. But still I knew they were trying to say something, trying to be heard amidst the throng of twelve-story concrete apartment complexes and canvas canopies. After a brisk souvenir search through the bustling side streets around Monastirkai Square, I grabbed a latte in a fourth-story coffee bar. It had huge windows looking out over the red tile roofs, all uneven height and helter-skelter pitch before stopping abruptly for the Hill to rise behind them. Buzzing with voices, the room was warm and curls of smoke caressed the windows. Out of the the top of the hill, the Acropolis rose overlooking the city, ever listening as the centuries marched past under its watchful gaze. How many stories had it seen unfold? What tales could it tell if only I could ask – what stories not found in any of my books? I would never know. My own stories would have to be enough for my curiosity.
On my last day, I took a little ferry to the island of Aegina. I joined up with two American brothers and we kicked little scooters into high gear, revving along the coast. Looking back at the photos, they are very odd – it looked a gloriously sunny day, but we were all wrapped up to our noses in scarves and hats. We rode up to highest point of the island to see the Temple of Aphaia. The three of us wandering around from faded placard to faded placard and gasping at the view and calling back and forth to each other to break the silence. Athens sat white across the blue, blue sea. We could pick out the Acropolis and took guesses at where Olympus was, though we really had no idea whatsoever.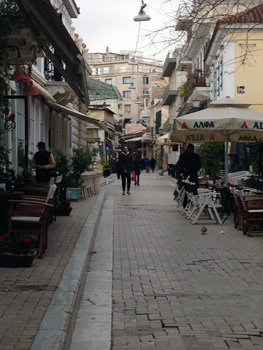 On the way back, we scootered through a seaside town and grabbed coffee. After the hustle of the city and the very present feeling of history at Aphaia, it was odd how quiet the coasts were. Big, abandoned holiday homes half-built lingered just off the shore, silent concrete skeletons that didn't tell stories like the ancient ruins. I thought it was only the island, but as I sat in a restaurant on Athen's shore, I was as the sole customer. It was full of chairs placed upside down on tables – a hundred inside and maybe more than a hundred outside. The place felt expectant but mournful, waiting for the summer visitors to come and fill it with vibrance. As I stared silently down the coast, I felt out of place for the first time on my trip. In walking in the footsteps of the ancient past, I had created my own stories. But each story I created was filled with the stories that had come before me. In walking the recently built-up coastline, I felt disconnected from the past, though it surely had no shortage of stories to tell. Perhaps I'm far too picky about architecture.
On the ride back to the airport, I watched out the metro window as the city flew past me, each building ticking seconds away between me and take off. Before I had arrived, I had been worried about taking a solo holiday, but had found it rather exhilarating. I got to live every moment exactly as I chose. There was no one else to determine if I had "done a good job" with my holiday, if I "should have done less and relaxed more," or even if I "shouldn't get so excited about old rocks." This was a very good thing because Athens was so much more alive than I could have imagined it would be. I unreservedly added my stories to the streets, each one full of the millions of stories that had come before mine.
I returned to a drizzly Great Britain and my heap of library books.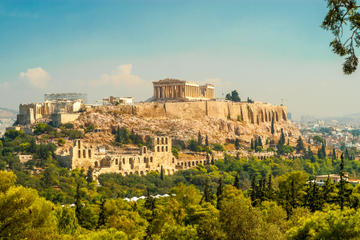 3-Night Athens Experience Including City Tour and Delphi Day Trip
If You Go:
♦ Accommodation: I Would definitely recommend the City Circus Hostel to anyone looking for good, clean accommodation without the price tag. www.citycircus.gr
♦ Eating: A bit out of the way, but definitely worth the view, head up to the 360 Cocktail Bar. Be prepared for indoor smoking but on a cold day, it's a great place to have a coffee. www.three-sixty.gr
♦ Tickets: Admission to all the sites was free for me as a student with an EU student visa, but there is a all-access pass you can purchase for all the sites in Athens if you must pay.
♦ Language: People do speak English, helpfully, but you will have to stick to the larger shops and coffee houses if you want to be sure. However, everyone was very, very helpful.
♦ Transportation: The Metro is an extremely easy and cheap to get around town and to the coast. It also runs to the airport during the day and a night bus will get you into town after hours.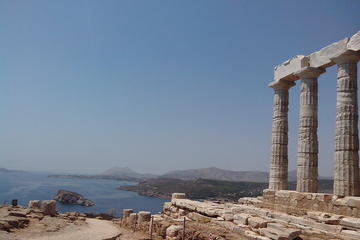 Full Day Private Tour: Essential Athens Highlights plus Cape Sounion and Temple of Poseidon
About the author:
Sierra Goldberg began traveling in high school with trips to the Ukraine and Cambodia. In 2013, she moved to Wales for her master's degree and never looked back. Currently living and working in Germany, she enjoys traveling to less well-known areas and enjoying the outdoors in between museum trips.
Instagram: sierratraveller
Blog: sierratraveller.tumblr.com
All photos are by Sierra Goldberg:
The Theatre at the Acropolis
The Acropolis
Rooftops
Blue Door
The Acropolis from below
Snow in the Zappeion Megaron Hall
Streets of Athens