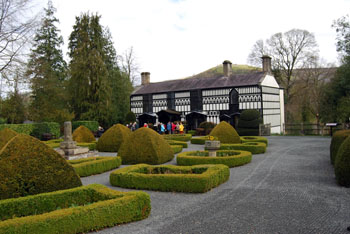 by Keith Kellett 
The Welsh town of Llangollen stands near a canal of the same name, on the main London-Holyhead road. The road is now called the A5, and was first laid out by engineer Thomas Telford in the late 18th Century. This was once … and still is … the road on which you would travel to reach North Wales; it leads right across the country, eventually terminating at Holyhead on the island of Anglesey … a port you might use if you wanted to go to Ireland.
We visited Llangollen to see the famous Pontcysyllte Aqueduct, which carries the canal 126 feet above the valley or the River Dee, far below. But, before visiting the Aqueduct, we called at Plas Newydd, once home to the 'Ladies of Llangollen', which is open to the public.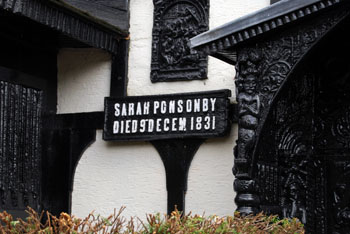 I'd heard the expression 'Ladies of Llangollen' before, but wasn't sure in what context. A girls' school, maybe? No, they were a pair of women who, back in the 19th Century, were famed far and wide … 'celebrities' of the day, if you like. Now, if the 'Ladies of Llangollen' lived in this day and age, they would probably be described as 'offbeat', eccentric or quirky. That is, if they were noticed at all, for nowadays, it's accepted that women may take an interest in poetry, literature and politics, and two women living together would hardly raise an eyebrow.
But, in the late 18th/early 19th Century, their behaviour was regarded as 'scandalous'. (There have been suggestions that they were gay, but most authorities say there is no evidence to support this.)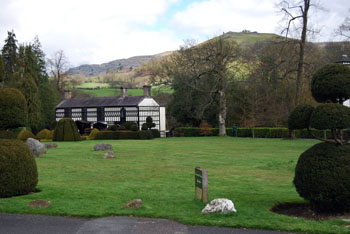 Lady Eleanor Butler was the daughter of a noble family living in Ireland; her friend, several years younger, was an orphan, Sarah Ponsonby, who she'd met and befriended at a boarding school in Kilkenny. The friends decided to run away to England when Lady Eleanor's family started making noises about sending her to a convent, because, at the age of 39, she still remained unmarried. Sarah, meanwhile, wished to escape the unwelcome attentions of her recently widowed guardian.
Their first attempt failed, but, in May 1778, they finally sailed for Milford Haven. They toured Wales for a short time, before they came to Llangollen, and declared it '… the beautifullest place in the world …' and decided to settle there. They eventually rented a farm cottage called Pen-y-Maes, which they renamed Plas Newydd (New Hall). Here, they lived for almost 50 years, spending their time reading, writing and sketching and transforming the house and gardens.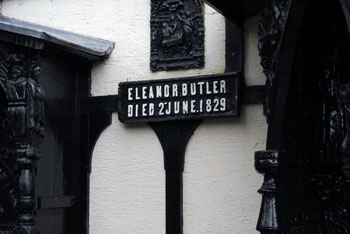 While they wished to lead a life of ' … sweet and delicious retirement', their story attracted a great many visitors, who often stopped by on their way to Snowdonia or Ireland, and their fame rapidly spread. Their visitors included Robert Southey, Sir Walter Scott, Josiah Wedgewood Sir Humphrey Davy and the Duke of Wellington. William Wordsworth also came, and wrote a poem describing Plas Newydd as ' … a low roofed cot' …' which, reportedly, didn't find much favour with the ladies, who declared they could write better poetry themselves.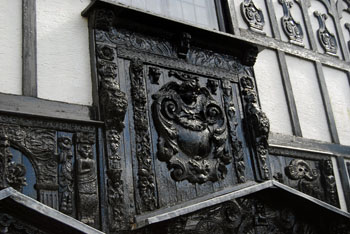 The house is laid out pretty well as the ladies would have known it, with many memorabilia of their famed visitors. But, what most visitors notice above all is the intricate wood carvings, which the ladies collected, and embellished both the interior and the exterior of the house. 'Low roofed cot' it may have been originally, but their constant additions made it well worth the visiting. But, it's not all down to the Ladies. After their deaths, subsequent owners added their own embellishments. The gardens, although started by the Ladies, owe their present form to a Mr G.H. Robertson, who lived there in the 1890s.
In 1932, the house was acquired by Llangollen Urban District Council, and is today run as a museum by the Denbighshire County Council. But, in a way, it could be said that the Ladies are still here, for it has been said their shades still haunt the house. But, the staff have reported no sightings in 25 years, so that's probably just a piece of romantic folklore.
If You Go:
♦ Llangollen is situated right on the A5 London-Holyhead trunk road.
♦ If you don't have a car, the most convenient option is the National Express coaches  Service No. NX 454; from London: 7.5 hrs; from Birmingham 4 hrs. (Change at Wrexham to WBT3, operated on behalf of National Express by GHA Coaches)
♦ The town does have a rail station, but this operates heritage trains only. The nearest rail station is at Wrexham (approx.. 10 miles) from where there's a regular bus service (No 5) (www.arrivabus.co.uk/wales/services/5—wrexham-to-llangollen )
Accomodations:
♦ Details of accommodation, etc. in Llangollen can be found at www.llangollen.com
♦ Price lists and opening times for Plas Newydd are at www.denbighshire.gov.uk/en/visitor/places-to-visit/museums-and-historic-houses/plas-newydd.aspx
Warning – Make sure you have the right Plas Newydd; there's another property of the same name in Anglesey.
About the author:
Having written as a hobby for many years while serving in the Royal Air Force, Keith Kellett saw no reason to discontinue his hobby when he retired. With time on his hands, he produced more work, and found, to his surprise, it 'grew and grew' and was good enough to finance his other hobbies; travelling, photography and computers. He is trying hard to prevent it from becoming a full-time job! He has published in many UK and overseas print magazines, and on the Web. He is presently trying to get his head around blogging, podcasting and video. Contact: keith-kellett@tinyworld.co.uk.
All photos are by Keith Kellett.