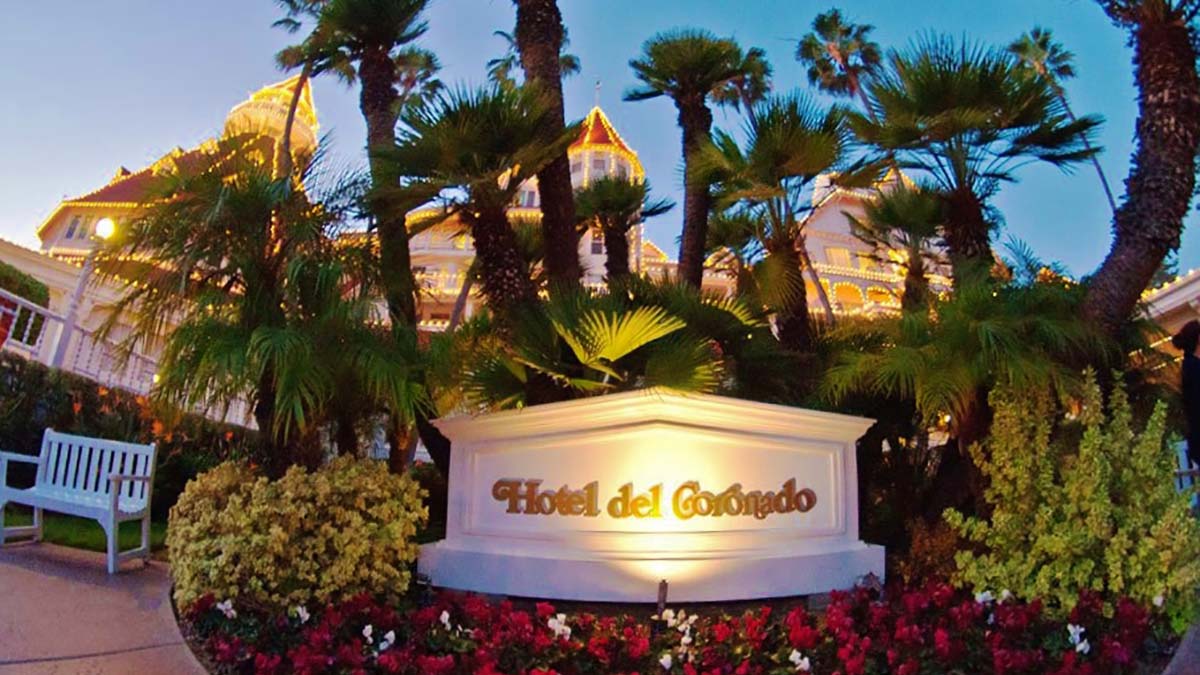 by Noreen Kompanik
Built in 1887, the Hotel del Coronado is a red-turreted Victorian architectural masterpiece and a famous National Historic Landmark. The quintessential legendary oceanfront beach hotel has hosted numerous U.S. presidents, foreign dignitaries, royalty and celebrities.
The captivating, elegant and timeless turn-of-the-century resort stands sentinel over a wide mile and a half of a spectacular pristine white-sand beach fronting the azure blue waters of the Pacific.
Though seaside resorts were commonplace along American coasts during the 19th century, few were as large or distinctive as "The Del,"—the moniker lovingly used by locals. And this historic hotel happens to be the second largest wooden structure in the United States.
Famous people have stayed at this magnificent resort like Thomas Edison, Charlie Chaplain, Babe Ruth, King Kalakua of Hawaii, Clark Gable, Vincent Price, Bette Davis and Katherine Hepburn.
Several Hollywood movies were filmed here —one of the most well-known, Some Like it Hot with Marilyn Monroe and Tony Curtis. Hollywood greats still flock to The Del, like Kevin Costner, Whoopi Goldberg, Brad Pitt, Madonna, Barbra Streisand and Oprah Winfrey.
L. Frank Baum, the writer and creator of the famous Wizard of Oz referred to Coronado Island as his "personal Oz." He did much of his writing here and many believe The Del was the inspiration for the Emerald City.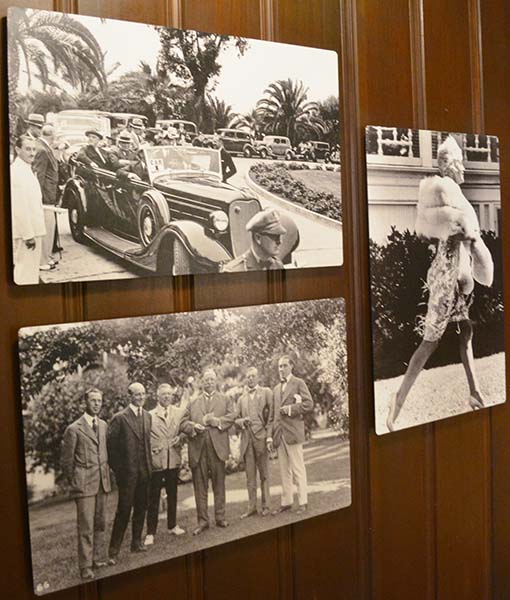 This "Grand Lady of the Sea" is also reputed to be the setting of one of the most famous love stories of our time. It's widely reported that Wallis Simpson, married to a U.S. naval officer at the time and living in Coronado, met her future husband at a grand banquet at the hotel in 1920, thereby changing the course of history.
That man happened to be Edward, Prince of Wales, who abdicated the British throne in order to marry the divorcée. Though she would never be queen, Wallis Simpson was granted the title of Duchess of Windsor and she and Edward lived a long and happy life together.
The Del was constructed at a time before San Diego had the raw materials or the manpower to support a structure of its type. Everything, including workers had to be brought in by rail from the Midwest. Miraculously, the Del was completed only 11 months after breaking ground. She opened in February, 1888 with an amazing 399 guest rooms and crowned the world's largest resort.
Wealthy visitors traveled year-round from far and near to the iconic hotel because of San Diego's exceptionally mild weather and 300-plus days of sunshine.
Surprisingly, the resorts lighting was provided by electricity—a novelty of its time. Other technologically-advanced amenities included an elevator, fire-alarm system and telephones in guest rooms. Even today, the antique elevator run by an operator in classical period attire carries guests to their appointed floors.
On New Year's Day in 1937, during the Great Depression, the gambling ship SS Monte Carlo known for its "drinks, dolls and dice" was shipwrecked on a nearby beach. Fashionably-dressed hotel guests were photographed purposefully wading through wet sand and battering surf to scoop up anything they thought held value from the sunken ship.
During World War II, many West Coast resorts were requisitioned by the U.S. government for use as housing and hospitals. The Del, already housing many pilots training at nearby North Island Naval Air Station was never commandeered. The hotel manager convinced the Navy to abstain from taking over the hotel as it was already hosting families of service members going into harm's way.
The hotel was designated as a wartime casualty station and later began a "Victory Garden Program" for the war effort planting vegetables, fruits and herbs to help reduce demand on the public food supply.
Throughout the years and even during tough financial times, The Del managed to continually upgrade its facilities and add cottages, rooms and villas on the property, while always retaining its charming Victorian character.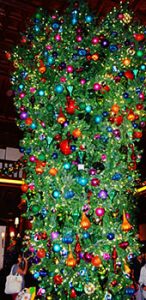 The magnificent beach resort has been grandly celebrating Christmas for 130 years with class and style. In 1904, the hotel introduced the world's first electronically lit, outdoor living Christmas tree. The mighty conifer was 50-feet tall with 250 colored lights. Lighted lanterns also hung from its aromatic boughs.
Just strolling through The Del of the 21st century is an enchanting experience and a travel back in time. And there's not a more beautiful time of year to drink in all her history and magnificent splendor than during the Christmas holidays when she is decked out to the nines.
Holidays at the Del this year are celebrating with the theme of "winter of whimsy, wishes and wonder." Even the 21-foot inverted lobby tree decks the hall with fun and magical whimsy. Though there's mixed opinion on what some visitors and locals see as a trendy millennial move, the inverted tree actually has its roots in the 7th century.
It's widely believed that St. Boniface, an English Benedictine monk traveled to Germany to convert pagans and the triangular shaped tree was a way to introduce the Holy Trinity.
Others surmise the upside-down tree had a more practical meaning in the family home. Ornaments could be kept away from the hands of young children. Decorations made with cookies, wafers or berries would be out of reach of critters or pets.
Whatever the meaning, The Del's two-story lobby tree has always been a highlight of the resort. Adorned with hundreds of twinkling lights and colorful ornaments, it's always a highly-anticipated merry and bright tradition.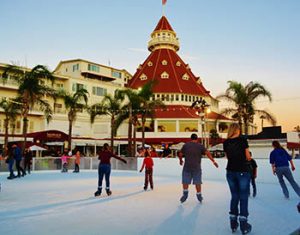 Thousands of glimmering white lights likewise cover the iconic red turrets of the main exterior building. Windsor Lawn is transformed into a spectacular outdoor ice rink providing an unforgettable "skating by the sea" experience. Skaters young and old with smiling faces glide to holiday music underneath swaying palms in a truly magical setting.
As one local resident said "Christmas without The Del isn't Christmas."
Today, old portraits of presidents, foreign dignitaries and stars still line the walls of its corridors and the Del continues to attract admiring guests—and always will.
This classy historic beachfront hotel has never forgotten its history. She is one of the grand old resorts of yesteryear, a not-to-be-missed American treasure with a storybook past.
If You Go:
The Hotel del Coronado is located just across the bay from downtown San Diego and only a 15-minute drive from the San Diego International Airport.
Address:
Hotel del Coronado
1500 Orange Ave.
Coronado, CA 92118
About the author:
Noreen Kompanik is a published freelance travel writer and photographer based in San Diego, California. She is a member of the ITWA and IFWTWA and shares many of her adventures, stories and photos on her website www.whatsinyoursuitcase.net and What's In Your Suitcase? Facebook site.
All photos by Noreen Kompanik.