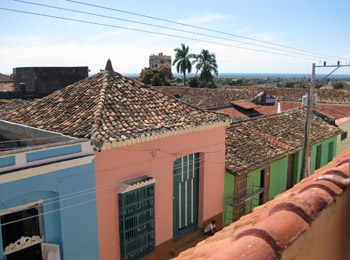 Trinidad, Cuba
by Paul Norton
While all of Cuba is dripping with historical significance, there are few better examples of the rich and colourful history of the island than Trinidad de Cuba. Trinidad is located on the south coast of the island, 67 km southwest of Sancti Spiritus, 80 km east of Cienfuegos, and 88 km due south of Santa Clara.
The expeditionary Diego Velazquez founded Santisima Trinidad (Most Holy Trinity) in 1514. It was one of the first of seven cities founded by the Spaniards on the island. The city did not have railroad access until 1919 and was not connected by highways with the rest of the country until 1950, which accounts in part for its feeling of being frozen in time. Trinidad was officially declared a UNESCO World Heritage Site in 1988. It is estimated that there are about 60,000 inhabitants currently in the city, although it has the feeling of a much smaller place when you are there.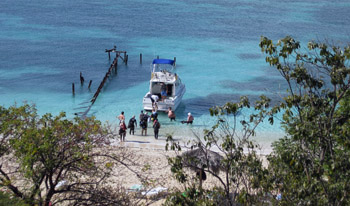 We arrived in town after a 300 km trip from Havana on our big blue and white Viazul bus. As we pulled in to the downtown bus depot we saw the usual crowd of locals there with large placards and photos, touting the virtues of their various casa particulars. While it was a tough call whether or not we should stay at any one of the hundreds of private residences, we opted this time to head out to the nearby Peninsula de Ancón, where the first new resorts were developed in Cuba following the 1959 revolution.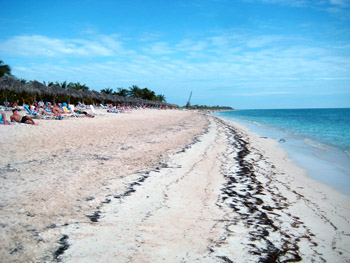 The Ancón Hotel is nothing to look at, featuring typical Russian-style architecture from the 1980s. It is fairly well-appointed inside and all-inclusivo (all food and drink included). Ask to stay in the newer part. The main dining room is where to turn up for the big buffet-style meals, and you can get nourishment anytime at an outdoor snack bar. The food is adequate but not exceptional. The old saying that 'You don't go to Cuba for the food' still holds true, although things are improving as they realize the importance of the tourist peso. Like every tourist hotel, there are nightly shows at a stage near the outdoor bar, featuring a great array of talent. It makes one appreciate the high level of training for young musicians, singers and dancers in Cuba. The best feature was the Playa Ancón itself, with wide expanses of white sand and beautiful blue ocean for sunbathing, swimming, skin diving, boat trips and fishing.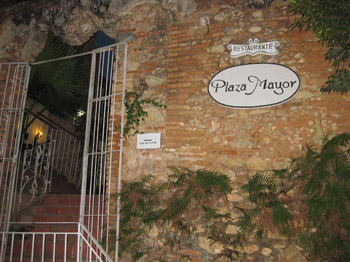 If you get tired of the beach life, it's only necessary to hop into a cute little yellow coco cab and you'll be in town in 10 minutes. There's a lot to see in Trinidad: perfectly preserved churches, museums that were palaces and tenement houses that are a symbol of that Cuban region for its peculiar style. The old town architecture is neo-classical and baroque, with a Moorish flavour. Red tile roofed houses painted with pastel colors, ornamented with artistic balconies, iron wrought railings and multicolour facades. The city is very clean and well cared for. If you walk over the cobbled streets of the Trinidad, it makes you feel like going back into colonial times. A friend remarked to me that the millions of stones came from the bilges of Spanish galleons that dumped their ballast in the city and replaced it with the plunder of the new world. I wasn't able to verify that story anywhere, but it seems possible.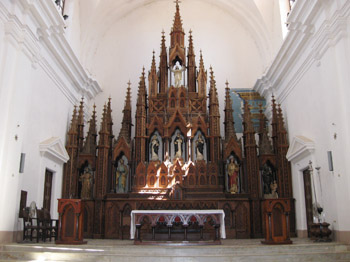 The Plaza Mayor is considered the epicentre of all things, and the eager traveller should start their walking tour there. Make your first stop the Iglesia Parroquial de la Santísima Trinidad (Church of the Holy Trinity), at the upper edge of the plaza. The city's main church is also Cuba's oldest. Although there has been a church on the site since 1620, construction began on the current building was completed in 1892. The interior with its 14 alters is breathtaking. A small donation is customary.
There are literally dozens of museums with themes from romanticism to war and other fascinating historical sights to be seen with walking distance of the beautiful little plaza. Most of them are well worth the 2 or three pesos convertible (CUC) charged for admission. At least two of them have towers, which afford stunning views of the city, ocean and surrounding area.


All along your route you will find enchanting small cafes where you can sip on a cerveza or a café con leché while you listen to live music. There are great sounding bands of street musicians everywhere you turn, providing a wonderful living soundtrack to your trek. Don't miss the outdoor linen market – a two block stretch of some of the most beautiful embroidered items you've ever seen. The Parque Céspedes is also a lovely place to relax during the day. On the weekend it becomes an open air disco for the younger crowd.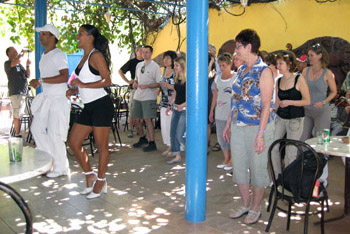 If you are into la mùsica as much as we are, there are lots of great venues de la noche to choose from.
One of our favourites was the Casa de la Trova. It has been criticized by some as being too unauthentic and pandering to tourists, but we loved it nevertheless. Rotating bands entertained all day and evening, generally offering the more traditional genres like son and (of course) trova. They offer free salsa dance lessons during the day. Check out the gift shop and pick up your discos compacticos to remember the fun once you get back home.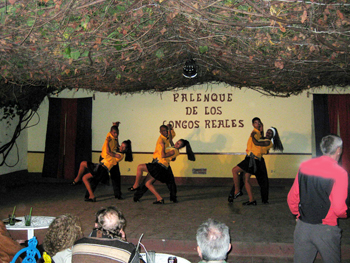 Another real find was the Palenque de los Congos Reales. This fabulous open-air nightclub specializes in performances of relatively authentic Afro-Cuban dance and music. You can always catch something spectacular there, performed by a large company of dancers, and accompanied by a big band of hot players.
There is open-air music on most evenings at the Casa de la Mùsica, which spills over into the cobblestone stairway on the side of the main church. You are most likely to find big salsa bands there, great for dancing the night away! There's another good store with CDs and DVDs at rock bottom prices. They stock musical instruments too.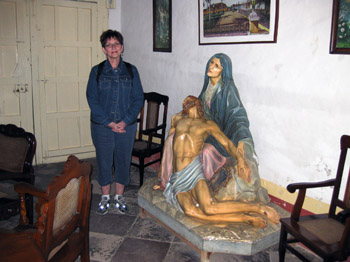 As in all of Cuba, paladars are plentiful in Trinidad. These officially authorized restaurants in people's homes quite often serve tastier food than you can find in any of the state run restaurants. Our favourite was the Paladar Estela. It's hardly a secret – you can find it near the top of the list in all the guide books. You enter through an elaborately decorated colonial house with many religious objects, two blocks north of the cathedral. The handful of tables are set in an exuberant backyard garden setting, with huge numbers of flowering plants and a wall festooned with vines. Portions are nearly as voluminous as the plant life, and dishes include roast pork a la cubana, fried chicken, grilled fish, and ham omelette.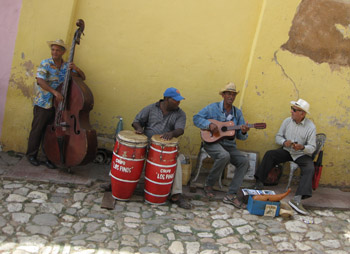 There's a lot to see outside the city too. Be sure to make time for a trip to the Valle de los Ingenios (Valley of the Sugar Mills) to see the ruins of dozens of 19th century sugar mills located just outside the city, which are a reminder of the importance of sugar to the Cuban economy over the centuries. Other attractions include hiking in the surrounding mountains and horseback riding in the beautiful countryside.
To sum it all up, if you want to gain a real sense of the fascinating history of Cuba, you can do no better than to make Trinidad your number one destination on the island. Que te diviertas!
If You Go:
AIR:
If you live in Canada, non-stop flights are available to Cuba from these airlines:
Western Canada: Air Transat www.airtransat.ca
Eastern Canada: Air Canada www.aircanada.com
BUS:
Víazul is Cuba's tourista bus line, and is by far the best choice of public transportation to tour the island. They run comfortable, air-conditioned long-distance coaches with washrooms and televisions to most places of interest to tourists. The Korean-made buses are in good repair, reliable and punctual. Schedules can be found on their website. The buses can be used by anyone including Cubans, but in reality, few Cubans can afford the CUC fares. Reservations can be made in advance, but are usually unnecessary except at peak travel times. Do not waste your time making an on-line reservation on the website – that rarely works. Refreshments are not served, despite what the website says. Bring your own if you can. The buses do stop for meal breaks at highway restaurants. They are often over air-conditioned, so bring something warm to wear.
www.viazul.com
ANCÓN PENINSULA HOTELS:
Hotel Ancón
Brisas Trinidad del Mar
Hotel Club Amigo Costasur
CASA PARTICULARS:
There are many Web sites that list casa particulars. They can be reserved on-line, but there are many stories of travellers who have shown up only to find they have been double-booked. It's usually better to just show up and find one there. The rates are generally 20 to 25 CUC per room per night. Here's a few web sites. If you do a Google search, you'll find more.
www.cuba-junky.com/cuba/cuba-casa-particulares.htm
www.casaparticular.info
www.bedincuba.com
www.cubaccommodation.com
www.casaparticular.org
About the author:
Paul Norton does many things …. Radio show host/producer, graphic artist and web designer to name just a few. He'd love to be able to afford to travel more. His second trip to Cuba took place in February 2010. Visit www.paulnorton.ca.
Photo Credits:
All photographs are by Paul Norton or Sue Malcolm.