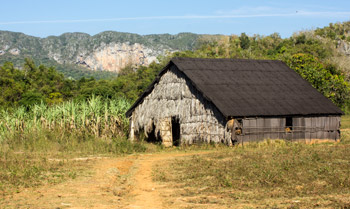 by Megan Kennedy
As I look out onto the Viñales Valley and into the tobacco fields below, a sense of calmness washes over me. Lush green plants, ochre soil and dome-like limestone mountains (mogotes) make the landscape an impressive sight. The combination of the land and the people turn the valley into a place that invites me to linger and discover.
Founded in 1875, following the expansion of tobacco cultivation in Cuba, Viñales became a World Heritage site in 1999. The valley is devoted to agriculture, mainly tobacco. Because mechanical harvesting reduces the quality of tobacco, traditional animal power and hand labour are still used.
Viñales has lots to offer: the surrounding farmland is lush and plentiful, with organic farms, caves, horseback riding, bike rides, beach excursions, swimming and plenty of day hikes. But the main draw, and the reason I had come here, is the chance to visit tobacco farms.
With a Cuban Adventures guide I set off along the dirt paths, sweating under the hot sun of late morning. Since it is winter – tobacco planting season – we amble past fields of little plants intermingled with larger ones. We discover a variety of other crops during our walk, including coffee, pineapples, beans, guava, bananas and a variety of potatoes. I am able to try some of them. Everything is fresh and crispy, with powerful flavours.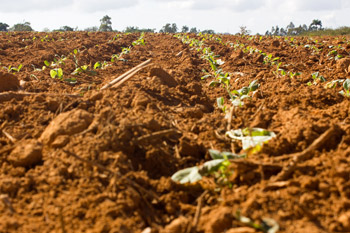 We enter a thatched tobacco aging hut to learn about the process of growing, preparing and marketing the harvest. Each farmer is given a quota, with ninety percent of the crop being bought by the government. The farmer retains the final ten percent and is free to use it for personal consumption, local sales and exchanges or making and selling cigars to tourists. Our group gathers around our host farmer and settles in to hear firsthand about his working life.
Tobacco farming is arduous work. The soil must be prepared before the hundreds of seedlings are hand planted. The plants require frequent tending, and harvesting is a multi-step process, since different leaves are picked at different times, according to their intended use. With two or three leaves handpicked from each plant at every harvest, many hours of labour are required.
The harvested leaves are strung on cotton threads, then hung to dry in long thatched houses or barns. This curing process takes several months, after which most of the leaves (including the pick of the crop) are sent to government owned factories.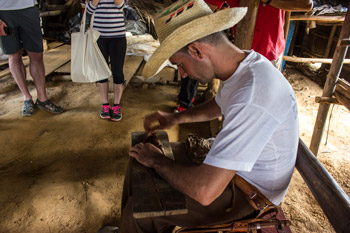 However, every farmer puts his own unique stamp on the tobacco he gets to keep, by fermenting it according to an individual recipe. These are often passed down for generations. Our guide's family recipe was fairly simple, calling only for water, vanilla and rum. But the farm host's recipe was a bit more elaborate, and includes "water, pineapple skin, guava leaves, honey, sugar cane and a little rum." With a sly smile on his face, our host notes that some of that rum is applied to the outside of the leaves, and some to the inside of the farmer.
Whichever formula is used, the leaves are placed in a Royal Palm tree box to ferment for from thirty days to a year before aging begins. After this, they are ready to be rolled. Sadly, those images you have of the cigar in your mouth having been rolled on the soft thighs of a dusky maiden are just a myth. It's more likely to have been shaped by the skilled but calloused hands of a farmer or factory worker.
Since the veins hold seventy percent of the nicotine in each leaf, they are removed before the cigars are made, and used in perfumes, fertilizers and pesticides. Cigars have three parts: a filler (the heart of the cigar), a binder and a wrapper. Depending on the cigar's size, it takes from four to six leaves to make one.
To learn more about the process of making cigars, light up this video: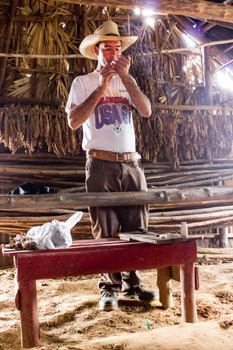 After our farmer finishes his demonstration, he lights up an aged cigar. Others are passed around for us to try, and I relish watching my fellow travelers' reactions. I end up enjoying most of the tobacco in our Cuban Adventures group, as the others didn't want more than a couple of puffs. Their loss was definitely my gain, for the smoke is robust and the taste smooth with a hint of honey.
As I walked through the fields and took the time to talk to the farmers who harvest the tobacco I feel confident that these natural, cottage-industry cigars beat mass-produced factory stogies hands down. After smoking one, I was more convinced than ever. The care the farmers take in fermenting the leaves and hand-rolling each cigar yields a far better – and more distinctive – product than anything I've found even at high end tobacconists. I leave with a full bundle of twelve cigars for a mere 25 CUC, a major bargain for such quality handcrafted product. I'll carefully save each one for special occasions or for those times I want to be transported back to the hot sun and green fields of Viñales, if only in my mind.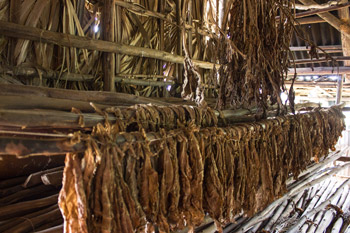 As I let the smoke caress the inside of my mouth, I look out into the valley and into the tobacco fields below. This has been one of the essential experiences I wanted to have in Cuba and I have enjoyed every minute of it. Like our host's recipe for fermenting tobacco, the magic came from a variety of ingredients, all blended in the right proportions: rich tobacco, fresh mountain air, a relaxed pace of life, friendly and welcoming residents and the local organic produce. The combination captured me; I didn't want to leave Viñales, and I certainly plan to go back.
If You Go:
♦ Tobacco is planted late in the year and grown for three months (during the wet season). If you would like to see the plants, make sure you plan your trip around it.
♦ Viñales is located two hours from Havana by car or about three hours and forty-five minutes by Viazul bus.
♦ There are multiple casas particulars located in the village. They are a mix between a homestay and a B & B. A better option than hotels, they give you a chance to stay with locals and experience more of the Cuban culture. You can book some online or find one once you arrive in town.
♦ Walk around on your own to the farms by grabbing a map at the tourist centre, hire a guide or go as part of an organized tour. There are multiple options to explore the valley whether on foot, bike or horseback
About the author:
Megan Kennedy is a lover of travel and spending time outdoors. She writes a travel blog, www.wanderlustmegan.com which focus on her solo female adventures within British Columbia and abroad. She hopes to give readers inspiration on travelling while working a full time job thru accessible adventures. You can follow her on Twitter @WanderlustMegan or Facebook.
All photos are by Megan Kennedy:
Tobacco drying hut with farmland and mountains in the background
Small tobacco plants growing in the futile soil
The farmer demonstrating how to roll a cigar
The farmer lighting a cigar before we got to sample it.
Tobacco leaves drying