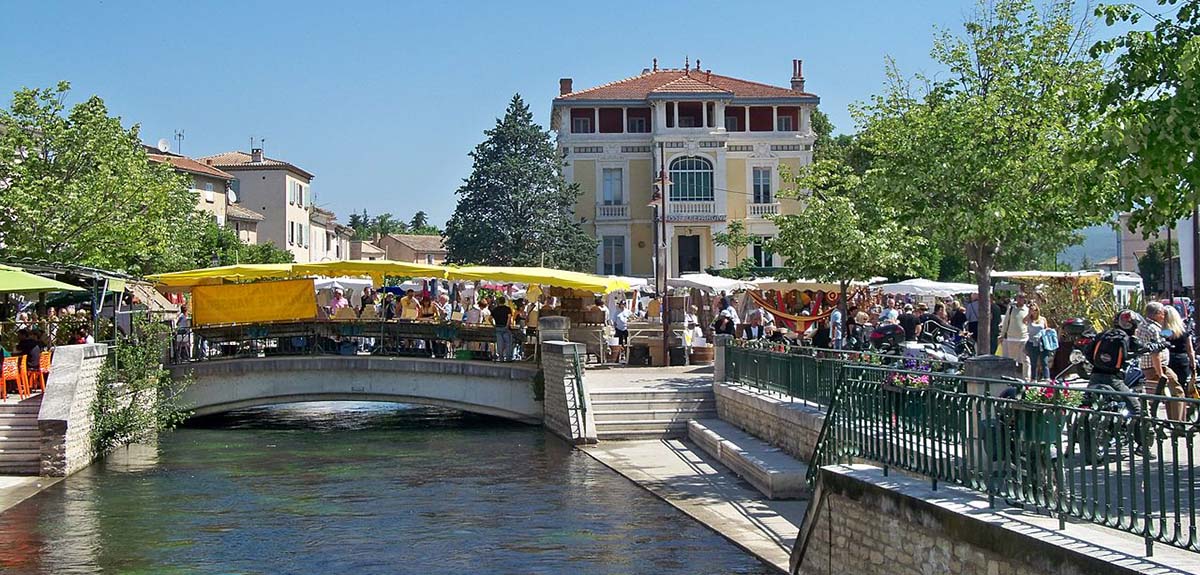 by MaryAnne Broccolo
We wait patiently in the restaurant while our surly waiter serves others, bringing glasses of ice water to everyone – but not us. Exasperated, I finally catch his eye.
"Monsieur, excusez-moi," I say. "Est-ce que nous pouvons avoir deux verres d'eau?" – "Could we have two glasses of water?"
The waiter and I stare at each other and suddenly remembering my manners, I add: "S'il vous plait." So slightly it could easily be missed, I see the skin around his mouth begin to crinkle as the smallest of smiles cracks his stony face. He brings the water but I worry that this might be an omen for the week ahead of us.
Several months earlier, my friend Anne had called and asked "MaryAnne, when are we going to get together to plan our walking trip in France?" and now we are sitting in a Paris restaurant, about to head south to Avignon the next day. We'd signed up for a weeklong walking trip in Provence – "Luberon: medieval villages and hidden trails".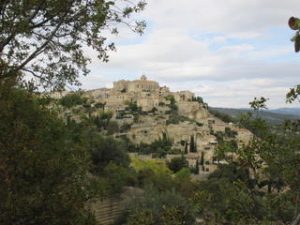 The walking trip begins in the village L'Isle sur la Sorgue. Arriving there, we follow the canal that encircles the village, snapping photos of its fourteen water mills (some still operating), and then relax on a terrace overlooking the river Sorgue, glasses of Chateauneuf du Pape wine in hand and an appetizer of duck salad in front of us, served by a friendly waitress. My worries are replaced by optimism.
The next day is Sunday market day in the village. The market covers several streets, and we join locals and tourists from other villages wandering among stalls filled with French soaps and lavender, herbs, stoneware, linens, pashminas, etc. I wish I had left more room in my suitcase.
On Monday morning, a short transfer takes us to Fontaine de Vaucluse, known for its mysterious well that "descends into infinity" according to legend. Jacques Cousteau was unable to reach the bottom of this well. We begin our walk here, armed with detailed instructions and maps provided to us by Walk Inn, the company that organized our tour. The information says that the distance from here to Gordes, our next destination, is 13 km, with an elevation gain of 450 meters and a drop of 200 meters. It's supposed to be the most difficult walk of the tour and the estimated walking time is 4 hours, 20 minutes.
Our walks each day will be taking us on many intersecting trails and roads marked with different painted blazes or dots on trees, rocks, walls or poles so we stop often to consult the directions, always keeping them close at hand. We walk through villages and farmlands and take frequent breaks to enjoy the views and take photos.
 Provence is filled with sleepy little villages that seem to have stood forever, like the stone they are built of. We pass through them without encountering a single person. The trails too are stony. The day is mild and sunshine-filled, the countryside dry and shrubby. The air we breathe is aromatic – filled with the lovely scent of pine trees and other fragrant shrubs. Acorns cover the ground. It's an arid landscape and yet the air feels surprisingly humid. Sometimes, the pretty melodies of hidden birds keep us company.
At a water cistern where a family group is picknicking, our route joins the Mur de la Peste. The Mur de la Peste, which literally means "Plague Wall", was built in March of 1721 after the arrival of plague in Marseille, and was guarded day and night by 800 of the Pope's guards to prevent anyone entering the lands he held there at that time. As we follow the old stone wall, I keep thinking I hear someone behind us, but when I turn to look, no one is there – except perhaps a few ghosts.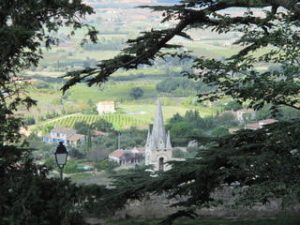 We pass through the silent town of Cabrieres with its ruined castle and walk on, our instructions taking us from one path to another as if we are solving a puzzle. We walk by fields that contain "bories", beehive-like stone shelters that were once used for storage and sometimes sheltered shepherds. Eventually, we see our destination village of Gordes through a frame of trees ahead of us.
Postcard-perfect views greet us as we approach and when we turn around, there are more gorgeous views as we look down into a lushly treed valley with low-lying mountains in the distance.
The next day, we walk to the 12th Century Senanque Abbey tucked away in a valley about 5 km away. Monks still live in this Cistercian abbey, somehow having survived over the centuries along with the beautiful Romanesque building they inhabit. Lavender fields greet visitors approaching the Abbey but we can only imagine how they would look when in bloom. Visitors can go inside to the gift shop but the monks remain secluded.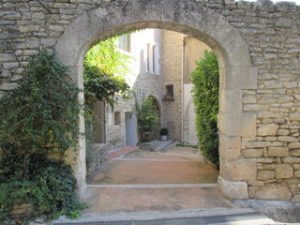 Wednesday's walk is from Gordes to our next village, Bonnieux. A taxi takes us a short distance to the medieval village of Goult where we start our walk. We check the guidebook even more often because we're starting to feel tired and sometimes forget to pay attention. We pass the ruins of old stone farmhouses, pass through the village of Lumieres, and then come upon a restored public washbasin, a perfect place to eat our baguette and ham. For dessert, we sample a few grapes from the field next to the washbasin but these wine grapes are nothing like the grapes we buy from the supermarket. They have a dry texture and aren't sweet, not tasty at all.
Further on we come to the 11th Century village of Lacoste, another postcard-perfect village perched on a hill like so many other Provencal villages. Lacoste has a history of tragedy that spans many centuries – plagues, wars, massacres and pillages. We climb to the top of the hill to visit the remains of the castle that once belonged to the grandfather of the Marquis de Sade. Its present owner is fashion designer Pierre Cardin, who is restoring it. He has planted a few modern sculptures on the hilltop that seem oddly out of place. Returning to the bottom of the hill, we find a bar and stop for refreshments. The bar is vibrant with people, a stark contrast to everything else we've encountered so far on these walks.
By the time we arrive at Bonnieux, we are foot-sore and weary. This walk seems to have taken us two or three hours longer than the first day's walk. But it doesn't matter. I still love discovering what's around every new corner. Just outside Bonnieux, we arrive at our next B&B, as charming as the others we've stayed in. Our host recommends Un P'tit Coin de Cuisine for dinner, so we head up the hill to find it and are rewarded with another delicious meal that makes the day's efforts worthwhile.
The next day, we both decide we need a break so instead of going on the Cedar Forests Loop walk suggested in our guidebook, we have a leisurely breakfast on the outdoor patio. Our breakfast is described as continental but it's nothing like the ones I remember from previous travels in Europe. My sunnyside up egg brings me to a state of bliss that I never expected to attain with an egg. The usual perfect French croissants, jam, yogurt and granola round out our meal.
After breakfast, we languidly explore Bonnieux, stopping for sandwiches at a patisserie for lunch and then climb uphill to the old church that sits on top. The church dates from the 13th Century but it's no longer used and is locked. There are stunning views from the summit of the village, framed by cedar trees. We look down on all sides to admire the plains below and mountains in the distance.
Many of the village and countryside churches we've visited are lonely places, poor and unused, filled with dust and cobwebs, grit on the floors and few candles. We visit the smaller lower church in Bonnieux and find that there are only twenty prayer books. The parish includes four or five other villages, each of which probably only has one Mass per month. For some reason it surprises me to realize that France is no longer solely a Catholic country, the Church having long since lost its war with secularism.
In the afternoon, we sit peacefully enjoying ice cream. Everything is quiet and there are few people about. There's little to do and we're a little bored. Perhaps we should have gone on the recommended walk.
Our dinner this evening at cosy L'Arome is one of three dinners included with our tour. It's a gastronomic delight. Small servings of gazpacho and crab soup, a starter of ratatouille with an egg on top, a main course of cod and then crème brulee for dessert. The room itself seems like a cave carved out of stone. Its neutral coloured tablecloths are set off by the painted tones of cast iron and red.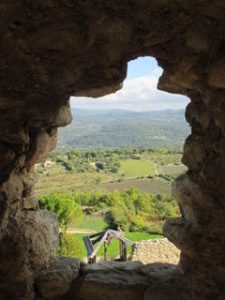 On Friday, we leave for our next destination, Buoux and the Aiguebrun Gorges. It's not long before a work crew laying pipes on our route sends us off on a detour. Although we try to follow directions that have been posted to return to our walking route we eventually realize we are lost. We walk along a paved road forever before I remember there are topographical maps among our tour materials. We pull them out and discover there are two places further on where the road should intersect with our trail. Ignoring the feeling that we're headed in the wrong direction, we carry on and luckily find our way again but we may have missed the truffle oak plantations described in the guidebook.
The trail soon follows the edge of a cliff and leads to an old cobbled mule path that takes us down into the Gorge and our beds for the night. Les Auberges de Seguins is a secluded inn tucked away in the river valley. After the day's exertions, we are rewarded with another included dinner, but first we sit on the outdoor patio to try some kir, mine with peach. Our days have been hot and sunny, but sitting here, sipping the delicious kir, I hear the sound of autumn in the wind that rustles through the trees in the valley. Our dinner includes an "appetizer" plate of mushroom pies, eggs, roasted red peppers, tuna, lentils and humus, which impresses me so much I draw a sketch of it in my diary. It's followed by beef stew, bread and lemon tart.
This turns out to be our last day of walking as we are both very tired. The next morning, we accompany our luggage in the taxi to the village of Saignon. Once we arrive there, we realize that it only takes about an hour to see the entire village so we make repeated tours as the day slowly passes. Sitting in a little café with cappuccino and lavender scented cookies, we watch the passing parade of people – all six or seven of them. Already I miss the experience of hoofing it along a maze of trails trying to decipher the puzzle of our instructions.
There's a castle on the top of this village too. It's crumbling and mouldering into dust just like its inhabitants of the distant past. Many places are closed in the afternoon but we do find a delightful little tea room that offers pear and apple clafouti with tea in pretty china cups. Later, we enjoy our final included dinner, which is just as tasty as the others. Our meals in Provence have been every bit as enjoyable as the walks.
The next day, we sit on a patio outside a bar in the nearby village of Apt, waiting for our bus to Avignon, where the castle of the second Pope and the Pont d'Avignon await us. As we ponder whether or not a waiter will come, an elderly gentleman sitting at the next table offers to help me move my luggage out of the way. Then he comes back with two tiny cups of hot espresso coffee. I hold out a hand filled with loose change and he chooses a few coins from my palm and leaves us with a smile. It's been like this all week – relaxing sunny days, friendly hospitality and lovely food. I'm a little sorry to leave but I'm also looking forward to the days ahead exploring Avignon and Paris.
If You Go:
This walking trip was organized by Walk Inn Provence, located in Avignon, France. Information can be found on their website: www.walkinnprovence.com or by contacting info@walkinnprovence.com. Walk Inn Provence organizes a wide variety of walking and cycling trips, guided or self-guided and of varying levels of difficulty. The trips are usually of three to ten days duration and include destinations in the south of France, Italy and Portugal. For self-guided tours, detailed road books are provided, as well as GPS files that can be added to your smart phone. (We were able to find our way on this tour using the provided road book and maps, but without the GPS.) For even more choice, you can explore a multitude of other tour companies in France that offer similar trips.
 About the author:
After a career as a legal assistant, MaryAnne Broccolo is retired and doing what she loves best – going back to school and learning new things through courses at Simon Fraser University's seniors program or Vancouver's Brock House. She loves nature and enjoys hiking, knitting, reading and writing her own stories.
Photo credits:
L'Isle sur la Sorgue Marché by Marianne Casamance under the Creative Commons Attribution-Share Alike 3.0 Unported license.
Photos by MaryAnne Broccolo:
Approaching the village of Gordes
Scene in Gordes
View of top of Bonnieux
View from Saignon